Bumblebee Man's Taco Truck: Getting to Know You
United States food culture is skilled at taking cuisines form other nations and making it their own. Pizza is a staple of USA diet now for example. Another illustration of a food from another culture that USA has made their own is tacos. In the USA, we celebrate the Mexican holiday Cinco De Mayo perhaps more than people living in Mexico. Now in the USA, we celebrate it with alcoholic beverages and tacos. Tuesdays are Taco Tuesdays. And October 4th is National Taco Day.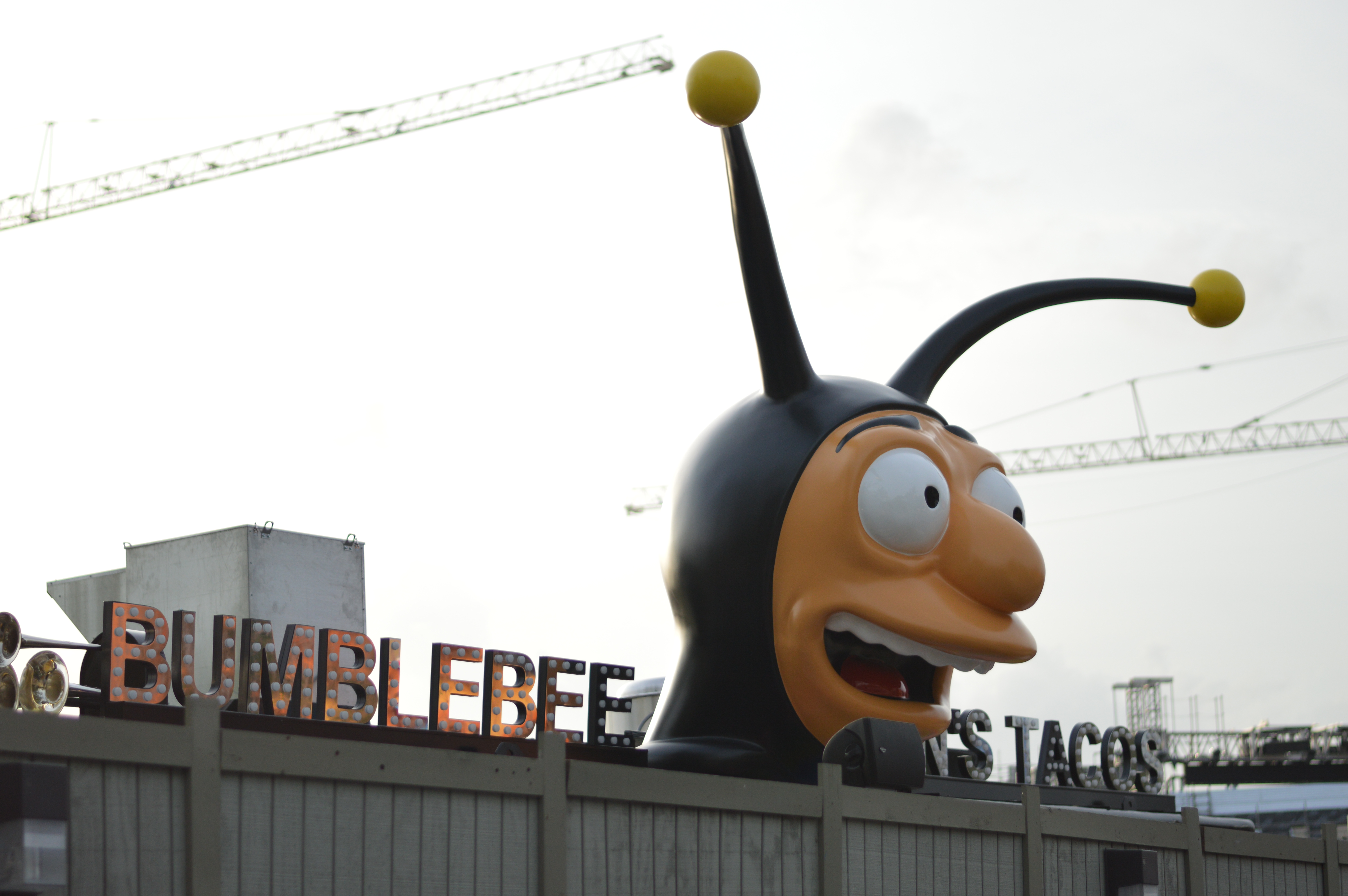 So how do you enjoy tacos at Universal Orlando? If you find yourself in the theme park, then you have one choice, Bumblebee Man's Taco Truck. This is in the Springfield, USA area at Universal Studios Florida. The theming is from the long running animated series, The Simpsons. This food venue opened August 2013 to improve to the expansion of the Springfield area.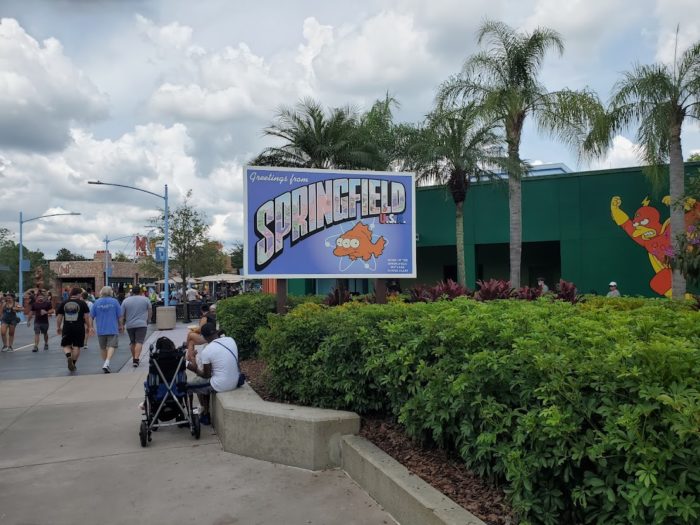 QUICK GLANCE
Location: Universal Studios Florida
Cuisine: Tacos
Service: Counter service
Price: $10.99 per entree
Universal Dining Plan Accepted: Yes
Touring Plans Rating: 89% reader approval
Seating: Outdoor, shaded (nearby)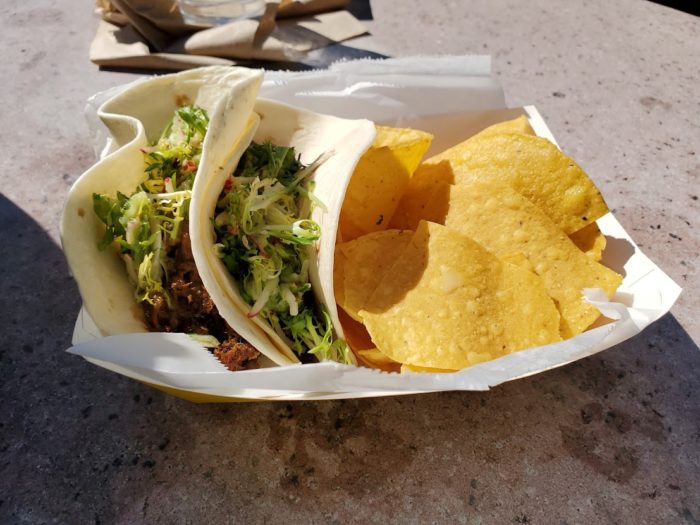 This taco truck features a large head of Bumblebee Man himself on top. There is a huge taco on the front bumper of this truck. The food truck has a fitting paint scheme with black and yellow stripes. There is also a horn sound that plays a familiar tune often. This is quick service, so you go to the window of the truck to order food. You then wait to get your tacos.
The menu is very simple here. You get tacos! There are three varieties. There is Korean Beef which is described as Asian inspired braised beef in a warm flour tortilla finished with a zesty cucumber and radish topping. The second variety is chicken with cheddar cheese, lettuce and homemade salsa served in a warm flour tortilla. The third option is the carne Asada with cheddar cheese, lettuce and homemade salsa served in a warm flour tortilla.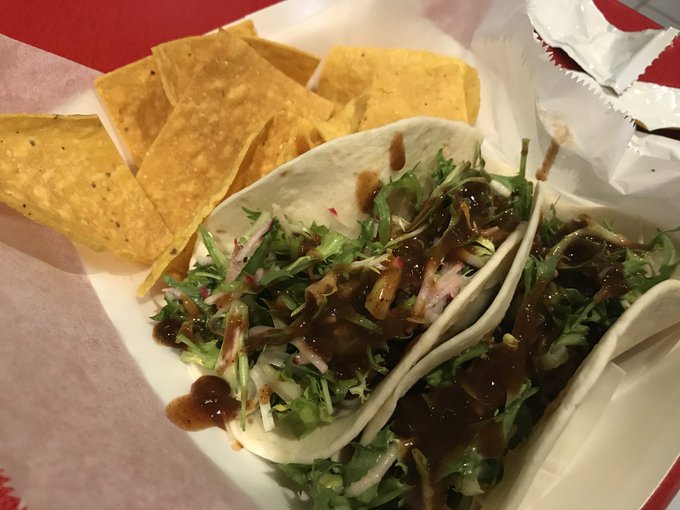 For $10.99 before any discounts, you get two tacos and tortilla chips. You can get two of the same variety or two different varieties. You can also get a soft drink (even a Simpsons' themed Buzz Cola), bottled water, and/or Simpsons' themed Duff beer. As you can see, the menu is quite minimal.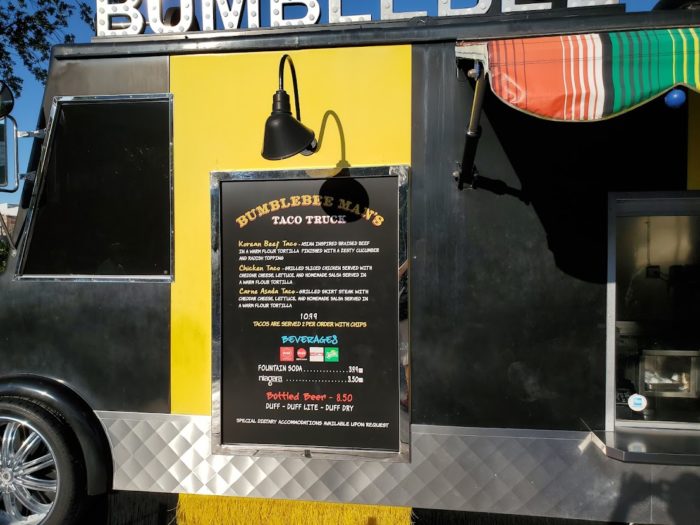 So why should you visit this food truck? The price point is reasonable for this quality of food. These tacos are not world-class by any means. However, they are consistently equal to if not better than tacos offered at any Orlando area theme park. I would recommend the Korean or Carne Asada. The chicken ones are good but lack the flavor of the other two. The tortillas are usually very fresh adding to the taco experience. The tacos are also light enough that you can enjoy a quick service meal without feeling weighed down in continuing your park day. However, the meal is sizable enough to be an adequate lunch or dinner.
This place is not perfect. The queue can be long at busy times of day. This is especially true on higher crowd days. There is seating located nearby but it is not directly connected with this food truck. My biggest complaint is that the menu has been very simplified. The nachos have been removed. Sides of  salsa and guacamole are no longer on menu. The tortilla chips that come with each meal are decent, but you have nothing to dip then in to boost the experience.
This food location is the best food option in the Springfield USA area in my opinion. This is the area with Fast Food Boulevard and two more food locations that sell hot dogs. Bumblebee Man's has lots of competition for this top food in the area title. When I suggest to people that they should try these tacos, they usually agree. I have yet to hear someone tell me that they regret getting tacos at Bumblebee Man's. Some may not be overly impressed but when they have more money for butterbeer ice cream since they spent less on lunch, they thank me still.
Have you ever tried the tacos at Bumblebee Man's Taco Truck? Let us know what you think in the comments.