Universal Orlando Resort for Newbies – Arriving at Universal Orlando
Whether you are a long-time Walt Disney World guest looking to switch your vacation up or you are visiting Orlando for the first time, planning a visit to Universal Orlando Resort poses a lot of questions. This article reviews the ins and outs of arriving at Universal Orlando including parking, ride-sharing locations, security process, and more!
Directions
Universal Orlando Resort is located off the I-4 interstate highway in the Dr. Phillips neighborhood of Orlando. The resort is approximately 10 minutes south of Orlando, and 15 minutes north of Walt Disney World Resort.
Resort exits include Exit 74B from Orlando and Exit 75A from Orlando International Airport/Walt Disney World. Upon exit follow the directional signage to either theme park parking or resort parking (if staying on site).
Parking Garages 101

All three Universal parks are accessed through the gargantuan North and South parking garages. These garages feature over 19,000 spaces, rider drop-off locations, and transportation to Volcano Bay. The North garage spans five levels in three sections: Jaws, King Kong, and Jurassic Park. The South garage has six floors in three sections: Spider-Man, Cat in the Hat, and ET.
Walking paths to the entrance rotunda, CityWalk, Universal Studios Florida, and Islands of Adventure are located on 3rd floor; security and busses to Volcano Bay are located on the 1st floor of the South parking garage.
COVID-19 Note: Temperature checks are located among the walk from the parking garages to the Entrance Rotunda.
Ride-Sharing & Taxis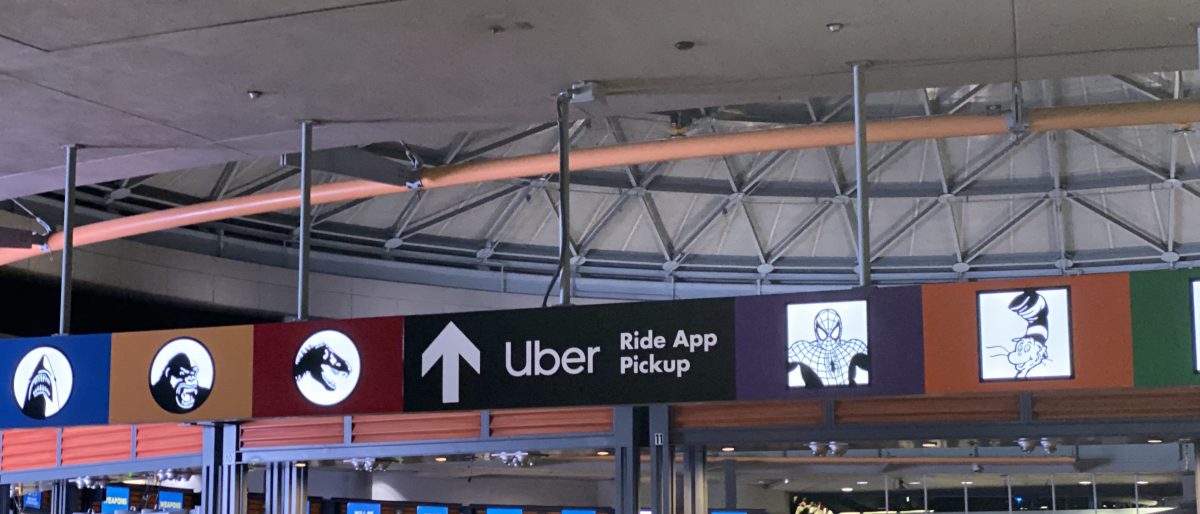 Taxis are hailed on the ground floor at the bus loop which is accessed from the Entrance Rotunda.
Parking Options
Universal offers three parking options and, believe it or not, one of them is free.
Paid – Before 6:00 p.m.
Paid parking is offered prior to 6:00 p.m. at the parking garages. Parking locations are first come first serve, with Prime Parking being closest to the Entrance Rotunda.
Regular Parking: $26
RV/Bus Parking: $32
Prime Parking: $36

Preferred Annual Pass Prime Parking Upgrade: $9
Premier Passes include Prime Parking for free
Prime Parking Upgrade is free for Avis and Budget rentals from Orlando International Airport
Free – After 6:00 p.m.
After 6:00 p.m. parking is free in the parking garages, excluding Halloween Horror Nights event nights. Additionally, free parking is available when purchasing two matinee movie tickets at Cinemark. (Parking is reimbursed at the theater.)
Valet Parking
Ready to splurge and get the quickest access to the parks? Follow the directional signs to Valet Parking after turning onto Universal Boulevard. Valet Parking pricing is based on length of stay and time of visit:
Valet Prior to 6:00 p.m.
Under 2 Hours: $26
Over 2 Hours: $55
Valet After 6:00 p.m.
Under 2 Hours: $26
Over 2 Hours: $40
Valet Parking is included in the price of a Premier Annual Pass; Preferred Annual Passholders can upgrade from their free complimentary parking to Valet for $20. (Free Valet Parking offer not valid on Mardi Gras concert nights, 4th of July, and Halloween Horror Nights event nights.)
Busses and Resort Shuttles
Shuttles and busses from Universal and offsite resorts drop off on the first floor of the Entrance Rotunda, the transportation hub.
Entrance Rotunda
The parking garages and transportation hub route guests to the Entrance Rotunda. Here is where security, a gift shop, snack stand (with Voodoo donuts), and restrooms are located. During the mid-morning crowds may appear large, but do not fret, there are dozens of security bag scanners and metal detectors set up for quick access. Even the largest crowds are processed within 5 minutes.
All bags are scanned and guests must pass through a metal detector at the security checkpoint. If you are unable to go through a metal detector see a Team Member for assistance.
Guests arriving from Valet Parking have their own security scanning at ground level and bypass the Entrance Rotunda.
Do you have questions about Universal Orlando Resort? Leave your questions and comments below!