Changes Coming for Disney Dream
The Disney Cruise Line Dream will come back from its 20 day dry dock in October with several new features, some of which are already on the Disney Fantasy, and some that are brand new to any Disney ship.
Bringing the Dream in line with the Fantasy, Disney is adding the ever-popular (especially on formal nights and Pirates in the Caribbean night) Bibbidi Bobbidi Boutique on Deck 5. Pricing should be the same as on the Fantasy. And bringing a guest favorite from the Fantasy's adult area, Deck 13 will now add Satellite Falls, a scenic sunning and water area just for guests 18 and older.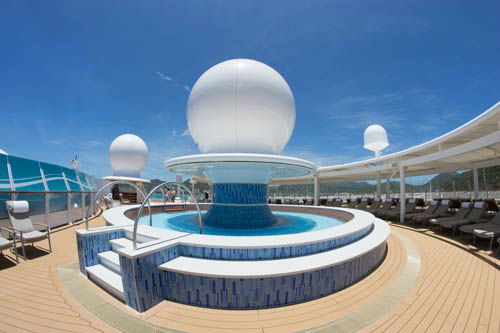 The Oceaneer Club (the kids' club for ages 3-12) will get a Star Wars makeover (similar to the Marvel makeover the Magic saw in 2013) and Jedi Training Academy will make its at-sea debut.  (I had to check the Star Wars Days promos to verify it won't be offered this spring.) There will also be Disney Infinity play areas added to the current video gaming space.
Vanellope's Sweets & Treats, themed after the Sugar Rush game in Wreck-It-Ralph, will serve handmade gelato and ice cream, and sell candy (extra charge).  This new area will be on Deck 11 with an entrance from Cabanas on the inside and outside from the pool deck. If I had to guess, I'd say it's going in the current Arr-cade space.
The dry dock is scheduled October 4 – 24, 2015. The first scheduled cruise after that is a 4-night Bahamas cruise from Port Canaveral October 26. Guests may remember that the first cruise after the Magic's dry dock in 2013 (which was more extensive than this) was canceled when work was not finished in time to sail as scheduled.
This is great news for fans of the Dream. I may just have to cruise the Dream again before my December cruise. How about you? Reason to book or wait for the reviews?