Disney California Adventure's Guardians of the Galaxy — Mission: BREAKOUT! — Better Know An Attraction
In this week's "Better Know An Attraction" series, we're going to take a look at an experience that, in its reimagined form, is one of the newer headliner attractions at Disney's California Adventure, Guardians of the Galaxy — Mission: BREAKOUT! Read on for more!
What is Guardians of the Galaxy: Mission Breakout?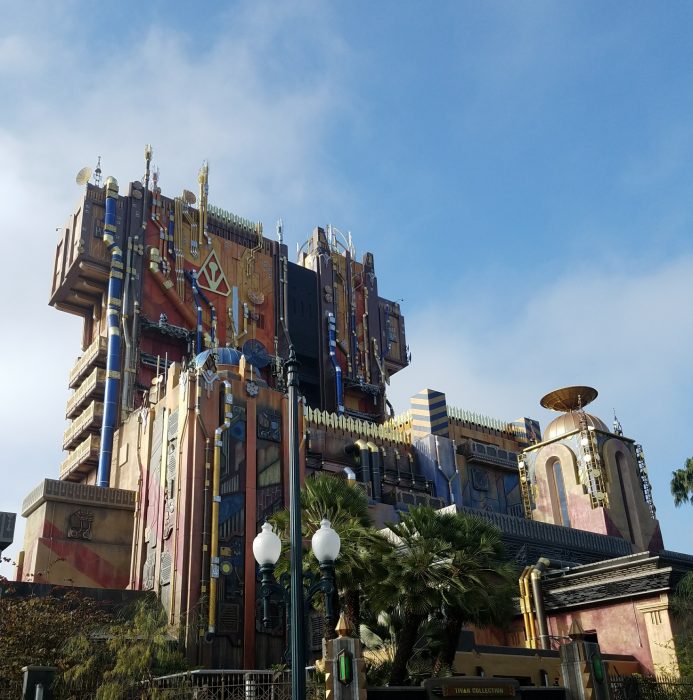 Guardians of the Galaxy — Mission: BREAKOUT is a "drop ride," where the attraction shoots you up and drops you back down several times. The thing that makes Guardians different, however, is that between drops, you see scenes with the characters from the Guardians of the Galaxy series, and you're treated to classic 70s rock and pop from the films throughout. In short, it's a wonderful thrill ride that does a lot with what is essentially a pretty simple ride system.
Where is Guardians?
Guardians is located in what is now known as Hollywood Land in Disney's California Adventure (eventually, it will be a part of Avengers Campus). Upon entering the park and reaching the min-hub in front of Carthay Circle, turn left, go to the end of the street at the Hyperion Theater and turn right. It will be directly in front of you and impossible to miss. Regardless of where you are in the park, just look for the large mustard yellow skyscraper with red trim covered in pipes and the like and head that way — it's visible from most locations in the park.
Guardians History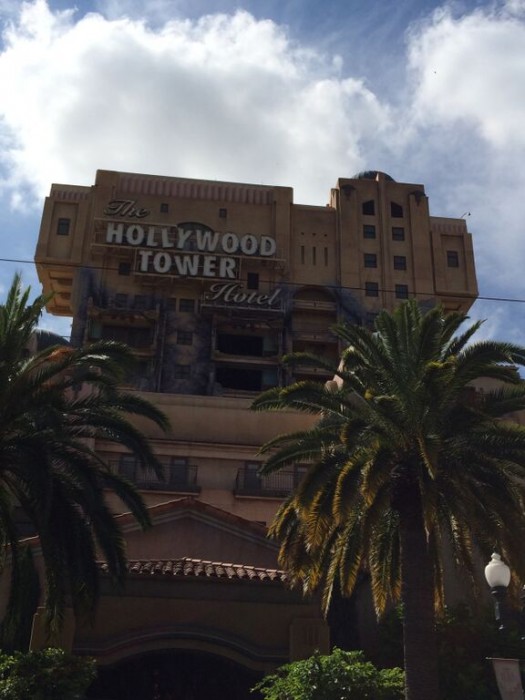 Guardians was originally Disneyland Resort's version of the Twilight Zone Tower of Terror, which operated in this space from 2004 through 2017. During this time, it was generally recognized as being an inferior version of the iconic attraction that exists in Disney's Hollywood Studios at Walt Disney World, which has additional scenes and incorporates a dark ride element to the experience. On May 27, 2017, however, an old attraction was given new life, as the ride system was upgraded with new theming, music, and scenes at each of the drop pauses. Notwithstanding using the exact same ride system as before, it feels remarkably different from the experience back when it was Tower of Terror.
What You Need to Know About the Guardians Queue
The final portion of the queue is indoors and features lots of knick knacks and curios maintained by The Collector. There's quite a bit to see, and it's well done.  When the ride is busy, however (which is most of the time), a significant portion of the queue is outdoors, though there is some shade protecting you. 
You will actually queue up twice: once you complete the primary queue, you'll enter a small room to watch the preshow, where Rocket will explain what's going on and whey you're there. Make your way towards the door in the back of the room to be among the first to leave the room and enter the next queue.
The second queue is in a boiler room-type atmosphere with lots of cool artifacts gathered by The Collector. There are some great Easter eggs in here and some cool bits of Disney memorabilia (like a Yeti from the Matterhorn), so make sure you check them out when you have the  opportunity. It is completely indoors.
Guardians offers rider swap for parties with small children who cannot ride. Riders in wheelchairs or ECVs should use the regular or FastPass queue as appropriate.
What is the Ride Experience Like for Guardians?
If you like thrill rides, the ride experience for Guardians is above all a lot of FUN. The classic rock soundtrack, humorous cut scenes, and the thrills and air time from the ride itself all combine for an experience that is just an absolute blast! Once you board, you'll have a brief scene with Rocket, and then be shot up without warning, and the experience is on. From there, you'll be dropped down and shot back up numerous times, with scenes featuring characters from Guardians of the Galaxy at each pause point. You'll also get a nice view of the park when the elevator shoots you up to an open door; watch for cameras here and pose, as this is where the on-ride photos are taken. There are 6 different ride experiences you can have, all with their own music, scenes, and drop sequences.
For those sensitive to motion, be aware that the ride will shoot you up and drop you down, and you will get that weightless feeling several times over the course of the ride when you hit the apex of a ride up. With the exception of moving the ride away from the boarding platform, however, the ride is 100% up and down motion, and it's very smooth. There is no lateral or front to back motion at all, the ride is not bumpy or "rough" like a roller coaster can be.
What are the Ride Vehicles Like for
Guardians?
Guardian's ride vehicles are basically the same as they were when it was Tower of Terror. They are elevators with 3 rows, and the only restraint it a lap belt.
What You Need to Know About Accessibility for
Guardians
Guests do need to be able to transfer into the ride vehicle to be able to ride Guardians. Again, guests in wheelchairs will enter through the main queue, there is no special queue for wheelchairs.
What You Need to Know About Health and Safety Warnings for
Guardians
As with most thrill rides, Disney warns that "you should be in good health and free from high blood pressure, heart, back or neck problems, motion sickness, or other conditions that could be aggravated by this adventure. Expectant mothers should not ride."
What are the Height Restrictions for
Guardians
Riders must be 40″ or taller to ride Guardians. Guests under 7 must be accompanied by someone 14 or older.
Does
Guardians
Offer FastPass?
Yes, FastPass is available via kiosks or MaxPass. FastPass kiosks for Guardians are located across the street from the attraction.
Does Weather Affect
Guardians?
As the attraction is indoors, weather does not impact operation of Guardians. A portion of the queue is outdoors, however, and while there is some cover, you may get wet while waiting if it's raining.
What's the Best Time of Day to Experience
Guardians
Guardians is one of the most popular attractions at Disney's California Adventure, and will generate long lines from the moment the park opens that will persist all day long. Notably, there is no single rider line, so to minimize your wait, either head directly to Guardians at park open or plan on using FastPass. This chart shows the average peak wait time based upon crowd level. For more accurate predictions, check our Guardians Wait Times for the date of your visit.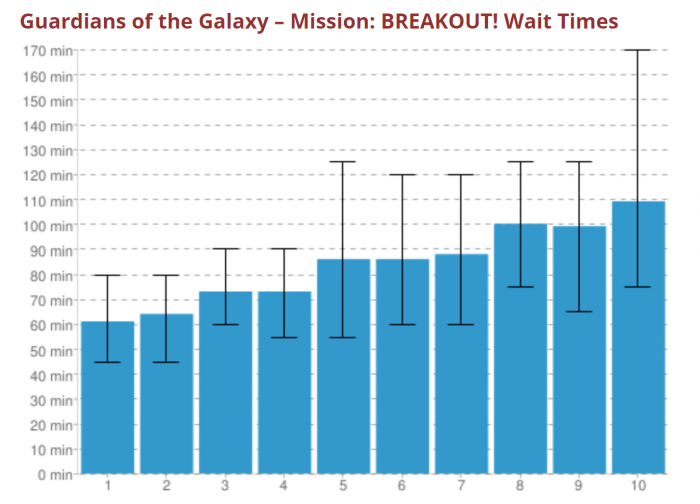 Do you enjoy Guardians? How does it compare to its prior life as Tower of Terror? Let us know in the comments!