Disney Cruise Line on $10,000
We've taken a look at what types of Disney Cruise Line vacations you can take at the relatively budget price points of $3,000 and $5,000, today we're looking at your DCL options at the much higher budget of $10,000.
Transportation Costs
In my previous posts, I worked through the math of how getting to a DCL embarkation port can easily cost $1,000 or more for a couple and $1,500 or more for a family – and that's just for domestic departures. If you're considering a European cruise, then your non-cruise travel expenses could easily be double or triple that. If you live more than a few hour drive from an embarkation port, you'll have at least some expense for pre-cruise transportation and accommodations for any sailing. Be sure to factor this into your overall vacation budget.
The Sailing
The cost of a DCL sailing includes the price that you'll be quoted by the DCL website or your travel agent, which includes DCL's rate plus taxes and destination port fees. In addition to that cost, the only real non-negotiable fee is a baseline level of gratuity for the crew members who serve you closely in the dining rooms and your stateroom. While many guests choose to give more, the minimum suggested gratuity rate is $14.50 per guest, per night (this is the total amount, which is distributed among the relevant crew). So, two guests on a three-night sailing would pay $87 in gratuities. Two guests on a four-night sailing would pay $116 in gratuities. On a five-night sailing they'd pay $145, and so on.
Note: The prices shown below were available in early January 2023. Prices vary.
Three and Four Night Sailings
The vast majority of Disney Cruise Lines' three and four night itineraries are priced well under $5,000 for two guests for all but Concierge Level staterooms. There are a handful of four-night sailings in Europe that list for close to $4,000. Add on transportation to Europe, a two-night pre-cruise stay (recommended for distant sailings), plus some of the more luxurious onboard activities, and you may be bumping toward the $10,000 ceiling.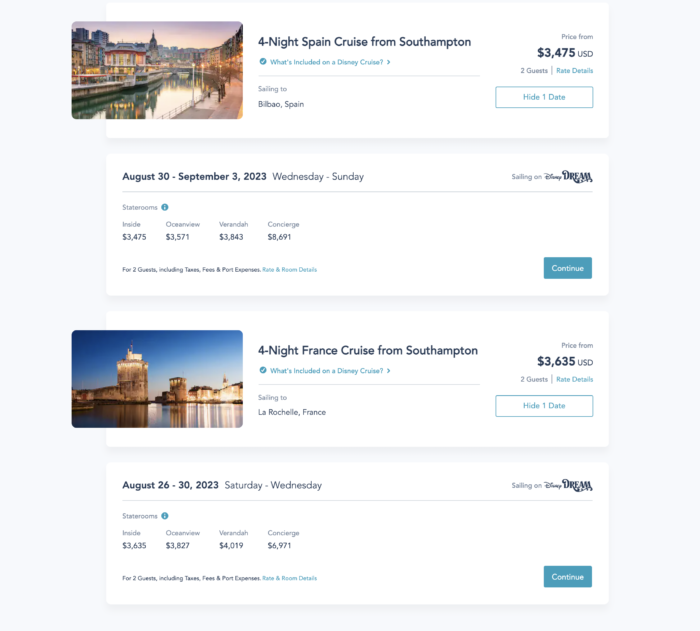 You'll also need a higher budget for a shorter cruise for a party of two if you want to sail on Disney's newest ship, the Wish, during Christmas week. Note the huge premium price the Christmas sailing commands over the same route just a few weeks earlier. Here again, our hypothetical party of two could easily get close to our $10,000 cap with a Christmas sailing on the Wish is a verandah stateroom, plus luxe pre-cruise accommodations and travel and lots of onboard niceties.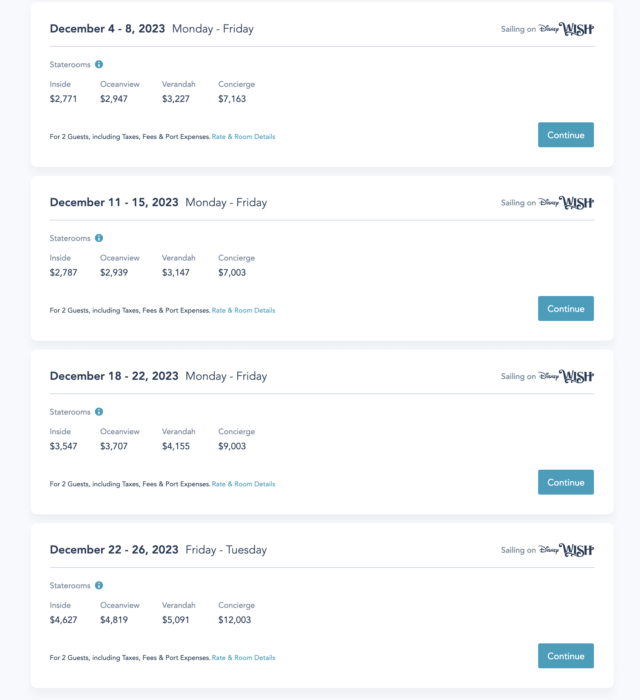 Longer Sailings
With a $10,000 budget, a party of two has loads of longer sailings available, particularly if they're willing to be flexible with sail dates and stateroom size.
A particularly enticing options include the May 2023 Transatlantic sailing, where a couple can stay in a verandah stateroom for just over $4,000. Even adding airfare, a pre-cruise hotel, and some onboard extras, keeping the overall total within $10,000 is easy.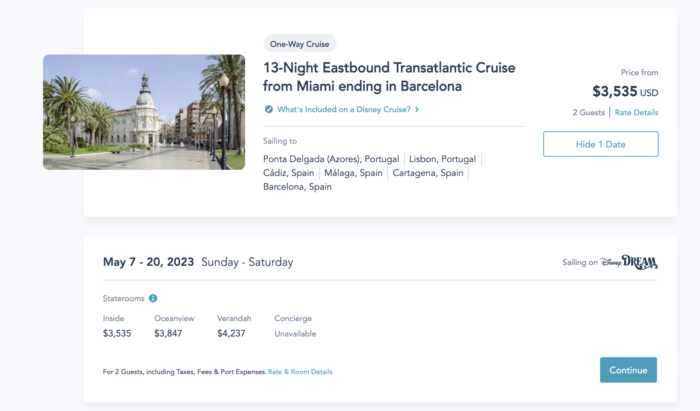 Similarly, most of the 7-night European sailings on the Dream can easily be accomplished with a limit of $10,000 including the sailing, some onboard extras, flights, and a pre-cruise stay.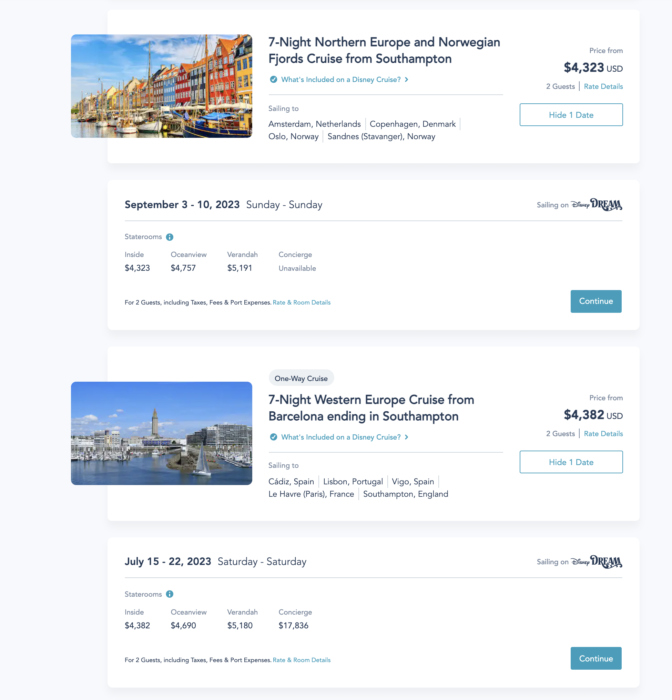 Even the relatively pricey 11-night Greek Isles cruise on the Dream is within reach for a couple if they're willing to stay in an inside stateroom and go easy on the onboard treats.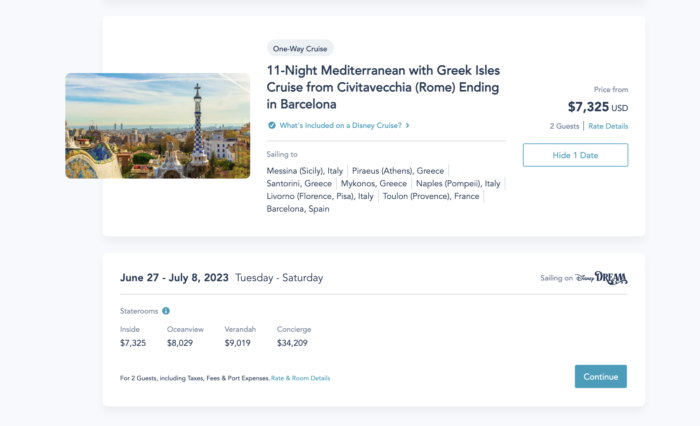 On the other side of the world, a $10,000 budget also allows a couple to experience the longest Hawaiian and Alaskan cruises, though there may be considerations of cabin size vs. extras to keep within the total price cap.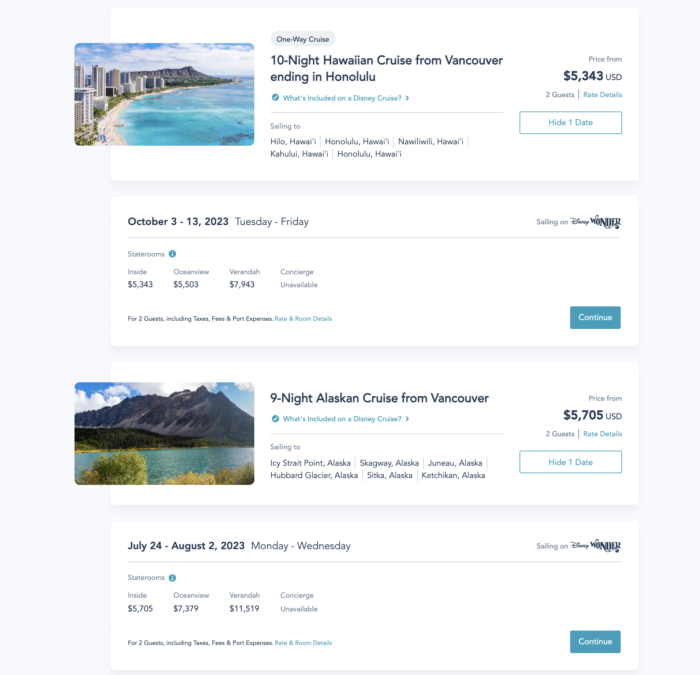 Larger Parties
Adding people to your travel party obviously adds expense. Looking at a party of four (sailing in one stateroom together, two adults plus two teens), there are still many, many options for shorter sailings. For example, these three-night sailings of the Dream in April 2023, have verandah stateroom pricing for four in the $3,000 range. Add a pre-cruise stay, transportation for four and some onboard fun and you're still well under $10,000.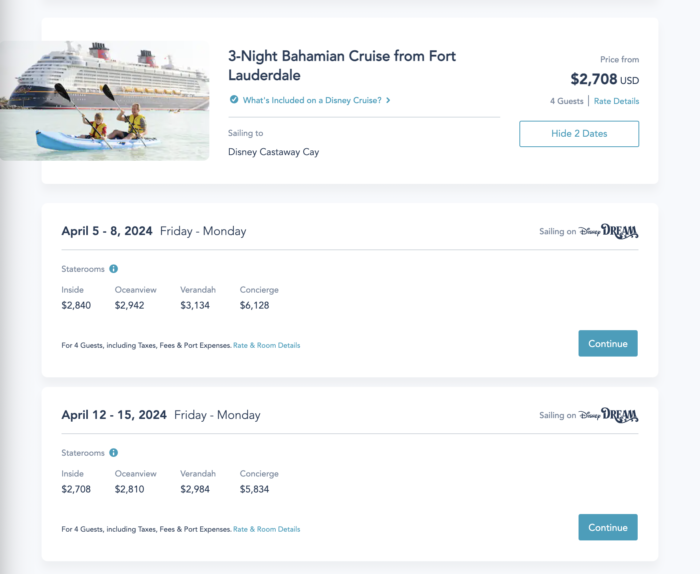 A party of four could accomplish a four-night European sailing, even in a verandah stateroom.
A party of four with a $10,000 budget could stay in a verandah stateroom on a 4-night Christmas cruise on the Wish, but there would be minimal buffer for extras if transportation costs were high.

Four people could sail the popular 7-night Alaska sailings on the Wonder, but date considerations are important. Take a look at the epic price difference in the oceanview stateroom rate on the May 29 sailing ($5,988) vs. the June 12 sailing ($9,180).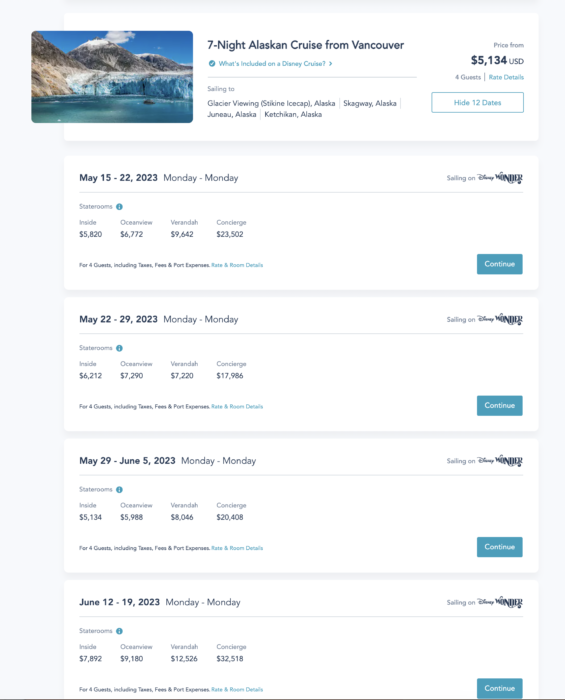 Concierge Options for More Luxurious Sailing
You've seen the Concierge rates on the photos above. Some sailings will allow a party of two, or even a party of four, to sail Concierge level within a $10,000 budget. If you want to experience the most luxe level of DCL cruising and keep to a $10,000 limit, you will likely need to:
Stick to a three or four night sailing
Avoid the Disney Wish (the newest, and often the most expensive, ship)
Sail with a small party
Avoid holiday sailings
As an example of attainable Concierge sailing, take a look at some of the four night sailings of the Magic. The rates below are for a party of four.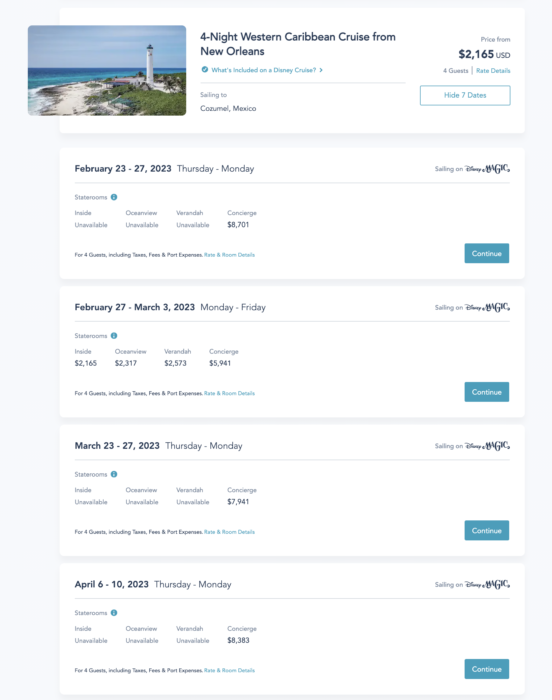 Compare this to the Concierge rate for a party of four for 4-nights at Christmas on the Wish. Changing the ship and date essentially triples the price and makes the sailing well over budget.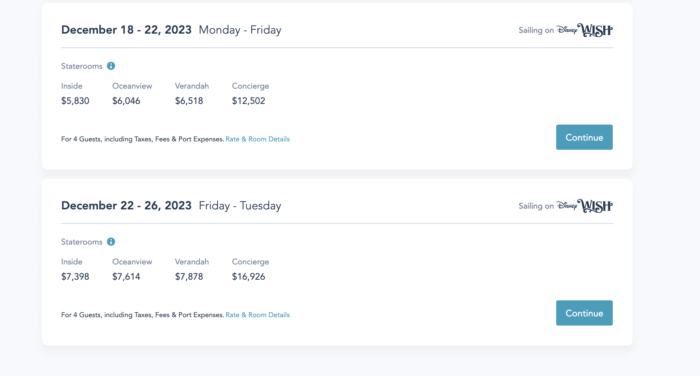 If you're thinking about a longer itinerary in Europe, for example, you'll have to disabuse yourself of any notion of sailing Concierge within anything close to a $10,000 budget. This $34,000+ Concierge stateroom for two in the Greek Isles isn't even near the top of DCL pricing for a couple.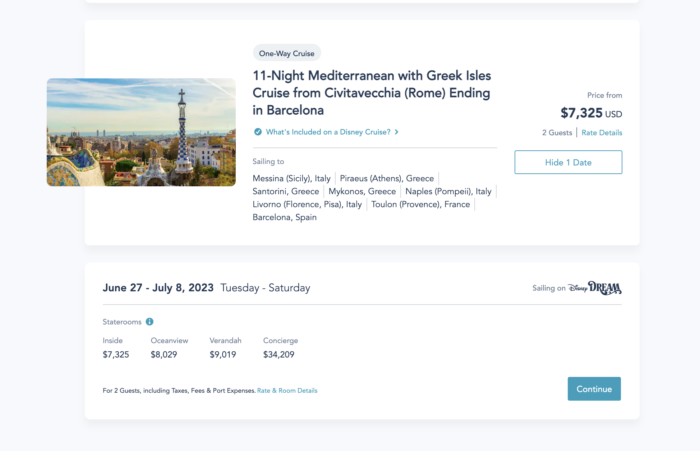 Cruise Enhancements
In addition to the price of your cruise and gratuities, other fees that might come into your budget planning include add-ons such as trip insurance, alcoholic beverages or other specialty drinks, port excursions, adult dining, childcare in the nursery, spa or salon treatments, merchandise, or photo packages. With a total budget of $10,000, your options for these sorts of enhancements will vary depending on the base price of your sailing.
If you're on a sailing that costs, say, $7,500 and your transportation costs were $2,000 that obviously leaves little room for add-ons.
On the other end of the spectrum, a couple on a lower priced sailing might have many thousands of dollars available to spend on extras if their price cap is $10,000. Also bear in mind that some of port excursions in Alaska and Europe can be particularly pricey.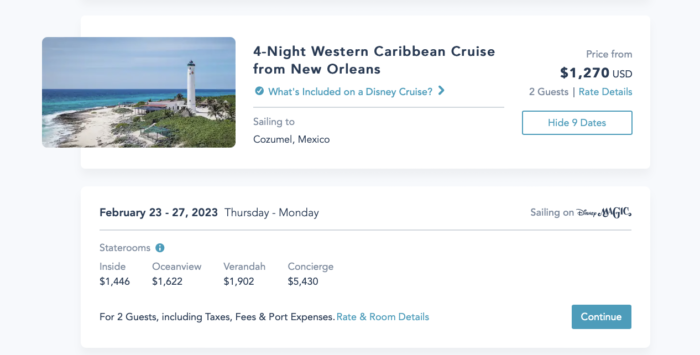 Indulgent extras might look like:
Photo package: about $300
Dinner for two at Remy, with drinks and tip: about $500
Cabana rental at Castaway Cay, plus drinks and tip: about $800 for a larger party
Helicopter trip to a glacier for two: about $900
Two rounds of Bingo: About $150
Couples massage and pampering at the spa: about $500
Souvenirs: $250
Cocktails for two each evening: $200
Obviously there are thousand of pricing permutations at any budget level. With more money, more options are open to you. A short sailing with a better stateroom and more indulgent extras or a longer or more distant sailing with more modest add-ons are both valid options that might appeal to different types of guests.
And if you're looking for advice and planning assistance with any Disney Cruise Line sailing, be sure to check out the Unofficial Guide to Disney Cruise Line or ask for a free quote from one of our expert travel agents.