Disney Princess Dress FAQ
It's time to take a look at the Disney Princess Dress situation. So put on your tiara and polish your crystal plastic shoes, 'cause here we gooooo.
Do most girls wear princess dresses at Walt Disney World?
If you've watched a lot of Disney promotional video or commercials, it may seem like every little girl that visits the Magic Kingdom arrives in full royal couture. On an average day (not a Halloween party), this is far from reality.
When you're just walking around the park, you'll see just a small percentage of girls ages about 3 to 8 wearing princess costumes, maybe 5%, or less. However, there are some places in the parks where the percentage of girls in princess attire will be much higher. My non-scientific, personal observation is that something along the lines of 50% of the preschool and elementary age girls at the princess-themed character meals will be wearing princess dresses. Note that this also means that 50% of the girls there will NOT be wearing gowns. Very few girls older than age 8 or 9 will be wearing princess dresses at meals, or anywhere else.
Something on the order of 80% of the girls getting makeovers at the Bibbidi Bobbidi Boutique (BBB) will be sporting some form of princess attire. Similarly, something on the order of 80-90% of the children attending Mickey's Not So Scary Halloween Party will be wearing costumes. These might be princess gowns, but could just as easily be something else entirely.
When my own three daughters were small (they're young adults now), they did lots of princess dress-up at home, but never chose to wear gowns while at Walt Disney World, not even at the princess meals or the BBB. That was their choice. They never felt uncomfortable that other girls were wearing dresses at character meals while they were not. You should use your judgment about your own child's personality about whether you think she would feel left out or sad if other girls are dressed in gowns while she is not.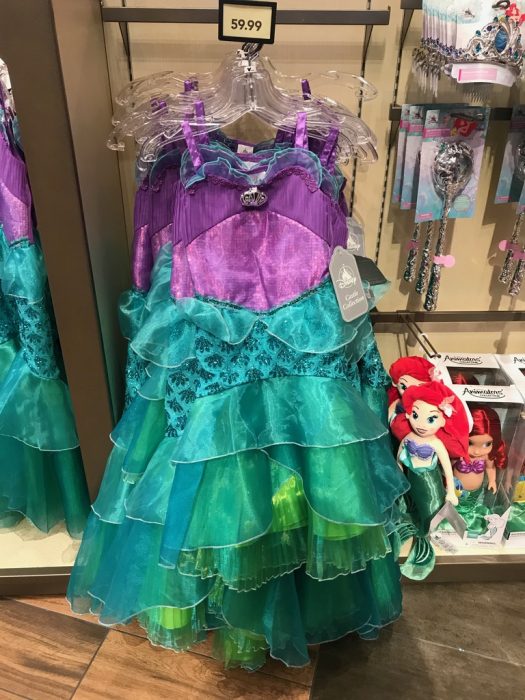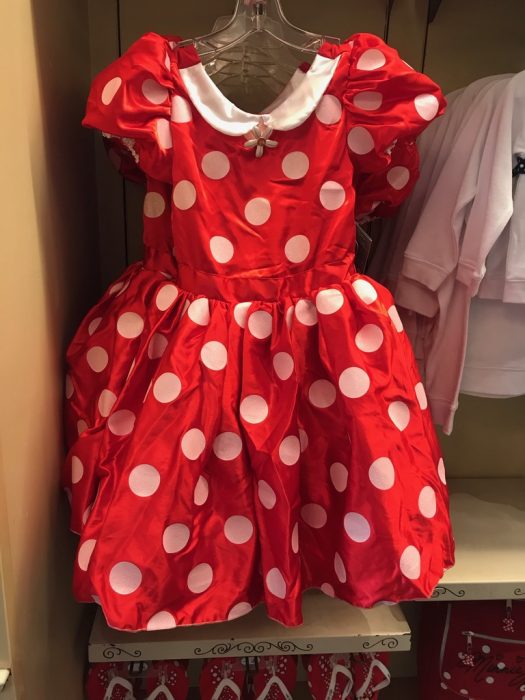 If my daughter wants to wear a princess dress at the parks, do I have to buy the dress at Walt Disney World? Do I have to buy an official Disney dress?
No!
There is absolutely no requirement that princess dresses worn at Disney World must be purchased at Disney World. You can buy Disney-branded costumes at ShopDisney.com, from brick-and-mortor Disney Stores, from online costume vendors such as buycostumes.com, from general online vendors such as Amazon.com, from big-box retailers such as Wal-Mart and Target, or from many other types of shops. You can also buy or make costumes from Disney patterned fabric. (Try Etsy.com for some great options.)
You could also buy or make a non-Disney princess costume for your daughter to wear at the parks. All of these options are equally acceptable. Really, I mean it.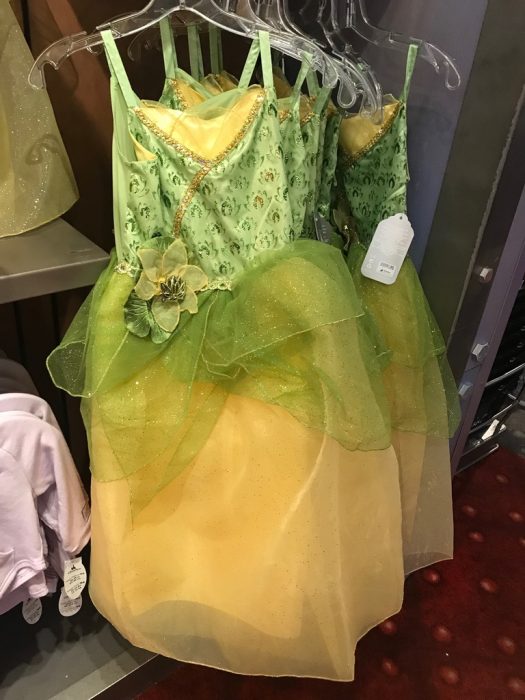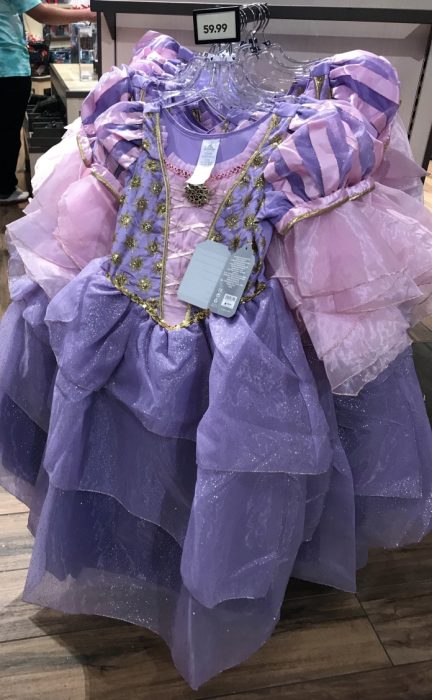 Where can I buy princess dresses at Walt Disney World?
There are Disney princess dresses sold at every WDW theme park, many resort gift shops, and at several shops at Disney Springs. You'll find the largest selection at Mouse Gear at Epcot, the World of Disney at Disney Springs, and Castle Couture at the Magic Kingdom. They are also sold as part of several makeover packages at both WDW Bibbidi Bobbidi Boutique locations.
That being said, I've been closely monitoring Disney theme park merchandise mix for over a decade. In the past year, there has been a small, but noticeable reduction in the presence of princess garments sales points in the theme parks. For example, at least since 2008, and likely before that, the center room at The Emporium on Main Street at the Magic Kingdom had been the "Princess Room," filled to the brim with a dress for every princess character along with the requisite supplementary items like shoes, wands, and tiaras. In late 2018, the Princess Room was turned into a general merchandise room. There are still some dresses at the Emporium, and Castle Couture in Fantasyland still overflows with princess garb, but the elimination of the Princess Room feels like a subtle hint that the hard sell of Disney princesses is ever so slowly winding down.
Are the dresses the same at Walt Disney World and Disneyland?
Yes. And they're the same on Disney Cruise Line too. There has been a real push toward the standardization of merchandise at the Disney theme parks and cruise ships.
However, the dresses sold at the parks and on the cruise ships are NOT the same as the dresses sold at the brick and mortar Disney Stores outside Orlando and Anaheim. Nor are they the same as the dresses sold by non-Disney-affiliated retailers.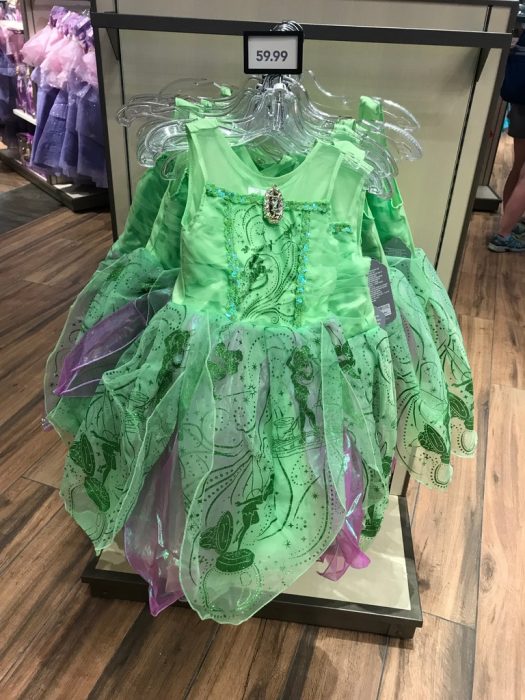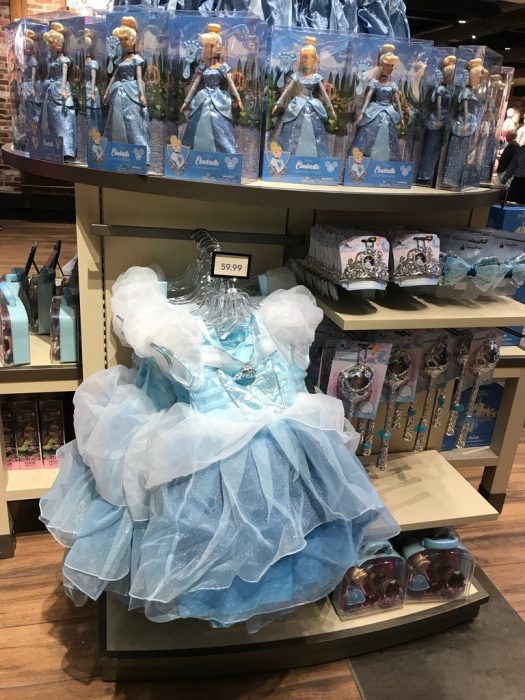 Is there only one version of the dress for each princess?
There's one official primary dress for each princess (though the style of the primary dress is tinkered with every few years); that's the dress that will be ubiquitous throughout the parks. There are sometimes special variations of the dresses for some of the princesses. For example, Minnie Mouse (I know she's not an "official" princess, but seriously, who rules more than Minnie?) dresses can commonly be found in several color variants. In the past, I've seen an Ariel wedding dress variant costume. There are currently winter versions of Anna and Elsa costumes sold alongside their regular costumes at World of Disney.
There is also a luxury version of the official princess costumes that sometimes is sold in WDW boutiques, but not in the main shops in the parks. During the past few weeks I've seen these luxury children's costumes at the Summer Lace women's clothing shop at the Grand Floridian. The deluxe costumes cost more than five times the price of the regular costumes. More on that below.
Which princess dresses are available at the parks?
The exact mix of princess dresses changes from time to time. As of late winter 2019, the following princess costumes were available in stores at Walt Disney World:
Snow White
Cinderella
Belle
Rapunzel
Sleeping Beauty (Aurora)
Ariel
Tiana
Jasmine (a two-piece pants suit, not a gown)
Tinker Bell
Merida
Minnie Mouse (usually red, but sometimes there are pink versions, or possibly orange at Halloween)
Anna
Elsa
Elena of Avalor
Moana
Additionally, you can sometimes (but not always) find Mulan costumes available at the China pavilion at Epcot.
Pocahontas costumes are sometimes available at the Animal Kingdom and at the Castle Couture shop in the Magic Kingdom, though I did not see them in either location during winter 2019. Pocahontas costumes are rarely found at Epcot or Disney's Hollywood Studios.
I remember a while back that getting Anna and Elsa costumes was a real challenge. Is that still a thing?
In merchandise years, we're a long, long way from the heyday of Frozen. When Frozen was released during the 2013 holiday season, Disney was caught off guard by the film's popularity and was woefully under prepared for the crushing demand for merchandise related to the film. The days of Anna & Elsa costume rationing and billion-dollar eBay resales are a thing of the past; Frozen dresses are readily available.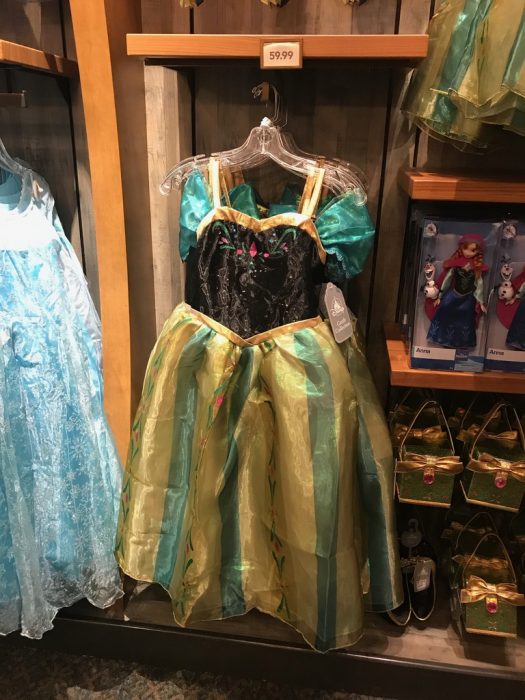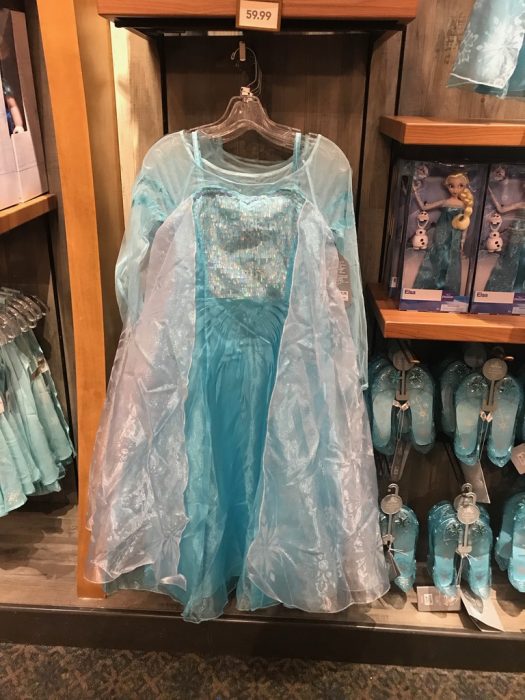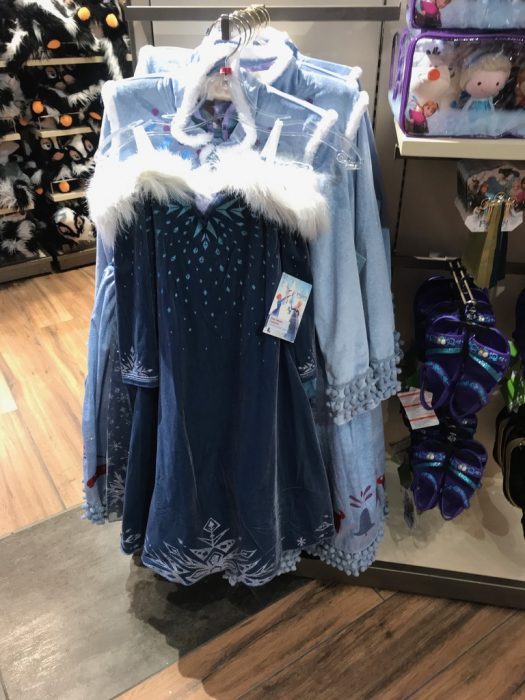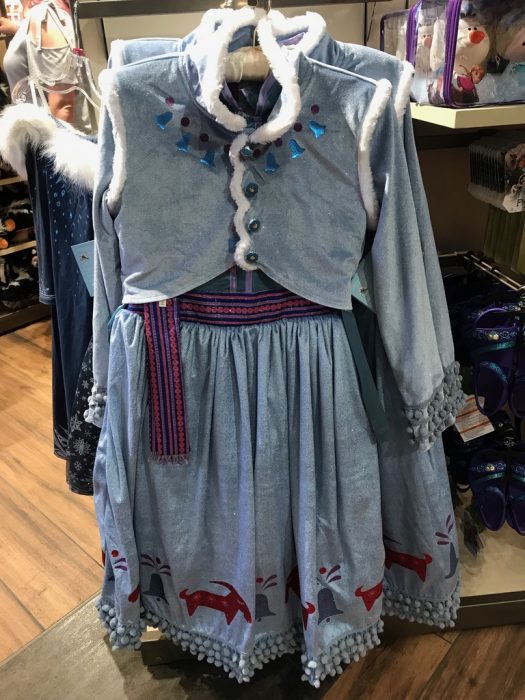 What costume sizes are available at the parks?
Not every store will have every costume in every size, but generally the princess costumes are available at Walt Disney World from size Youth XXS (size 2/3) to Youth XL (size 14/16). Additionally, there are smaller, baby-sized costumes available for some princesses.
Are the costumes sold in the parks true to size?
They tend to run a little small. If your child is on the rounder side, the dresses may be tight.
If we're buying a dress in the parks, can we try the dress on before we buy it?
Some, but not all, gift shops at Walt Disney World have fitting rooms. Those that do include World of Disney at Disney Springs, Mouse Gear at Epcot, and Castle Couture at the Magic Kingdom. If the shop has a fitting room, you're welcome to try it on there before you buy. If you're in a shop that doesn't have a fitting room, you can slip the dress on over a light tee or tank top to get a feel for sizing.
You can also buy a dress, try it on in your hotel room, and then return it if the fit doesn't work for you. (Don't remove the tags.) In most cases, Disney park/resort merchandise does not need to be returned at the exact store where it was purchased. For example, you could buy something at the Magic Kingdom's Emporium and then return it at the gift shop at All Star Music.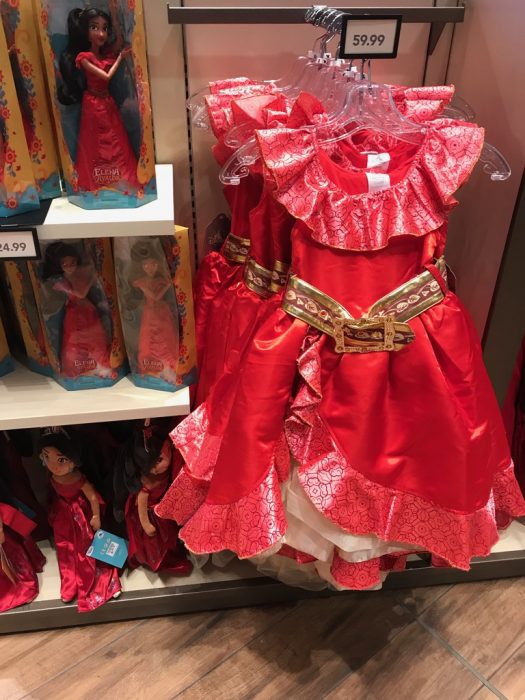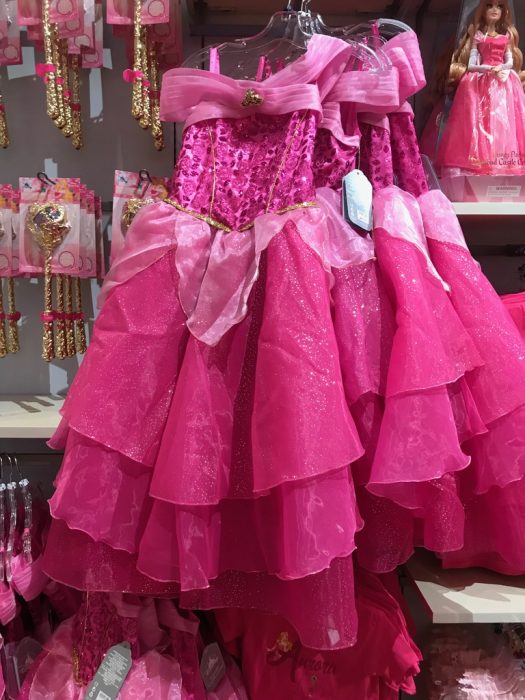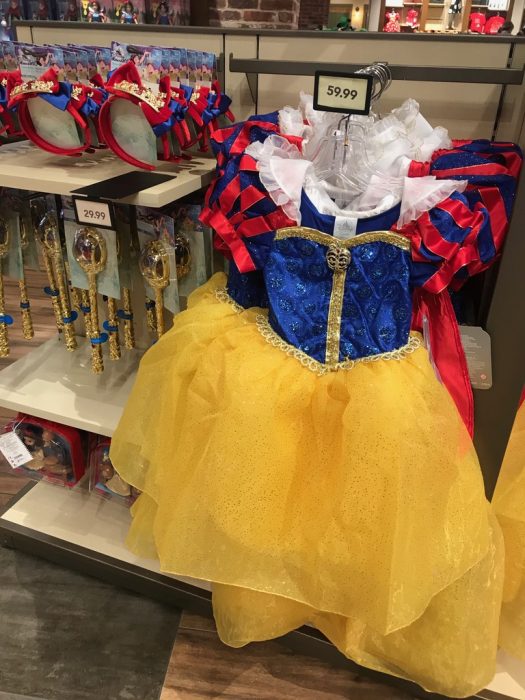 My daughter is an unusual size. What are my options?
As noted above, there is no requirement that your princess dress must be purchased on site. If you absolutely want your daughter to wear a princess dress at WDW, but think she might be challenging to fit, I encourage you to purchase your dress in advance from another source. Go to the Disney Store at your local mall, or to a general costume shop, and try on dresses in many sizes. Or perhaps consider having a dress made specifically for her. If you don't have a favorite local seamstress, Etsy.com has many vendors who can craft a custom costume. A quick search there for "custom princess dress" brings up dozens of options with prices starting at about $30, up to many hundred dollars for designer-level handmade gowns.
What is the fabric like on the official Disney Parks dresses?
It's OK. In my opinion, the fabrics are generally quite soft and sturdy. You don't touch them and go "Ick!" the way you might with some off-brand "plastic" Halloween costumes. While my three daughters did not wear these dresses in the parks, we did purchase several over the years. They stood up to dozens of at-home "tea parties" and dress-up play dates. I even ran them through the washing machine a number of times with little damage (hang to dry). You should be able to get substantial dress-up use out of them after your Disney vacation.
As for specifics, the fabric and trim vary by princess, but the fabric content is overwhelmingly polyester and nylon.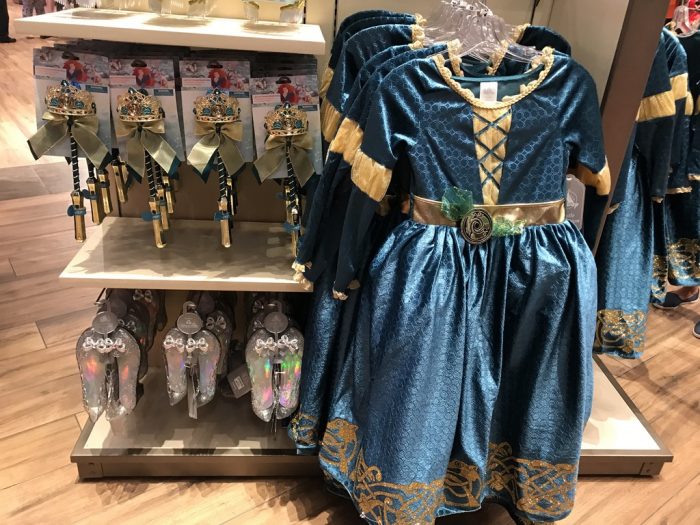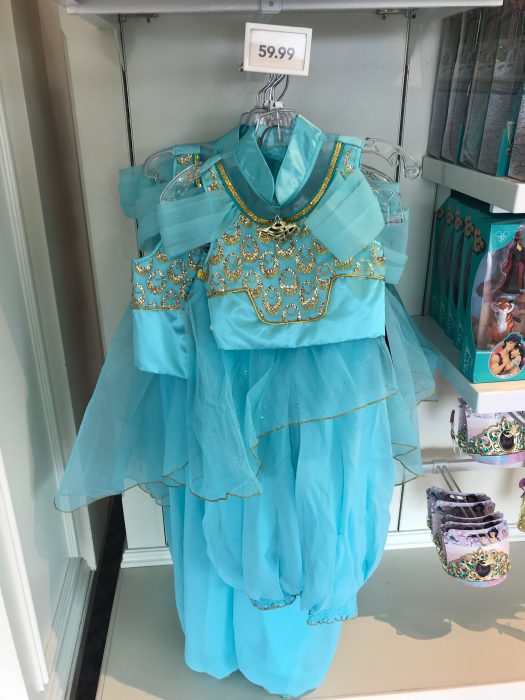 Is the fabric quality different than the Disney Store costume fabric?
Yes. In my opinion, the fabrics and embellishments on the Disney parks dresses are of slightly higher quality than those on the Disney Store dresses. This may or may not make a difference to you. If you know your daughter will only be wearing the dress for one character meal, then a less expensive dress of slightly lower quality may be perfectly sufficient.
Both the Disney parks and Disney Store dresses are more substantial and better made than the dresses found at other vendors such as Target or buycostumes.com. But again, if you're only going to use the dress once, a "throw away" dress may be just what you need.
Are the dresses comfortable?
The perception of comfort really lies with the individual child. The Disney parks dresses are of high quality. The seams are generally finished, so there's not too much extraneous wear against the skin. However, depending on the costume, there may be lace, sequins, beading, or other possibly itch-inducing embellishments next to the skin. If your child is sensitive, you'll likely want her to wear a tank or cami underneath the gown. If the Disney Parks or Disney Store dresses are not sufficiently comfortable for your daughter, consider a custom costume or try buying from a slightly higher end vendor like Chasing Fireflies.
Another thing to consider is that these are primarily long dresses, with many layers of fabric. Depending on when you choose to visit Walt Disney World, the temperatures can easily be well into the 90s with 100% humidity. Your daughter might think her dress is perfectly comfy if she wears it to the parks in January, while the exact same dress would be perceived as stifling in July.
Also, long skirts can make getting in and out of ride vehicles challenging for even the most coordinated child. Given this, I strongly suggest bringing a change of clothing for any child heading into the parks in costume. This may be one of the circumstances where renting a locker at the park makes sense.
Keep in mind that the Jasmine costume is often a two-piece pants/top outfit. This may be more appealing than a gown for some children.
And now the big question … How much do these dresses cost?
In the parks, the princess dresses are currently priced at a uniform $59.99, plus tax. This is down about $5.00 from the pricing a few years ago when all the princess dresses were $64.95, plus tax. This price drop, along with slightly reduced prominence in the park gift shops, may be another indication that the princess phenomenon is waning. Seriously, when was that last time Disney reduced the price on something popular?
For the primary princesses, the $59.99 price is the same regardless of the size of the dress or the princess. Moana costumes are less elaborate than the princess dresses; these are priced at $49.99.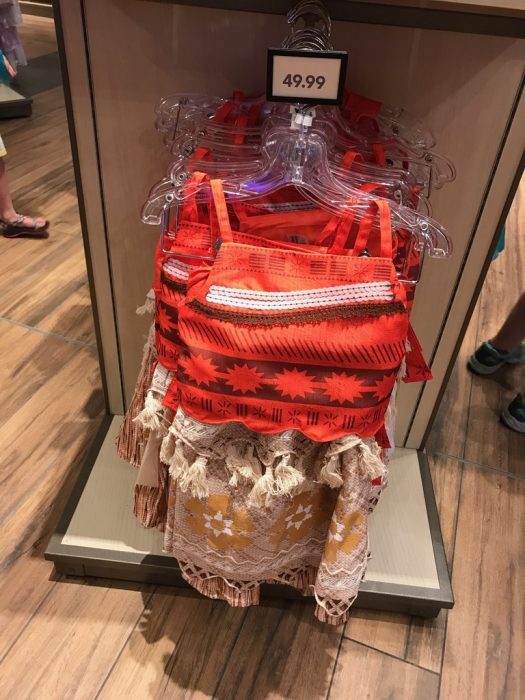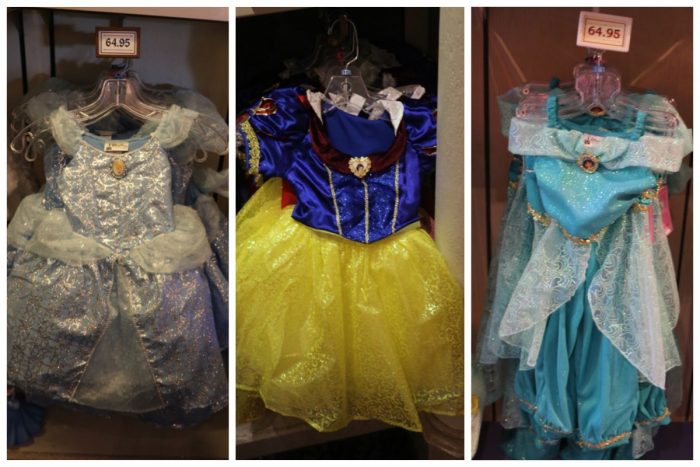 Is that the real cost total cost? Are there any other expenses I should know about?
The $59.99 dresses are displayed with a multitude of add-on accessories including wigs, gloves, shoes, tiaras, handbags, jewelry, wands, capes, and more. Some items are princess-specific, while others are just sort of generally sparkly. Prices for these items range from about $10-30, depending on the item. For example, in February 2019 a light-up Snow White magic wand cost $29.99, a Belle tiara cost $17.99, and a Cinderella hair bow was $13.99. Many of these accoutrements are displayed at a six-year-old's eye level. Good luck with buying just a dress.
Any tips for saving money?
The princess costumes at Target, Walmart, or many online vendors are going to be cheaper than costumes sold in the parks. If you're looking to economize, bring your own from home. The same thing is true for the princess accessories. You can find a plastic tiara for two or three dollars at any party supply store. It might not have an illustration of the proper princess on it, but you will likely save several dollars over a tiara purchased at the Magic Kingdom.
If you're determined to buy from Disney, the princess costumes sold at Disney Stores tend to have a base price of about $20 less than the in-park costumes. Additionally, there are sometimes discount coupons available for DisneyStore.com. DisneyStore.com almost always has a free shipping code if you're purchasing more than $75 of merchandise. Google "Disney Store Coupon Code" for current options.
While discount coupons are rare in the parks, be sure to ask about other discounts whenever you buy merchandise at Walt Disney World. Disney Visa card holders, WDW Annual Pass holders, Disney Vacation Club members, AAA members, and D23 members may find that they can save a few dollars. ALWAYS ask at the register.
Bargain hunters may also want to visit one of the two Orlando-area official Disney discount merchandise shops. These are clearance stores that sell only official merchandise, previously sold in the parks, at often steeply reduced prices. TouringPlans blogger extraordinaire Derek Burgan writes a monthly column, "The Magic, The Memories, and Merch!" that surveys the the discount merchandise situation. On my recent visit to Disney Character Warehouse, I found several dozen official dresses sold at discount.
Remember that you can get the "princess effect" without springing for a full gown. Wearing a tiara and holding a wand will give your daughter the air of royalty, without having to buy a pesky dress. If you can wait until later, try shopping at after-Halloween sales at party stores and other retailers. I've often seen significant markdowns.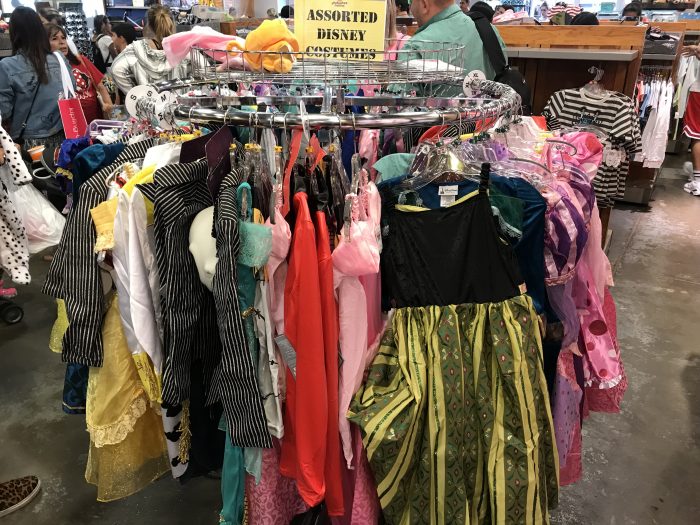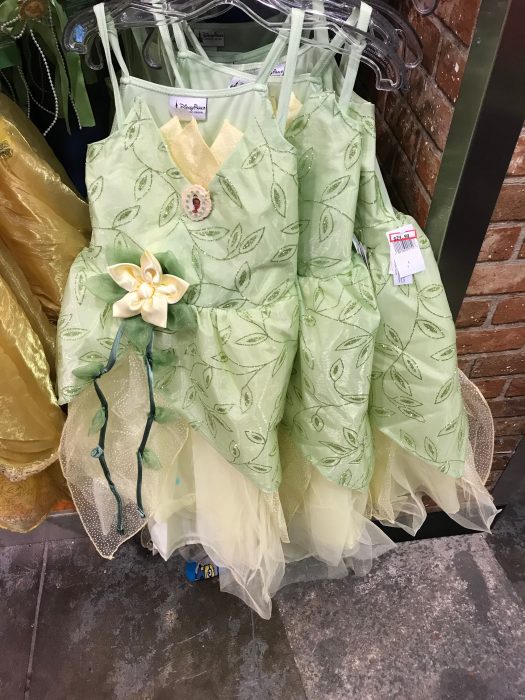 Can my teenager dress up like a princess in the parks? Can I?
Disney has extensive rules related to who can wear costumes when. Chief among these rules is that, other than at specific special events, costumes may not be worn by guests older than age 13. Here's the official language from the Disney website.
For general park touring:
Costumes may not be worn by Guests 14 years of age or older; however, some costumes may be permitted during select special events, such as Mickey's Not-So-Scary Halloween Party, Mickey's Very Merry Christmas Party, and Star Wars: Galactic Nights (special event costume guidelines apply).
Masks may not be worn by Guests 14 years of age or older (unless they are for medical purposes); however, some masks may be permitted during select special events, such as Mickey's Not-So-Scary Halloween Party, Mickey's Very Merry Christmas Party, and Star Wars: Galactic Nights (special event costume guidelines apply).
For special events such as the Magic Kingdom parties:
All Guests may dress as their favorite character, but may not pose for pictures or sign autographs for other Guests.
Costumes must be family-friendly and may not be obstructive, offensive, objectionable, or violent.
Costumes may not contain any weapons that resemble or could easily be mistaken for an actual weapon.
Costumes may not contain sharp objects, pointed objects, or materials that may accidentally strike another Guest.
For Guests ages 13 and under: Costumes and some masks may be worn, as long as the mask does not cover the entire face and eyes are visible.
For Guests ages 14 and older: Layered costumes or costume props that surround the entire body are strongly discouraged and may be subject to additional security screening. Costumes may not reach or drag on the ground (e.g.,full-length Princess dresses). Capes may be worn if the length does not go below the waist. Themed T-shirts, blouses, sweatshirts, and hats are acceptable. Acceptable accessories include: transparent wings, plastic lightsabers, toy swords, and tutus. Headwear may be worn as long as it does not cover the face. Masks of any kind may not be worn.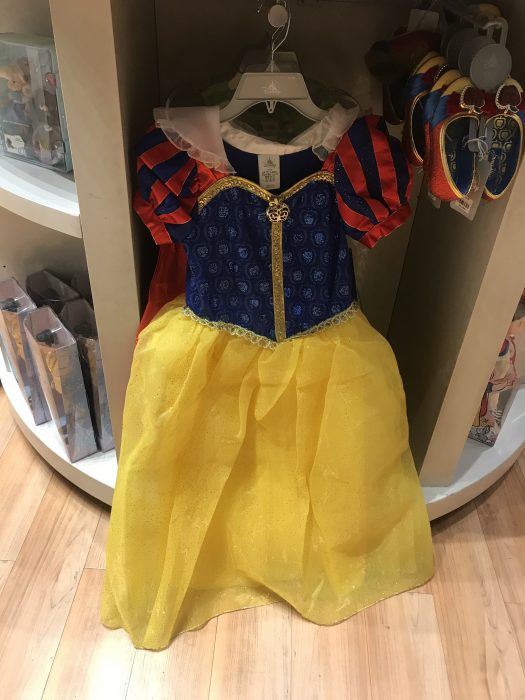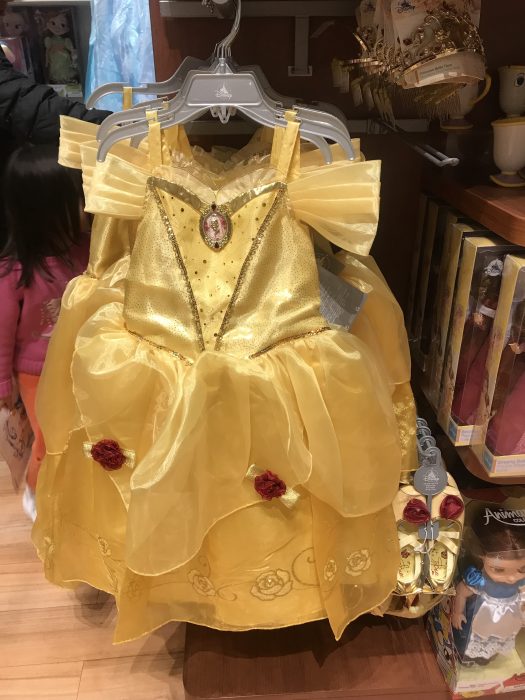 Bummer! Do you have any ideas about what my teen could wear for a regular day of touring in the parks that is costume-like but doesn't violate Disney's costume rules?
I encourage you to look into "Disney Bounding." Essentially, this is wearing regular clothing that happens to be similar in style or color to the costume of a Disney character. For example, to "Disney bound" as Tinker Bell, you might wear a green sundress and style your hair in a high bun or wear a hair clip with a big, yellow pom-pom on it. Googling "Disney bound" and your favorite character will bring up dozens of ideas.
My princess is extra royal. Are there options to get her something better than what's sold in the parks?
Only the best for you, eh? Disney Store also sometimes has partnerships with respected clothing designers, usually related to a film release.
The Chasing Fireflies brand costumes for all the princesses (many Disney licensed) are of superior quality. And again, there are Etsy sellers who hand make truly extraordinary costumes using luxe fabrics and fittings. Be aware that you'll likely need a fairly long lead time if you're having a dress custom crafted.
And then there are those uber-luxe costumes I saw sold at the Grand Floridian in February 2019. Child-size gowns sold for $350 each. Truly, they are lovely. While browsing, I made friends with another woman oogling the dresses. "This beading looks hand sewn," she gushed. "I'm not sure my wedding gown was this nice," I confessed. Sigh.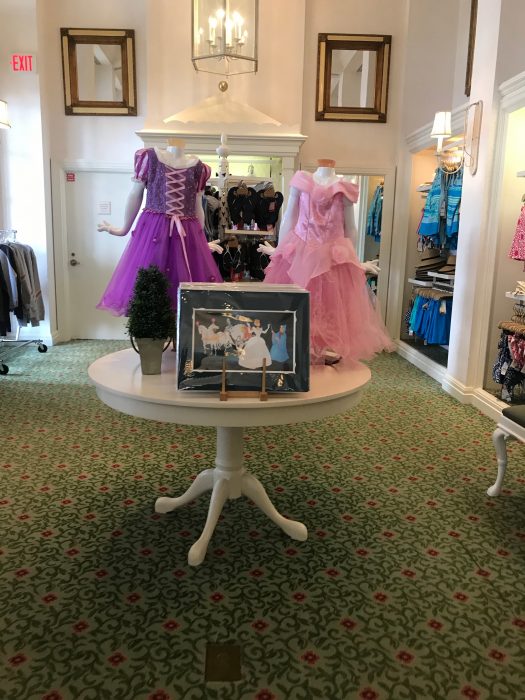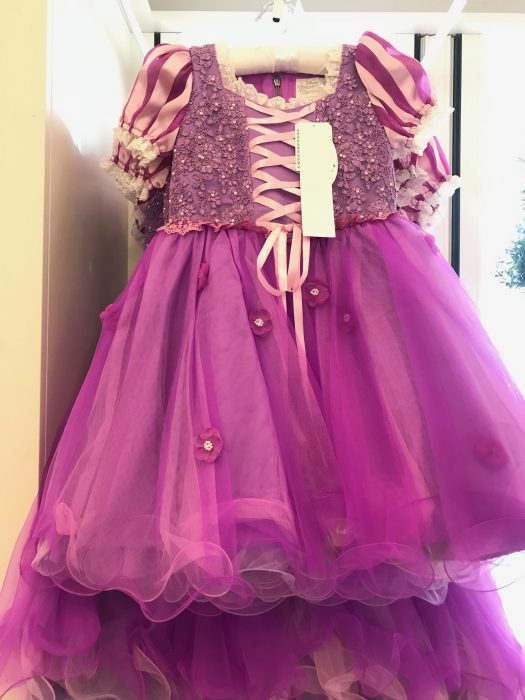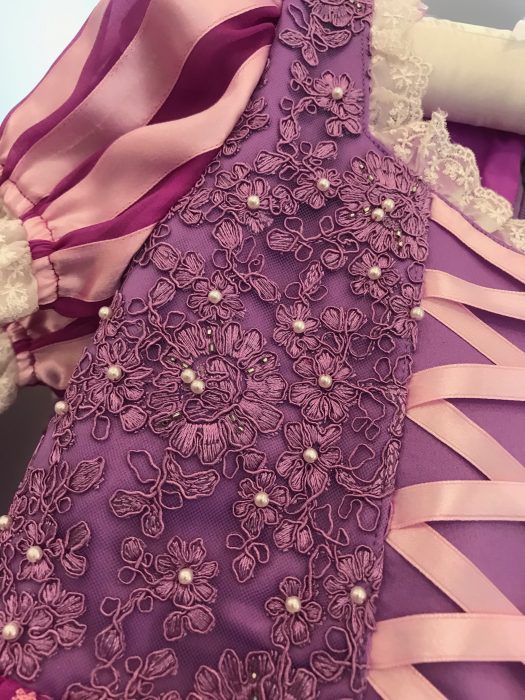 My daughter likes to dress up, but is not into the princesses. Are there any options for her?
Though princess dresses are the most visible costumes for girls, there are some alternatives if you look around. There are a few items of pirate costuming that are available near the exit to the Pirates of the Caribbean ride at the Magic Kingdom and at the Pirate's League boutique. I've also seen a Doc McStuffins jacket and examination set sold at Disney Stores and sometimes in the parks. And you may see some elements of a Jesse (Toy Story's cowgirl) costume, but you shouldn't count on this being readily available.
Now that we're on the cusp of all Star Wars all the times at Walt Disney World, Star Wars costume elements are now readily available at many shops at Disney's Hollywood Studios, as well at at key locations in the other parks and at Disney Springs. If your daughter wants to wear a vaguely Skywalkerish cape or has dreams of dressing like a Stormtrooper, then she should be able to find a costume at WDW.
You could also opt to have your daughter's face painted like a pirate, cat, or any of several dozen other choices. Face painting stations are located in all four theme parks. Prices vary, but generally cost in the ballpark of $20.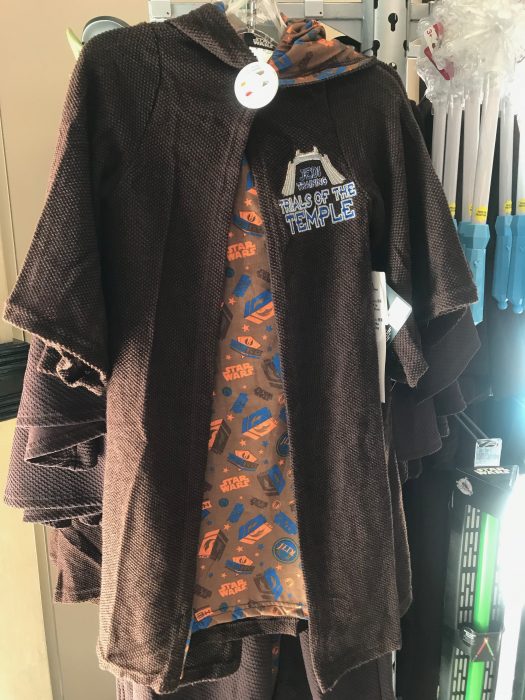 Is there a princess dress equivalent for boys?
There are pirate costumes at the locations I just mentioned. I have sometimes seen Peter Pan, Buzz Lightyear, and Woody costumes sold in the parks, but these may not be available at all times and can be much harder to locate. (Generally the selection in the parks picks up around Halloween.) You will also find Star Wars costume elements at Disney's Hollywood Studios near the Star Tours attraction.
You'll have MUCH better luck with boy costumes at Disney Stores where you'll see Star Wars, Marvel, Cars, Toy Story, and Peter Pan related costumes in good supply.
If your little man wants to be Prince Charming or any of this chivalrous equivalents, there are generic capes, crowns, and plastic swords sold at the Magic Kingdom's Castle Couture, as well as at other in-park locations.
It's also totally cool if your young boy wants to wear a Disney princess gown for his visit to Walt Disney World. Seriously.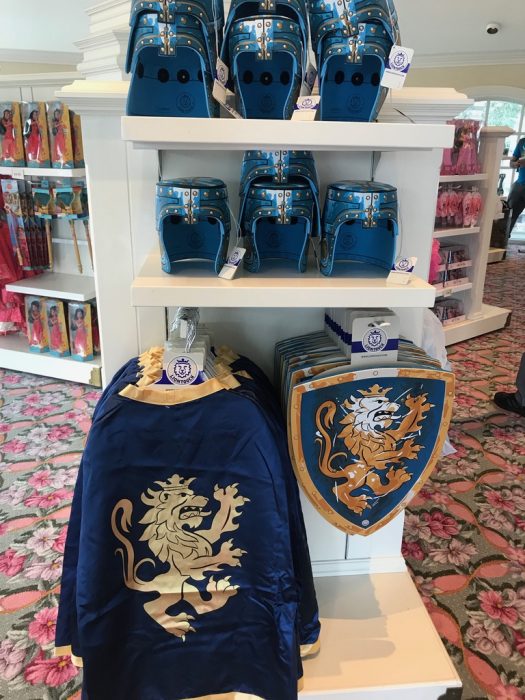 I don't want to be a dress-up costume princess. I want to be a REAL princess. Any ideas?
Prince Harry is off the market now, so the odds of that happening are lower than ever.
But if you want to fake it, there are some for realz Disney princessy clothes out there. Check out the Disney Royal Ball Quinceanera collection which features Disney character inspired ball gowns suitable for proms, quinceaneras, and other formal occasions. There is also a collection of Disney wedding gowns and a Disney-inspired wedding ring collection. If those don't make you feel like bluebirds are going to fly through your window and load your dishwasher, I don't know what will.
So my royal subjects, is there anything else you'd like to know about the princess dress situation at Walt Disney World? Have you purchased a dress for your child at the parks or elsewhere? What was your experience like? Did you elect not to buy a dress for your little one? Was this an issue or a non-event? Let us know in the comments below.