FAQ: Parking at Disney Springs
Disney Springs is the shopping, dining, and entertainment hub at Walt Disney World, featuring dozens of bars and restaurants, retail shops of all kinds, a multiplex movie theater, bowling lanes, a stage show, and much more. Sounds great, but what do you do if you're driving there? What do I need to know?
Is there parking at Disney Springs?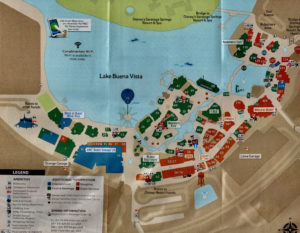 Yes!
While you can get to Disney Springs via free transportation, many people do choose to drive and there are parking garages and surface lots.
Lime Garage: closer to the Marketplace area
Orange Garage: closer to the West Side and Town Center
Grapefruit Garage: closer to the Marketplace area
Lemon Lot: closer to the Rainforest Cafe area
Watermelon Lot: closer to the Cirque du Soleil area
Strawberry Lot: closer to the West Side area
Some of these parking areas are HUGE, like more than 3,000 parking spots in one garage huge. Do yourself a favor and take a quick photo of your location so you can find your car again at the end of the day. Want to know which garage is closest to your restaurant? See our post Where to Park for Your Disney Springs Dining Reservation.
How much does it cost to park at Disney Springs?
Parking at Disney Springs is free – which, in most cases, is different than the situation at the theme parks and overnight at the Disney resorts.
Note: Valet parking at Disney Springs was discontinued in late 2023.
Is there a handicapped parking area?
Yes, each lot or garage has a designated handicapped parking zone. You'll need to have a valid disability permit to make use of this space.
Can I charge my electric vehicle at Disney Springs?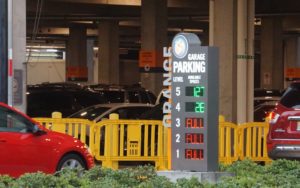 Yes. There are three electric vehicle charging stations in the following Disney Springs locations:
Lime Garage: 5th floor
Orange Garage: 5th floor
Grapefruit Garage: 3rd floor
Does it matter which lot I park in?
Orlando-area locals have STRONG opinions about which garage they like best, but for most guests, it really doesn't matter. If you're going to be exploring and shopping all over Disney Springs, just park in the first lot you find.
If you have mobility issues and are going to specific place, the AMC movie theater for example, then pay attention to the garage/lot locations above and park in the area closest to your destination.
What should I put into my GPS to get to Disney Springs?
You can input "Disney Springs" into most current GPS systems and it will get you near enough that you can just park in the first lot you see, but if you need it, the GPS coordinates of Disney Springs are 28.3702539, -81.5209851.
Do they ever run out of parking at Disney Springs?
Even though there are many thousands of parking spaces, at times like holiday weekend evenings, they can get full, or close enough to full to make you tear your hair out. The more crowded the parks are (check our Crowd Calendars for a general read on this), the more likely the parking situation will be challenging. During the most crowded times, you'll probably be happier using Disney's transportation system if you can.
If it's busy, how do I know if there will be an open slot for my car?
The parking garages are high-tech, with motion sensors at each spot. There are street level signs indicating whether there are open spaces. And then within each garage there are lights in the ceiling that are red at occupied slots and green at open slots. It's easy to see where there are opening without any need to aimlessly circle.
Can I park overnight at Disney Springs?
No. Hours vary, but generally the lots close in the 2:00 AM range.
Can I park at Disney Springs to avoid the theme park parking fee?
Theoretically you could, but it wouldn't be time effective.
The Disney Springs lots generally open in the 9:00 a.m. range and there is no direct transportation to the theme parks from Disney Springs. And bus service from Disney Springs to the resorts starts at about 10:30 a.m. This means that to get to a theme park anywhere near opening time, you'd have to first walk to the Saratoga Springs resort Congress Park stop and grab a bus to the parks from there. And then repeat the trip on the way back to your car in the evening. To me, this just wouldn't be worth it.
Originally posted September 2021. Updated September 2023.