Disney World Crowd Calendar Update For February 2022
Feb 1 2023 note: – if you got here from a Crowd Tracker update email sent today, you're looking for the 2023 article. We apologize for the typo in the email.
Disney World is crowded again. Really crowded. Is this the beginning of the end or the end of the end?
As we head into the spring break season we have a lot of interesting wait time data to look at recently. In December, Magic Kingdom averaged a 5.6 on our Crowd Calendar, the lowest average that we've ever recorded for that month. Obviously that was mostly due to the spread of the omicron variant which lead to much lighter travel numbers over the holiday season. Then in January we saw an average crowd level of 6.7 at Magic Kingdom, one of the largest we have ever recorded. Even early February is trending higher.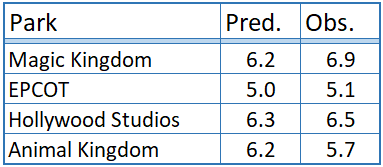 It isn't just Magic Kingdom either. Here are the average crowd levels so far in 2022 compared to the average predicted crowd levels.
Only Animal Kingdom saw crowds lower than predicted so far in 2022. This set of recent wait times plus other key indicators for travel tells us that spring will be very busy. Probably a busier than usual spring and certainly busier than our current crowd calendar predicts. So, it is time for an update.
What's in This Update?
This update covers dates between February 22, 2022 and December 31, 2023 (only dates one year in advance are displayed on the Crowd Calendar). Almost no crowd levels in the near future are going down as a result of this update but many dates will see an increase. This is a direct result of the increase to posted times that we have observed in the last four to six weeks. Bookings in April and May appear to be spiking.
If you are planning a trip in early April you may see crowd levels go up drastically. It just doesn't seem likely anymore that those '3's and '4's in April will be accurate. Many of those will change to '5's, '6's or higher. But don't panic. The difference between a '3' and '5' isn't as much as you think.
At Buzz Lightyear Space Ranger Spin, for example, a '3' represents an average wait time of 33 minutes between 11:00 a.m. and 5:00 p.m. while on a '5' day the average is 41 minutes. I  like to use Buzz Lightyear as an example because it has a fixed capacity per hour so comparing days is easier. Big Thunder can alter its wait time by adding vehicles, Buzz can't.
The news gets even better if you are using a touring plan. Use one and the difference between a '3' day and a '5' day is noticeably reduced. The plan will navigate you around the park in a way to avoid the bottlenecks and minimize your wait in line. Almost like a magical creature that springs out of a lamp and grants you wishes. Obviously we all want to visit on a day that isn't as crowded but when you don't have a choice it is reassuring to know that when you use a touring plan, you have the single best tool for beating crowds at your disposal. Follow it and it won't matter what the crowd level is.
When to Expect More Updates?
One could ask the question, why update now? Why didn't you update the calendar sooner? It's a valid complaint without a soothing answer. We have to observe the wait times in the parks and react when we see a new trend. This one arrived in the last several weeks and we wanted to make sure it wasn't an anomaly. Plus, it is also possible that these increased crowd levels will be an over-reaction – we have seen that happen before. Bottom line: this crowd calendar update represents a prediction based on the best information we have right now. As always, that prediction is subject to change.
Speaking of change, one way we may choose to approach this new paradigm is to update more often. The steadfast patterns that we've observed for two decades are less stable now. Updating the Crowd Calendar more often than once a month may help. But it will require your patience and understanding. No one likes uncertainty when planning a Disney trip, but in these times it seems some is inevitable.
If you have a trip planned this spring I think there are still great opportunities to find days with less-than-insane crowds. You may just have to be a little savvier to find them. Oh, and in case I didn't mention it…use a touring plan. They work.