Thirteen Things To Do at a Disney World Hotel Without Going to the Pool
Intrepid TouringPlans parks reporter Christina Harrison recently asked our followers on Instagram* what question they had about traveling to Walt Disney World with younger children – that is, kiddos about age five and under. One that had us thinking was, "What can I do at a resort with a young child without going in the pool or splash pad?"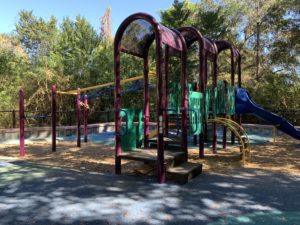 First things first, the Disney resort pools are a big draw for many visitors. They are all impeccably clean and uniformly heated to about 82 degrees (F) year round. All the resort feature pools have something enticing for kids such as elaborate themed decor elements, waterslides, or interactive splash pads.
There are; however, numerous reasons why your family might want to avoid the pools. These might include:
A child or parent's fear of water.
Adverse weather conditions – thunderstorms or low temperatures, for example
Medical contraindications for the child or parent. Examples of this might be a cast on a broken arm that shouldn't get wet, an ear infection, or an allergy to common chlorination chemicals.
A single parent with multiple children might not feel comfortable supervising them all in the water simultaneously.
A potty-training toddler who rebels against wearing a swim diaper.
A child or parent who forgot to bring a swimsuit. (Note: Disney does sell swimsuits for children and adults at the resort hotels, at the water parks, and at a few locations at Disney Springs. However, sizes or styles may be limited, particularly for larger adults.)
There are also plenty of reasons why you might want to spend time at a Disney World hotel rather than the theme parks. These might include:
Desire to economize.
Specific interest in exploring the resorts or other non-park areas of WDW.
Need for downtime or less stimulation.
Given all that, what are your options when you want to hang at the resorts with a child, but don't want to go in the water?
1. Hunt for Hidden Mickeys
Disney Imagineers often hide Mickey Mouse imagery in decor elements such as draperies, carpeting, paint, ironwork, etc. Have fun with your child looking for hidden Mickey shapes at your hotel.
2. Rent a bike.
At the Boardwalk, Old Key West, Port Orleans, and Saratoga Springs resorts, you can rent a surrey bike by the hour. This is great for simultaneously exploring the resort pathways, getting some exercise, and keeping a child entertained.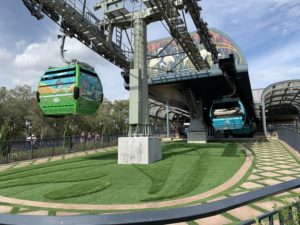 3. Hang out a the playground.
Many WDW hotels have on-site playgrounds. Most are simple affairs, with a slide or two and some climbing equipment, but that may be exactly what you need with a small child.
4. Go for a ride.
Once you're at Walt Disney World, all the transportation options on site are free. That includes the monorail, boat systems, buses, and Skyliner. Many kids think those rides are as interesting as anything inside the parks.
5. Watch exotic animals.
All guests are welcome to visit Disney's Animal Kingdom Lodge. You don't have to be staying there to hang out at the animal viewing areas. Typical species to see include giraffes, zebras, and ostrich. When you've had your fill of the creatures, take some time to wander around inside to see the wonderful African art displays.
6. Stroll the Boardwalk.
The Boardwalk area is a hive of activity during the evening hours. Grab an ice cream or a slice of pizza and play the carnival games.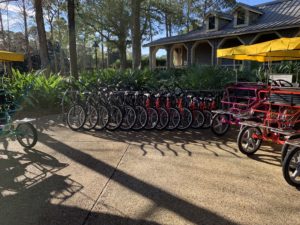 7. Rent a boat.
For some quiet time, kayak and canoe rentals are available at Fort Wilderness. You can also rent motorized boats of many sizes at the Magic Kingdom and Epcot areas hotels.
8. Participate in a craft project.
The pool areas at most hotels host daily games and craft projects just as coloring pages or tie-dying tee shirts.
9. Take in the holiday decor.
From the end of November until mid-January, all the resort are done up for the holidays. A few have decorations that particularly appeal to kids. The giant gingerbread house at the Grand Floridian, the gingerbread carousel at the Beach Club, and the train display at the Yacht Club are all favorites.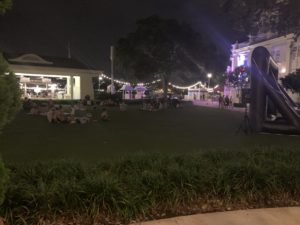 10. Watch a movie under the stars or roast marshmallows at an evening campfire.
Weather permitting, most WDW hotels have free outdoor movies and a campfire. Check at the front desk for details on what's playing. Marshmallows and sticks are often free; you may have to pay a small fee to add graham crackers and chocolate to the festivities.
11. Go for a carriage ride.
Fort Wilderness offers horse drawn carriage rides in the evenings, weather permitting. Call 407-939-7529 to make reservations.
12. Watch the Electrical Water Pageant.
This short, sweet water parade travels around the Magic Kingdom area hotels each evening.
13. Play games at the arcade.
Most Disney World hotels have an arcade equipped with games for people of all ages, including classic pinball-style games, air hockey, dance battle games, and more.
* If you don't follow us on Insta, you're really missing out. Chrissy serves up quality content there on the regular.