Earl of Sandwich: A Disney Springs Standard
Among all of the dining establishments at Disney Springs, one has stood the test of time and remained a perennial favorite amongst Disney World fans – Earl of Sandwich.
Located in the Marketplace neighborhood of Disney Springs, you can find this quick-service deli near the Bibbidi Bobbidi Boutique for breakfast, lunch, and dinner.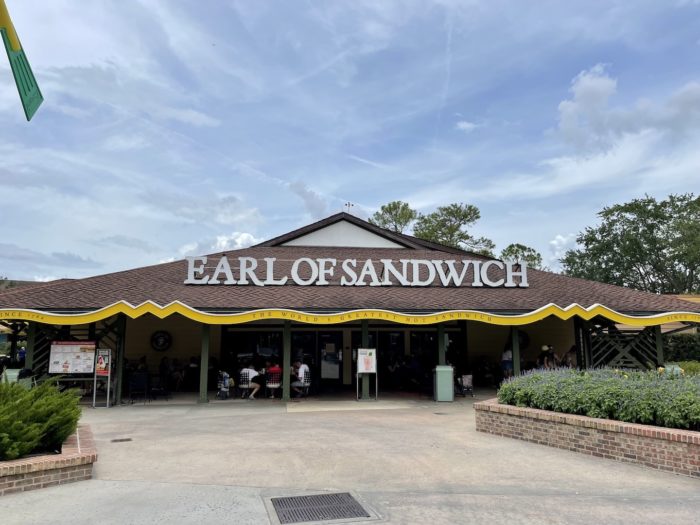 So if you're wondering who is the Earl of Sandwich and why he has a restaurant, there is an answer! In 1762, John Montagu, the 4th Earl of Sandwich, requested roast beef between two slices of bread so he could eat with his hands while playing cards; and behold, the sandwich was born!
Then, in the early 2000's, the Earl's descendants partnered with Robert Earl, the founder and CEO of Planet Hollywood, to create the Earl of Sandwich restaurant chain.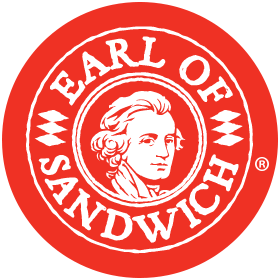 This is why an 18th-century, powdered wig gentleman is part of the restaurant's logo and even immortalized in portrait form inside the restaurant. Our fearless leader Len Testa actually didn't know this fact during his first visit to Earl of Sandwich which is why he asked the staff, "Why do you have a painting of George Washington?"
What You Need to Know
Online ordering is available, but only through the Earl of Sandwich's website. So you won't be able to place an online order via My Disney Experience. However, for guest convenience, QR codes are posted on signs outside of the restaurant with the link to order.
Indoor and outdoor seating is available, but keep in mind that both dining areas are small and can get crowded since Earl of Sandwich always looks busy. Still, even when the line is two rows deep just to get to the register, do note that it moves fast.
Upon entering the restaurant, guests order on the left side of the counter and move down to the right cafeteria-style. Along the way, you can pick up chips and cold case items before paying. Guests are then given a buzzer to know when to return to the pick-up window which is to the right of the main counter near the self-serve fountain drinks.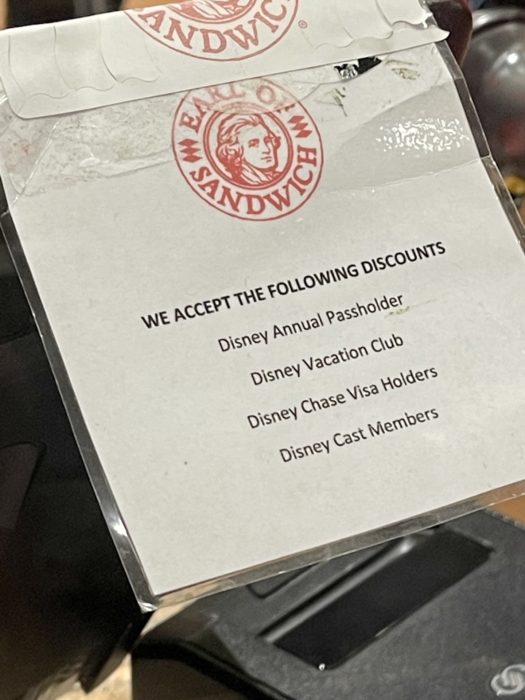 Now since the restaurant is very loud and a little cramped, this isn't a place to linger. You order, you get your food (which is always steaming hot for hot items!), you eat, and then you go on with your day at Disney Springs. You won't find anyone lounging here for hours or choosing this eatery for a leisurely meal.
Earl of Sandwich does accept Annual Passholder, Disney Vacation Club (DVC), Disney Chase Visa, and Disney Cast Member discounts and is priced at an average of $14.99 and under per adult.
The Food
So Earl of Sandwich has a no-frills kind of menu. Our park reporter Chrissy describes this Disney Springs staple as a place you take your Great-Uncle Bob because he's going to find something he recognizes and enjoys sans virtual queues for giant cookies.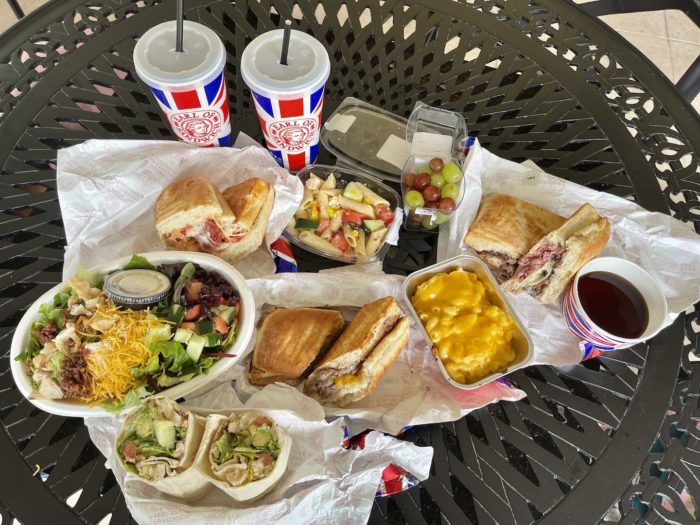 Expect a wide selection of hot and cold sandwiches, wraps, a few soups and simple desserts, fountain drinks, and even Earl Grey Lemonade.
French Dip – $8.49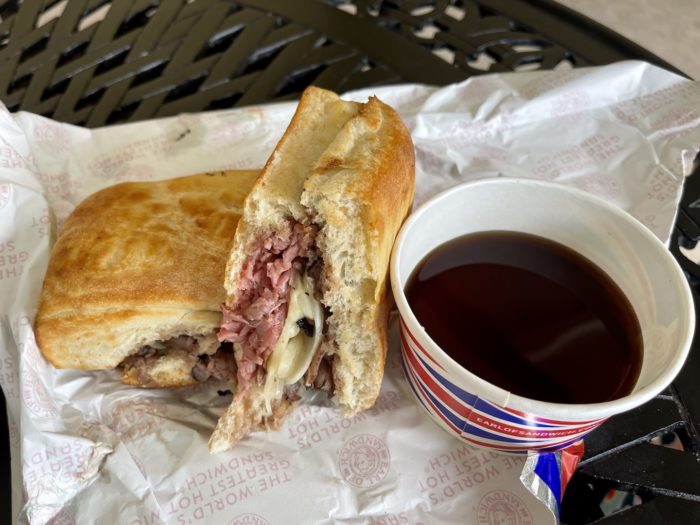 Chrissy's favorite Earl of Sandwich sandwich (and perhaps the fanciest item on the menu?) is the French Dip. The au jus is always hot and there's always enough to use with your leftover bread. The sandwich itself comes with lots of melted cheese, just enough onions, and tender, pink beef–it's a huge serving size. Plus, the bread stays together despite the constant dipping and still manages to stay soft and delicious!
Pepperoni Pizza Sandwich – $7.99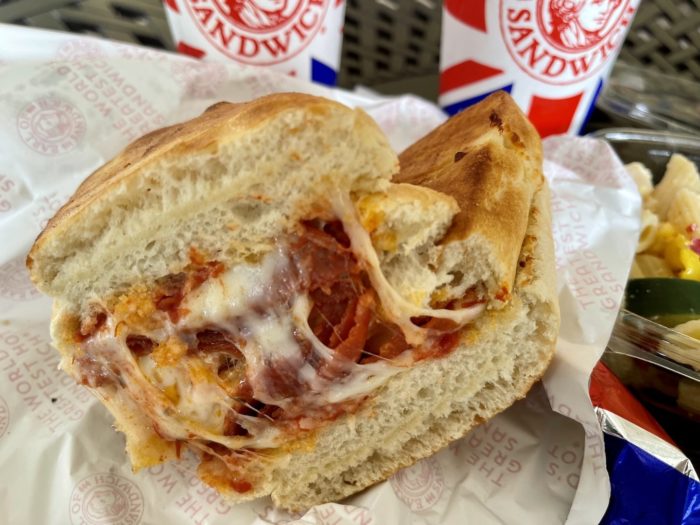 Unfortunately, this was Chrissy's least favorite item. There are simply way too many other pizza options at Disney Springs and far too many superior sandwiches at Earl of Sandwich to settle for this one.
Mac 'n' Cheese – $5.49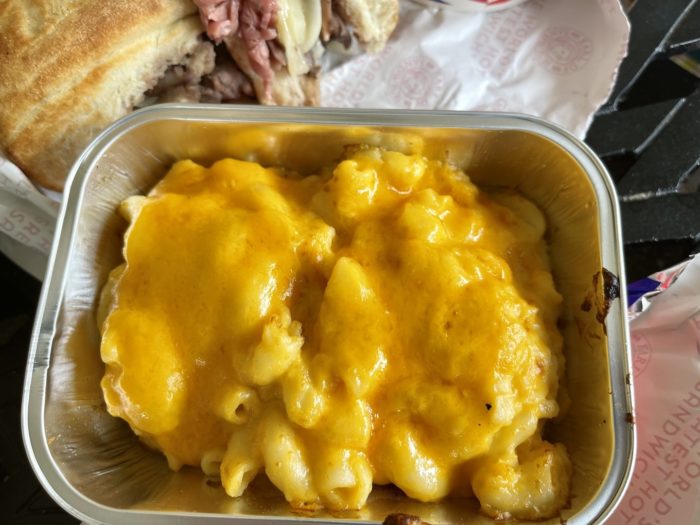 This side was a huge hit with Chrissy's 3rd grader. Way too much cheese in the best possible way.
Chicken Bacon Avocado Wrap – $8.49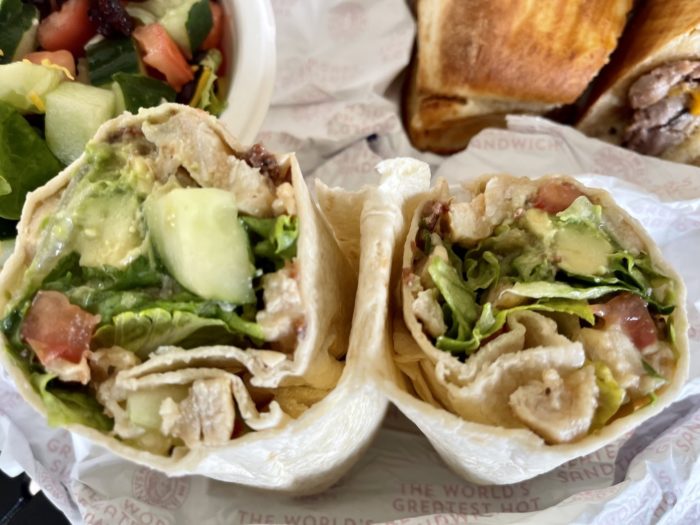 While the French Dip is Chrissy's jam, she was impressed with the hefty helping of chicken and bacon in this wrap. Plus, the "wrap" part gives it the air of being healthy despite the ton of delicious dressing and, uh, bacon.
The Earl's Cobb Salad – $8.49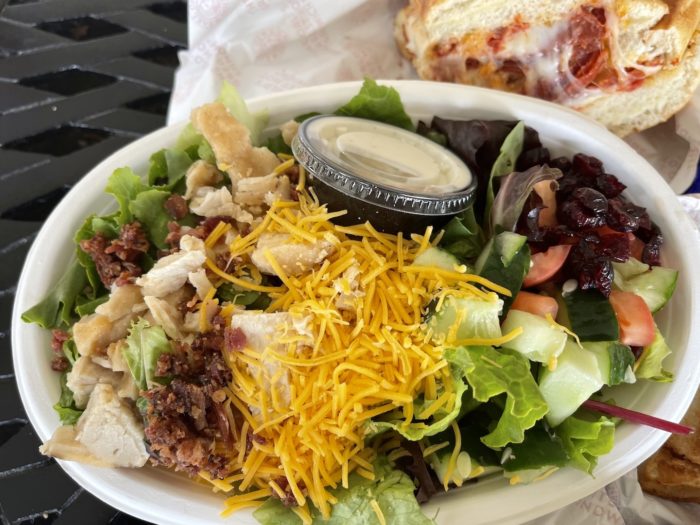 The Cobb Salad is another instance of an item that "sounds" healthy, but the amount of cheese and bacon (this is not a complaint, by the way) makes it more akin to a charcuterie board with lettuce at the bottom. Also, the size makes this one a great value too.
The Original 1762 – $8.49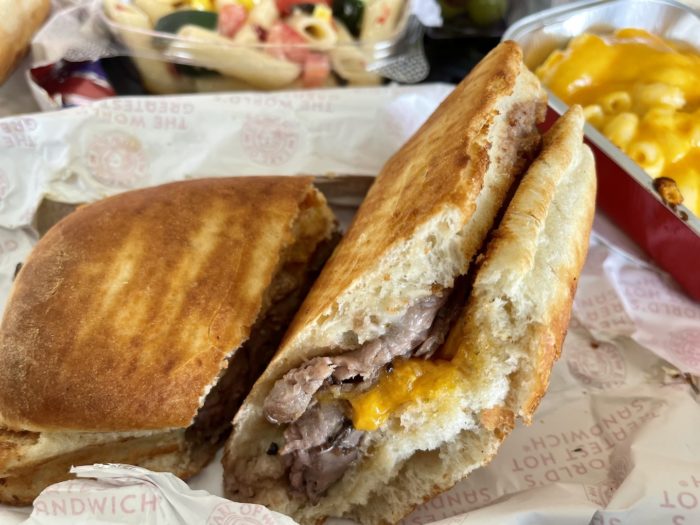 The Earl's own concoction, this sandwich is a roasted beef, cheddar, and horseradish sauce; and according to Chrissy, you should ask for a side of au jus with this or ask for a side of horseradish sauce with your French Dip for the best thing they make! In fact, she will probably ask for a side of horseradish sauce with everything from now on.
Counter Sides
These are the side salads and pre-packaged fruit in the cooler section along the counter. Basically, the grapes were grapes and the pasta salad was fine, but this isn't what they're best at so Chrissy suggests maybe skipping this section.
Desserts
For something sweet, Earl of Sandwich offers cookies, brownies, and even brookies. But Chrissy didn't bother with anything sweet with so many other dessert options like Amorette's Patisserie and Gideon's Bakehouse only steps away.
Have you ever visited the Earl of Sandwich? What do you think of this Disney Springs deli? Let us know in the comments!