Eating Out Of The World – Flippers Pizzeria
I know many of you reading this, can't ever imagine leaving the hallowed grounds of Walt Disney World to eat somewhere else.   I mentioned this to a fellow Disney aficionado and he told me it was sacrilege.
My dear, sweet husband, Mark, who often accompanies me to Disney World events, isn't the Disney Geek that I am.  He has been known to lose enthusiasm for overpriced food.  Sometimes he just wants to get away for some good pizza.  I'm happy to oblige him.  If we, Disney Geeks, are honest, there are many things to love about Disney World, but their pizza is not one of them.
Just outside of the magical gates of Downtown Disney, tucked away in the Crossroads Shopping Center is Flippers Pizzeria.  Had it not been recommend to me by my friend, Len Testa, I probably never would have darkened their door – and I am so glad I did.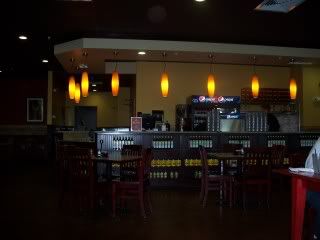 Flippers has great pizza.  Flippers Brick Oven produces some dynamite pies.  Crispy and chewy crust that calls my name.  The menagerie of toppings available will suit most tastes.  The portions are generous.  We can share a small pizza, no problem.  Mark's favorite is the BBQ Chicken Pizza $14.99. I always order a tossed salad $3.49 and a glass of wine $3.49.  The quality of the food is outstanding and the price can't be beat.  The service has always been excellent as well.  I have not tried their other offerings, but their menu offers lots of choices.
Besides being so close to Downtown Disney, another bonus — every time we've gone (we go several times a year) it's pretty quiet.  It's a nice cool, break from the parks.  Close, quiet, inexpensive, great service and great food, what more can you ask for?
Next time you're at Walt Disney World and the old wallet needs a break or you just have a hankering for pizza, give Flippers Pizzeria a try.
Do you ever eat out of the World?  Where do you like to go?
You can follow me on Twitter @Caroline251