Everything You Need to Know about Renting a Wheelchair or ECV for Your Walt Disney World Trip
A day at a Walt Disney World theme park can involve traveling miles. If walking is a challenge for you or a member of your family there are options that make it easier. Disney Parks offer rentals for wheelchairs and ECVs (Electric Conveyance Vehicles, frequently referred to as scooters). There are also outside vendors that can deliver them to your resort. We'll break it all down so you can see what works best for you. (Last updated/republished June 5, 2023)
Renting From the Theme Parks
If you only need a rental for a day, you're only visiting one park, and you typically arrive early, this might be the simplest option for you.
Note: The Disney rentals do not leave the parks. They are not available for the resorts or the parking lot. If you need assistance getting from a bus or the parking lot, there are courtesy wheelchairs available to borrow. If you don't see them ask a parking or transportation attendant.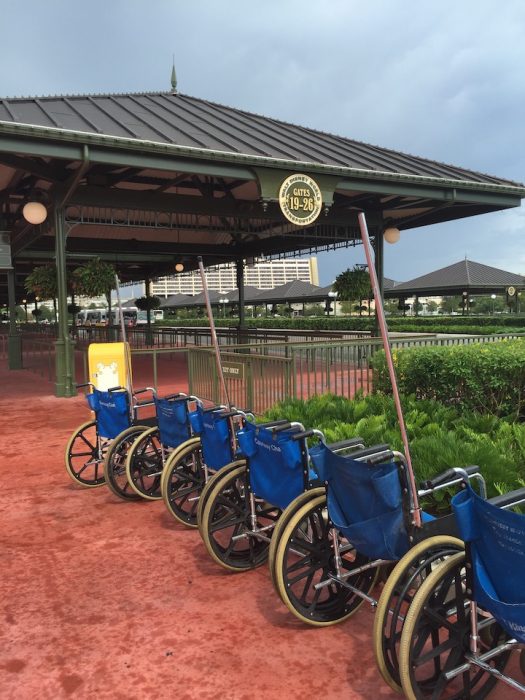 Rentals for ECVs are priced by the day. Wheelchair rentals have a multiday option.
You may park hop, BUT you can't take the rental to the next park. You must return it in the park where you picked it up. When you arrive at the next park, show your receipt. Unfortunately quantities are limited and there is no guarantee there will be one available for you.
If you leave and come back to the same park on the same day Disney's ECV/wheelchair rental location will save your rental for you.
This rental will not apply for Disney Springs. If you visit Disney Springs and need a wheelchair or ECV, it will be an additional rental charge.
The weight limit for Disney-owned ECVs is 450 lbs and 350 lbs for wheelchairs.
Disney does not have a reservation system. All rentals are first come/first serve and there are limited quantities.
You must be 18 and have a valid photo ID to rent wheelchairs or ECVs and you must be 18 to operate an ECV.
Pricing
ECV rentals are $50 dollars a day, plus a $20 refundable deposit.
Wheelchair rentals are $12 a day.
There is a Length-of-Stay option for wheelchairs at $10 a day.
Renting at Water Parks and Disney Springs
EVC rental is $50 with a refundable deposit of $100.
Wheelchairs are $12 a day. There is a refundable $100 deposit.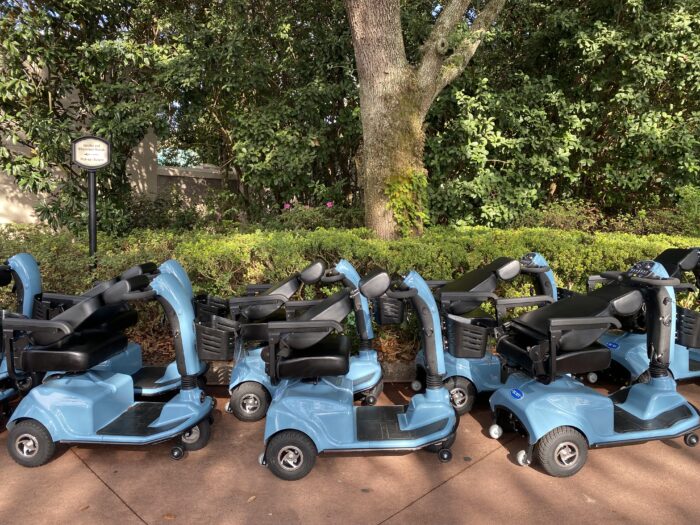 Renting from an Outside Company
If you will need to rent a device for more than a day, an outside vendor will probably be a more convenient and cost-effective option for you. Here's some other benefits to renting from an outside company.
There are a few types of rentals available including transportable scooters that will fit in the trunk of your car and wheelchairs and ECVs that have an increased weight limit.
If your ECV breaks down the vendor will come to you to fix it, usually pretty quickly.
There are attachments available that can help make you more comfortable–everything from walker stands to cup holders.
The rental can be delivered directly to your resort or rental home.
You will need to reserve the rental before your vacation. Call or order directly on the vendor's website.
Wheelchairs at outside vendors can offer padding, pediatric sizing, and more structure for added weight limits.
Some of the vendors offer a special needs stroller that can be used for larger children. (Visit guest services for a stroller to wheelchair tag.)
Pricing
ECV rental prices range from $27-$32 dollars a day, depending on the device you need and your length of stay.
Wheelchairs range from $12.50 a day (Scooterbug) to $20 for first day $10 a day for rest of stay (several other vendors). Wheelchairs from Orlando Medical Rentals are competitively priced and also have an inventory that includes items for more specific needs. Contact them for customized pricing.
What Do I Need To Do?
After you have decided which one works for you, make sure the logistics are taken care of.
If you choose the daily rental from the parks you do not need to do anything in advance.
After you have entered the park look for the stroller and ECV and wheelchair rental area. Magic Kingdom, Disney's Animal Kingdom and Disney's Hollywood Studios have their rental desk on the right just after you enter the park, EPCOT's is a little further in, past the first planters on the left. Disney Springs is by the Disney resort bus stop.
Have your ID and payment method ready.
A cast member will charge your rental fee and deposit and go over any safety measures that need to be discussed.
Enjoy your day, and return your rental before you leave the park. Either accept your refund on the deposit or ask them to save your rental for you if you will be returning. If you are headed to a different park, let them know and keep your receipt to show at your next rental. You will get your deposit refunded at the end of your day.
If you choose an outside vendor you have some planning to do.
Decide which model you will need.
Decide the best way for you to receive the rental:

Have it ready for you to pick it up and drop it off at bell services at your convenience.
Meet the company at the resort.
Pick it up from the company.

Either call the company or reserve it online.
How Do I Choose an Outside Vendor?
Most of the outside vendors offer the similar products and have competitive base prices. The differences are in the details.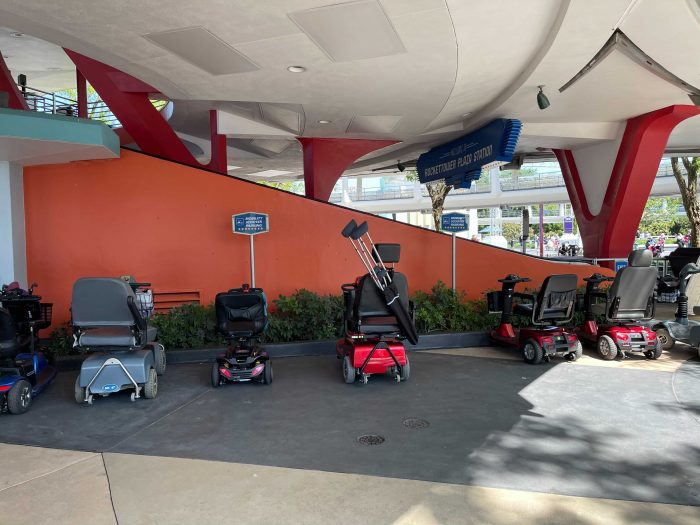 ScooterBug (scooterbug.com) is the only Disney Preferred rental company. If you need the option of picking up and dropping off your rental at bell services on your time schedule then this is your only option.
If your arrival time and departure times are flexible, Kingdom Strollers (kingdomstrollers.com) has a transportable scooter that has a weight limit of 275 lbs. They need to meet you at your resort to drop it off and pick it up at a pre-scheduled time. The rental price includes a free cup holder, saddle bag, cooler bag, and rain cover. (This is the best value we found.)
If your assistance needs are more complex than the standard scooters or wheelchairs, Orlando Medical Rentals (orlandomedicalrentals.com) has a more complete inventory. Some of their services allow them to drop off and pick up at bell services. If they aren't able to do that they will meet you according to your travel time. Call them for customizable service.
It's not often that the option with the most cost savings is also the most comfortable and convenient, but in this case it really is. An outside vendor is a better option for most guests. Having the rental for the entire vacation allows you to get to and from the parks, go to Disney Springs, and most importantly help with the long hike back to the resort room at the end of the day. As for comfort, the Disney models are not built with attachments and choices of sizing for a better fit. If you need a rental for more than one day at the park, you can't go wrong with an outside vendor.
Tip: If you didn't rent a scooter with rain covers, pack some plastic for rain protection. If you can count on anything in Florida, it's a summer storm.
Bonus tip! Many people need a scooter at Disney that don't typically use one for day-to-day life. Sometimes an unexpected surgery happened and this trip has been scheduled for a year, or for some people a day at Disney is simply too much walking. If you have never driven a scooter before, go to a supermarket and drive around on theirs. Practicing will help make you more comfortable as you navigate the crowds and transportation at Walt Disney World.
Have any questions about wheelchair and ECV rentals? Let us know in the comments.
Originally published April 6, 2021