Everything You Need to Know About Test Track
You're going on vacation to Walt Disney World! The only problem? You're not sure which attractions are right for you and your kiddos and you have questions. Which attractions are too intense for little ones? What rides do I really need a FastPass+ reservation for? What's the disability access like for certain attractions? We're answering all those questions and more in our Everything You Need to Know attraction series with today's focus on Test Track at Epcot!
Note: This attraction is currently closed but is scheduled to reopen February 27, 2020.
What is Test Track?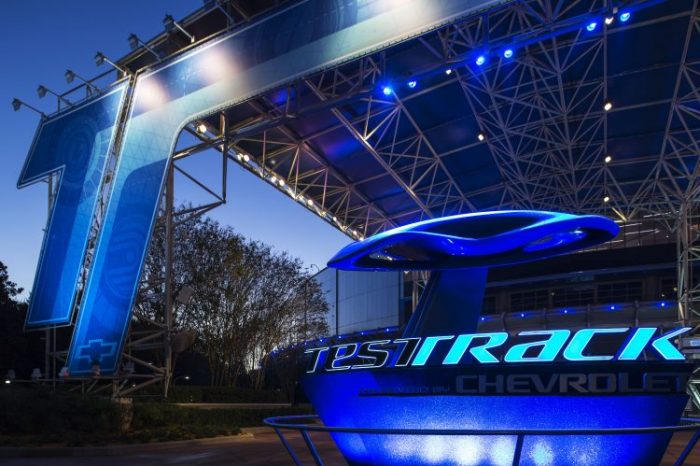 Feel the need for speed? Test Track allows guests to design their own car and put it through a series of tests. The finale is a high-speed drive around the pavilion topping at 65 mph!
Where is Test Track?
Test Track is located at Epcot's Future World next to Mission: SPACE.
What is the History of Test Track?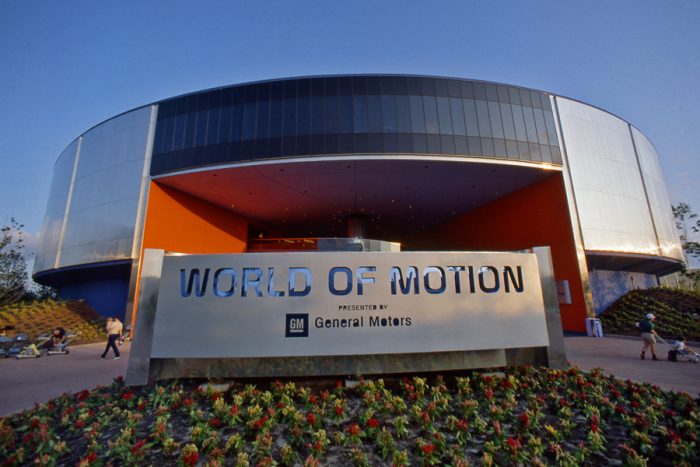 The first attraction themed after transportation at Epcot was the World of Motion. An opening day attraction in 1982, World of Motion showcased the progress of transportation through various detailed scenes. World of Motion closed in 1996 to make way for Test Track, an attraction which promised both thrills and the theme of transportation.
While originally scheduled to open in 1997, Test Track didn't make its official debut until March 17, 1999. This original version of Test Track had guests enter a repair center of test facility. There were a number of crash dummies on display. In fact, the ride's original story involved guests being put through the same tests as the crash dummies!
In 2012, the original Test Track closed and then reopened later in the year with futuristic new sets and the ability for guests to design a car and test it while they ride.
What You Need to Know About the Queue
The first part of the queue today is the design studio where guests learn how to design their car. After receiving a design key, guests enter an area where they customize their virtual car on large touchscreens. FastPass+ riders proceed directly to the design area upon entry. Each design's capability, efficiency, responsiveness, and power will be put to the test during the ride with the results being displayed after each test.
The next section of the queue is where guests wait to board their ride vehicle or SIMCar. Before boarding, guests need to scan their design car or MagicBand to upload their custom design to the SIMCar in order to test it and receive results.
Note: Test Track offers a Single Rider line; although, guests who take advantage of the single rider line must select a pre-designed vehicle instead of designing their own.
What You Need to Know About the Experience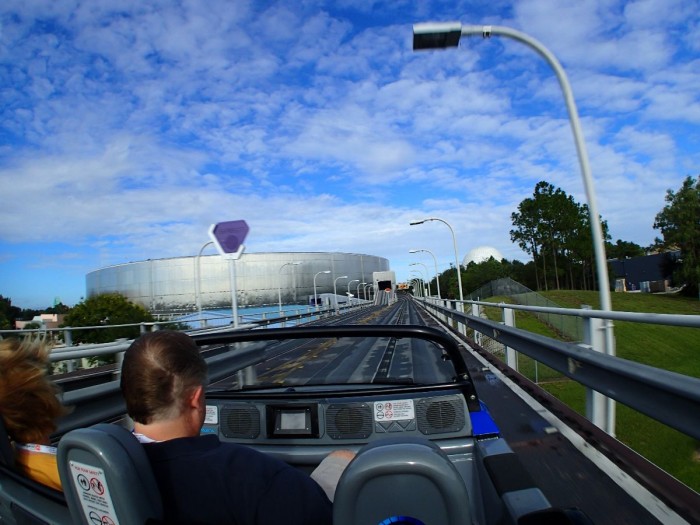 Once buckled in their SIMCar, guests are taken through a series of tests judging a car's capability, efficiency, responsiveness, and power. For instance, during one test, guests experience what its like when car when it loses control. During another, its performance is tested when driving over rough terrain. The finale is a test of power. The car rockets outside the building and onto an outdoor track where it accelerates up to 65 mph! This makes Test Track the fastest attraction at Walt Disney World.
While Test Track may sound like a white-knuckled thrill ride, it's surprisingly tame in comparison to Tower of Terror or Rock n' Roller Coaster. The tests are mild with the exception of some jerky movements and a few close calls, and that high-speed exterior lap is pure fun. For those who want something more than a dark ride, but aren't quite brave enough for coasters, Test Track may be the perfect attraction.
What You Need to Know About the Ride Vehicles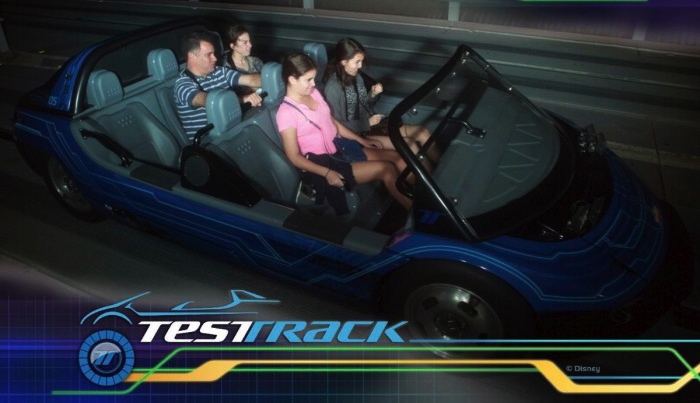 Each SIMCar has two rows with three individual bucket seats per row. Each seat has a head rest and there are handle bars for guests to hold on to. The center seat in each row has a fabric lap belt. The outer seats have fabric lap/shoulder belts. Guests must take a small step up over a wall and then a step down to board the vehicle.
What You Need to Know About Accessibility
Guests must transfer from a wheelchair/ECV in order to board the attraction. Service animals aren't permitted aboard on Test Track.
What You Need to Know About Health and Safety Advisories
Guests should be in good health and free from high blood pressure; heart, back or neck problems; motion sickness; or other conditions that could be aggravated by this adventure. Expectant mothers should not ride.
What are the Height Requirements?
Guests must be at least 40 in tall to experience Test Track.
Does Test Track Offer FastPass+?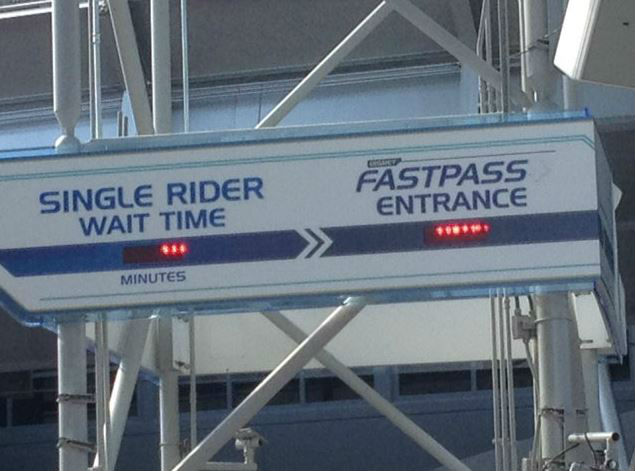 Test Track offers FastPass+ and due to its popularity and long lines, a FastPass+ is definitely recommended. Be aware that same day FastPass+ reservations for Test Track often run out by early afternoon and the ride suffers from frequent breakdowns. Fortunately, Test Track offers Rider Swap for families and has a Single Rider Line for guests riding solo or who don't mind doing so.
In the event Test Track breaks down during your FastPass+ return time, a Multiple Experience FastPass, which is also called an Anytime FastPass, will show up in the My Disney Experience app. You can then select which attraction you would like to experience from a list of given options to compensate for Test Track.
Does Weather Affect Test Track?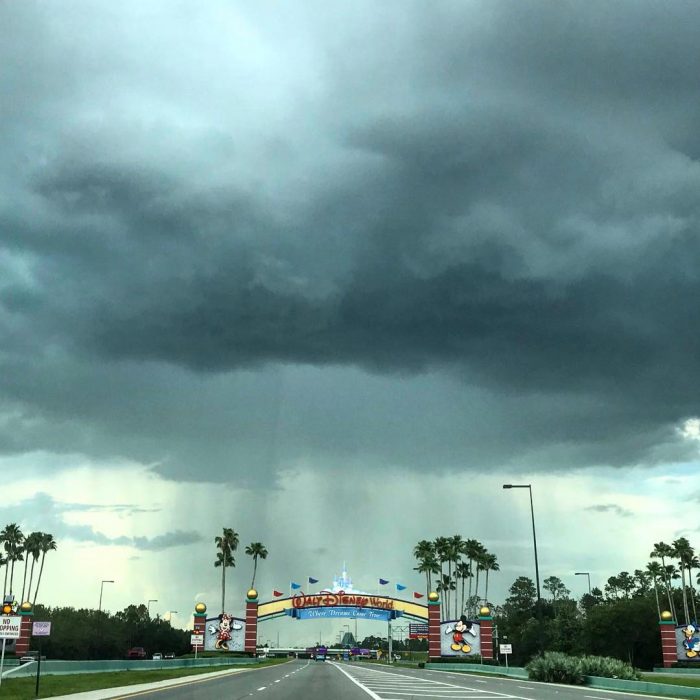 Yes. Due to Test Track's outdoor track, the ride will close in inclement weather.
What's the Best Time of Day to Experience Test Track?
As always, first thing in the morning and right before closing are when the wait times are the shortest.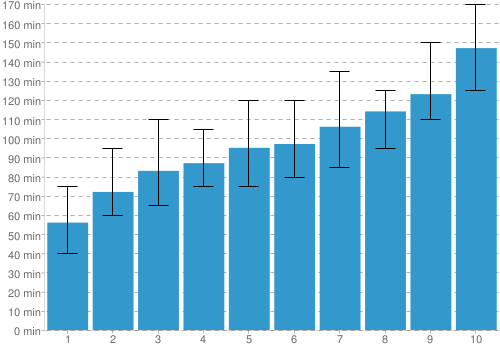 This chart shows you roughly how long you'll wait for Test Track when you visit on a day with a given Epcot Crowd Level. The blue bars represent the average "peak" wait time (that is, how long the line will be at its busiest). The bottom and top black lines represent the range of peak wait times to expect (for you fellow nerds out there: it's the 5th percentile and 95th percentile of peak wait times). Please note that these are estimates, and for a better forecast for your travel dates, see Test Track Wait Times.
Did I answer all of your questions about Test Track? Is this attraction at the top of your family's vacation to-do list? Let us know in the comments.