FAQ: Get to Know Disney World Food Carts
While restaurants such as Quick Service or Signature Dining venues are popular spots to dine at Walt Disney World, they're not the only places to get food. If you're on the go, need something quick, or have a hankering for something snacky, a food cart or stand may be just what you need.
Updated June 13, 2023
How many food carts and stands are there at Walt Disney World?
Um, a lot. Really there is no fixed number. Some food carts/stands have a permanent home. For example, the popcorn cart on the left as you enter Magic Kingdom is always there. But some carts pop up during busy times or for special events. Some move around a little due to construction or other park maintenance. In general, the busier the parks are, the more food carts you'll see.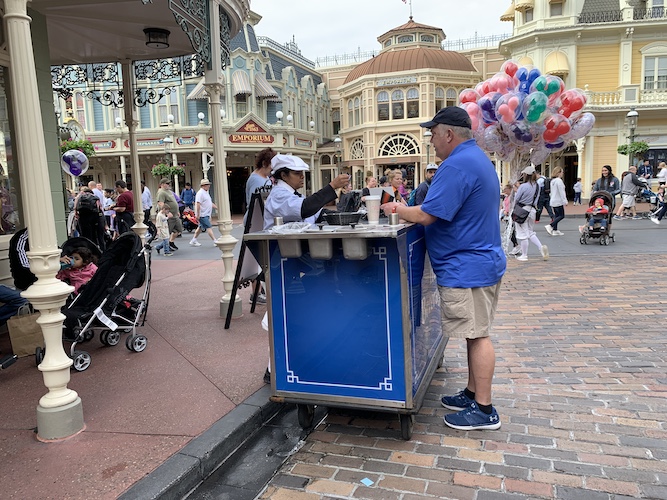 Where can you find food carts at Walt Disney World?
There are food stands and carts all over all four theme parks, both water parks, Disney Springs, and the Boardwalk recreation area. Unfortunately, most of these locations are not listed on the park maps. Regular visitors know that many carts have semi-permanent locations, but new guests may be in the dark about where to find certain items they may have heard of. When in doubt, ask a cast member for assistance.
Do the food carts have specific hours?
Food cart hours vary seasonally, with longer hours during busy seasons. You'll also find variability based on what the cart sells. For example, a coffee stand will likely open early in the day, often prior to a park's official opening time. A cart that sells primarily alcohol will typically wait until at least 11:00 a.m. to open. For food, the rule of thumb is that the carts that sell more savory items tend not to open until the lunch hour, but there are plenty of exceptions.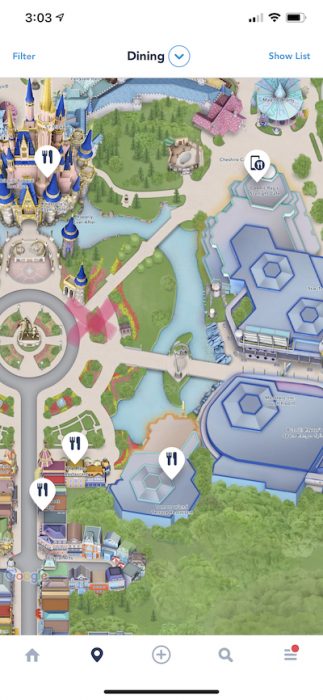 What do they sell at food carts?
The majority of food carts sell items like bottled soda, frozen treats, and popcorn. However, there are food carts and stands that sell substantial fare such as spring rolls or turkey legs. At Disney Springs there are a number of carts that just sell alcoholic beverages.
Is there any way to know in advance what my food cart options will be?
Things like popcorn cart menus are not available on the official Walt Disney World website, but they are available via the TouringPlans.com menu tool. For example, if you want popcorn at Magic Kingdom, put popcorn and Magic Kingdom into our search bar and you'll see locations, including food carts, where this is available.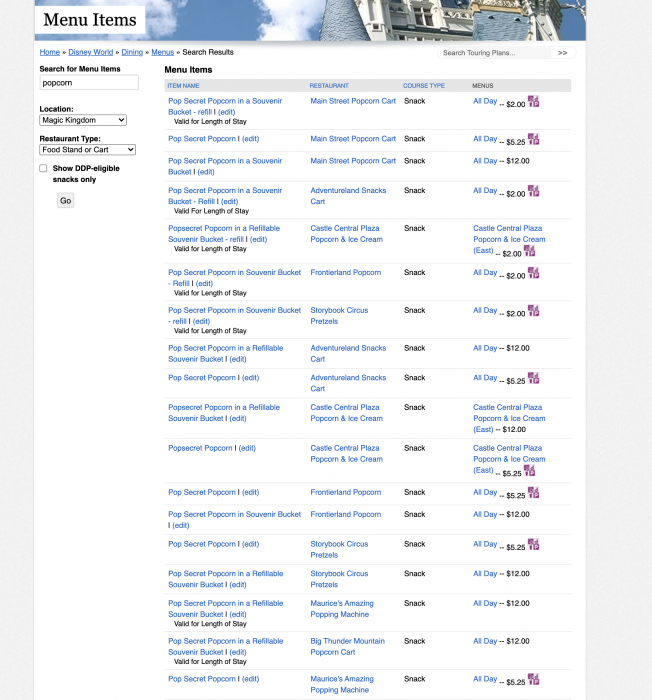 What are the prices like at the Disney World food carts/stands?
They're high. Like ridiculously high. Currently, a frozen Mickey bar costs $6.30, a 20 oz. bottle of Coke costs $4.70, and a single-serve Dasani water is $3.75. A quick snack for a family of four could easily run more than $40.00.
How can I pay for food at the carts? Do I need cash?
It's been years since I encountered a food cart that only took cash. Today, virtually all sales points allow guests to pay with a variety of media including cash, credit/debit cards, Disney gift cards, MagicBands, ApplePay, and likely several others.
Can I use Disney Dining Plan credits at food carts and stands?
The Disney Dining Plan is returning in 2024, when it returns you will be able to use Dining Plan credits at food carts.
If I buy something at a food cart, where can I eat it?
Most food carts and stands have no specific seating area. You can stop to eat your food at any bench or outdoor seating area. For example, in Magic Kingdom there are picnic tables adjacent to Sleepy Hollow in Liberty Square and cafe-style tables adjacent to Casey's Corner on Main Street. You're welcome to eat your food cart haul there, even though you didn't purchase the food at that location.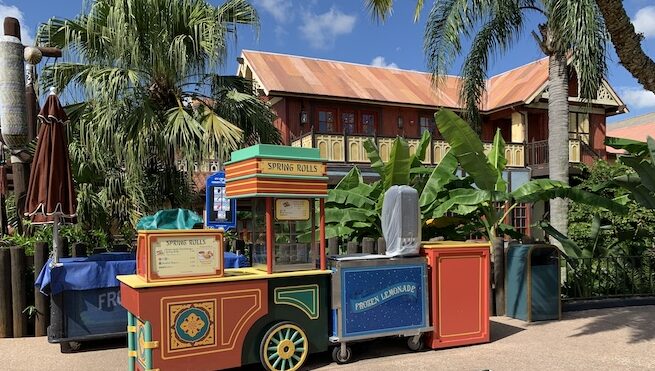 Are there alternatives to paying Disney's crazy prices for snack items?
Yes. As controlling as Disney can be about some policies, they're actually pretty decent in their rules about bringing food and beverages into the parks. You're not allowed to bring alcohol or glass containers into the theme parks, but almost anything else is okay. You can feel free to get a case of water or soda at a local supermarket and bring that with you to the theme parks. Lots of folks bring things like granola bars, nuts, crackers, and other snack items that can take edge off hunger so they can avoid the carts.
Also remember that you can get a cup of ice water for free at any WDW quick service restaurant.
If you're trying to budget, one easy way to economize is to reduce snacking. Maybe plan for one treat every few days, but lots of food cart snacks will make a big dent in your wallet.
Can I use mobile order at a food cart?
Generally not. In addition to the general lack of dedicated nearby seating, the lack of mobile order capabilities is something that often distinguishes a food cart or stand from a quick-service restaurant. Sometimes it can be hard to tell the difference.
So why would I choose to eat at a food cart?
There are several reasons:
An iconic or favorite food is only available at a food cart.
You're starving and it's the closest food sales point.
You're in the mood to splurge.
There are long waits for other dining options.
You don't want a full meal, just something light or a snack.
Do you have a favorite food cart or a favorite tip for food cart dining? Let us know in the comments.

First published January 21, 2021. Updated June 11, 2021.