8 Disney Sides and Appetizers We Secretly Like Better than 'Ohana Noodles
When Disney announced the reopening of 'Ohana, there was a lot of excitement . . . until the menu reveal, which showed that those famous 'Ohana noodles would not be making a return. The disappointment even ended up as a trending topic on Twitter.
This brought up a long list of "Yes, those noodles are great, but at least they didn't take away. . ." comments about other restaurants among members of our team. In the end, there were eight sides or appetizers that we found we secretly liked better than the noodles at 'Ohana. How many of these have you tried?
Sebastian's Bistro Pull-Apart Bread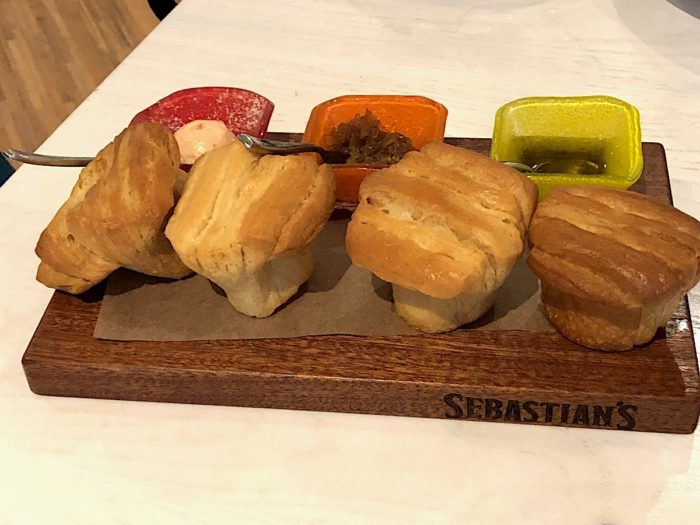 Hidden behind the news of 'Ohana's reopening was also the news that Sebastian's Bistro at Disney's Caribbean Beach would also be opening, but as a family-style meal. Thankfully the pull-apart bread will still be there. These rolls were incredibly popular before the closing, and will be served once again with the amazing onion jam and the simply delightful guava butter. Going from $12 for an appetizer to included with your $29 meal (and likely all you can eat!) may be one of the best value-added changes since Disney parks reopened!
Sanaa Bread Service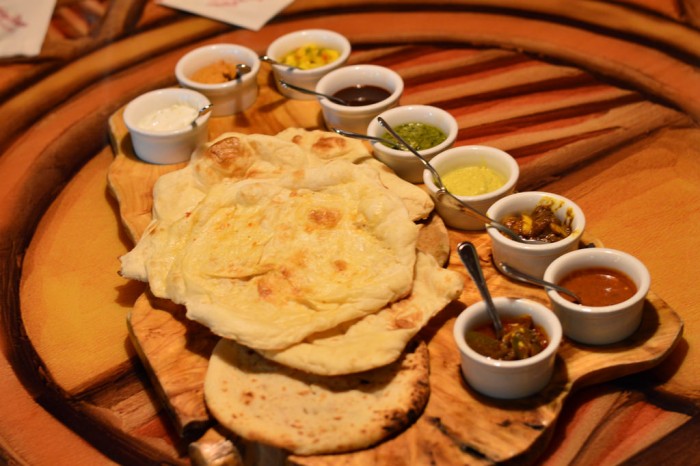 Also in the bread category is the legendary Sanaa bread service. It's so good that even selling a plate with recipes so you can make it at home led to a rush on the Johari Treasures gift shop! Fluffy and chewy naan bread along with flavorful and unique dipping sauces, it's no wonder that you really haven't been to Sanaa unless someone at your table has ordered this, right?
Homecomin' Mac and Cheese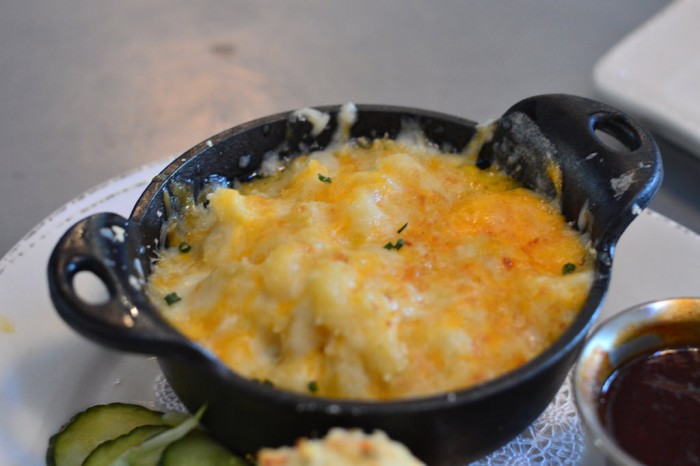 Disney makes good mac 'n' cheese. Homecomin' at Disney Springs makes AMAZING mac 'n' cheese. It's creamy, with just that right crispy top layer that holds in all the heat. There's plenty of other things that you'd want to eat on a visit there (we're looking at you chicken biscuits!), but this could be a meal in itself, and we can neither confirm nor deny we have ordered some to go after finishing our meal there.
Le Cellier Cheddar Cheese Soup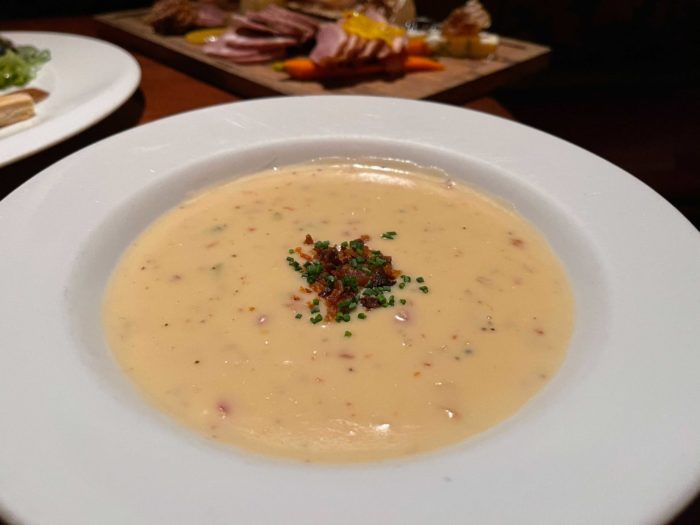 How good is the cheddar cheese soup at Le Cellier? Good enough that people will wait hours in line for it in 90-degree weather in August at the Canada Food and Wine booth. It really is meant to be enjoyed at Le Cellier, though, in that relaxing setting by the light of a beef fat candle. (It's a thing, honest!)
Wine Bar George Saganaki on Fire (aka Flaming Cheese)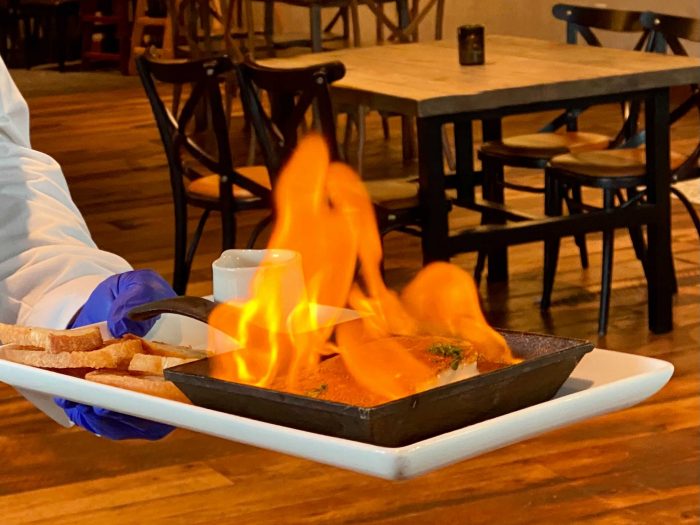 Speaking of cheese and fire, if you haven't been to Wine Bar George, you're really missing out on an amazing meal. A dish that makes quite the entrance is the saganaki on fire. This pan-seared cheese with just a squeeze of lemon makes the perfect sharable dish, if you are willing to share.
San Angel Inn's Queso Fundito (aka Stretchy Cheese)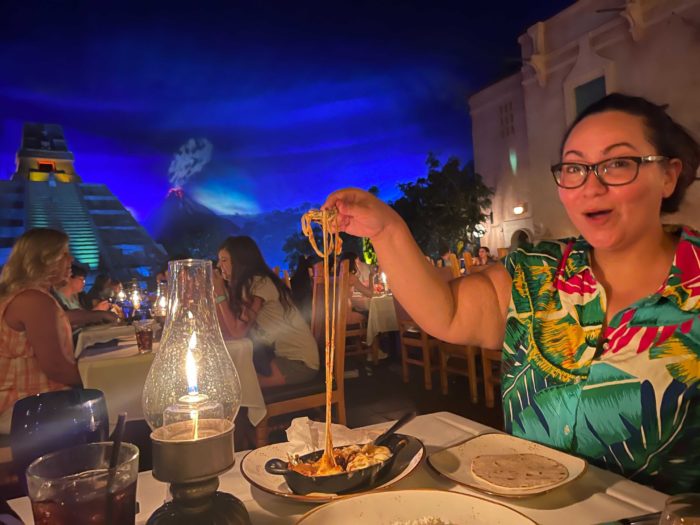 You know how your mom told you not to play with your food? Maybe leave her at La Cava while you enjoy a meal at San Angel Inn. The queso fundito is, well, fun. Its ooey, gooey texture is a lot of fun to stretch all the way to your plate. This is an appetizer that everyone loves to try — even your mom would probably play with it.
Chef Mickey's Gratin Potatoes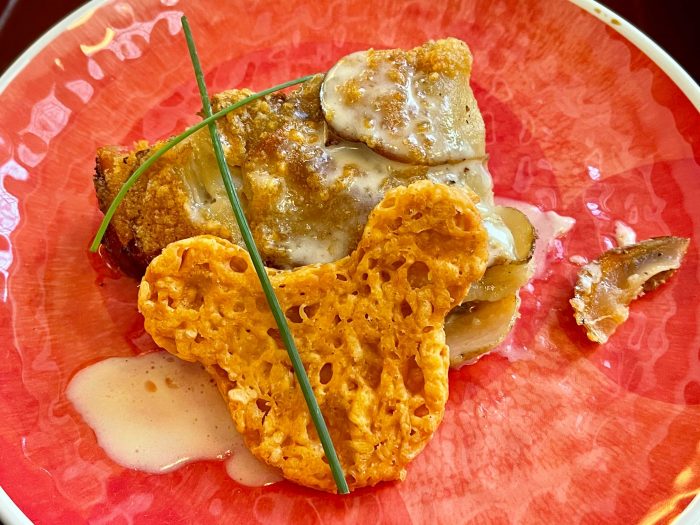 This potato side dish could  be served alongside a high-end steak, but instead you get it at Chef Mickey's. Creamy layers of potato with a garlic flavor that isn't overpowering make this a dish you'll want to ask for seconds. And that adorable Mickey frico? It's both tasty and adorable!
Yak and Yeti's Ahi Tuna Nachos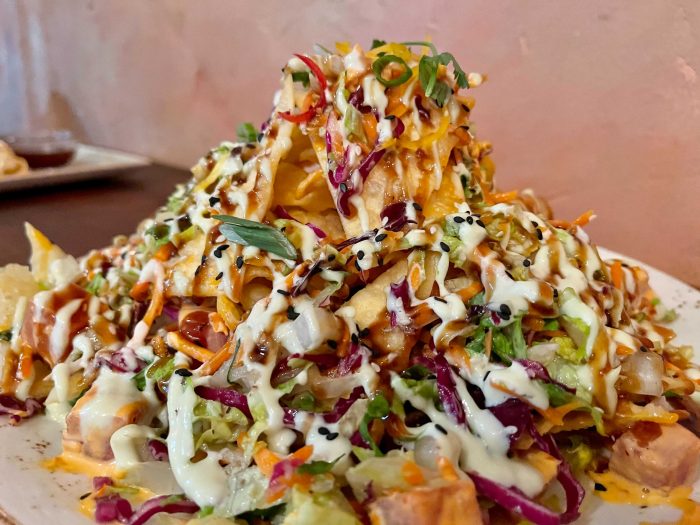 If you hate going to a restaurant with a "shareable appetizer" that comes out so tiny that you ask where the rest of it is, the Ahi Tuna Nachos at Yak and Yeti at Disney's Animal Kingdom will be your dream come true. The flavors and textures blend so well in here: ahi tuna, crispy wonton strips, flavorful slaw, and mouthwatering sauces. The presentation is beautiful, and the flavors are divine.
These are some of our favorites, but what's yours? Do you have a Disney side dish or appetizer that you prefer more than the noodles at 'Ohana, or are you a die-hard noodle fan? Let us know what you think in the comments.