Band Aids, Aloe and So Much More: All About First Aid at Walt Disney World
It's always a good idea to be prepared for anything you need while on vacation. Unfortunately, that sometimes means you need assistance with an illness or injury. Thankfully Disney World has an excellent team to help with anything you need if you get sick or just need a spot of First Aid.
I often vacation with my family, that's sixteen of us all together. Between us, we have had bug bites, blisters, heat exhaustion, a really bad stomach bug, and my mom had two different accidents that required a squad from Reedy Creek to be called. Every time we were in great hands. The medical/first aid team at Walt Disney World is top-notch!
How First Aid Can Help?
A nurse on duty can assess what you need and either help you themselves or get you to a team that will help with more severe needs.
They have over-the-counter remedies for everything from bug bites to stomach bugs.
They will refrigerate any prescription medications for you.
They have band-aids and blister care items.
There is a quiet space to lie down.
There are private spaces that you can use temporarily for treatments you may need to self-administer.
They will help you get to a team of doctors by assisting you with transportation to urgent care or calling an ambulance for you in serious situations.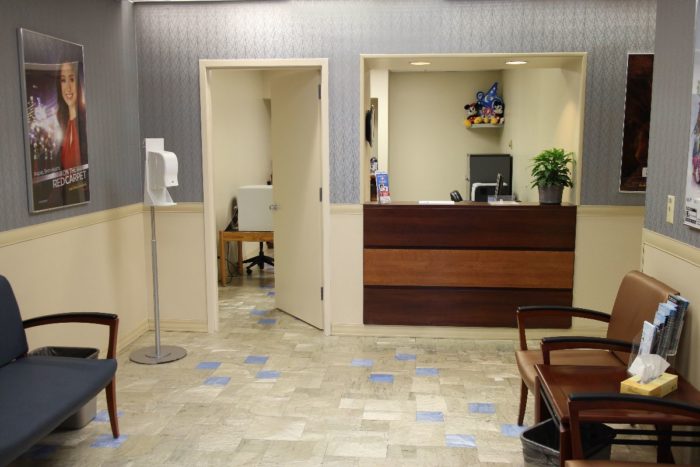 For over-the-counter remedies, single doses are provided free of charge, but some are also available in larger sizes for purchase. Typically First Aid will have allergy and pain medications, lip balm and sunscreen, drinks such as Powerade for rehydration, stomach soothers, and of course the aforementioned band-aids.
Where Do I Find First Aid?
Every park at Disney World has a first aid location. Any Cast Member will be able to direct you.
Magic Kingdom: between Casey's Corner and the Crystal Palace, just at the corner of the hub on Main Street.
Epcot: The Odyssey Building, between Test Track and the Mexico pavilion
Hollywood Studios: To the left of the entrance as you enter the park, next to Guest Services.
Animal Kingdom: On Discovery Island near Creature Comforts
Typhoon Lagoon: Near Leaning Palms
Blizzard Beach: By Lottawatta Lodge
What if I Can't Make it That Far?
Tell a Cast Member if you are injured, have heat exhaustion, or any medical emergency arises. All Cast Members are trained to call for an ambulance.
What if I Need Help at the Resort?
Over-the-counter remedies are available for sale in the gift shop if you have a minor complaint like blisters or a headache. Sizes are usually small; just a couple of doses or a small bottle. Those with eagle eyes will spot the shelf of children's medicines in the picture below.
If you are injured or ill, call the front desk, and they can arrange transportation (free of charge) to urgent care. If an ambulance is required, call 911 and, if possible, have another party member call the front desk so they can meet the ambulance and direct them to where you are.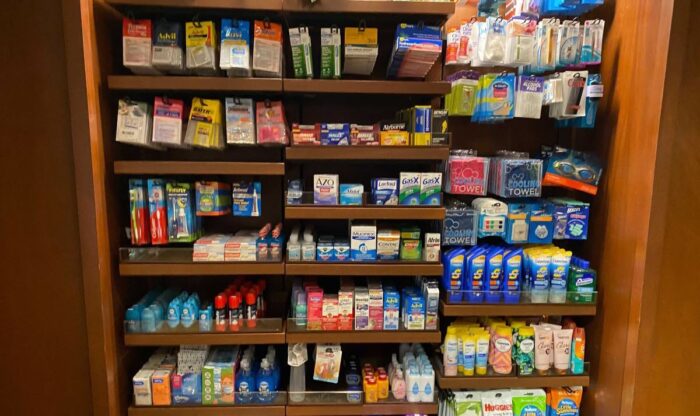 Where are the Closest Urgent Care and Hospitals?
Your resort front desk can help arrange transportation to urgent care, free of charge. But if you'd like to head over on your own, many options are available if you need to visit an Urgent Care or ER. There is also a highly-ranked children's hospital if you need pediatric care.
Advent HealthCentra Care Lake Buena Vista-12500 South Apopka Vineland Road Orlando, FL 32836- 407-934-2273
Buena Vista Urgent Care- 8200 World Center Dr. Orlando, FL 32821- 407-477-6512
Orlando Health Arnold Palmer Hospital for Children- 92 W MillerSt. Orlando, FL 32806
Advent Health Care full-service Emergency Room- 13323 Hartzog Road, Winter Garden, FL 34787 407-5500700- This location is in Flamingo Crossing just outside the West Entrance to Walt Disney World.
Keeping Your Vacation Magical
If you do have to take a day or two out of the vacation to rest and heal, here are some ways to keep the spirit of the vacation going.
Pick up a board game or deck of cards in the resort gift shop.
Many of the resorts have at least some views of fireworks, so find a spot to relax outdoors and take in the colors lighting up the sky.
If you are at a resort on the Seven Seas Lagoon (a Magic Kingdom Resort), ask the front desk what time the Electrical Water Pageant will be. (You can also find the times in the My Disney Experience app, but it's good to double-check.)
Enjoy Mickey cartoons on your TV all day long!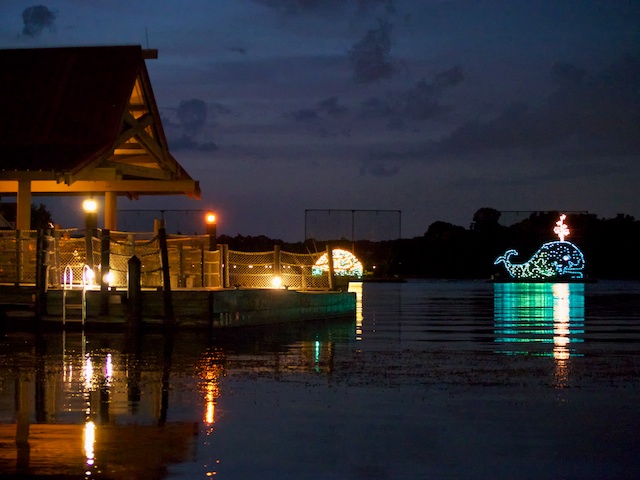 Tips For Staying Healthy and Safe
Hydration is key! The FL heat really sneaks up on guests, and staying hydrated is very important.
Make time to eat. Guests at Disney are usually walking much more than they do on an average day. Taking the time to have a real meal to refuel is helpful.
I know we're tired of this one, but hand sanitizer is a great tool.
Sleep. Being up for Rope Drop and staying for fireworks is a very long day that can wear you out. If you don't have time for a full eight hours at night, carve out nap time during the day.
Don't brush off early signs of illness. Taking an evening to rest up if you feel like you might be coming down with something can save you from a couple of days of misery later in your vacation.
Good to Know
If you are a resort guest and you become ill at the parks, First Aid will arrange a taxi for you free of charge. (They would like you NOT to ride park transportation).
As mentioned above, First Aid can refrigerate any prescriptions for you.
Instacart or other delivery services are a great way to get any supplies you need or want, and they can be delivered to Bell Services at your resort. This is the best way to get the brands you prefer if you don't have access to a car.