Five Things to Know About Frozen Ever After
Frozen Ever After is one of the most popular attractions at EPCOT's World Showcase. Inspired by the now-classic animated movie "Frozen," the ride takes you through the icy world of Arendelle. Along the way, you encounter Anna, Elsa, Olaf, and other friends as you're reminded of key points of the movie's story. You also get to enjoy snippets of the songs from the movie soundtrack.
Here are the five things you need to know about Frozen Ever After. But if you want to skip ahead to the essential nuts and bolts, this time we'll let it go …
1. You'll learn what frozen things do "In Summer"
Frozen Ever After takes place during the "Official Summer Snow Day Celebration" in Arendelle. This day commemorates the anniversary of Anna's selfless act of true love, saving Elsa's life.
You'll enter Arendelle through an elaborate queue. The Imagineers have done a great job creating an immersive atmosphere that enhances the ride itself. You'll see posters announcing the celebration and multiple Easter eggs harking back to the movie. One highlight in particular: as you pass through Wandering Oaken's Trading Post and Sauna, Oaken talks to you from inside the sauna!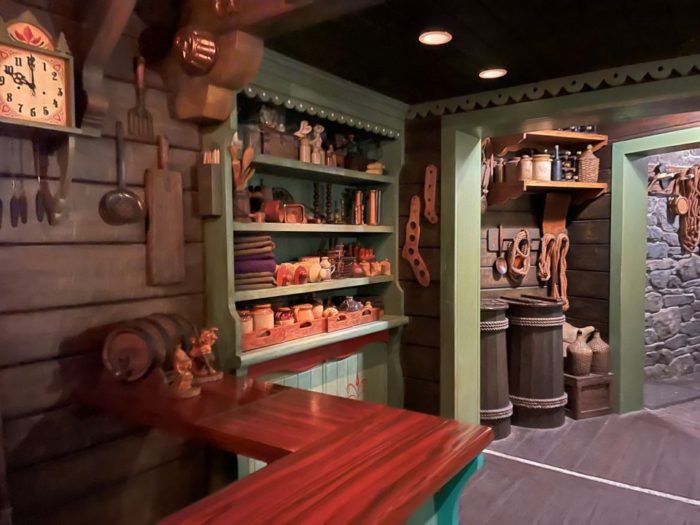 But the real fun begins once you board your boat. An Olaf animatronic sings new lyrics to "Do You Want to Build a Snowman?" as you sail by. Next, you'll sail past the Troll King as he tells a story to a group of little trolls, reminding them of the holiday's significance. You'll climb up a waterway toward Elsa's ice palace, and doors open as your boat sails toward Elsa herself. As you might expect, she's singing "Let it Go" and creating ice flurries everywhere. After a short pause to appreciate her artistry, you'll move backward and pass more vignettes with Frozen characters singing Frozen songs. And shifting to face forward again, you'll  go down a short drop (be aware that your photo is taken at this point!) and end up back in Arendelle, where fireworks illuminate the sky as Anna, Elsa, and Olaf celebrate by singing "In Summer."
2. It had some "First Time in Forever"
Observant riders will immediately notice a significant difference between the animatronics featured in this ride versus many other attractions at Walt Disney World. Their movement is so much more lifelike! Especially outstanding are the fluid gestures of Elsa in her ice castle as she creates the snow flurries. If you're familiar with the less-than-smooth movements made by the figures in the Hall of Presidents, you may wonder what the difference is.
Prior to Frozen Ever After, animatronics were built using air (pneumatics) or water (hydraulics) to drive the motion of the characters. Frozen Ever After was the first attraction to use all-electric animatronics. This new technology allows Imagineers the ability to give animatronics a more life-like range of movement. Dubbed A1000 Advance Robotics, this same technology is used in the figure of Hondo Ohnaka in Millennium Falcon: Smuggler's Run.
The new all-electric animatronics work together with other modern tech like the use of video-screen faces (like those used in the Seven Dwarfs Mine Train attraction), and detailed sets augmented with digital projection mapping to create a truly immersive experience.
3. The ride's history required some "Letting It Go"
In September 2014, Disney announced that an attraction based on the movie "Frozen" would open in EPCOT, replacing the Maelstrom attraction in the Norway pavilion of the World Showcase. Maelstrom was one of the older rides in World Showcase, having opened in 1988. The boat ride took guests through a brief introduction to the culture and mythology of Norway. The highlight of the ride was when your boat headed backward, changed direction, and then went down a 28-foot drop. While not the most popular ride in EPCOT, it developed a devoted following. Fans really didn't want to let it go.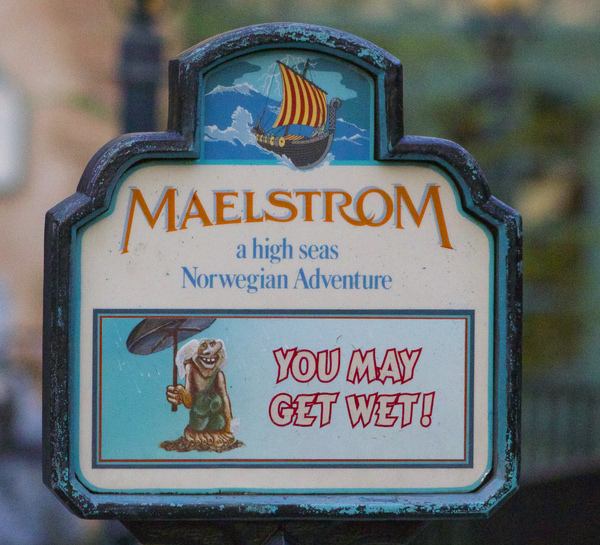 (Fun fact: – my wife and I were there on October 5, 2014, the day Maelstrom closed. We were able to ride on one of the last runs.)
Unique among all the attractions in the World Showcase, Frozen Ever After is not based on a destination that exists anywhere on the globe. The ride takes guests to Arendelle, which is the only fictional setting you'll find in any of the Pavilions. Fans of Maelstrom were quick to point out this anomaly when they heard about the idea, and even among those who didn't have an attachment to Maelstrom, many were upset about this "break" from the ideal of the World Showcase. Although most guests today may not realize that Arendelle doesn't quite "fit" in the World Showcase, at the time many EPCOT devotees had a hard time letting it go.
4. It was a "Fixer Upper".
Rather than starting over from scratch, the Imagineers went to work revamping and overhauling the existing attraction to create the new ride. As a nod to Maelstrom, they kept the same boats with their Nordic design. The path the ride follows stayed essentially the same. But everything else was reworked to create a totally new experience. It took more than a year and a half to complete the transformation.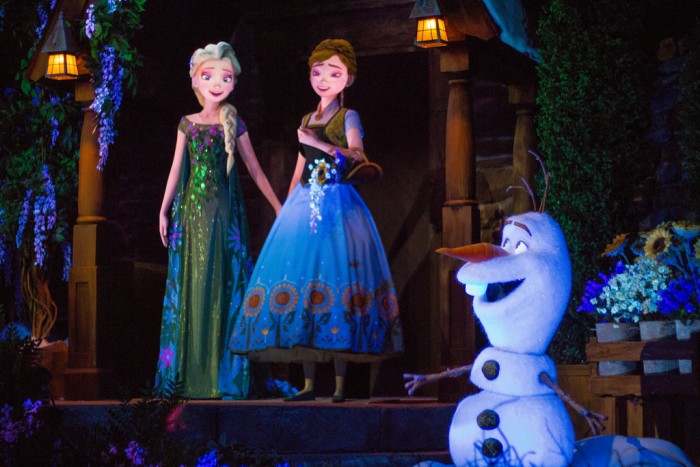 It wasn't just the ride that needed some adjustment. Song lyrics had to be rewritten to advance the story of the ride. Composers Kristen Anderson-Lopez and Robert Lopez revised their original lyrics as necessary. And then Disney re-hired the original cast to re-create their characters and record these new versions for the ride! Not a cheap undertaking, to be sure. But no one other than Idina Menzel could do justice to "Let it Go!"
Frozen Ever After opened on June 21, 2016. This fun side-by-side comparison of the two rides shows you the similarities and differences between Maelstrom and Frozen Ever After. With all the new technology, new storyline, and new music, it clearly was a Fixer Upper of major proportions!
5. The Nuts and Bolts
Frozen Ever After is a low-capacity ride; lines form quickly when the park opens and stay high most of the day. Your best bet to ride with the shortest wait time is to head for Norway right away, taking advantage of Early Theme Park Entry if you can. But be aware that this ride experiences its fair share of breakdowns. If you plan to see Frozen Ever After first thing in the morning, ask a cast member if it's operational before you run all the way to Norway. And if you'd just like to skip over most of the line, Frozen Ever After offers Lightning Lane through Genie+.
Since Frozen Ever After is an indoor attraction, weather doesn't affect its operation. But the queue often extends outside the building, where guests waiting to ride will be exposed to the elements.
There are no height restrictions or health and safety advisories for Frozen Ever After.  The ride vehicles are boats with four rows of hard bench seats with hard backs. You must step down to board the boats. Guests must transfer from their wheelchair, motorized scooter or ECV to board the ride vehicle.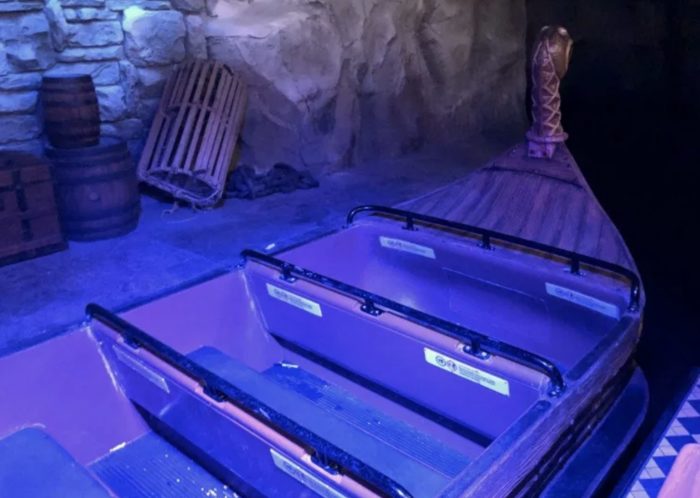 Each seat can accommodate three guests comfortably, maybe four if you have a young child. Sit on the right to be closer to many of the audio-animatronics you pass. If you sit on the left side in the first and second rows you might get a bit wet during the drop! (As you board, you'll see whether the bench is wet or not.)
This attraction offers rider swap, and Handheld Captioning is available. As previously mentioned Frozen Ever After is open for Early Theme Park Entry; it's also available during Extended Theme Park Evening Hours.
The Bottom Line
Personally, we include Frozen Ever After on every trip to EPCOT. We love the songs, the characters, and the story. But to be honest, we don't stand in line if the wait is an hour or more. In that case, we just grab some pastries at the Kringla Bakeri Og Kafe, move along to the next pavilion, and let it go! (Sorry, couldn't resist.)
What are your thoughts about Frozen Ever After? Love it or give it the cold shoulder? How long would you be willing to wait to ride? Let us know in the comments.