Fun Stuff: Our No-Cruise Cruise to Nowhere
Now that my kids are young adults, it has become increasing difficult to find times when we can all travel together. Our default whole-family trip over the past few years has been a Disney Cruise Line voyage to celebrate the New Year. Keeping with tradition, a year ago this week we booked a 2021 New Year cruise on the Disney Wonder sailing out of Galveston. Needless to say, that didn't happen.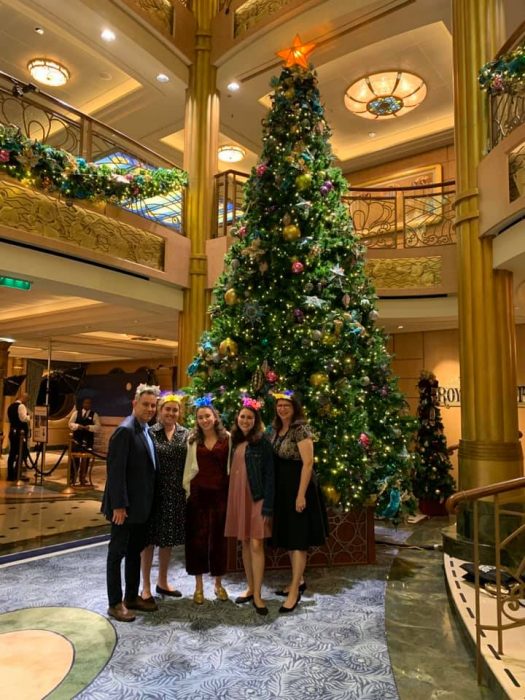 Though my family has been extremely fortunate and avoided illness this year, like everyone else, we've had our share of disappointment and frustration with the 2020 pandemic. The upheaval has weighed particularly hard on my twins, Josie and Louisa, who have had their senior year of college drastically altered. I wanted to give everyone a much-needed emotional boost, so unbeknownst to the rest of the family (including my husband Jeff), I plotted to recreate much of what would have been our relaxing getaway cruise experience.
Prior to the "no-cruise cruise to nowhere" the only thing my crew knew was that they were not allowed to schedule anything personal on December 31 and that they were supposed to arrive downstairs hungry at an appointed hour in the morning. In addition to Josie, Louisa, and Jeff, the participants also included the other members of our pod, my older daughter Charlie and her boyfriend Jack.
As instructed, they all rolled into our living room in the morning. I greeted them wearing my "Bon Voyage" sweater that I had purchased for our 2016 Baltic DCL cruise. I then clued everyone into the surprise by handing them a "Personal Navigator."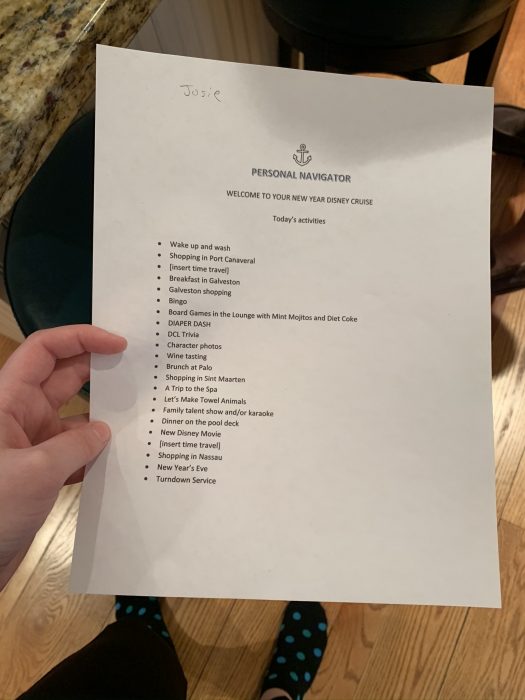 A few of the items on the Navigator took just a minute or so to complete. The longest item, New Disney Movie, took about two hours. Most fell into the 30-60 minute range.
"Wake Up and Wash" was just me handing everyone H2O Brand soaps and shampoos. Scent can evoke such strong sense memories that I knew smelling these products so associated with Disney would put them right in the mood.
"Shopping in Port Canaveral" was giving everyone a hyper-kitschy "Florida" mug, personalized with their names, such as you might find at a random beach stand, which is exactly where I got them. (We love hunting for the most iconically touristy souvenirs we can find in port.)
Because time and space do not exist during an imaginary cruise, we then teleported from Port Canaveral to our intended departure port, Galveston. When we last sailed out of Galveston (the real one), we had a truly fantastic pre-embarkation breakfast at El Jardin Mexican Cafe. My improvised approximation was a bar of fixins' to make breakfast burritos or huevos rancheros.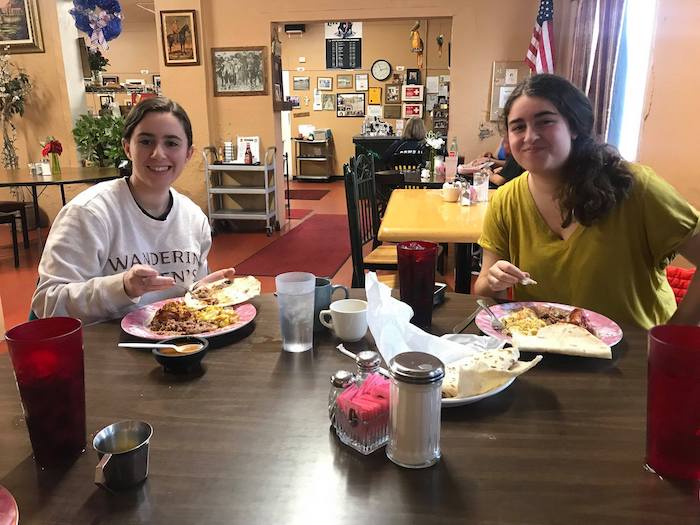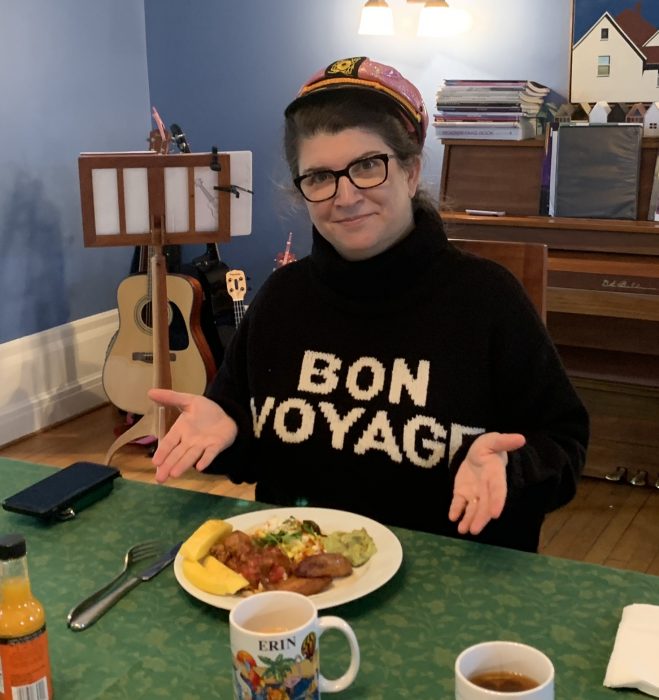 "Shopping in Galveston" was distribution of the first of many sweet treats. I sent away to our other favorite Galveston spot, LaKing's Confectionary for some of their stellar housemade salt water taffy. If you go, be sure to ask what time they're pulling the taffy. As you watch, they toss pieces into the crowd that they've just crafted.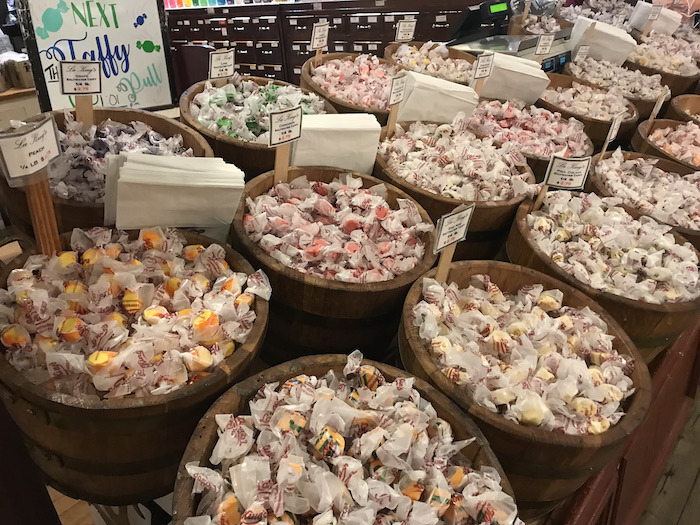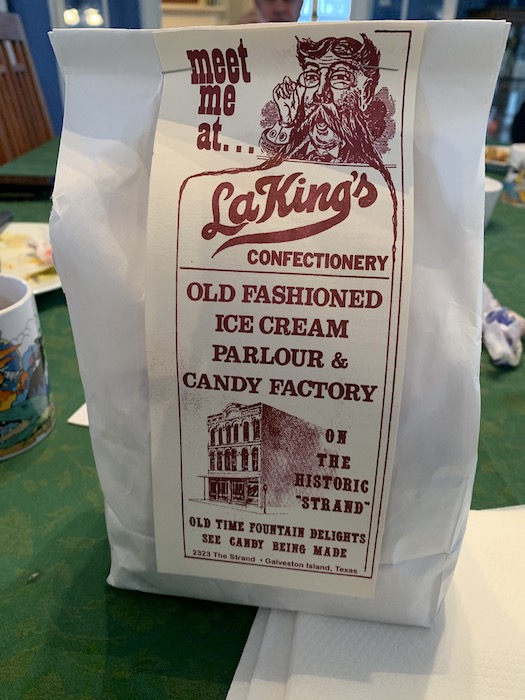 We then played several rousing rounds of bingo. We play a lot of bingo when we cruise (truly, a disturbing amount), so of course we threw in loads of DCL bingo references like "Shake it up, Betty" and the B-11 dance. All were required to stand up when they were one number away from winning. The bingo "prizes" were scratch-off bingo-themed lottery tickets. We didn't win any money, just like at real bingo on the ships. We did; however, have a blast, just like at real bingo on the ships.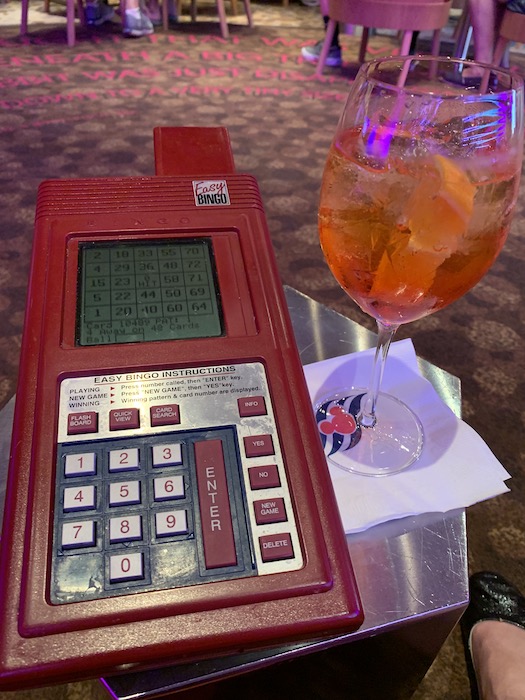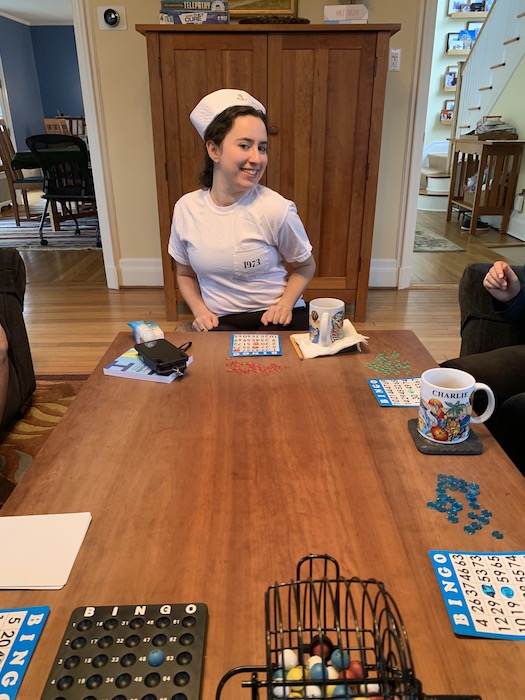 To relax, as one does on a sea day, we took a break to play some light family board games in the "Promenade Lounge." The most common games we've found floating around in the lounges on DCL ships are Connect Four and Uno, so that's what we played. Oh, and my husband is Diet Pepsi addict, but for the "sailing" I only allowed him to drink Coke Zero because that's what's available on the Disney ships. I'm so mean. 😉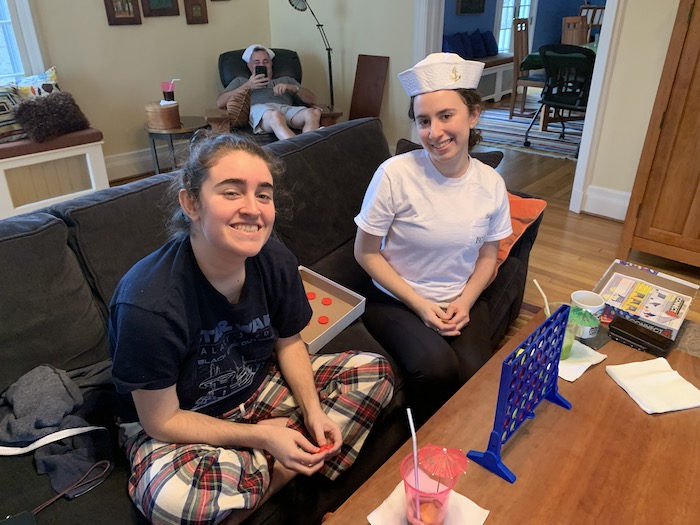 Next up was the "Diaper Dash." The DCL Diaper Dash is my family's number one must-do activity during every sailing. We bet real money on the outcome of the races. (Only $1 per race, but still…) For the uninitiated, the Diaper Dash involves racing actual human babies in the ship's lobby atrium.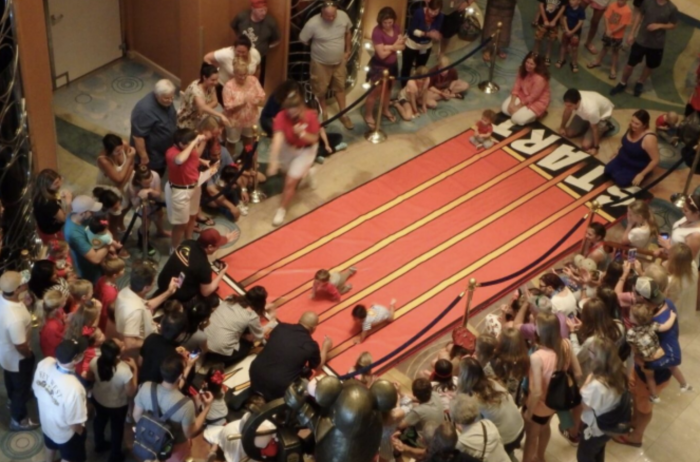 Our Diaper Dash was built around a product I saw on the novelty product site Archie McPhee called "racing babies." The materials for the race mat can be found at any craft store: red foamcore, washi tape, and star and alphabet stickers. Fittingly, in our races, Jack won. His prize was the Jack-Jack plush toy similar to those that appear at every DCL Diaper Dash.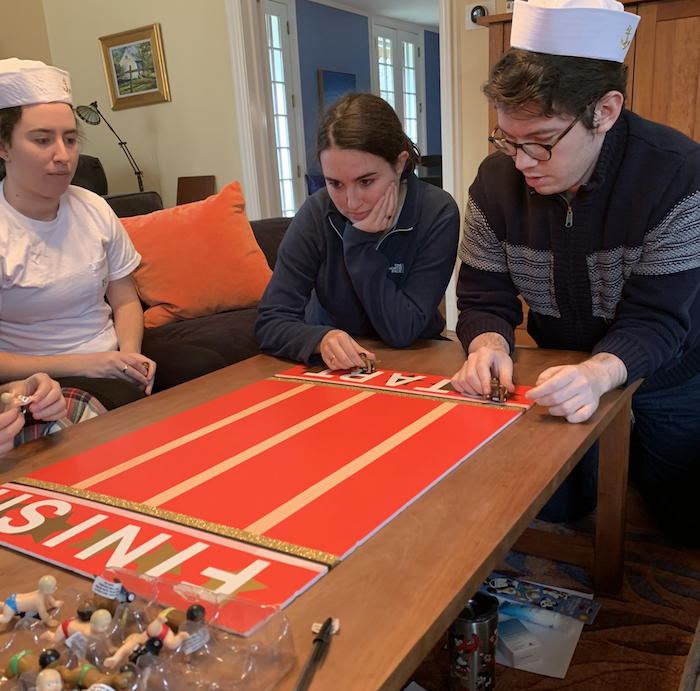 We attend several rounds of trivia contests on every DCL sea day, so we had to have trivia on our no-cruise "sea day." Despite being DCL Platinum, my family did shockingly poorly on questions that I thought were basic. Good thing they've outsourced their Disney Cruise Line planning to me.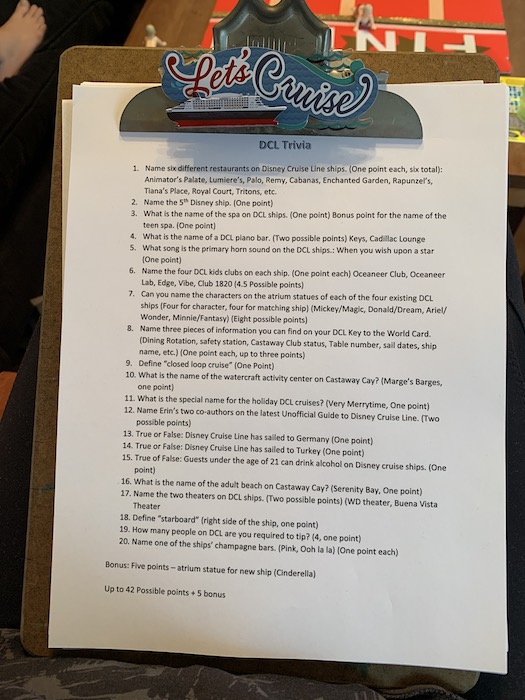 Then, character photos. There are dozens of different stand-up cardboard cutouts of Disney characters available from Amazon and party supply sources. I ended up choosing Anna & Elsa because they were among the tallest characters I saw, approximating actual human scale.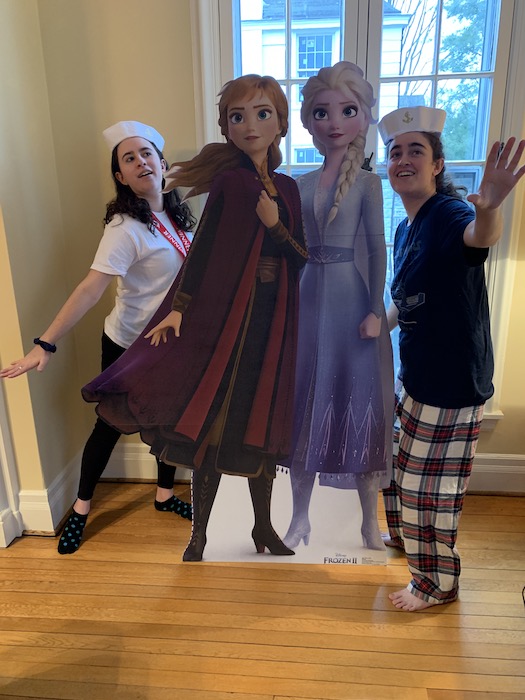 The tasting seminars on Disney Cruise Line are an educational affair, with the several varieties of the same liquor described along with their history and distinguishing features.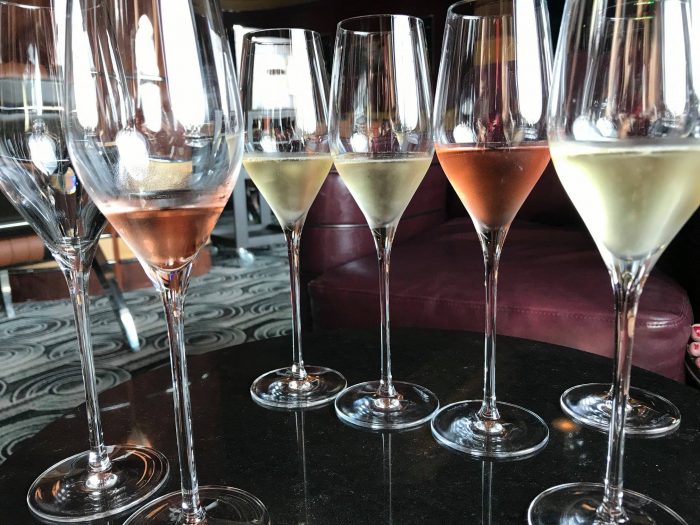 I don't have any particular expertise in this area, but I wanted to include a tasting because the twins had been looking forward to this activity since our cancelled trip was to have been our first cruise after they turned 21. The version I came up with was a blind pouring of five non-traditional wines that I bought from a roadside stand in Florida. (Only the finest for my crew!) Their task was to guess what the prevailing fruit was supposed to be.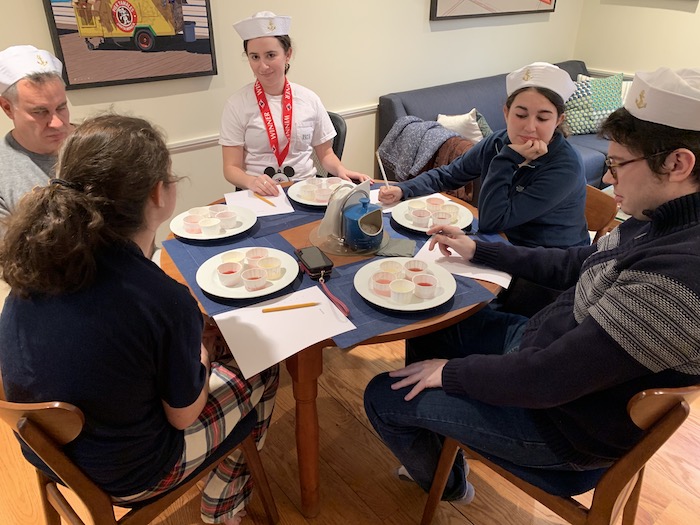 The overall success rate in guessing the flavors was low. In general, they agreed that the "whites" tasted like turpentine and that #5 (the melon) tasted like "sorority."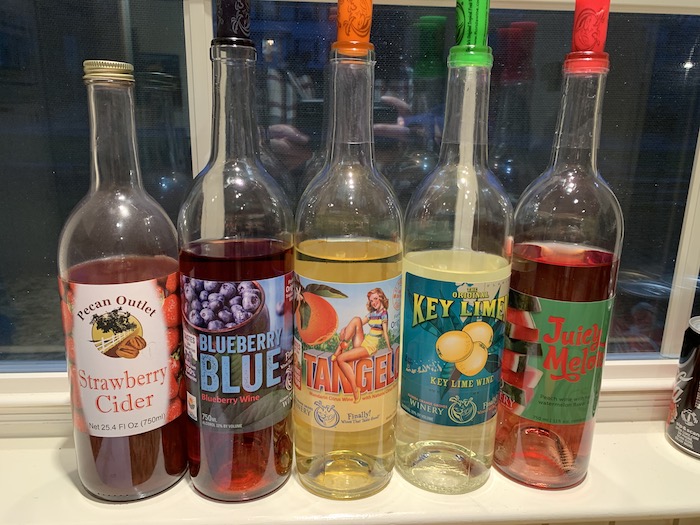 "Brunch at Palo" was really a mash-up of offerings at Palo brunch, Palo dinner, and Cabanas lunch. There is no practical way to replicate the absurd array of offerings at Palo – the bounty and variety of deliciousness astounds every time. My attempt homage was a giant charcuterie assortment, plus some peel-and-eat shrimp.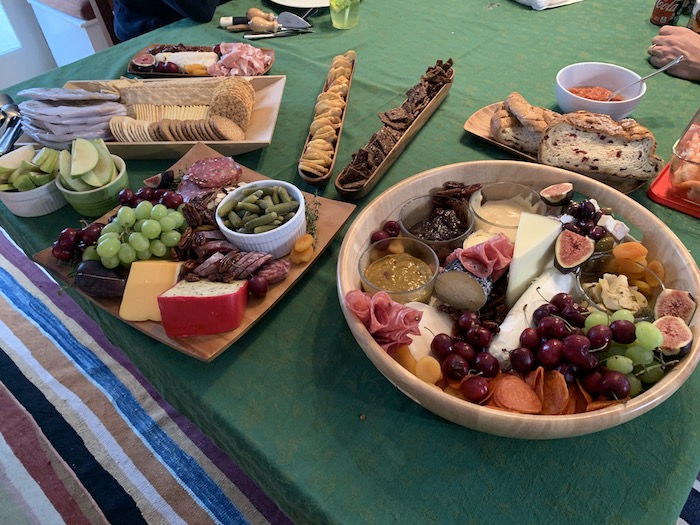 The signature dessert at Palo dinner is their chocolate souffle, served with chocolate and vanilla sauces. A must have every time!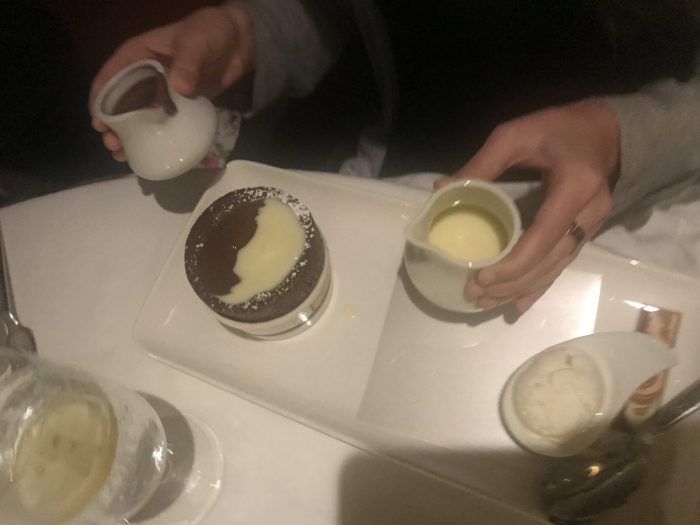 My first attempt at making my own souffles turned out quite well if I do say so myself. I used a Food Network recipe for the souffle and coopted a vanilla sauce from a bread pudding recipe on AllRecipes.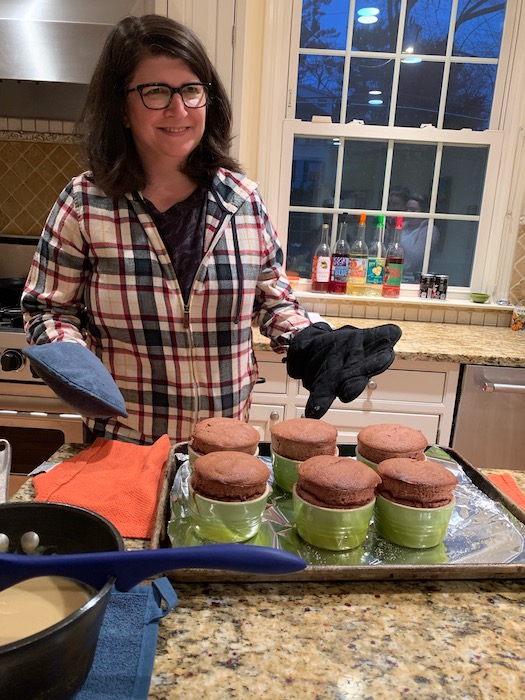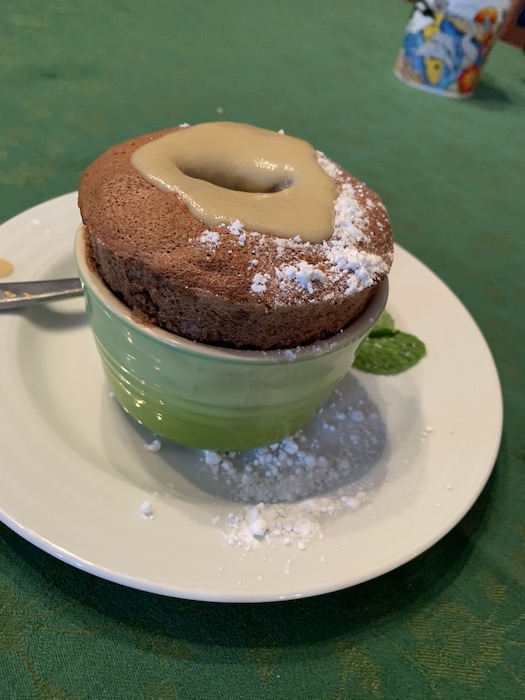 "Shopping in Sint Maarten" was the only one of the day's activities that did not directly correlate with a true DCL event. A my daughters' summer camp, a beloved rainy day game was "Dutch Auction." I knew they'd have fun playing this at home, so I included this game with a name nod to DCL port with Dutch heritage.
The "trip to the spa" was a break, with everyone receiving their own scalp massage tool.
No DCL sailing is complete without towel animals, so we made our own.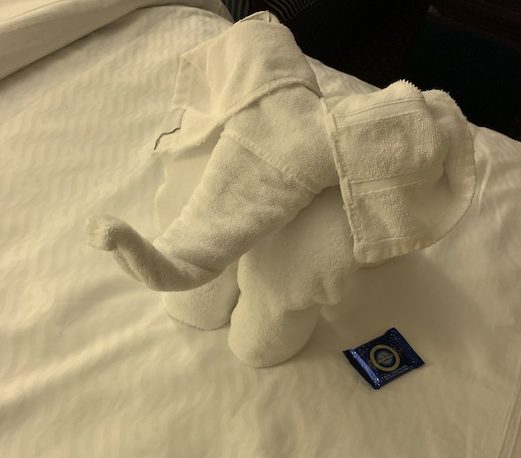 I used the book How to Make a Towel Monkey for instructions. I accidentally bought the wrong sizes of towels, but we made a decent stab at it given the circumstances.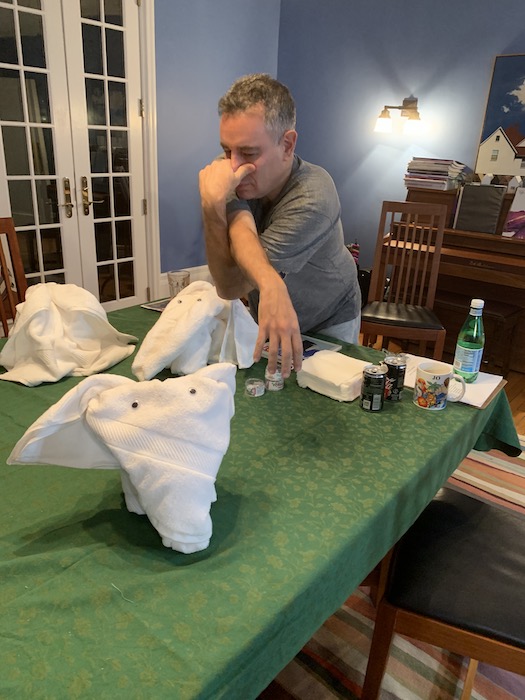 My girls are singers and love the talent show and karaoke performing opportunities on the Disney ships, so we had to include some of that on our "cruise."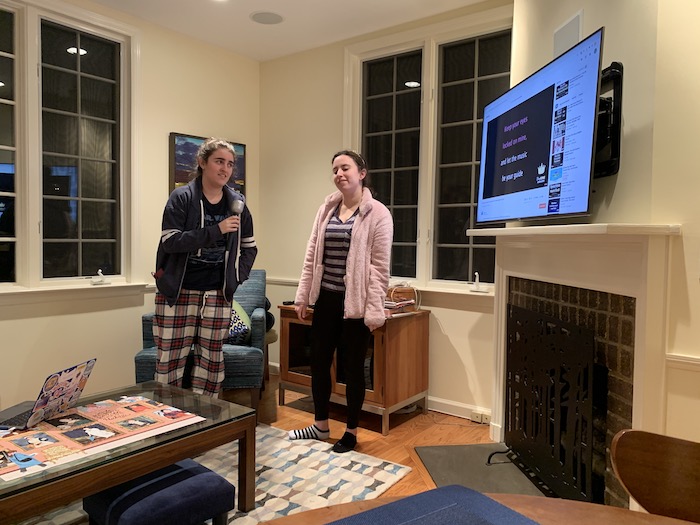 We watched the newest Pixar film, Soul, as our movie in the "Walt Disney Theater." (A lovely movie, by the way.)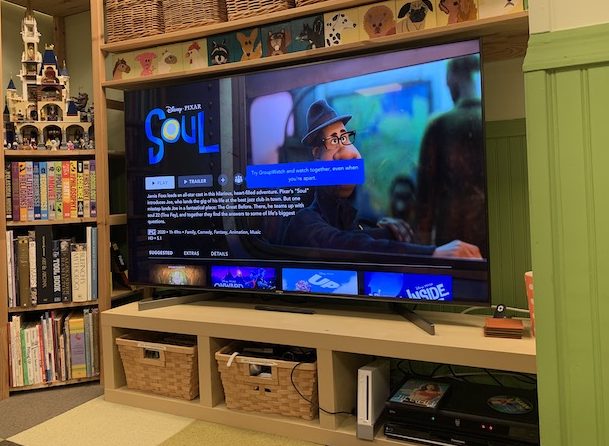 "Dinner on the Pool Deck" included a snacky supper of chicken nuggets and several varieties of fries served with several varieties of dipping sauces, just like we'd eat while hanging out on the DCL pool deck.
"Shopping in Nassau" was dinner dessert of Tortuga Rum Cake, my own number one cruise treat and the only thing I ever buy in Nassau.
For New Year's Eve, we counted down the end of 2020 (Huzzah!) with a champagne toast and Mickey Mouse ziplining across the upper deck.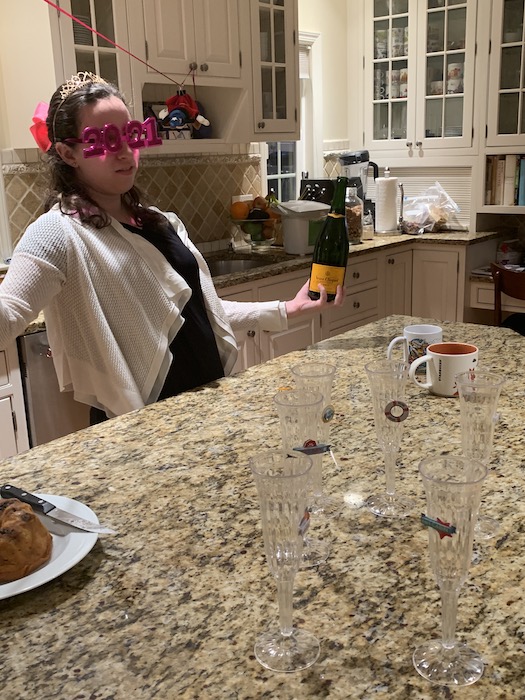 For "turndown" I left individually wrapped Ghirardelli chocolates on everyone's pillows.
One activity that I meant to have, but simply forgot about until it was too late to execute, was creating an "AquaDuck" out of a marble run toy. I had made myself a note on my phone to brainstorm ways to make it look like we were going down the slide (put stickers of our faces onto marbles? Something else?), but I didn't have time to follow up.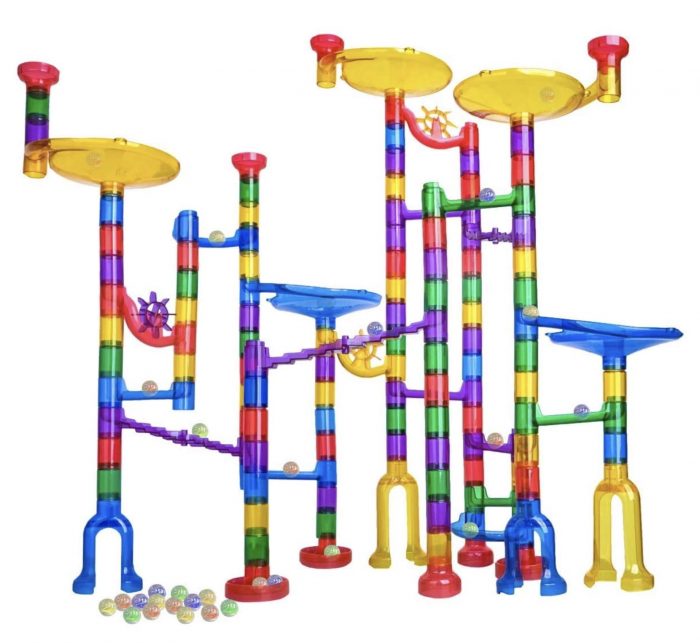 In addition to everything shown here, there were a few extra surprises that I don't have photos of. For example, during a cruise on the Magic when Josie was about 10, she had her first Shirley Temple. Our server asked her how she liked it and she said she loved the cherries. Every night after that, at dinner he brought her a big dish of just maraschino cherries. So we had a big dish of cherries for her after every meal on our "cruise."
I also served surprise Mickey Bars while we waited for the midnight countdown.
About half way through the day, my husband remarked, "This really feels like we're on a cruise," which I took to be an affirmation of the success of the day. If I had to do this again, I would tweak a few things, but overall our no-cruise cruise to nowhere did exactly what I wanted – taking us out of our pandemic heads and providing a full break from our regular stresses.
There was clearly more (much, much more) food involved here than six people needed in one day. We've been chipping away at it for lunches and snacks after the "cruise" ended, so it's not going to waste. The Anna & Elsa cutout is on its way to our Frozen-addicted five-year-old niece.
This experience obviously reflected my family's DCL preferences. If someone wanted to replicate it for their own group, some personalization would be in order. Don't play bingo? Drop that and create a mini golf course in the back yard. Choose your favorite foods. "Sail" to different ports. Bring your family "room service" breakfast. Reenact your favorite DCL main stage show. Whatever floats your boat.
How would you recreate a day at sea? Or a day at Walt Disney World or Disneyland? What are your favorite parts of vacation? Let us know in the comments?