Getting to Know Universal – Three Broomsticks
Pull up a chair and order a pint of Butterbeer, this week we are getting to know the iconic Three Broomsticks restaurant at The Wizarding World of Harry Potter – Hogsmeade in Islands of Adventure. Three Broomsticks opened in 2010 and replaced the Enchanted Oak Tavern when Potter annexed Lost Continent – Merlin's Woods.
Quick Glance
Location: The Wizarding World of Harry Potter – Hogsmeade in Islands of Adventure
Cuisine: Rustic inspired British pub fare
Service: Counter service
Price: $11-$18 per adult entree
Universal Dining Plan Accepted: Yes
Touring Plans Rating: 3 stars, 92% reader approval
Seating: Indoor, outdoor covered, outdoor uncovered
The Experience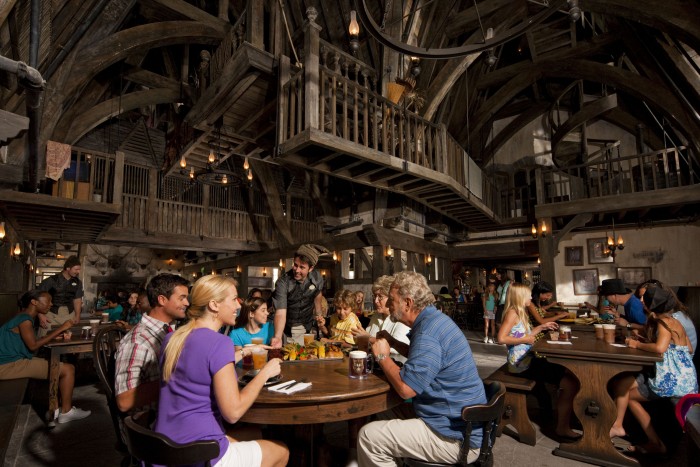 Nestled in the middle of the quaint village of Hogsmeade, the Three Broomsticks is the village's main tavern and inn. While guests cannot rent a room inside, they can still grab a bite of rustic cooking and a pint of the iconic Butterbeer (non-alcoholic, of course).
Inside is modeled after social halls and taverns of Scottland with large wooden arches, catwalks for inn guests, and walls mounted with antlers. Several large faux fireplaces keep the tavern warm as Hogsmeade village exists in perpetual snow, even as it is over 90 degrees outside in Central Florida. Fans of the films should recognize the layout as the Orlando restaurant's layout was adapted for the movies.
Unlike traditional counter service restaurants where you carry your food out to a table, your food will be delivered to your table. Upon check-out at the cashier guests will receive a magical tracking band candlestick with a number. Using RFID technology the candlestick will notify the servers where the food will be delivered to. (Note: During COVID-19 this has been replaced with mobile ordering and numbers on the table. See a Team Member for assistance with seating.)
The Food & Drink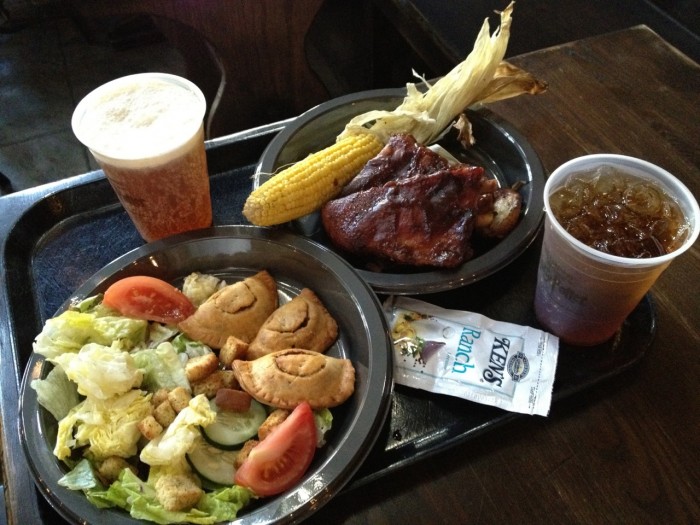 The food can be described using one word: rustic. Entrees are large and satisfying with a focus on meat dishes. Popular options include fish & chips, shepherd's pie, beef pasties (a baked British pastry filled with meat), spare ribs, rotisserie chicken, and salads. Larger families can save some cash and split the Great Feast, a family-sized meal with chicken, ribs, salad, corn on the cob, and roasted potatoes.
Compared to the Leaky Cauldron, the other Potter restaurant, Three Broomsticks focuses on rotisserie options over pub food. Which one you prefer depends on your tastes.
Breakfasts are nearly identical between Leaky and Three Broomsticks. Here's what I wrote about them in the Leaky article:
Breakfast is also offered but we advise to avoid; items are either "college dorm" levels of quality or severely overpriced. We advise you to skip breakfast and [visit] for an early lunch instead.
Just as with all other locations in The Wizarding World, no Coke products are sold. Instead in-universe options like pear cider, pumpkin juice, lemonade, and iced tea are offered. Oh, and of course, all varieties of Butterbeer are on tap. Do not worry mom and dad, Dragon Scale and Hogshead beers are also available after you drop over $120 on interactive wands for the kids.
The Opinion
Our readers rate Three Broomsticks at 92% positive based on 455 reviews. It is among the top 5 counter service restaurants in the resort and for good reason. With high-quality food in an impeccably themed venue, Three Broomsticks redefined themed dining. Three Broomsticks is a must-do for any Potterhead and those with a casual interest will appreciate the food quality.
Have you dined at Three Broomsticks? Let us know what you think in the comments.