Grand Floridian DVC Rentals in the Good Old Summer Time
It is once again time to refresh the old Disney Vacation Club Rental Deals page and let the data fire your Disney Dopamine Receptors (Note to Touring Plans Legal: does that require a trademark symbol?)
The full DVC Rental Deals Page is available to Touring Plans subscribers – you can click over this way to subscribe now.
A few weeks ago we tempted your hippocampus with some Grand Floridian & Polynesian DVC Studio Rentals appearing way out in September. Well, Good News Time! We've seen a few dozen more of these multi-day Grand Flo rentals appear in August at 20% or more below the median price. With a few exceptions, prices are in the $396 to $420 range.
(Reminder: The median we're talking about is of all rentals for the same resort and simple room type we've seen regardless of season. For Grand Floridian studios, the current median is $532.)
Surprisingly, some of these rentals seem to be lingering a little, but they do tend to be snapped up quickly so call that family meeting soon if you want to score one.
For the visual data acute folks out there, here's a scatter chart of all the Grand Flo studio rentals we've recorded for bookings 1 night or longer.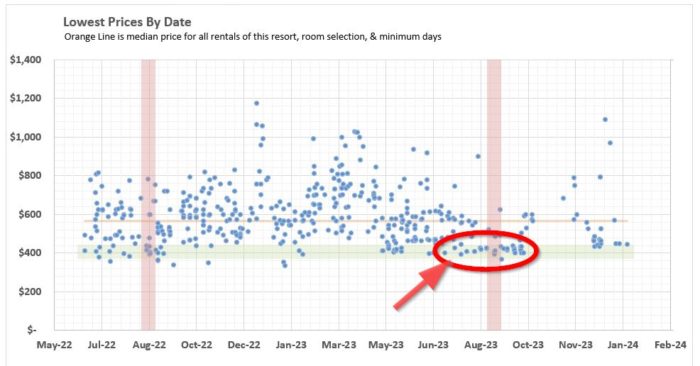 Every dot in this chart is a DVC rental past or present, the horizontal green bar highlights those that are in the $400 range, and the red vertical bars are highlighting ones around August 26th each year. I've also placed a circle around the Grand Flo rentals we are reporting on, just to help you find them.
You can see that while we've seen other Grand Floridian studios appear in the $400 per night range before – but they are just about the lowest prices you are likely to see.
Now, why August 26th? Because I have a specific example, of course!
On that date, there is a 6-night rental available for $407 per night. What, pray tell, is Disney selling that same standard studio for on its own site? Let's go to the videotape…

Disney's price is $2,400 more than the rental! That'll buy you a few fresh churros at Coronado's Three Bridges, I can tell you. (If you haven't gone already – trust me, go.)
Now for some examples of these deals below, with a similar one in May thrown in AT NO COST TO YOU. Remember, visit Touring Plans Disney Vacation Club Rental Deals page for a lot more rentals for dates all the way to next January.
A Smattering of Grand Floridan Studios in August

Resort

Room Type

Starting Date

Rental Nights

Cost Per Night

Total Cost

Difference vs Median Price

Grand Floridian

Resort Studio

05/29/23

3

$396

$1,188

-26%

Grand Floridian

Resort Studio

08/05/23

6

$407

$2,442

-23%

Grand Floridian

Resort Studio

08/05/23

5

$409

$2,046

-23%

Grand Floridian

Resort Studio

08/12/23

3

$418

$1,254

-21%

Grand Floridian

Resort Studio

08/18/23

5

$422

$2,112

-21%

Grand Floridian

Resort Studio

08/26/23

6

$407

$2,442

-23%
If your hippocampus is happy and/or you've booked one of the hand-picked rentals we've collected, let us know in the comments!