Grand Floridian Cafe: A Florida-Inspired Favorite
The Grand Floridian Cafe at Disney's Grand Floridian Resort has long been one of our team's favorite resort dining locations and the perfect place for a relaxed meal during a Magic Kingdom day!
Located on the first floor of the Grand Floridian Resort between the lobby and Gasparilla Island Grill, this delightful restaurant is bright and airy with a Victorian flair but also much more casual than the resort's other table-service locations.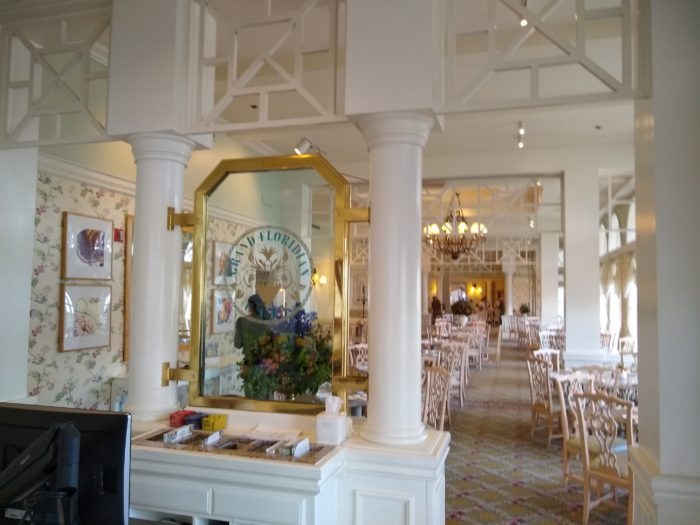 Guests dining here can expect American fare but with Florida flavors, such as Buttermilk Fried Chicken, Lobster 'Thermidor' Burger, and Key Lime Pie.
What You Need to Know
The Grand Floridian Cafe serves breakfast from 7:30 a.m. to 11:00 a.m., lunch from 11:05 a.m. to 2:00 p.m., and dinner from 5:00 p.m. to 9:00 p.m. All meals range in price from $15.00 to $34.99 per adult.
Guests can make reservations in person or advance dining reservations on the My Disney Experience, which we strongly recommend. However, if you happen to be within that 60-day window, be sure to check out our handy TouringPlans Reservation Finder.
Now even though the Grand Flo Cafe isn't one of the more hyped restaurants on Disney property; we've received 529 reviews of the Grand Floridian Cafe since February 13, 2020, with a 90% "thumbs up" rating.
After dropping by the cafe for ourselves for a lovely breakfast, we're happy to report that it's as reliable – and delicious – as ever! Here's what we enjoyed during our visit:
Biscuits & Orange Butter 
Bread service at breakfast? Yes, please!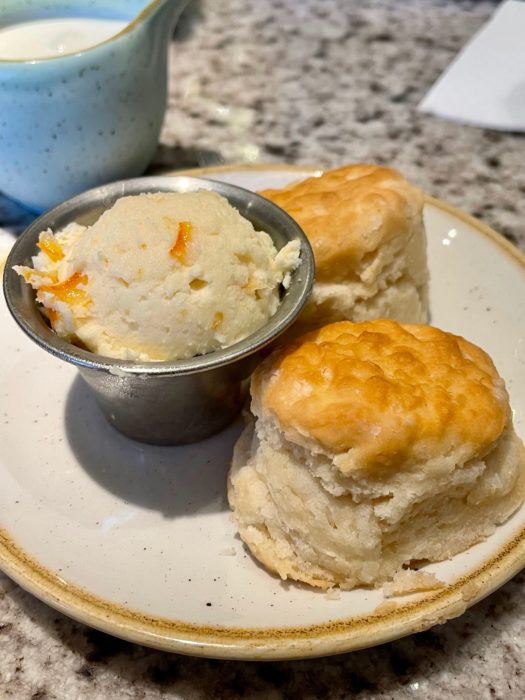 The biscuits and butter are complimentary with your meal, and your server will keep bringing them if you keep eating them.
Chilled Jumbo Shrimp Cocktail – $16.00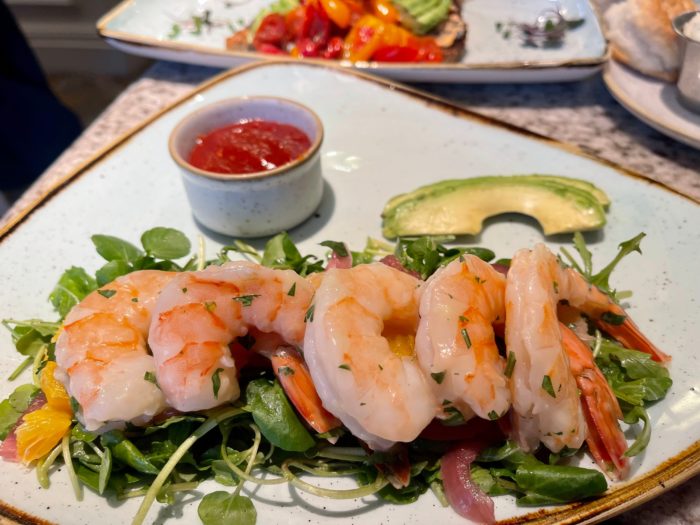 The shrimp were super fresh and served with a perky cocktail sauce. Ask for some prepared horseradish or hot sauce to make this dish a 10!
Avocado Toast – $13.00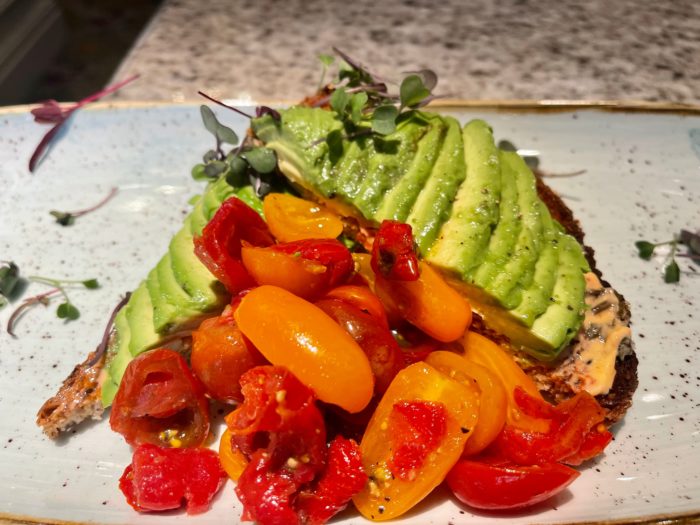 One perk of being in Florida is the outstanding fruit and veggies! For instance, the tomatoes served with this toast were perfectly sweet and delicious, and the avocado was just right. Overall, this is a hearty and filling plant-based option. Another hit from the Grand Flo Cafe!
The Grand Breakfast – $16.00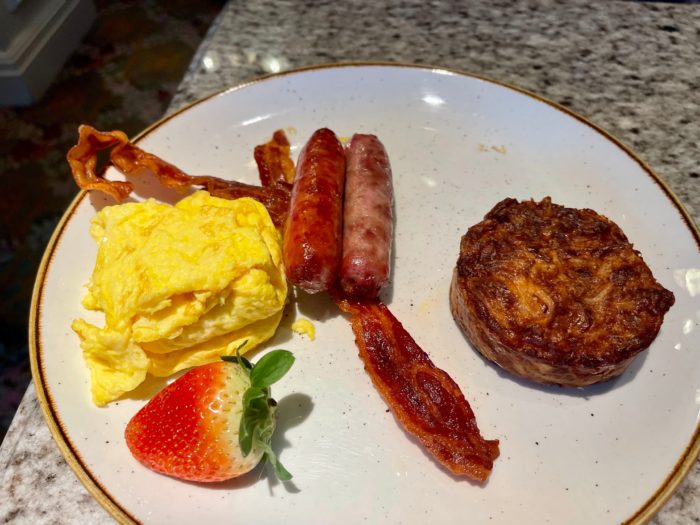 The Cheesy Hash Brown Casserole was the real standout here. Within that golden crust is a ton of savory, cheesy, salty goodness. The eggs were standard, and the sausage was decent, but the casserole is what's worth getting again.
Lobster Benedict – $22.00
Sadly, this is the one dish we wouldn't get again. The eggs were a bit overcooked, and the Hollandaise was fine, but there was just no "wow" to this entree.
Buttermilk-fried Chicken & Mickey Waffle – $26.00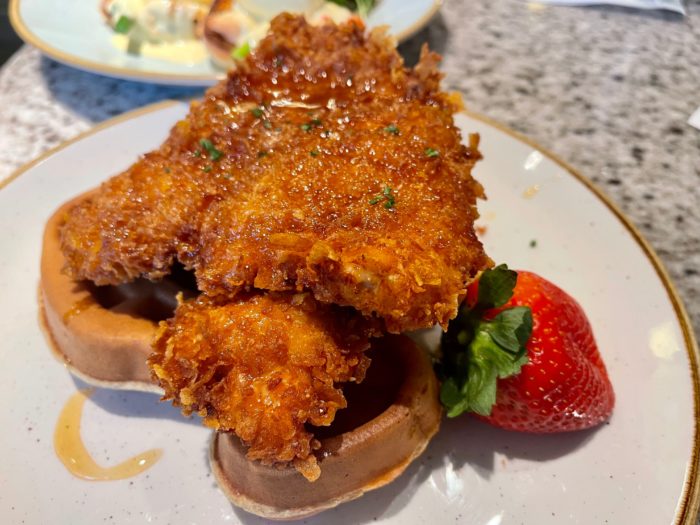 So this was the crunchiest, sweetest, most savory, juicy, fantastic combination! The Sriracha-Honey Drizzle was the perfect mix of punch and love. Just ask for an extra side of it because you're going to want it.
The chicken itself was juicy and perfect, and the crust has a loud, wonderful crunch. Oh, and there's a giant Mickey waffle as the base too. Be sure to bring your appetite or plan to split this one as there's more than enough for two.
Have you ever visited the Grand Floridian Cafe? What are your thoughts? Let us know your favorite dish in the comments!