Here's Why Deconstructed Dish is One of Our Favorite Studio Kitchens of Festival of the Arts
When it comes to EPCOT's many festivals it's easy to play favorites. And with your time and money being so precious we want to help you narrow down how best to spend both. At the EPCOT International Festival of the Arts there is an array of delightful dishes to sample and drinks to sip on. One of our favorite Studio Kitchens of the festival is Deconstructed Dish.
This Studio Kitchen is not for those that prefer to strict to the traditional. But if you enjoy exploring different ways of presenting familiar flavors, you will surely love this booth. Here's what's on the menu:
Deconstructed Reuben: Rye Popover, Corned Beef, Gryuère Panna Cotta, and Brined Brussels Sprouts with Broken Thousand Island Dressing – $6.75
Deconstructed BLT: Crispy Pork Belly, Soft-poached Egg, Brioche, Watercress Espuma, and Tomato Jam – $7.00
Deconstructed Strawberry Cheesecake: Whipped New York-style Cheesecake with Fresh Florida Strawberries and Sugar Cookies – $6.25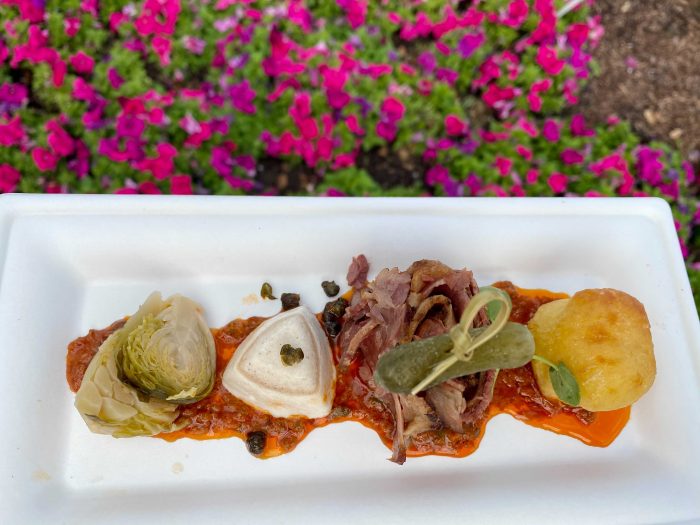 All three dishes are long plates of each individual ingredient separate from the rest. This deconstructed style is a popular, artistic way of presenting modern dishes. It allows the diner to create a unique bite with each forkful. You decide what combination of ingredients to put on your fork. You can even eat each ingredient individually.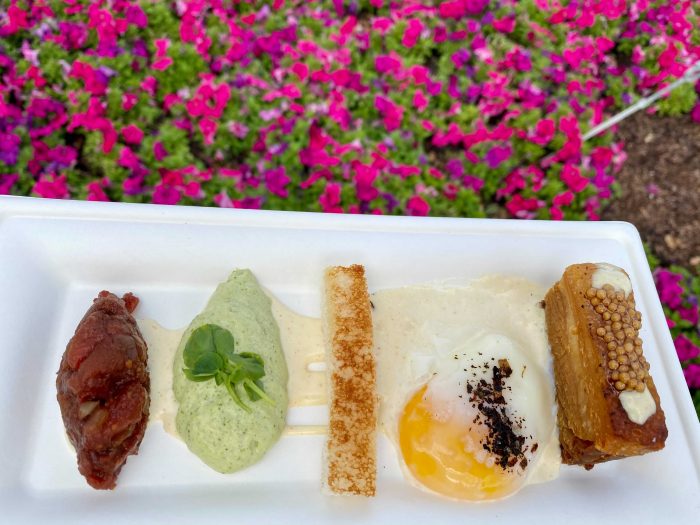 Of the three options at Deconstructed Dish Studio Kitchen, the Deconstructed BLT is far and wide the best. The pork belly is cooked perfectly and gives the expected smoky saltiness of bacon, but on an elevated level. The soft-poached egg is cooked in such a way that allows the diner to dab into the yolk as much as they wish, without being runny and touching the other elements on the plate.
The Deconstructed Strawberry Cheesecake is not the best dessert of the festival, but it is a lovely way to enjoy something sweet that isn't heavy. And Florida strawberries are in season during the festival; this dish presents them at their peak.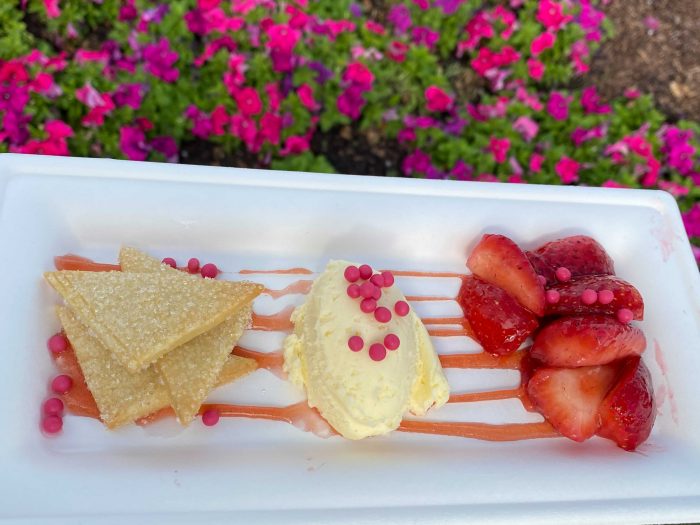 The Deconstructed Reuben is for Reuben enthusiasts only. The heavy flavors of a Reuben usually melt together as the sandwich is served warm. This deconstructed version allows you to taste each savory flavor individually, or through your own unique combination.
Have you been to the Festival of the Arts? What's your favorite Studio Kitchen?