How to Use – and Not Use – Universal CityWalk on Your Next Vacation
Universal CityWalk Orlando sits right in the heart of Universal Orlando Resort's main campus, serving as the welcome point for day visitors, the gathering spot for all hotel guests, and, of course, the front doorstep of both theme parks, Universal Studios Florida and Islands of Adventure. That means it's literally impossible for tourists to avoid the dining, shopping, and entertainment complex – but that doesn't mean that everyone will walk away with the best assessment of its wares or how to best take advantage of its offerings.
Or, sometimes, how not to take advantage of them – like any other theme-park element, deciding how to incorporate CityWalk into your touring plans can present a bit of trial-and-error. Luckily, I'm here to assist with that process and provide some time-honed recommendations.
The Biggest CityWalk Must-Do: Eating!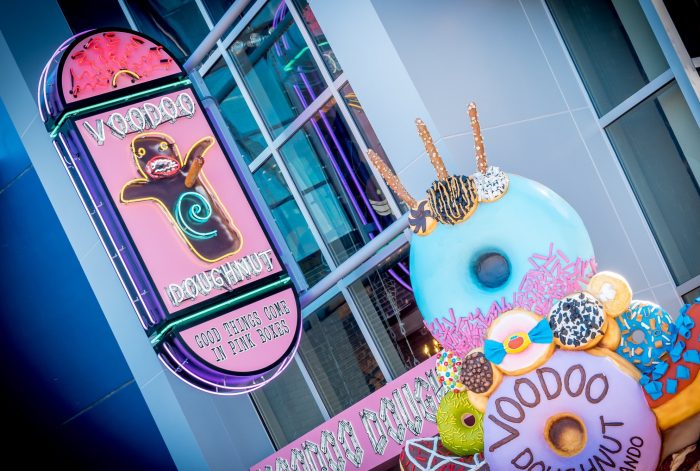 Over the past seven years, when Universal engaged in a site-wide remake of CityWalk, the "dining" portion of the dining, shopping, and entertainment area has really been emphasized (to the detriment of the other parts of that equation, I think, but we'll get there soon enough). This means that there is a plethora of excellent options to choose from when lunch or dinner time comes around, ranging from some unique, home-grown experiences to some noteworthy national chains.
I can't recommend three venues in particular enough: The Toothsome Chocolate Emporium & Savory Feast Kitchen, The Cowfish Sushi Burger Bar, and, on the quick-bite end of the gastronomical spectrum, Voodoo Doughnut. These picks are, of course, highly subjective, and your culinary mileage may vary, but I think they check all the theme-park boxes: a wide enough menu, engaging theming, (regional) exclusiveness, and – the Universal Orlando specialty – quirkiness (especially when it comes to the titillating Voodoo). They're also the establishments I personally make it a point to take all first-timers to, as they give a good indication of Universal dining and also make quite the impression on both the theming and food fronts.
Whether you opt for these or a more familiar restaurant, such as Hard Rock Café Orlando or Bubba Gump Shrimp Co. Restaurant & Market, planning your evenings around an epic meal at CityWalk will rarely, if ever, steer you wrong.
CityWalk Does Offer Shopping, but…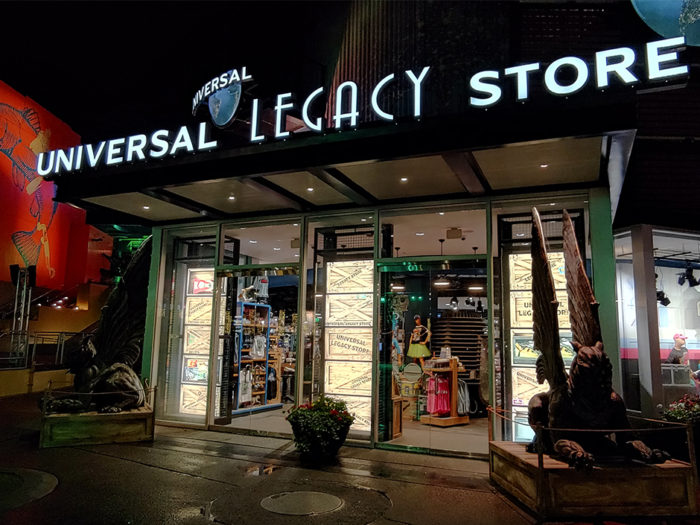 Let's do the good news first: the new Universal Studios Store, what is now the flagship retail experience at the resort, is big and bold and makes quite the aesthetic statement. It's a great way to kill a bit of time, either on your way to or from the parks, and you just may find a wonderful little something that you otherwise would've passed right over (may I suggest you take a look at the two Harry Potter-dedicated rooms, which feature such exclusive items as a sleek new kitchenware line?)
Even better, the home of the old Universal Studios Store, which is more or less right across the way from the new digs, has gotten reworked into the Universal Legacy Store, which is both a collection of merchandise and a treasure trove of retro items, including props, the preshow video of the long-extinct Back to the Future: The Ride, and, a real boon for history nerds like me, a giant timeline of Universal Orlando Resort's lifespan, covering the past 40 or so years. You won't regret visiting here – and, odds are, you're going to spend more (both in terms of time and money) than you thought.
The bad news to all this is that, after these two headlining venues, that's pretty much it for CityWalk's retail scene – all that's left is Hart & Huntington Tattoo Company and Quiet Flight Surf Shop. This is because Universal shuttered four locations to make way for the new Studios Store, and it's left the quantity department lacking (though not, obviously, the quality one).
All of which is to say that shopping at the district is still a must-do, but just don't expect it to be an hours-long spree (unless you really want to peruse every historical artifact in the Universal Legacy Store, that is, and I certainly wouldn't judge you if you did).
CityWalk's Entertainment: Fun but Unfortunately Limited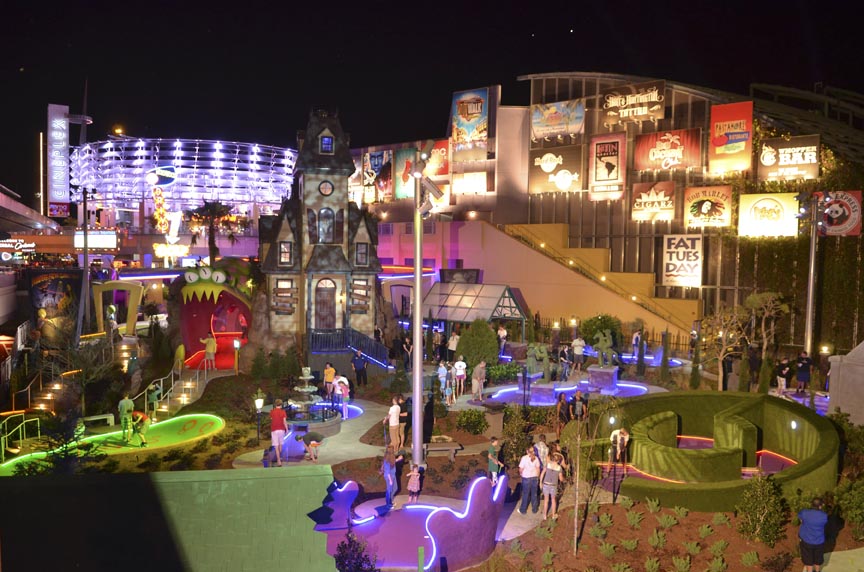 CityWalk's entertainment lineup, unfortunately, bares a pretty striking resemblance to its mercantile roster – and after Blue Man Group's closure earlier this year, its numbers are even more limited.
Let's concentrate on the biggest experience first: Hollywood Drive-In Golf, which offers two crazy courses that are themed to B-flicks from the '50s called The Haunting of Ghostly Greens and Invaders from Planet Putt. Although I, personally, have never had the pleasure of playing either one, I've heard nothing but rave reviews for Drive-In Golf since it first opened nine years ago, making it a pretty solid option for a fun afternoon or evening off (preferably after scarfing down some burgushi at Cowfish or knocking back a few drinks at Pat O'Brien's).
The other two options on this front are more of the theme-park-staple variety, which means they're not necessarily eye-catching but nonetheless perform valuable entertainment services. Universal Cinemark is the resort's resident movie theater, replete with 4K digital projection and RealD 3D surround-sound systems (and the THX-certified Extreme Digital Theater, to boot, which comes with a massive movie screen that extends from one wall to the other and from the floor to the ceiling). And then there's Hard Rock Live, a 3,000-seat live-performance venue that covers everything from musical acts to stand-up comedians.
(One could also put CityWalk's Rising Star on this list, and I'd see your point about including it, all technical quibbles aside – it's a karaoke bar that even features, during certain times of the week, a full band to back up the inebriated crooning of whoever's brave enough to get up on the stage in front of the crowd. It's a fun time, for sure, even if you're just spectating.)
The CityWalk Conclusion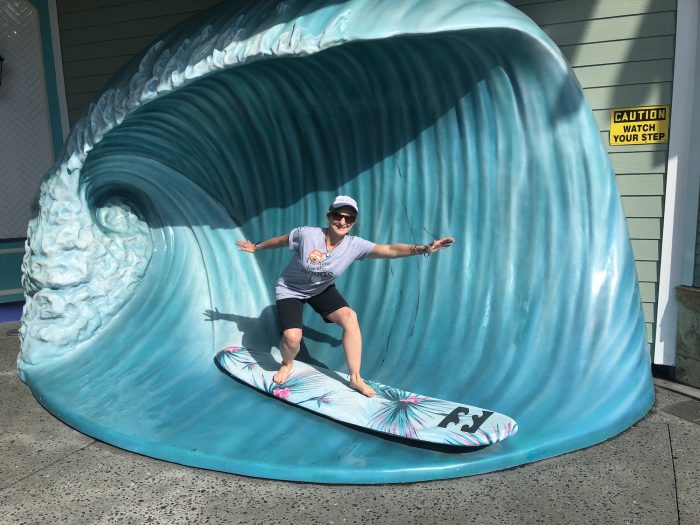 Now that we've run everything down, let's take a step back and try to assess Universal CityWalk Orlando's place in your vacation itinerary.
As we've seen, there are some great experiences to be had at the complex, particularly if you're craving that lovely concoction we call food. But the best way to approach the area and its various offerings is as what I call a multiplier – something that adds extra value to your recreational comings and goings, whether before heading off for a fun-filled day of rides or returning from one of the Universal Orlando hotels, with their array of amenities and special events.
Should this prevent you from specifically making the trek out to CityWalk just to hit up a restaurant or enjoy a round of putt putt there? Absolutely not – but neither should you be possessed of the belief that the district could fill a full day's worth of experiences or activities all by itself. I've been in the position twice now of having to entertain an individual who didn't have a ticket to Universal Studios Florida or Islands of Adventure and who wasn't able (because of luggage constraints) to make an afternoon of pool hopping at the resorts, and CityWalk became our default destination. Did it happily make a few hours fly by? Yes, absolutely. Could it do more than that, like how, say, Disney Springs is able to? Alas, no.
All of which means that you can safely schedule your Universal Orlando Resort vacation around your park and hotel time, and feel confident in your ability to slide your mini-CityWalk jaunts around those.
Do you have a favorite restaurant or shop at Universal CityWalk? Let us know in the comments.