Is Breakfast at Tusker House Still a Solid Value?
It's been a while since we've been to Tusker House for breakfast, so we decided to find out if it was still a solid value. Here's why we still highly recommend this location for breakfast.
Tusker House does a good job with the standards. On our recent visit, there were pretty displays of Mickey waffles, bacon, scrambled eggs, cheese omelets, bacon omelets, ham and cheese frittata, biscuits and sausage gravy, and roasted potatoes. There was also a whole rotisserie ham at its very own carving station alongside a sweet and spicy mustard.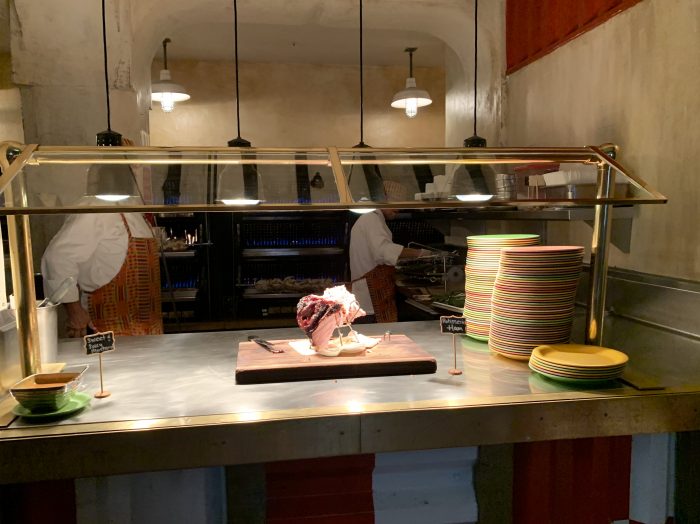 They also offer simple fare for picky or less-adventurous eaters. There were large bowls filled with fresh fruit, two kinds of cereal, plain yogurt, strawberry yogurt, cottage cheese, hard boiled eggs, smoked salmon, and oatmeal. For anyone wishing to add a little flair to the basic yogurt and oatmeal offerings, maple syrup, honey, cinnamon, brown sugar, raisins, granola, dried cranberries, and dried fruit mix were on display.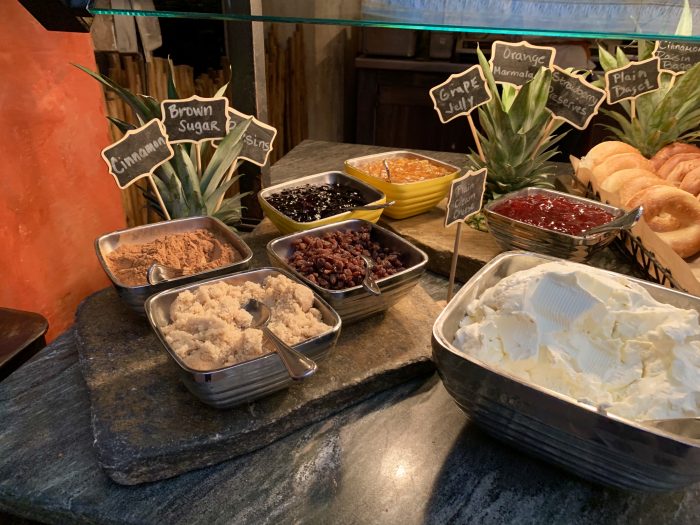 Anyone in the mood for a bagel could choose from cinnamon raisin, plain, or sesame and top with smoked salmon, plain or veggie cream cheese, capers, or red onions. More of a toast person? They offered both white and wheat bread as well as grape jelly, orange marmalade, butter, and strawberry preserves as partners to the toast-your-own slices.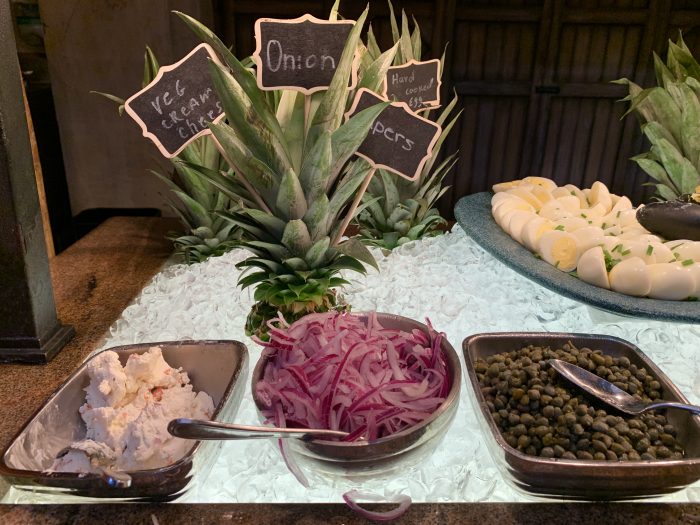 Excellent options for people who don't eat breakfast foods. Every family seems to have that one person who does not delight in the idea of bacon and eggs. Tusker House breakfast is an excellent location for those dinner-for-breakfast types. We found the beef bobotie, Cape Malay curry chicken, and mealie pap were substantial and delicious.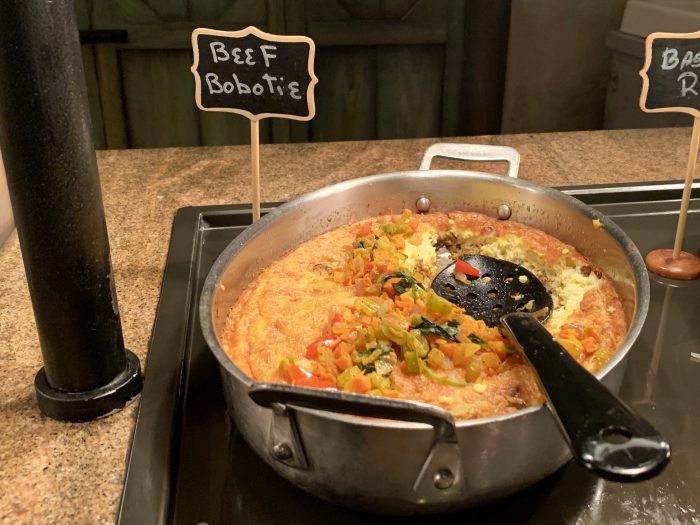 Great kid food options. Tusker House has two bars in the middle of the main buffet area that are kid height and loaded with child-friendly options. On the day we were there they offered pancakes, scrambled eggs, Mickey waffles with warm maple syrup, bacon, tater tots, and sausage patties. While the younger members of your party are welcome to enjoy any of the food on all sections of the display, it's especially helpful when they can see the food without having to be lifted up to review the options.
Pastry! Anyone who loves their morning coffee and pastry is going to be happy to linger over the center section of this enormous display. The large assortment of delicious carbs included plain croissants, raspberry chocolate chip bread, glazed donut holes, blueberry bread, bread pudding, chocolate twists, and their trademark zebra coffee cake.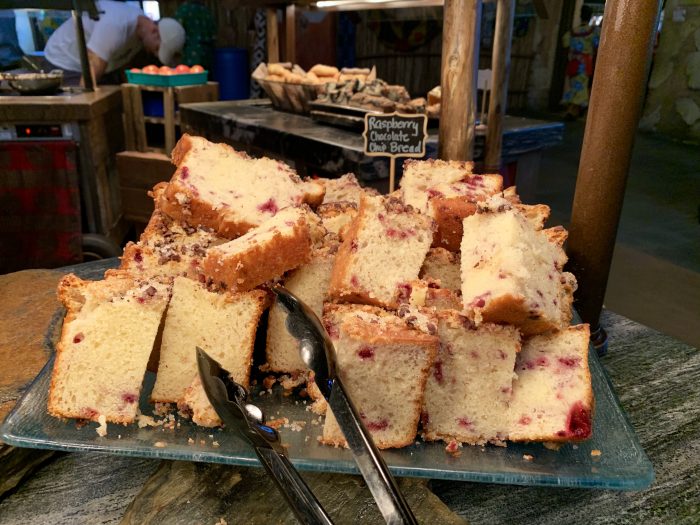 The Big Cheese. In our opinion, even the most average breakfast would be worth the price you'll pay at Tusker House as long as it included a moment of bonding and a picture with Mickey Mouse. The fact that Minnie, Goofy, Donald (the official headliner), and Daisy are present is just the icing on the donut.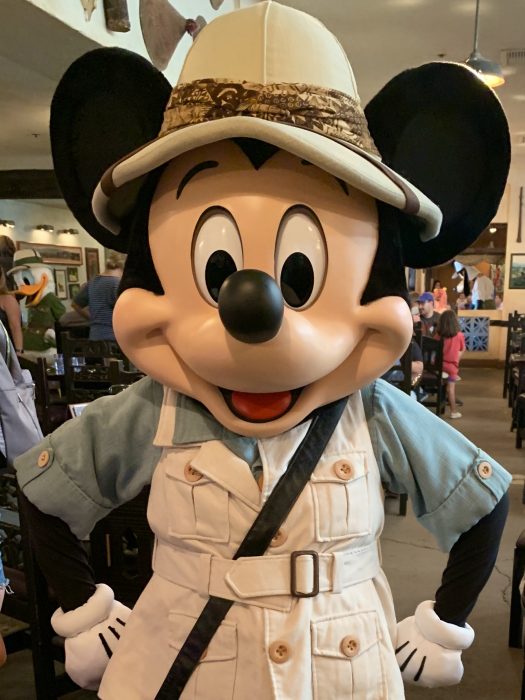 Location, location, location. When you're on a Touring Plan and have Fast Passes deadlines to meet, there is an enormous amount of stress and anxiety that can accompany a resort character breakfast. At least in my experience. I have always found that I enjoy my experience far more when I'm not thinking about how long it will take to wrap up the meal and jet over to my first park of the day. Tusker House is in the Africa section of Disney's Animal Kingdom, just behind the Dawa Bar and steps from Kilimanjaro Safaris and Grace, the precious baby western lowland gorilla inside the Gorilla Falls Trail.
While we were impressed with the food, overjoyed with the pastry selections, and happy to ham it up (see what we did there?) with Mickey, there were a few other things about the experience that we wanted to note.
Buffet Germs? Even Disney levels of cleanliness cannot stop some people from being wary of any buffet. Many people have buffet horror stories. My husband calls the chocolate fountain at a popular family buffet found around the country "chocolate baby fingers" because of the number of little ones we've seen get a bit too excited when it was time for dessert. I've also witnessed my own child, when she was much younger, whip a tiny hand out to smack a tray of Jello at our favorite Chinese buffet. Yes, I stopped anyone from eating the Jello until management could remove the tray and, yes, we left an enormous tip. I feel confident most of you have similar tales. That said, and with the knowledge of the things that can happen, I was delighted that there was always someone cleaning. We were inside Tusker House from 8:46 a.m. until 9:35 a.m  and each time I went into the buffet area (which was frequently because my child doesn't want her food to touch and I took a lot of pictures) I saw a Cast Member wiping, cleaning, and tidying. On one trip I saw a CM removing all of the tongs on the salad section because a previous guest used a tong for multiple items. I asked the CM why they were replacing utensils and she explained that while they cannot guarantee there won't be cross-contact of allergens (this warning is posted in several locations inside and outside of the restaurant) they do their best to minimize issues.
Missing Minnie. As mentioned above, we were at our table for almost an hour and never got to see Minnie Mouse except from a distance. My husband and I took turns returning to the buffet so that our daughter could remain at the table so as not to miss any famous pals. Disclosure – in all of my many character meals, this is the very first time I was not visited by one of the featured stars. This leads me to believe that our lack of Mickey's better half was just a fluke and not standard for most guests. We could have chosen to hang out after we were done eating to see if Minnie would have made her way to our table, but my child has the patience of an average first grader so that didn't happen.
The Final Verdict
The final verdict on breakfast at Tusker House is positive. The adult breakfast is $38.00 and they charge $23.00 for kiddos between the ages of 3-9. Both prices do not include tax and don't take into account any discounts you may have. The food was not the usual theme park fare and even the pickiest eater should be able to find something satisfying. That combined with the famous company and stellar location make this buffet a win.
What is your favorite character dining location? Do you prefer breakfast, lunch, or dinner? Tell us why in the comments!