Journey of Water Splashes Into EPCOT
Journey of Water Inspired by Moana has been in development almost as long as it takes to say its unnecessarily many-syllabic name. But it's opening on October 16, 2023 and for the past couple of weeks, Cast Members and others have been attending previews of the attraction. This week our parks researchers got a turn; here's what we think based on what they saw. Let's start with …
What is Journey of Water?
It's a self-guided nature trail filled with interactive water features and opportunities to learn about the water cycle. For example, the Rain plaque below is one of several that discuss different stages of the water cycle. And the Water Harp feature connects "strings" of water to tones that play when they're disrupted by the guest's fingers.
The trail is a closed loop that offers a choice of wet or dry paths, but even on the wet path you can avoid getting really damp unless you want to. This is great, because it lets groups travel together if they have different opinions on how wet they want to get.
Several areas let groups play together, either collaboratively or independently. In the first image below, the waves that are created will be higher and stronger if more people work together to create them. But in the image below that, a splash pad is … just a splash pad. Even if Disney does refer to it as an "Interactive Water Feature Wet Deck".
Moana's inspiration can be seen in the large sails that provide shade in many places along the path, and in the Polynesian "tiki" styling of the railings and structures.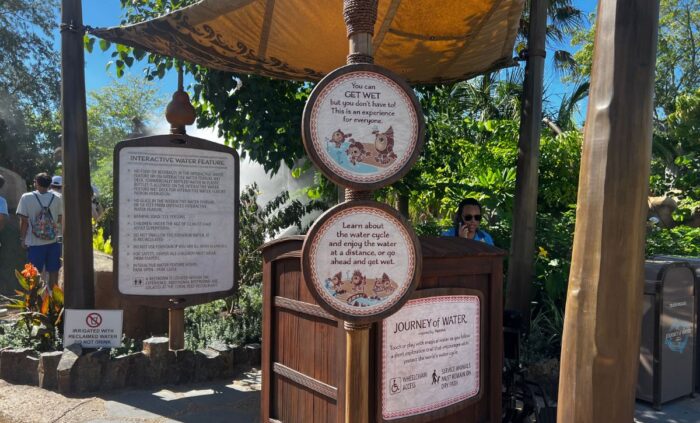 There are also carvings in the rockwork and woodwork, hidden-but-not-hidden as you pass by. There's a Moana-inspired soundtrack. And of course, you cannot miss the huge figure of Te Fiti. From many angles, she's framed against the EPCOT ball even as she guards a pool of water below her.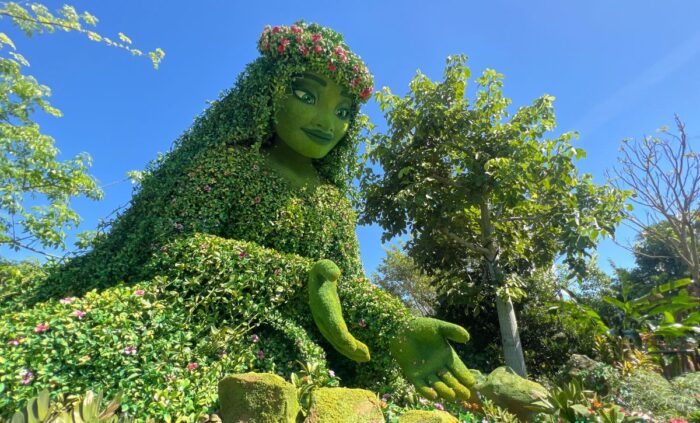 What Does Journey of Water Add to EPCOT?
Some of the interactive features have mechanisms that guests will recognize from other attractions, such as ImageWorks or the queue of Seven Dwarfs' Mine Train. But they're presented differently and feel fresh, and the "tested" nature of these mechanics means they're not likely to have durability issues.
EPCOT has always focused on education and interactivity, and Journey of Water fits right in. The interactive features will remind any parent of the exhibits that you'd find in a children's museum or a science museum, similar to the ones in Innoventions that occupied this area before Te Fiti ruled over it. My family has always loved that EPCOT contains so many self-paced areas that are fun for both adults and kids (self-paced is a synonym for "no lines", dontcha know), and we're pleased to see that roster maintained. I can't wait to see this attraction for myself.
The Verdict
Our researchers took about 20 minutes to go through the attraction, but if you've brought small kids you might expect to spend longer, especially if it's a hot day and they're playing in the splash pad. Diaper-aged kids will need swim diapers, but Disney seems prepared for families to stay awhile, with restrooms inside the attraction as well as benches and other places to sit. Hunger may eventually drive you out, as food and beverages are prohibited aside from bottled water (commercial plastic bottles only). Or, if you're a party of only adults, you may find that it's a lovely place to cool off, sit, and catch some shade for a bit, but not somewhere that you'll spend more time than it takes for a leisurely stroll through.
Are you looking forward to the opening of Journey of Water? What sounds the most interesting to you? Let us know in the comments!