Five Things to Know About Under the Sea – Journey of the Little Mermaid
Under the Sea – Journey of the Little Mermaid is a gentle, slow-moving dark ride that recounts the story of the 1989 classic animated feature, "The Little Mermaid." We'll tell you five things you should know about this attraction, but if you prefer to dive right into the whys, wheres, and hows, here's your shortcut. Otherwise, read on to become part of this world.
1. It was a long time coming.
"The Little Mermaid" opened in 1989, ushering in the great revival of Walt Disney's animated features. This was due, in no small part, to the musical genius of Howard Ashman and Alan Menkin. (C'mon, who else could create the incredible tour de force "Under the Sea?") The Imagineers wanted to create an attraction based on the smash hit, but for several reasons, it was delayed again and again. It wasn't until December 6, 2012, some 23 years later, that Under the Sea – Journey of the Little Mermaid, opened at Walt Disney World as one of the first attractions in New Fantasyland.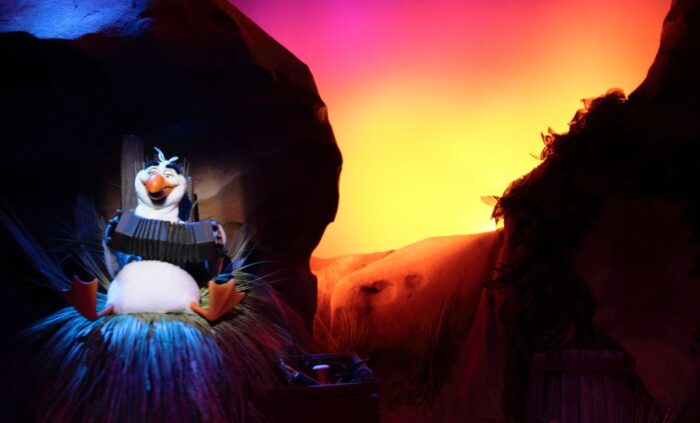 It's worth noting that prior to that, a 17-minute live stage show, "Voyage of the Little Mermaid" opened at Hollywood Studios in January 1992. It closed in March 2020 due to the pandemic and at this writing, we're unaware of any plans to bring it back into production. Over at Disney California Adventure, The Little Mermaid: Ariel's Undersea Adventure opened June 3, 2011; the Disney World version is quite similar.
2. The queue is filled with fun, fishy details.
There are so many details packed into this queue that it takes a whole grotto to hold them all! As you enter the attraction, look up to see Prince Eric's castle and pay note to the towering shipwreck. The queue winds you around the base of the castle, past a waterfall and tide pools containing pieces of ships lost to the sea. Then you head into the grotto itself that's filled with – of course! – gadgets and gizmos aplenty.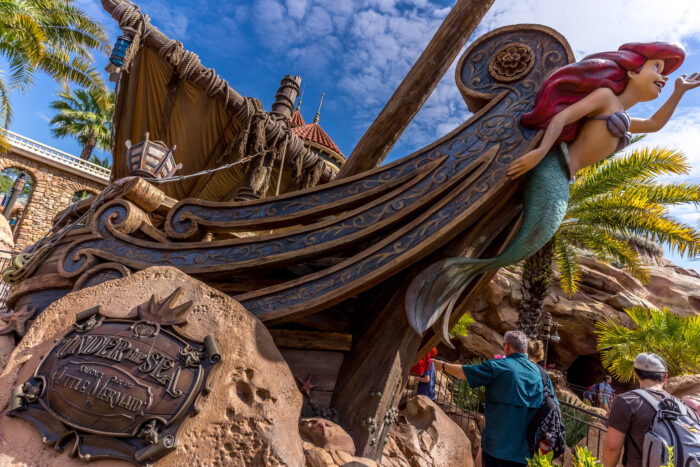 There's an interactive game along the way where little crabs on screen are gathering trash or treasures. Point at the items that don't belong, and the crabs will remove them. Lastly, you'll meet an audio-animatronic Scuttle who serves as the narrator for your adventure from beginning to end.
3. You do go Under the Sea!
When it's time to ride, you'll board a clamshell and pass beneath the waves to Ariel's grotto and King Triton's kingdom. As you pass through detailed 3D sets with audio-animatronic figures, you'll encounter the evil Ursula and hear Ariel strike a deal to become human. Then your clamshell takes you back to the surface world to watch Ariel meet Prince Eric and ultimately enjoy their happy ending together. And of course there is a soundtrack: as you go you'll hear portions of the classic musical numbers from the film, including "Part of Your World," "Under the Sea," "Poor Unfortunate Souls," and "Kiss the Girl."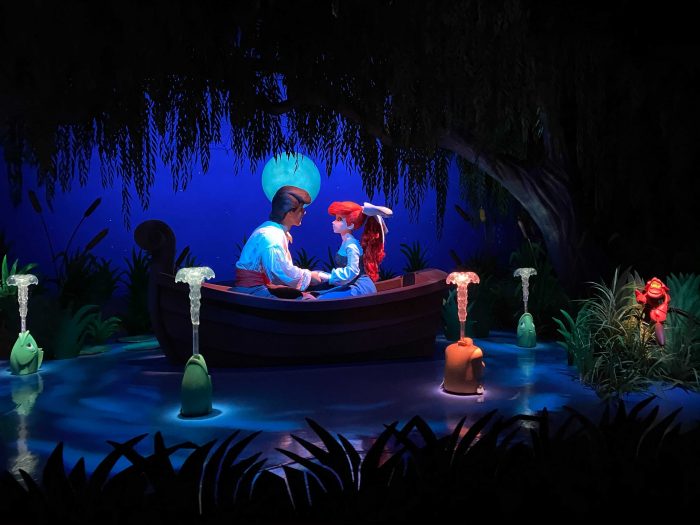 To be honest, the attraction isn't one of the most ambitious at Walt Disney World. Most of the figures you encounter (around 183 in total and most of those are in the "Under the Sea" scene) only spin in place, turn left and right, or move up and down. But the animatronics themselves are well done, if not among the finest the Imagineers have created; Ursula in particular is impressive at 7.5 feet tall and 12 feet wide!
4. There are fins and skins and Mickeys within.
Most of the audio-animatronic figures at Walt Disney World are either wearing clothes or covered with some sort of fur or feathers. Not so when you're under the sea. King Triton, Ariel, and Ursula are – to put it in the most family-friendly language – not overdressed. So, the Imagineers had to put a lot of thought into how to create a whole new "skin" technology that would look realistic as the figures' bodies moved and gestured, without the camouflage of clothing to hide joints or connections. I think they did a great job meeting the challenge!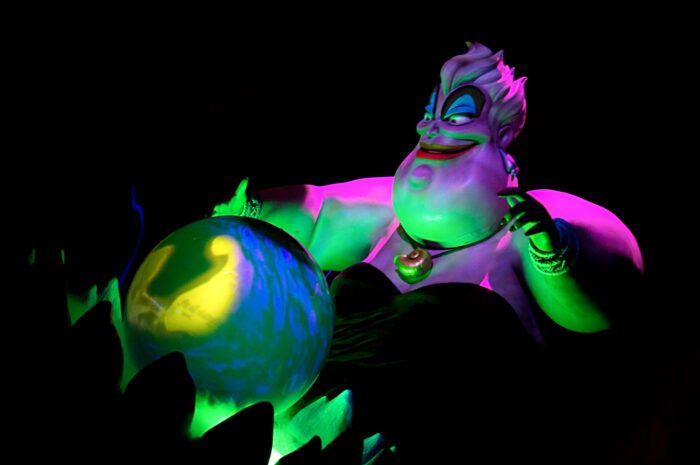 It must be said that I'm not a huge fan of looking for hidden Mickeys. But this attraction has one of the most clever and intriguing hidden Mickeys you'll ever encounter. Every blog entry worth its (sea) salt must mention it, so here we go:
As the Imagineers built the queue's castle and caverns, they conceived and undertook a unique creative challenge. They positioned special rockwork so that only on Mickey's birthday, November 18th at noon, Eastern Standard Time, the sun would align with the gaps in the rocks to "project" a silhouette of Mickey's head and ears into the queue. Sadly, if it's cloudy that day and time, you have to wait an entire year to try to see it again!
5. The Nuts and Bolts.
Under the Sea – Journey of The Little Mermaid is located toward the rear of Fantasyland between Gaston's Tavern and Ariel's Grotto. This attraction is completely indoors and not affected by inclement weather. However, those waiting in the outdoor queue will be exposed to the elements. FWIW, while you do indeed go "under the sea," there's no actual water and you won't get wet.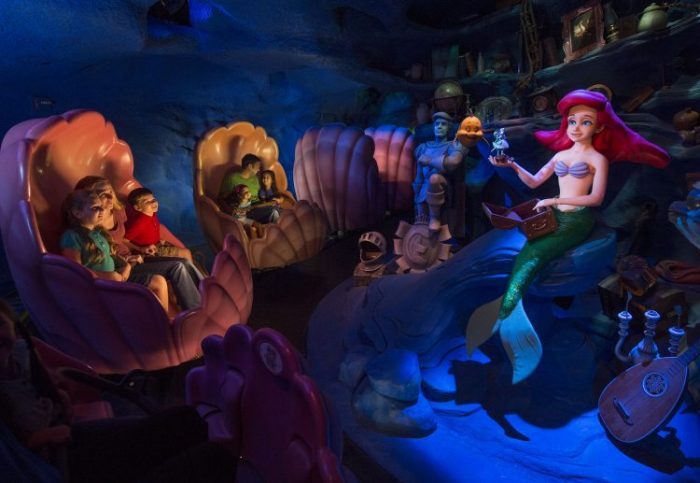 The vehicles are large colorful clam shells with a hard bench seat, a tall back, and a single pull-down safety bar. The clamshells seat 2 adults, but Cast Members often allow 2 adults and a small child or 1 adult and 2 small children. This is an Omnimover attraction, so you board your ride vehicle from a moving sidewalk; there will be a small step up. Guests must transfer to a standard wheelchair to ride. Audio description devices and handheld captioning are available.
There are no health or safety advisories, so this is one attraction that's perfect for families and guests of all ages. Under the Sea – Journey of The Little Mermaid is open for Early Theme Park Entry and Extended Evening Theme Park Hours. Although lines can build during the middle of the day, wait times tend to be moderate (relatively speaking, of course). They will be shorter early in the day and near to closing, but your best strategy might involve taking advantage of shorter waits for other attractions during those times of day. Alternatively, you can reserve Lightning Lane entry via Genie+.
The Bottom Line.
Under the Sea – Journey of the Little Mermaid is a fun ride for the whole family. It will mostly please those who are fans of the 1989 movie, a category I fall into. Does it do justice to the genius of the film? Not really, but the littles who love all things mermaid (and anyone who enjoys a plethora of brightly colored things "dancing" around) will love it. And truth be told, it's a fine way to take a break, get out of the weather, and spend a few minutes sitting down.
Have you gone Under the Sea? Who's your favorite character? How many thingamabobs do YOU have? Let us know in the comments below!