What to Know About the Downtown Disney District's Reopening
The Downtown Disney District will officially reopen at the Disneyland Resort beginning on July 9 and of course, there will be some new guidelines that will be enacted to make sure that the resort is following stipulations from health authorities and government agencies to promote physical distancing and cleanliness.
Downtown Disney will have capacity measures in place, as well as limitations on parking and operating hours. When Guests arrive, they will be directed to self-park at Simba lot (at Disneyland Drive and Katella Ave). They will then need to follow signs for clearly marked entrances and exits. Rideshare drop-offs will occur on Harbor Boulevard Guest drop-off and pick-up location, or at the Downtown Disney District Guest drop-off and pick-up location on Downtown Drive.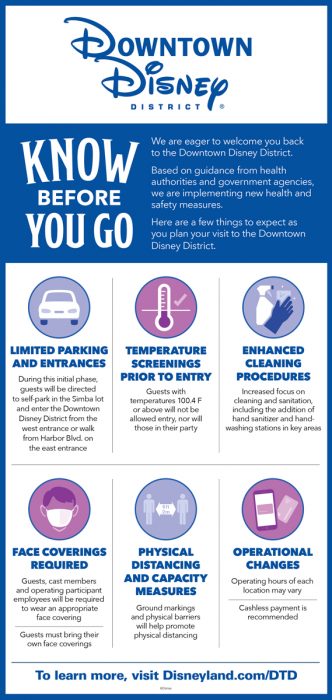 Prior to entering, Guests will have their temperatures taken and anyone who registers a temperature of 100.4 degrees will not be allowed entry. Of course, face coverings will need to be worn by Guests, as well as Cast Members when visiting the Downtown Disney District. In addition, to keep Guests properly distanced, there will be markings on the ground keeping Guests 6 feet apart, as well as physical barriers in place when distancing is not easily achieved.
As far as additional measures and information, that will be shared closer to the reopening date.
Restaurants will begin to reopen at the Downtown Disney District in a way that incorporates enhanced health and safety measures, including physical distancing, the use of appropriate face coverings, increased cleaning procedures and limited-contact Guest services. To accomplish this, a number of changes are being made to dining locations, including:
Increased outdoor patio-style seating available at select locations
Parties seated at tables 6 feet apart
Digital or single-use menus available at many locations
Guests will be still have the able to make Advance Dining Reservations by booking online or on the official Disneyland app, however, some dining locations may use their own reservation system or virtual waitlist. Guests will need to check with each individual location to confirm how their reservation process will work. In addition, all members of your party must be present before seating, and hosts will be required to bring your entire party to the table at one time.
The Downtown Disney District hours will be 10:00 a.m. to 8:00 p.m., daily, however, individual location hours may vary.