The Magic, The Memories, and Merch! February 2019 Disney Outlet Store Photo Report (Star Wars, Orange Bird, runDisney and more!)
Welcome to the latest edition of The Magic, The Memories, and Merch! the longest running monthly look at the Disney Outlet Stores in Orlando.  With me covering the Disney Character Warehouse on I-Drive and Secret Shopper Ben Wszalek at Vineland (see end of every Outlet Report for more details on each location), we not only got to see a whole bunch of Christmas items – including the Flurry of Fun event at DHS and Mickey's Very Merry Christmas Party – but more items from Pandora: The Land of Avatar (shocking, I know), runDisney, Star Wars, Peter Pan and more. Of course Christela McC is also here with a look at some Outlet items from California, including an incredible toy set for Radiator Springs Racers!
Enough jibber jabber! Ready to see what we we found? Alright, let's go!
A couple months ago I predicted that the Outlets would soon be home to a ton of elaborately themed bags and wallets that Disney was putting out. My reasoning? These bags look great, but I have a hard time believing someone in the Real World (AKA outside of Disney World) would use one. They also have some next level bonkers pricing. While we've seen a few arrive here and there over the past couple trips, a whole bunch arrived this month including these Little Orange Bird backpacks and wallets. The original price on the backpacks wasn't there, but I'm pretty sure they were $75. The reduced price is $39.99.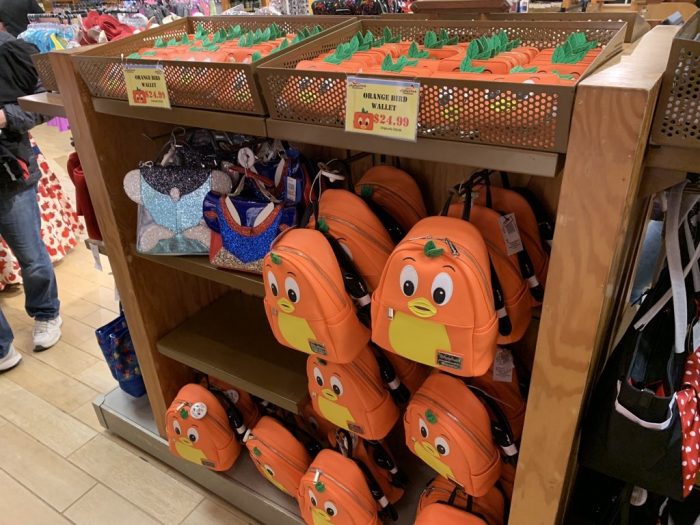 I have a lot of readers who like to see bag updates, but unfortunately they are one of the least interesting items in the store for me so I end up not paying much attention. These bags were made by "Loungefly" if that means anything to you.
These Orange Bird wallets were originally $50 a pop, which just seems INSANE to me. They have been reduced to $24.99. I'm not saying you'll look like a weirdo using one of these in Idaho or New Hampshire, but I'm not saying you won't look like a weirdo either.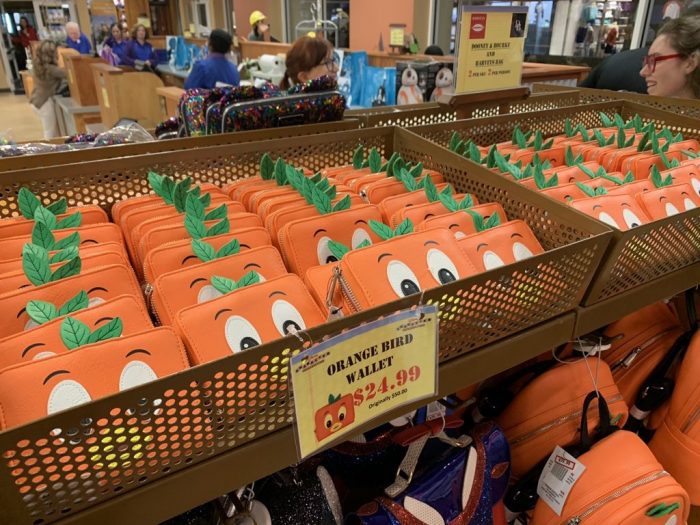 it's a small world themed wallets. Originally $50, now $24.99.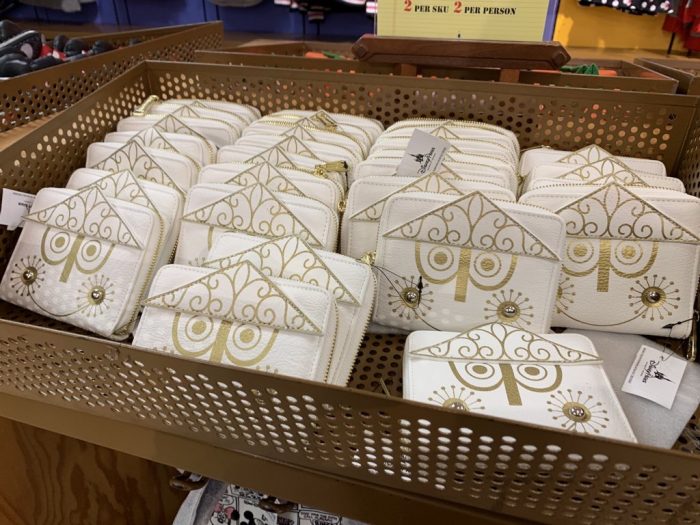 Rose shaped bags. I mean c'mon now. I can see a market for this existing on the one day a year people wear crazy hats to the Kentucky Derby, but that's about it. Or for like little kids. BUT WHAT KID HAS $74 TO BUY THIS AT FULL RETAIL?!! Reduced to $36.99.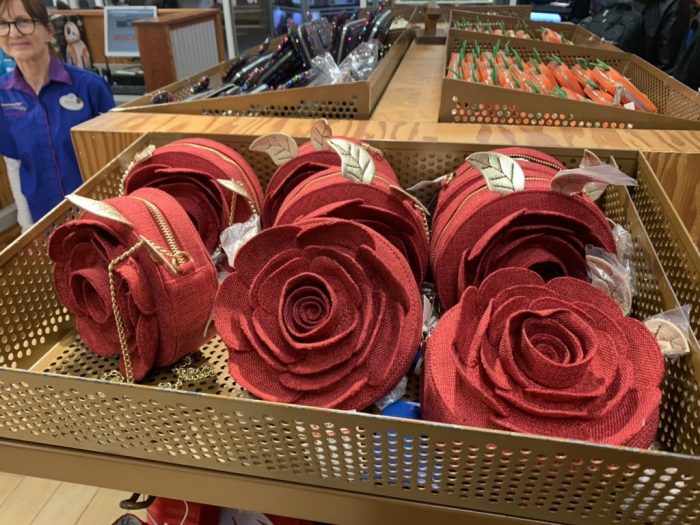 Here's the back side of the bag.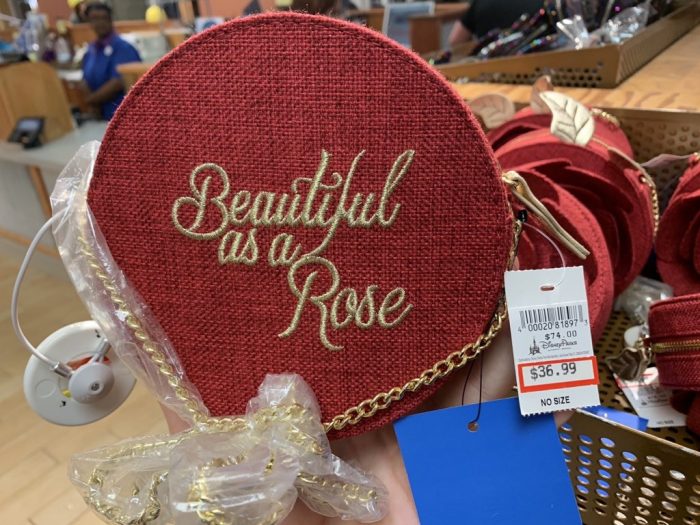 These bags featuring characters from Princess & the Frog look terrific. Very eye catching. Dr. Facilier holding cards one was originally $74, now $36.99. One below that was originally $54, now $36.99. Ray the firefly bag at very bottom was originally $74, now $36.99. Other side starts with Tiana at top at originally $74, now $36.99 while the Lily pad bag beneath her was originally $54, now $26.99.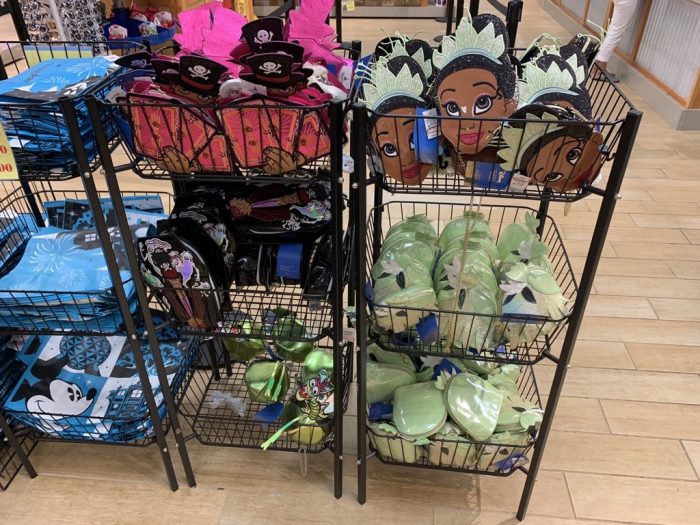 Kate Spade bags from the Minnie Mouse collection. Purse was REDUCED to $163.99. No idea of original price but CAN YOU IMAGINE? Wallet was originally $50, now $24.99.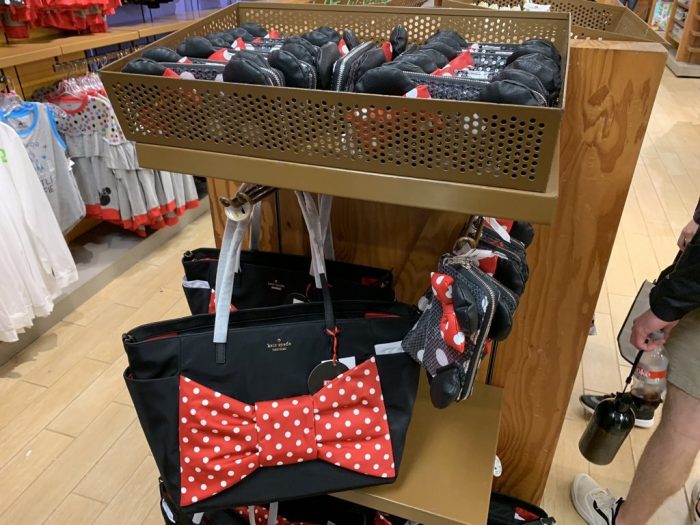 We saw a ton of 2019 runDisney marathon weekend merchandise shipped directly over to the Outlets in record time last month, but some still arrived in February, including these pins. Original price was $16.99.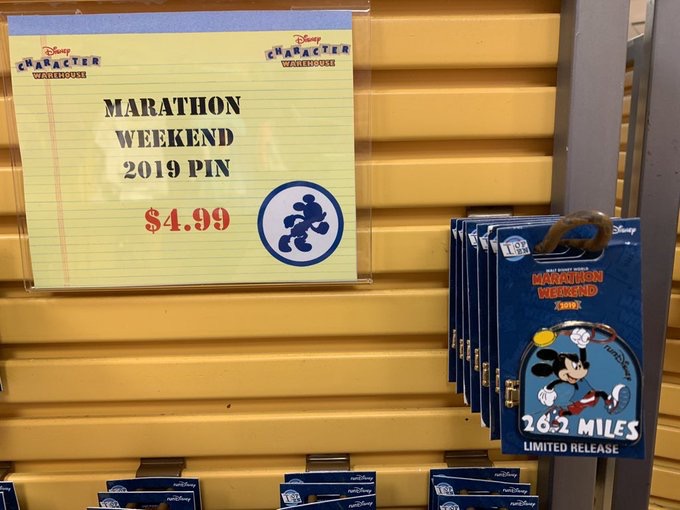 The pin "opens" up.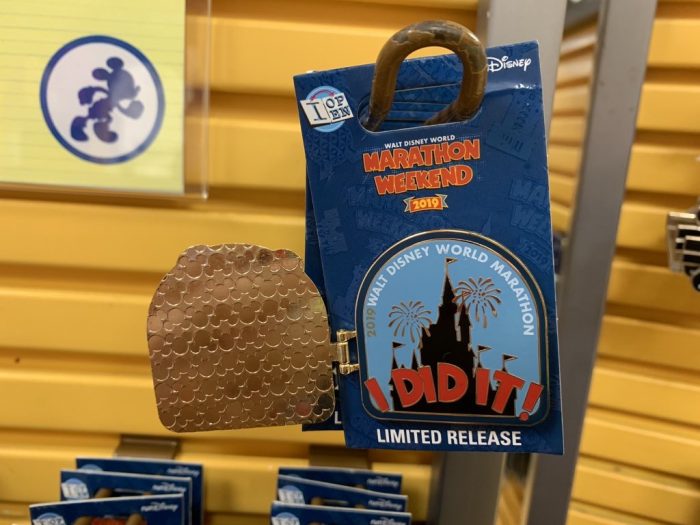 These runDisney sneaker ornaments have been reduced all the way down to $2.99 (were originally $26.99.)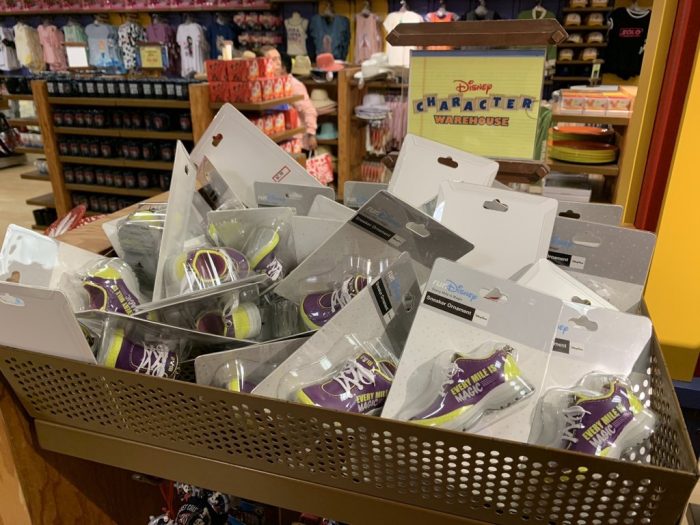 Marathon Weekend car magnet. Originally $12.99, now $2.99.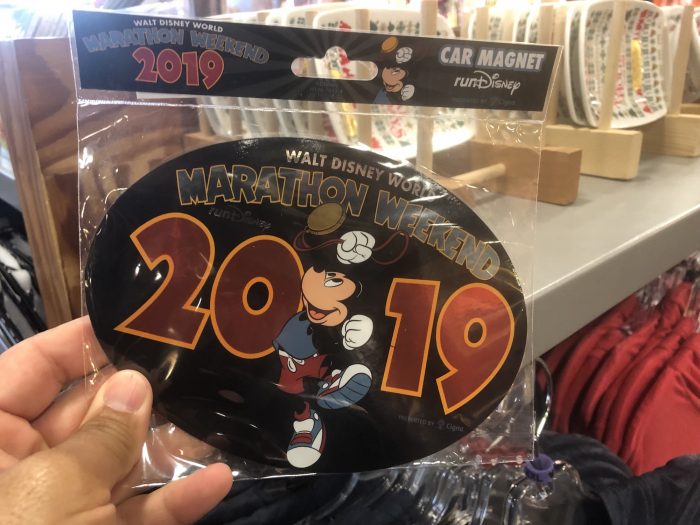 1,000 piece Pandora jigsaw puzzle. Originally $21.99, now $7.99. We have young kids in the house who love doing Disney jigsaw puzzles, but when I went to buy some at Disney every single jigsaw puzzle set was a 1,000 pieces (or more.) Right now they have been putting together a set that came from the Disney Outlets over a year ago featuring Disney Junior characters. The set came with four puzzles and each were about 48 pieces. This set came from Shanghai Disneyland though, so maybe I need to fly over there to shop for some newer jigsaw puzzle sets.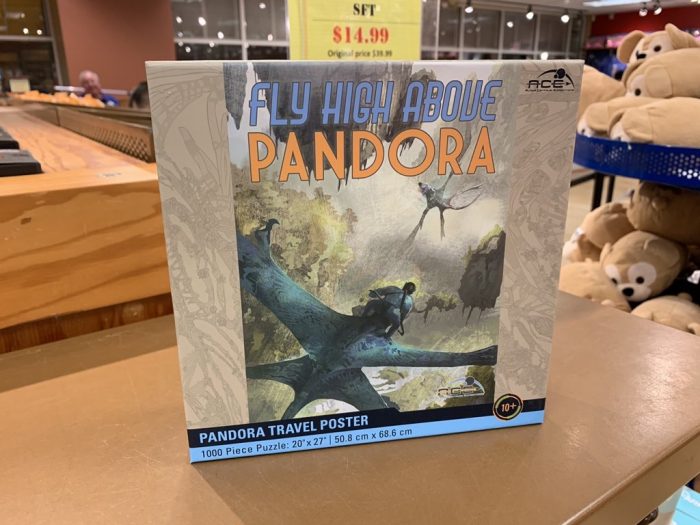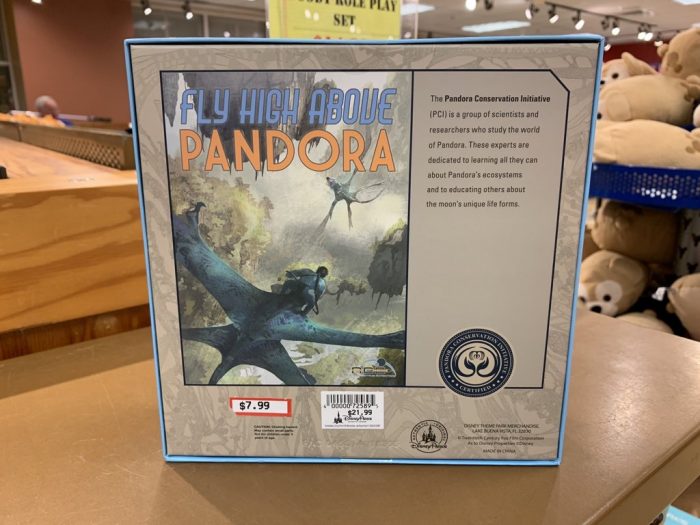 Here is the current update for the scary Avatar monkey toy. It appears none have been sold since last month, but the Outlet did take out all the other items that were under the monkeys.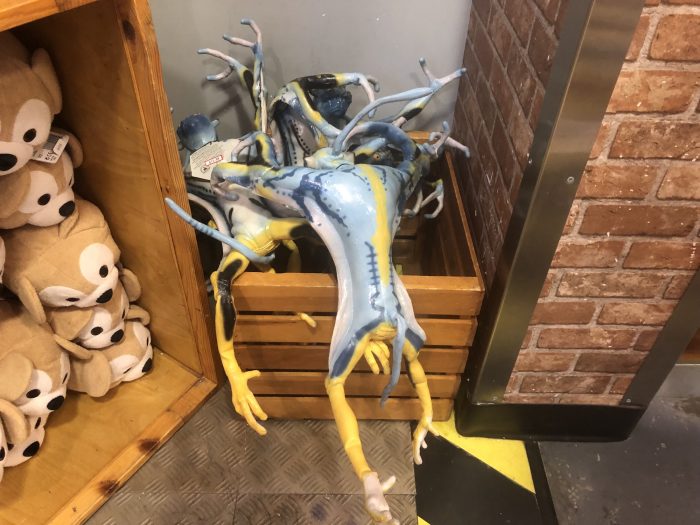 Speaking of Avatar, here is a shirt featuring the company ACE, who in storyline are the people "transporting" us to the planet of Pandora at Animal Kingdom. Thankfully they also transported cases of Coca Cola and Disney reusable shopping bags featuring the Tree of Life. Actually, the movie Avatar takes place in the year 2154 and the stuff on Pandora: The World of Avatar is set generations after the movie, so none of this makes any sense whatsoever. Shirt was originally $24.99, now $9.99.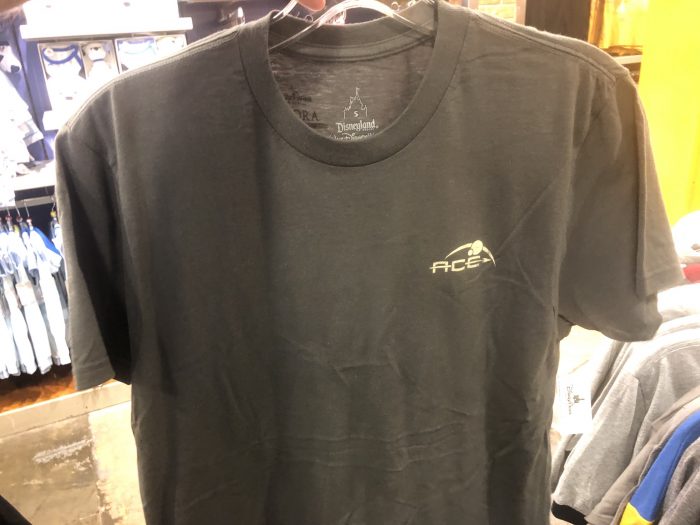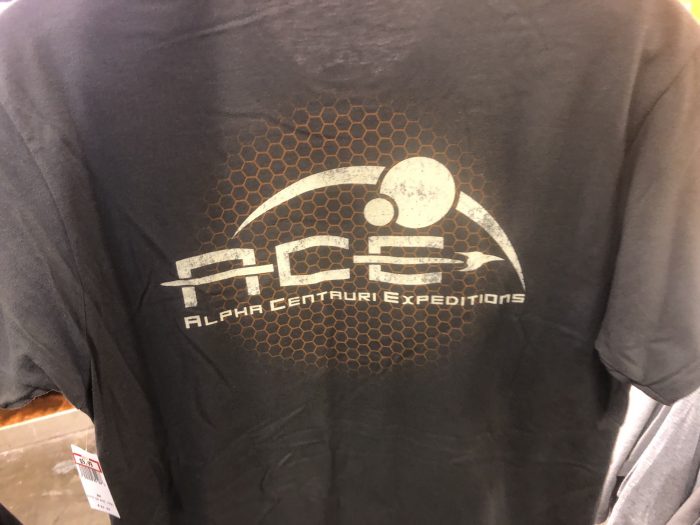 Part Time Beast shirt. Originally $39.99, now $12.99. $40 for a t-shirt, not from the 28 and Main collection. Sometimes I just don't get it. No offense to anyone who bought this, but it looks like I could have just made this shirt myself at home for like $6 with some iron on stencils at Michael's or Hobby Lobby. Shirt would be higher quality material to boot.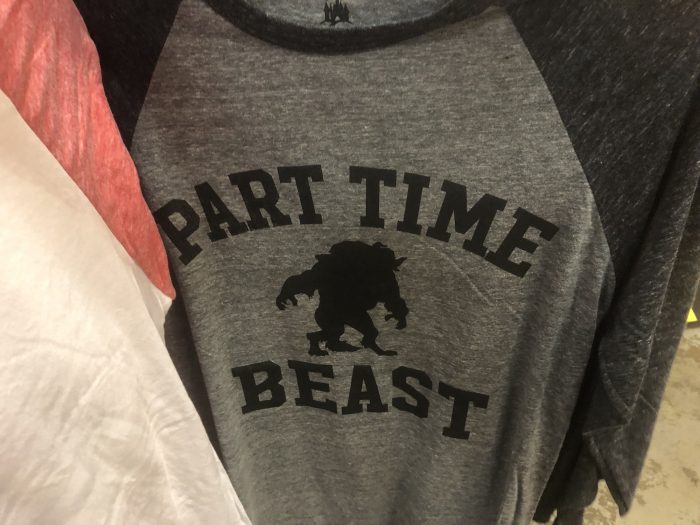 Belle shirt. Originally $34.99, now $12.99.  Like this artsy stylization of the character.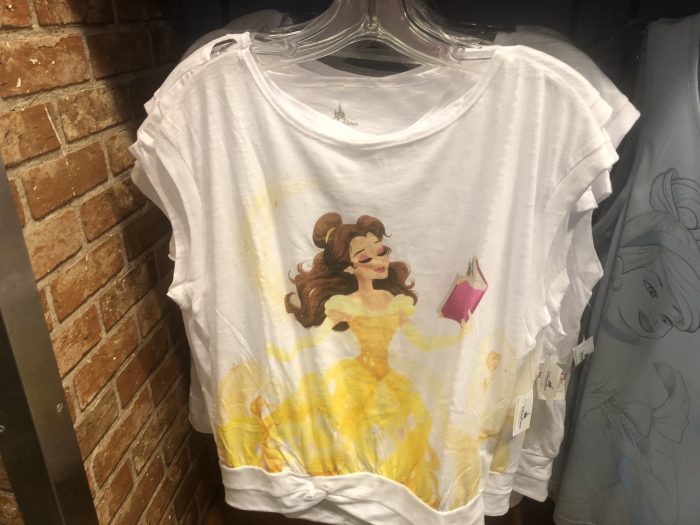 Cinderella shirt. Also originally $34.99, now $12.99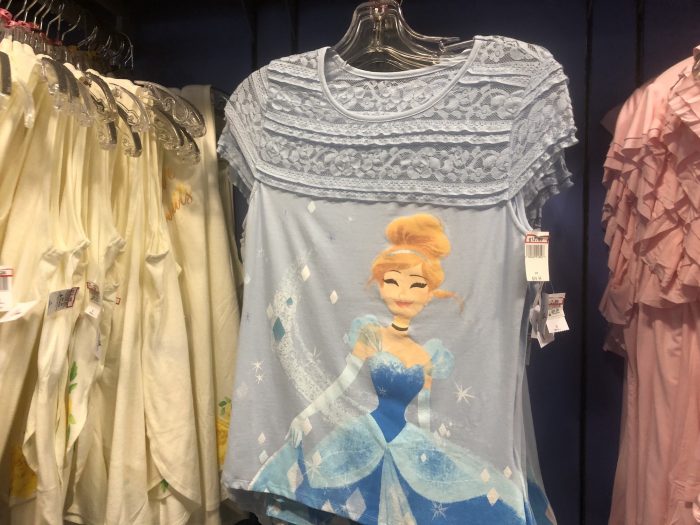 Ariel long sleeve shirt was originally $39.99, now $12.99.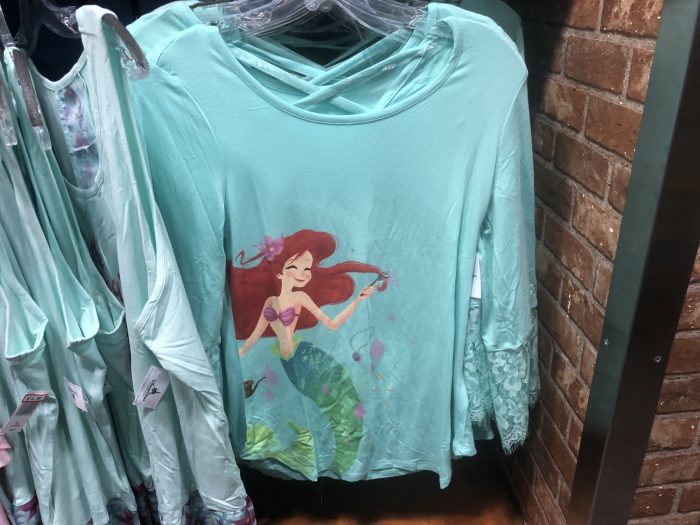 Beauty & the Beast shirt was originally $34.99, now $12.99. The Little Mermaid tank top was originally $36.99, now $12.99. (EDIT: A commentor has pointed out the shirt on the left is for Sleeping Beauty. My bad.)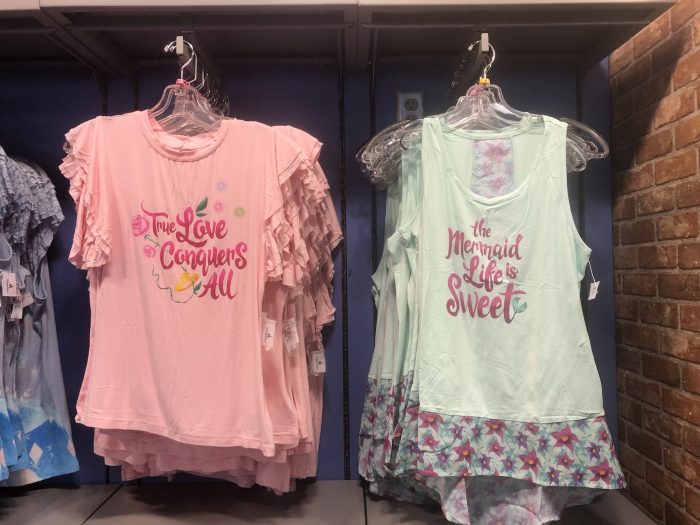 Ursula tank top on left was originally $34.99, now $7.99 while t-shirt on the right was originally $36.99, now $9.99. I'm no prude, but that seems like a pretty low cut on a Disney t-shirt.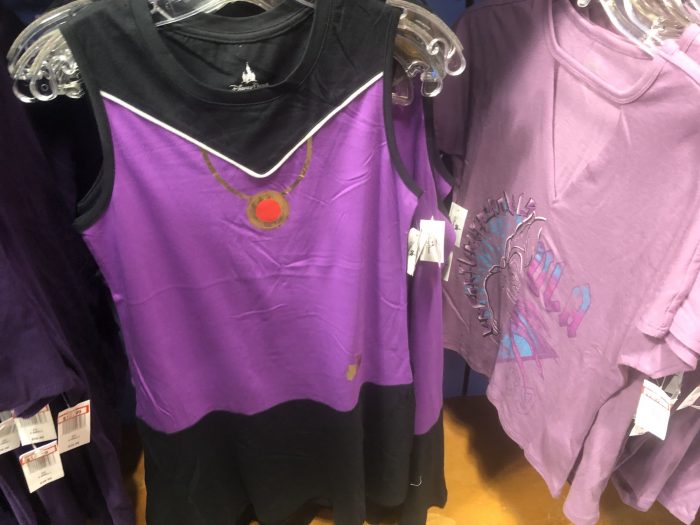 Look at this hot mess. Maleficent shirt on left was originally $39.99, now $14,99 while the Cruella shirt was originally $34.99, now $12.99. WHO WEARS STUFF LIKE THIS IN PUBLIC?!!!!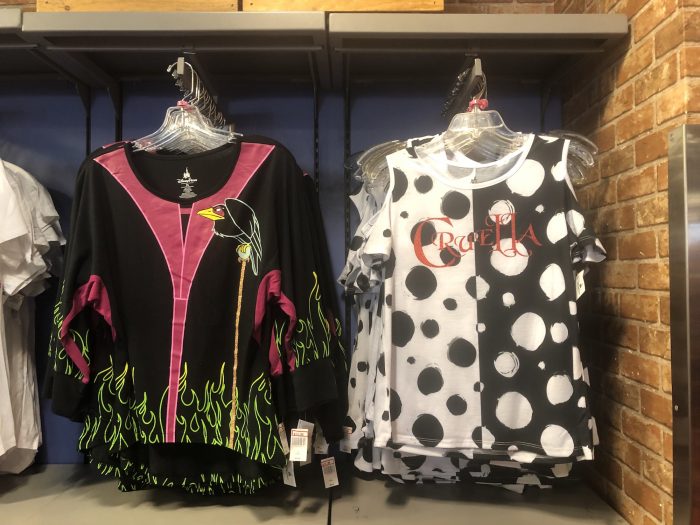 I guess this doesn't seem so bad in comparison. Originally $34.99, now $12.99.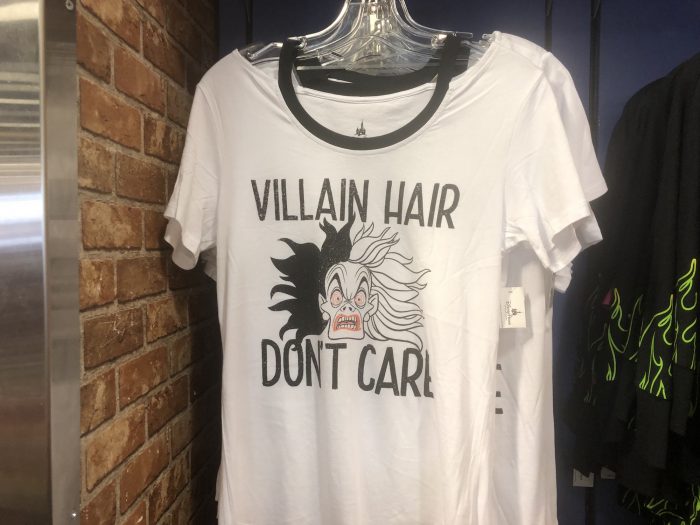 Cute Minnie Mouse shirt. Not sure what the term is for a shirt like this that isn't a t-shirt but also not a long sleeve shirt. Is it called a "3/4 shirt?" Originally $34.99, now $9.99.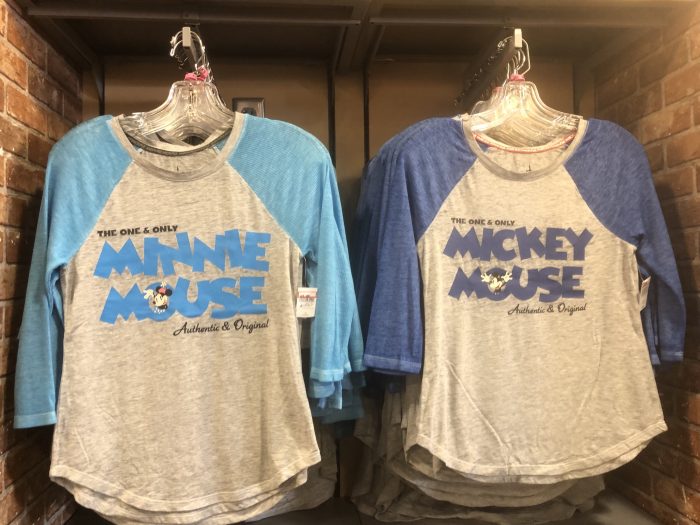 We bought one of these 101 Dalmatians outfits for the baby in our family. Will post a picture next month. Originally $29.99, now $9.99.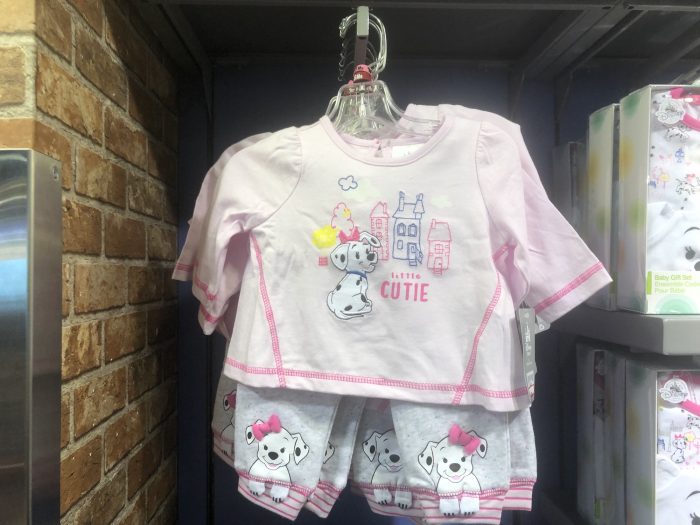 Stitch tank top for kids. That would have been the day when my parents bought me a tank top for $24.99 growing up. It has been reduced to $9.99. What would a kid small enough to wear this put in a shirt pocket?!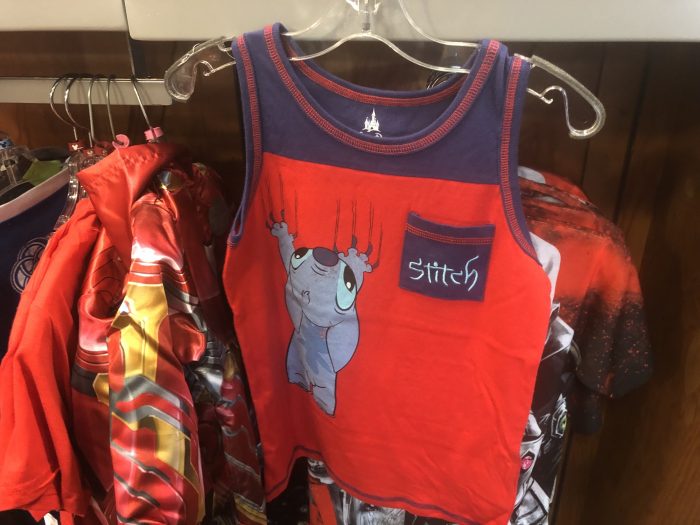 Oh boy did a whole bunch of dresses arrive this month. Here's a couple featuring the Orange Bird and Fantasyland. Both were originally $128, reduced to $59.99.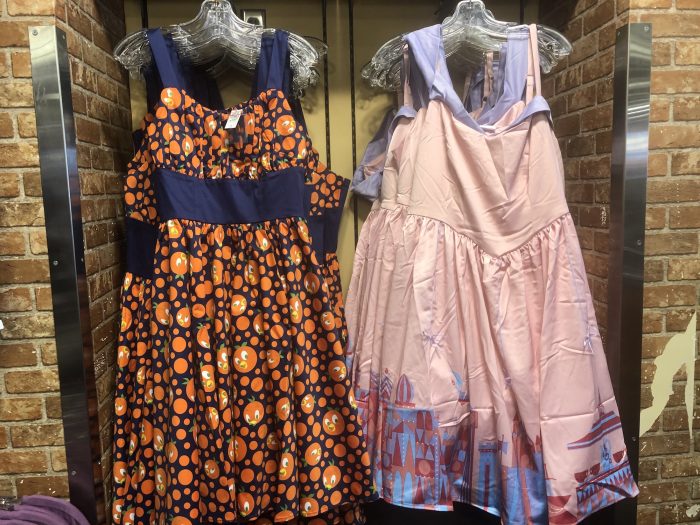 Here's a little detail on the Fantasyland one.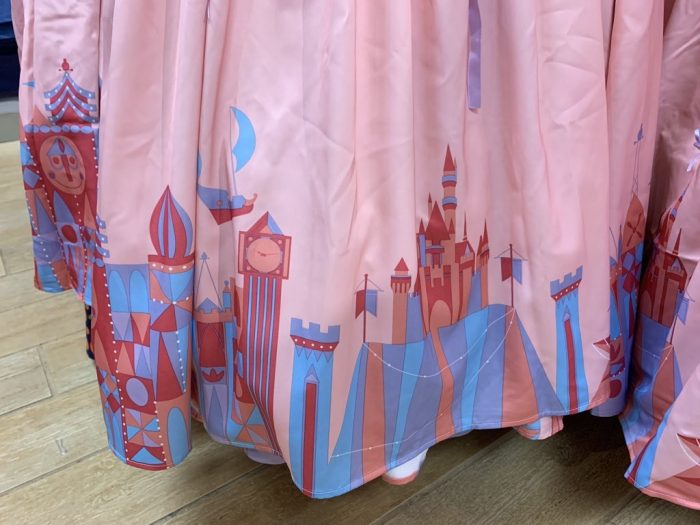 Mary Poppins dress was originally $108, now $44.99.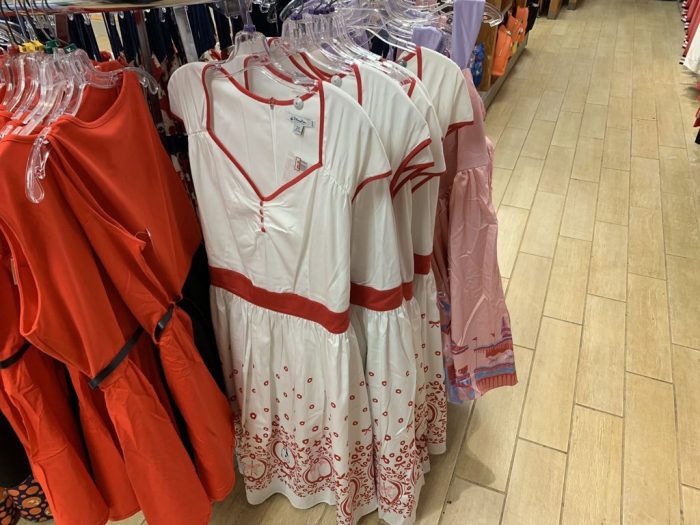 Kid's Rapunzel dress. Originally $34.99, now $14.99.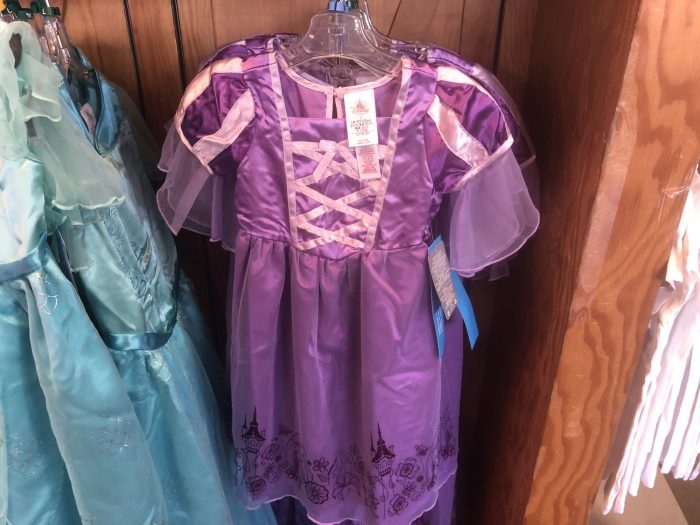 Kid's Mulan dress. Originally $59.99, now $24.99.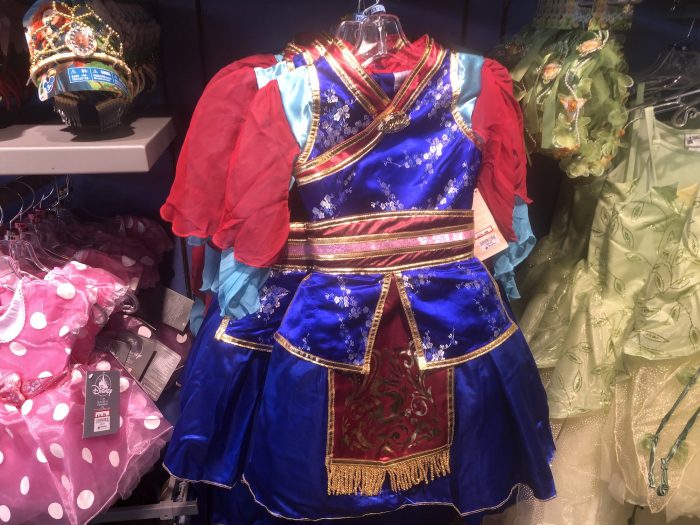 These princess tiaras were originally $17.95, now $7.99.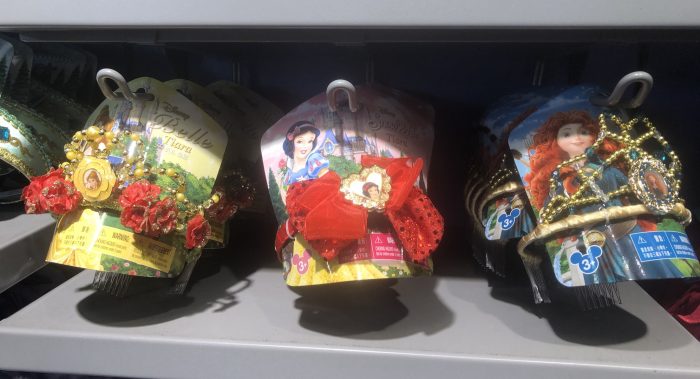 They had a bunch of Disney Princess music boxes. Each was originally $22.99, reduced to $7.99.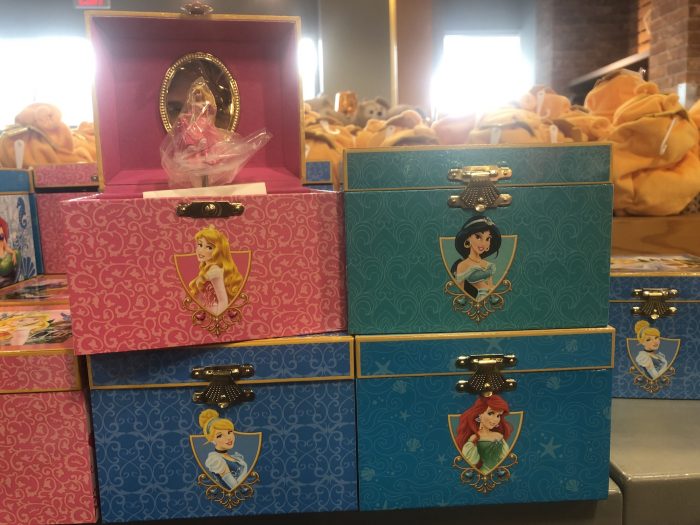 Interesting that they had these Sleeping Beauty plush on sale when you'd think they could have just tried one last attempt to sell them at the Princess Half Marathon in February, since Aurora was the signature character of the weekend. Anyway, these dolls were originally $24.99.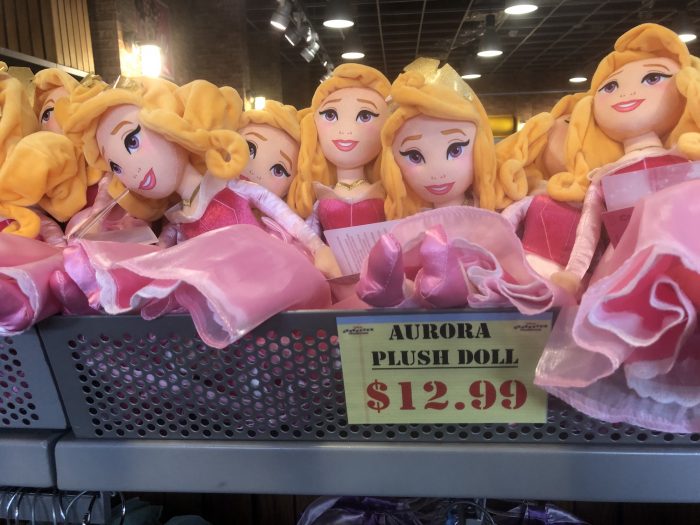 Buzz Lightyear foam dress up set for kids. Not sure of original price, but it was reduced to $14.99. It included Buzzy's gauntlets, belt, chestplate, and backpack. There was a button you could press that would announce one of five separate phrases or sounds. The wings on the backpack could be opened and closed.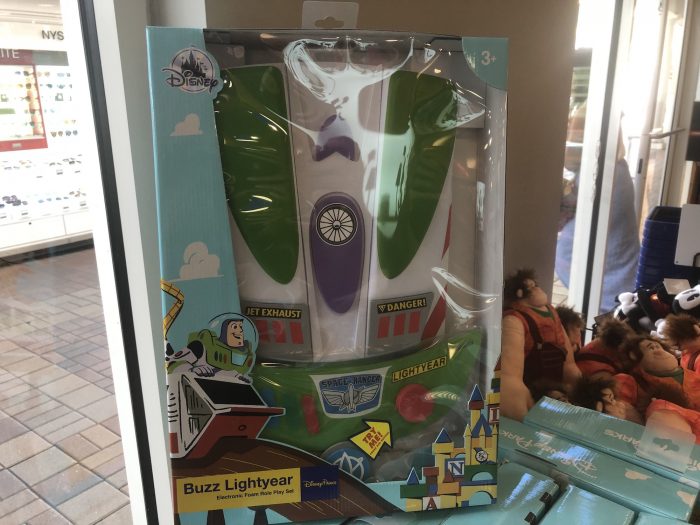 A quick break for a story time. I apologize to  you, Dear Reader, for mostly providing an unrealistic expectation of what you will get during a Disney Outlet Store Shopping Experience. I rarely talk about how bad the parking is. Don't mention much that the stores are generally PACKED with people. And while they do their best, the Cast Members working the cash registers generally take a long time with each transaction because of how many things need to be securely wrapped for traveling.
Then you have the eBay pirates. These are people who will buy out the entire stock on an item right in front of you. They generally work in teams and often know Cast Members of the store who put aside items for them, so regular guests never even had a chance. Not saying this is illegal. Not even saying Disney should do something about this. Just letting you know of what you could possibly run into when shopping in Orlando. Being in line behind one of these pirates will test your patience, as Judy Hopps experience at the DMV in Zootopia goes faster. There's a lot of great deals at the Outlets, just be prepared to pack every ounce of self control you have.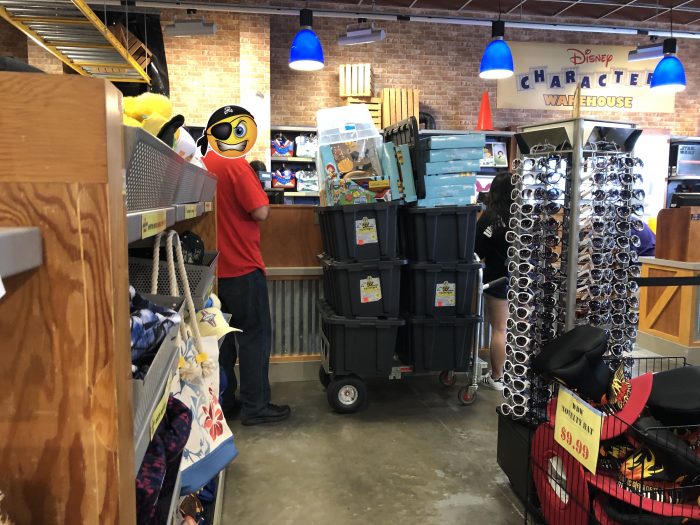 Okay, onto more pleasant stuff. Here is an art print by artists Rosemary Begley that features The Beast's castle as seen from the bridge to Be Our Guest Restaurant. Originally $34.99, now $19.99.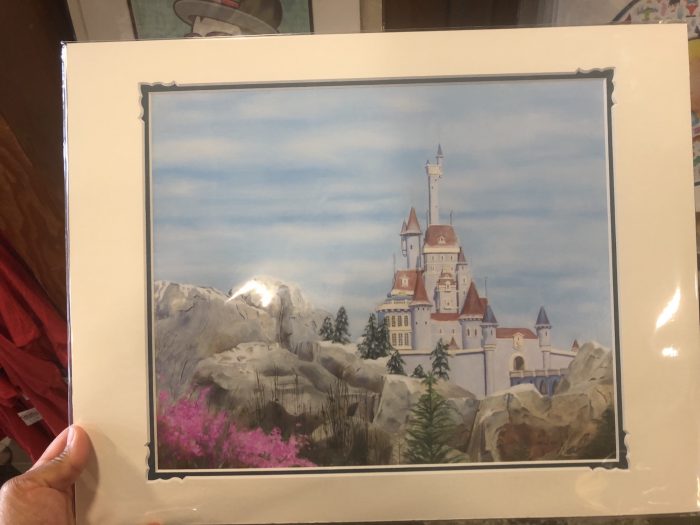 Here's a picture I took of the castle when we ate at Be Our Guest. One of the theme park hills I will die on is that dinner at BOG should be a Must Do for every Disney fan. Yes, it's too much money, but the atmosphere is worth it and the grey stuff is just what you wanted it to be and is actually delicious. THAT SAID, I will probably never go back to BOG for breakfast or lunch as I find the experience to be completely miserable. The table service at dinner is in my personal Disney Top 6, but the quick service breakfast and lunch experiences are the worst.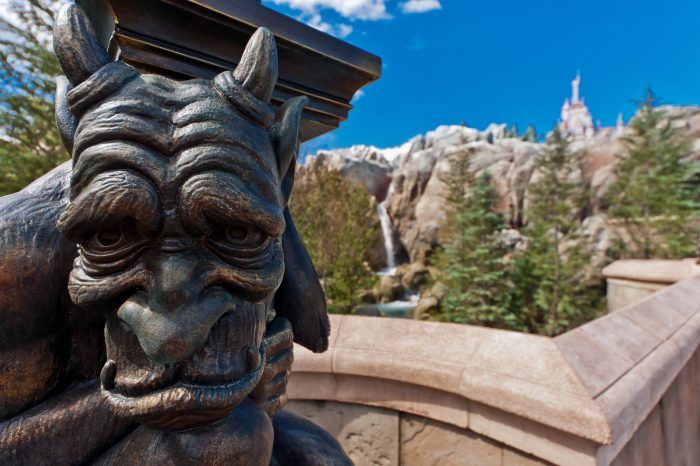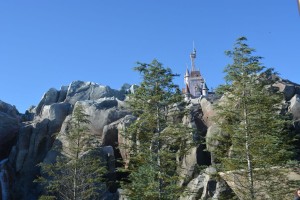 Time for some STAR WARS!
First up is this item that clams to be a postcard featuring Finn. It was originally $12.99, now $5.99.
However, this is clearly NOT a postcard and just some sort of overpriced art print. Why anyone would want this besides the actor who plays Finn is beyond me, and I say this as a Star Wars fan. Actually, maybe if this is still at the Outlets next month, I'll buy it and actually try to use it as a postcard and send to Len Testa. We'll see if it works.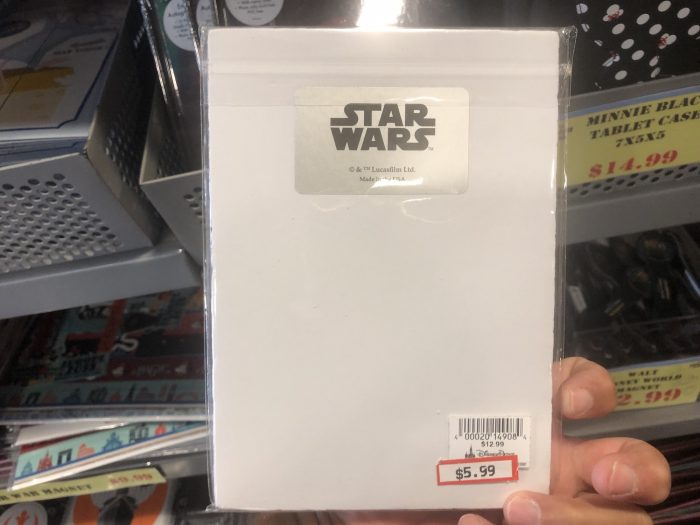 BB-8 coin bank. Not bad. Originally $26.99, now $19.99.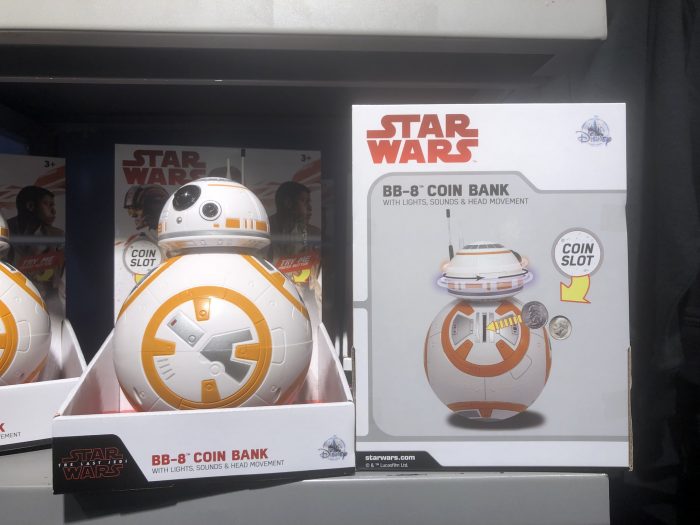 Each month I laugh, and laugh, and laugh that the Star Wars people thought audiences would connect to the character "Enfys Nest" from Solo like they did for Boba Fett or Jabba the Hutt. It also warms my heart that the people they fired off Solo just won the best animated film of the year award for Spider-Man into the Spiderverse. An award that almost ALWAYS goes to Disney. Sometimes it seems karma does exist in this world. Anyway this Funko Pop was originally $14.99, now $7.99.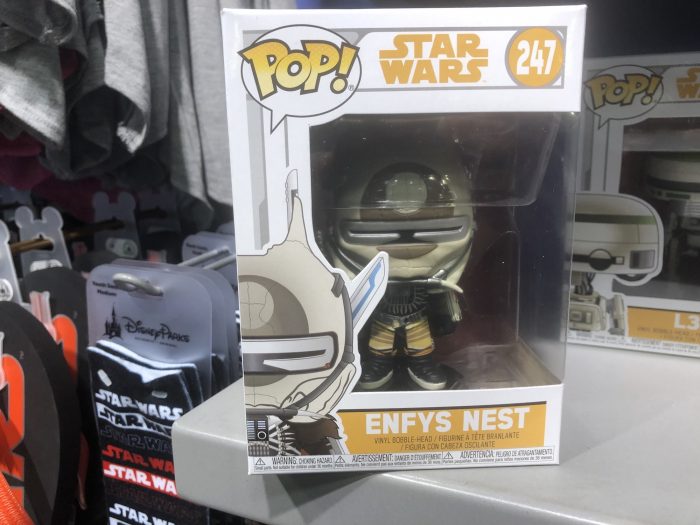 Highly detailed Snoke figure. Originally $29.99, now $14.99.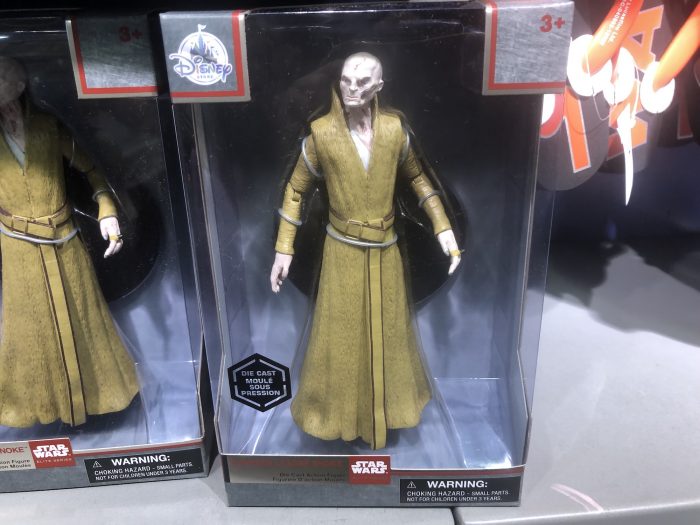 This is an all time bad shirt at the Outlets, and imagine the ground that covers. Originally $34.99, now $9.99.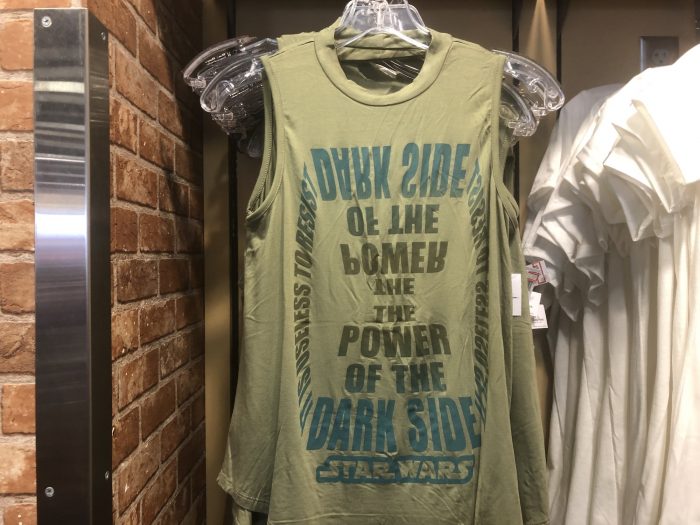 This Star Wars shirt mashes up a Andy Warhol "pop art" style of work with some sort of next level bananas lacing on a t-shirt. Maybe I'm just getting too old for this stuff. Originally $34.99, now $12.99.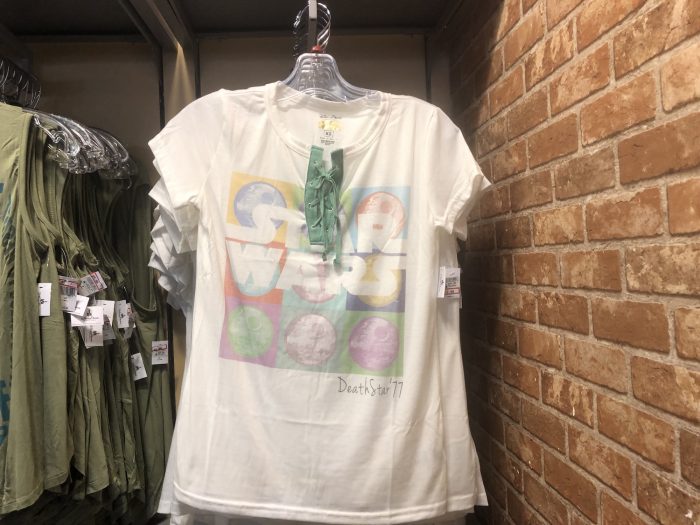 This Star Wars outfit looks like it would be worn by someone who currently wears pajamas while shopping at WalMart during the day. Not sure of original price, but it was reduced to $19.99.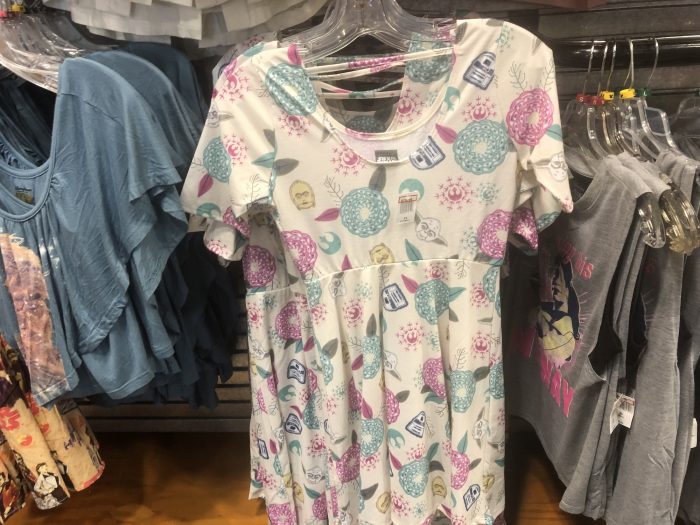 There's generally a good amount of lanyards available at the Outlets for those of you into that sort of thing. This month there were a bunch of Halloween related ones on the left (originally $12.99, now $5.99) while the 2018 themed ones on the right were reduced to 99 cents (originally $14.99.)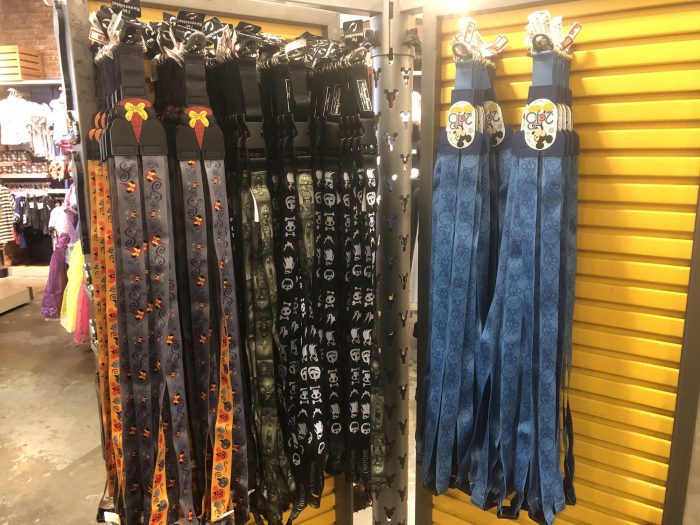 Last month I regretted not buying the Guardians of the Galaxy: Mission Breakout! keychain, but was able to pick it up this month.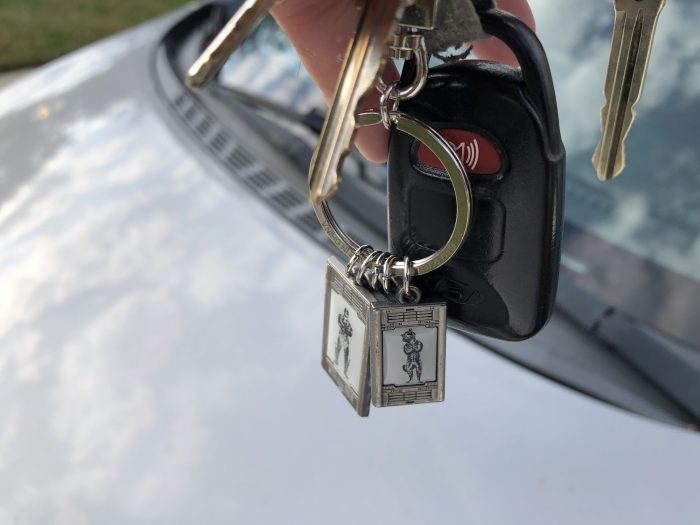 And speaking of the Disney California Adventure ride Mission Breakout, it's time for us to take an intermission and head on out to CALIFORNIA with Christela McC and check out some items that were found in the Disney Outlet Stores closer to Disneyland. (Spoiler alert, they are not that close. Details at the end of every Outlet Report.)
Our first item is one that I am IN LOVE with and asked Christela to pick me up one. It's a toy set featuring the ride vehicles for Radiator Springs Racers and Mater's Junkyard Jamboree!  This is something I would love to see for like about 50 Disney attractions. Let's have a Jungle Book set. A Kilimanjaro Safaris set. A Matterhorn set with Harold. Think of the possibilities! This set was originally $29.95, reduced to $13.99.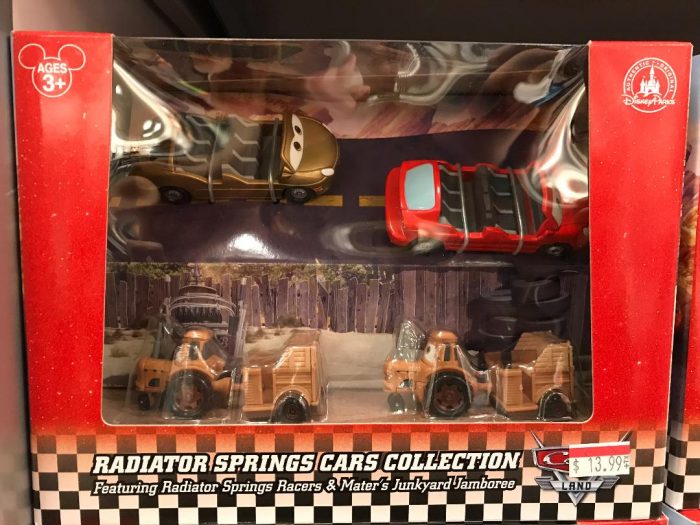 Fun little Mater's Junkyard Jamboree shirt for kids. Originally $17.99, now $8.99.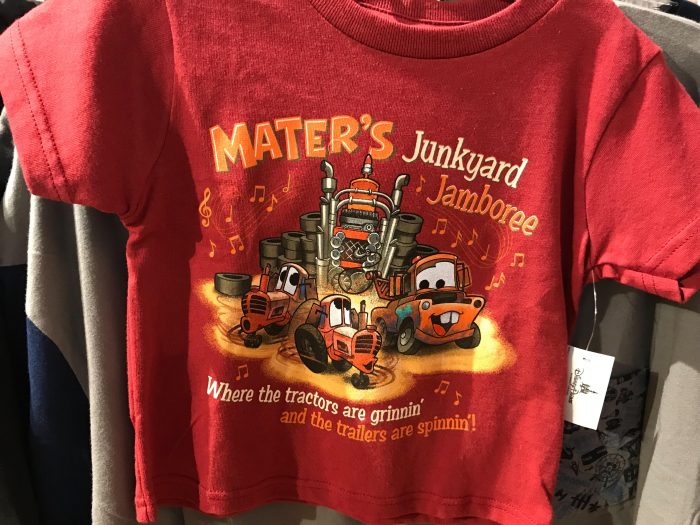 Radiator Springs "speed shop" work shirt. Originally $34.95, now $11.99. Here's the front.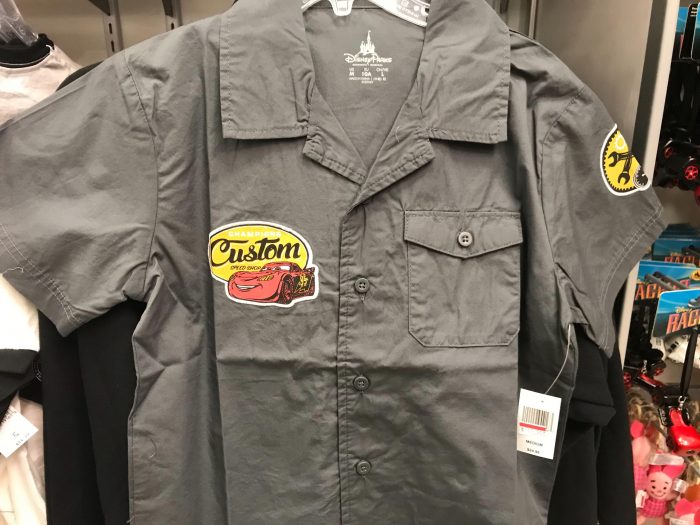 And here's the back.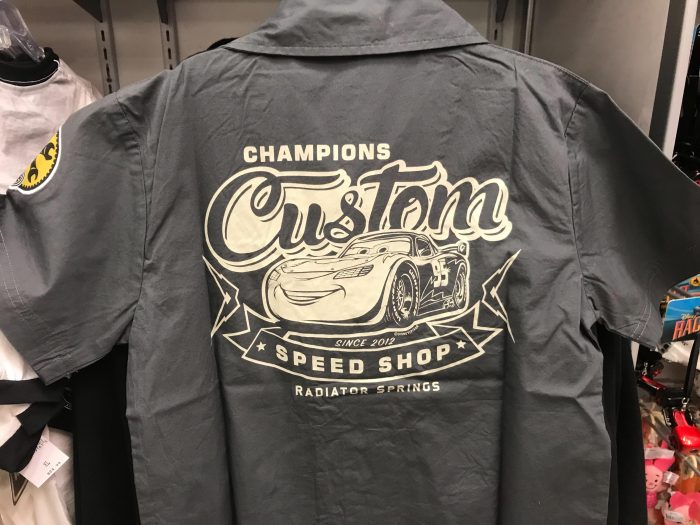 Holiday themed hooded sweatshirt featuring Minnie and Figaro the cat. Originally $39.99, now $14.99.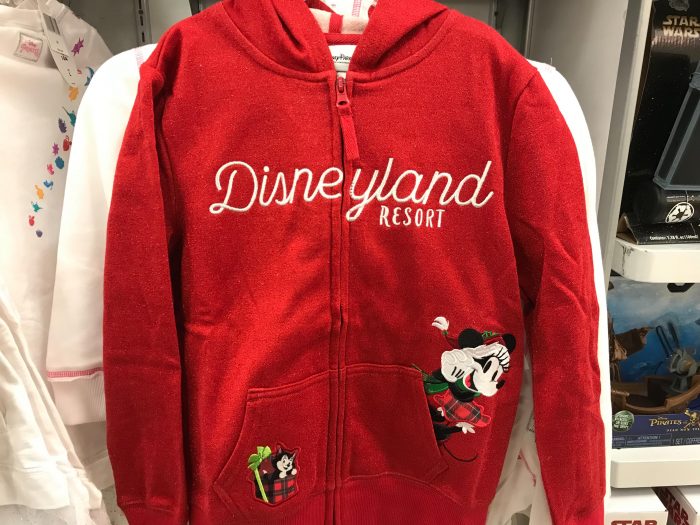 Hooded tank top? That doesn't even make sense. Originally $34.99, now $19.99.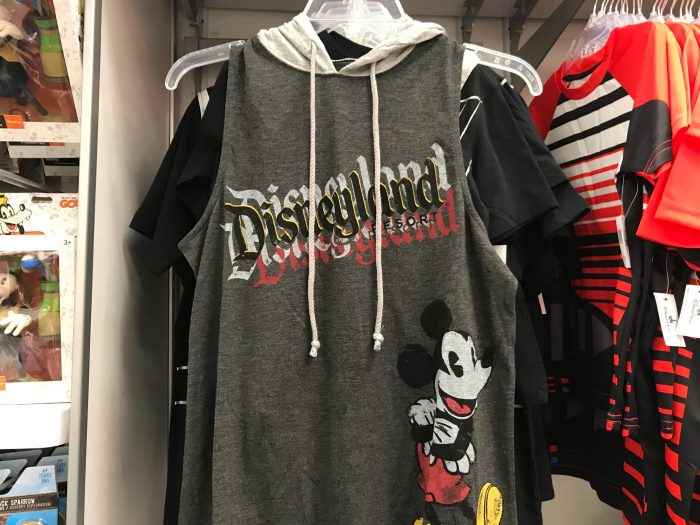 Sequined Disneyland spirit jersey. Originally $69.99, now $26.99. Here's the front with the iconic Disneyland "D" bedazzled.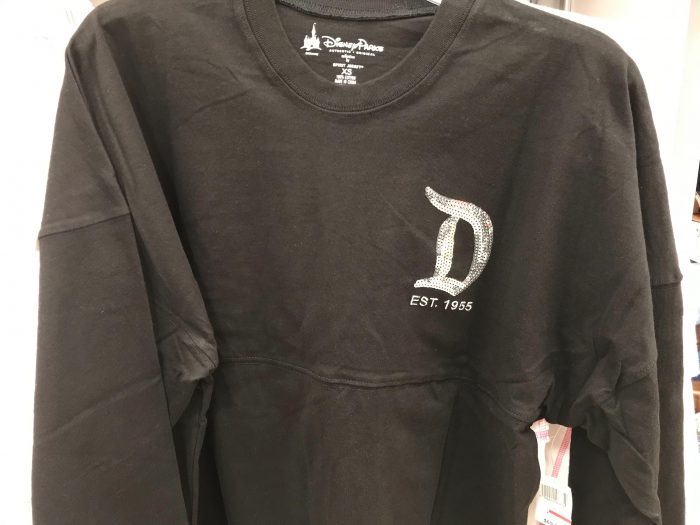 And here is the back.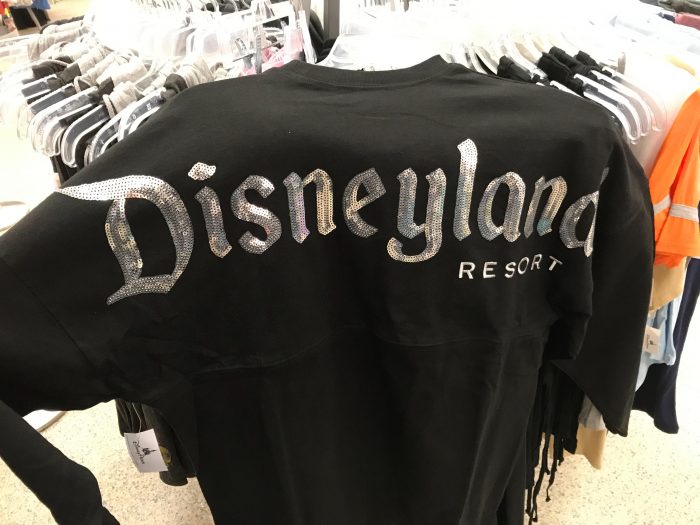 Here's a shirt even John Lasseter wouldn't wear that has many of Disney's California attraction logos just slapped on it with no rhyme or reason. This was originally $64.99, now $19.99. Can anyone answer why so many of the logos are printed upside down? What is the purpose of that? Yikes.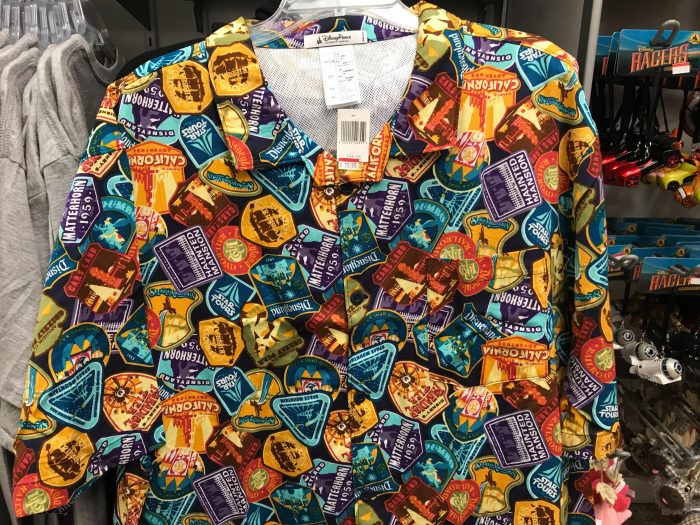 Women's Disneyland hoodie. Originally $49.99, now $17.99.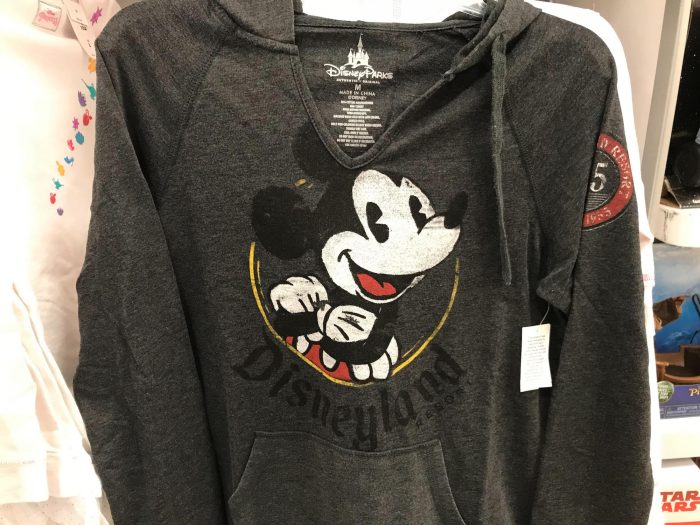 Pirates of the Caribbean shirt with an Old Timey logo. I like this one a lot. Originally $24.99, now $8.99.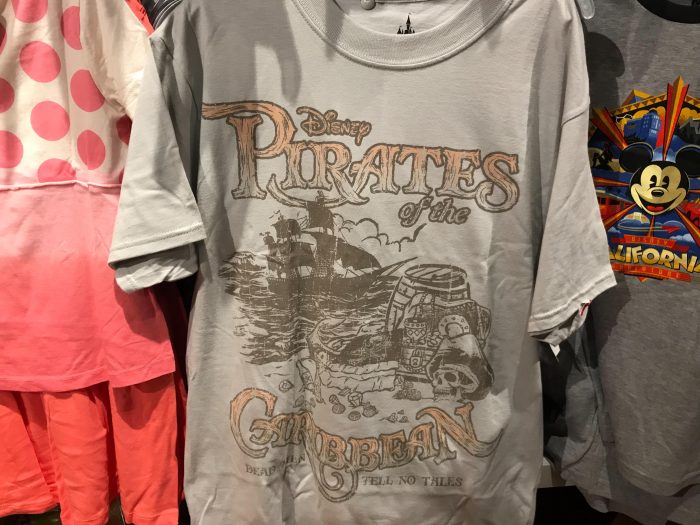 Star Wars shirt featuring the Death Star, a Tie Fighter and an X-Wing Fighter. It kinda looks like one of those Magic Eye gimmicks though where you'll see another picture if you stare long enough. Originally $59.99, now $19.99.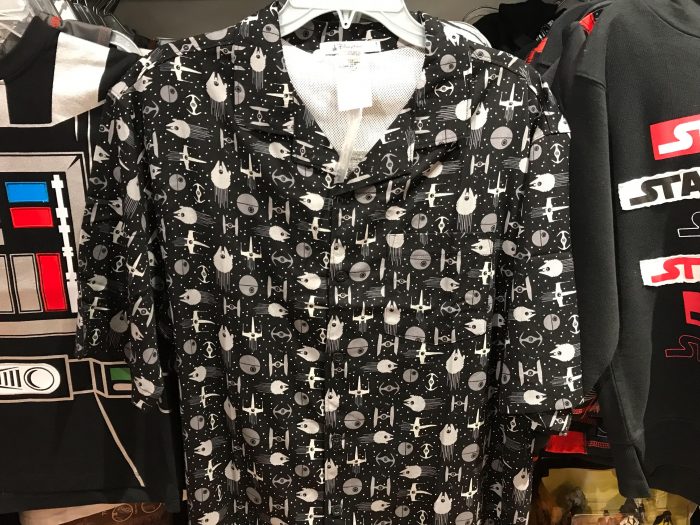 I am the Rebel Spy shirt from Star Tours. Originally $19.95, now $7.99.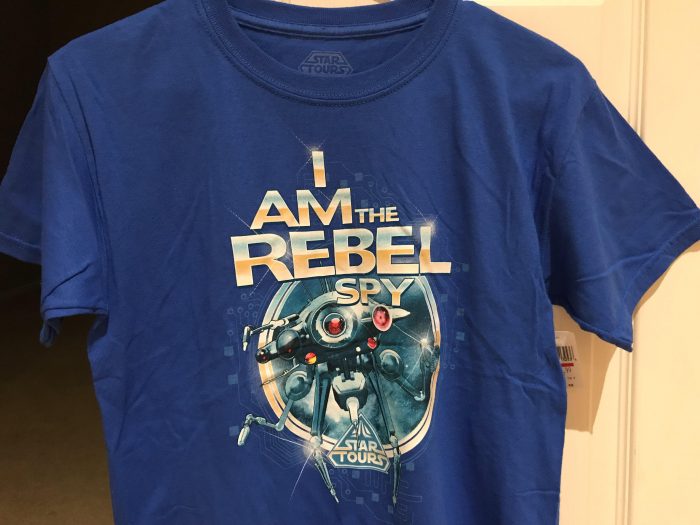 While I've never seen an episode of the Star Wars cartoon Rebels, I think this droid Chopper is from that. Originally $12.99, now $5.99.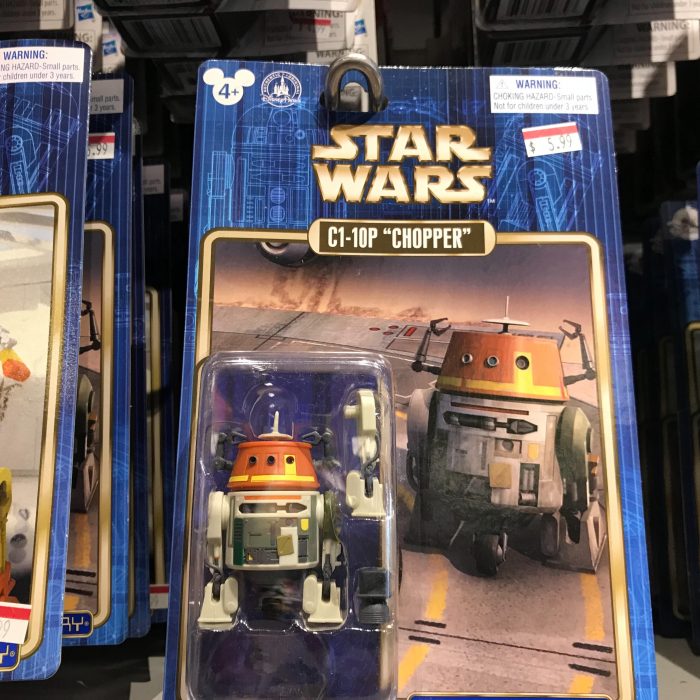 I kinda like these Rapunzel themed hats. Originally $29.95, now $10.99.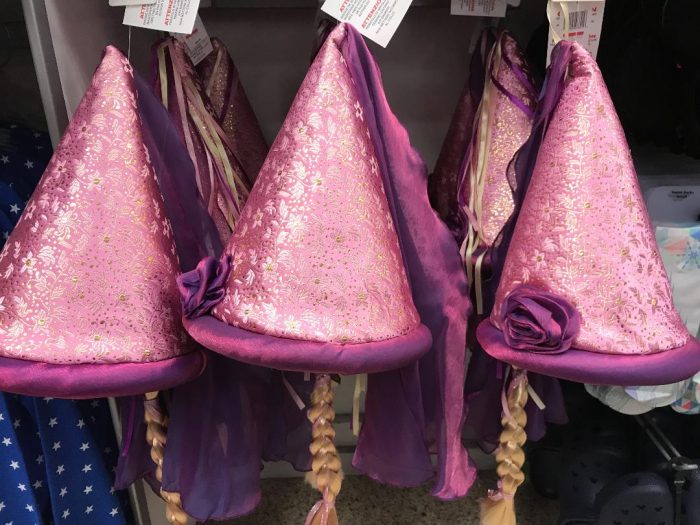 Disneyland Old Timey logo tote. Originally $44.99, now $15.99.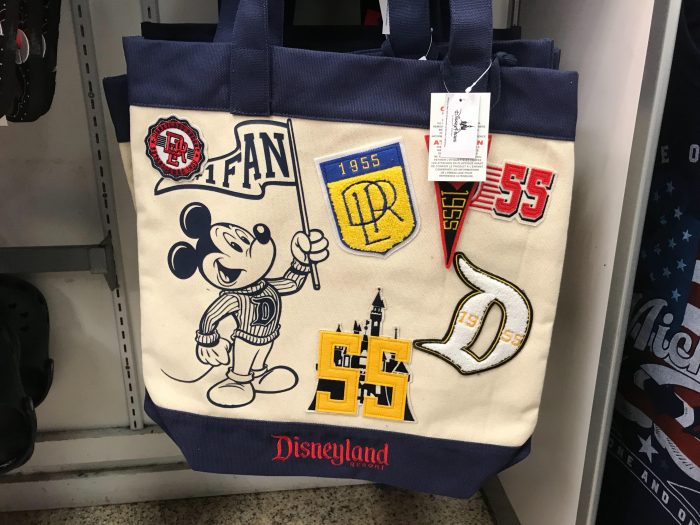 This reusable tote didn't not have an original price but was reduced to $1.99. It also featured Figaro the cat, so it gets a thumbs up from me.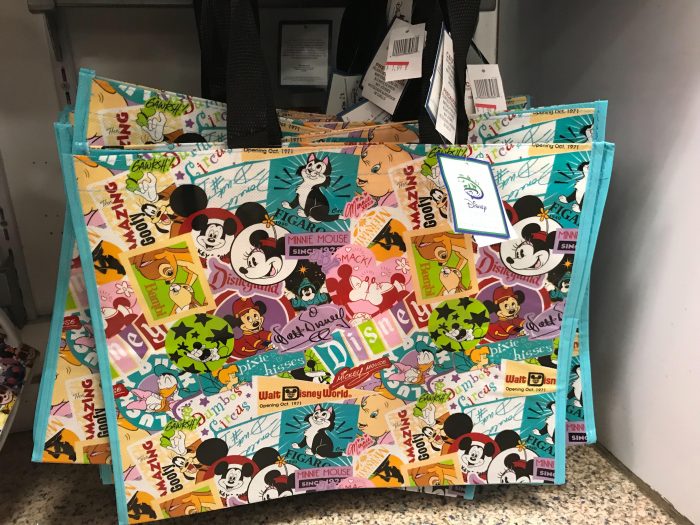 California got their fair share of themed purses. We've seen the Carousel horse bag at the Florida outlets before. The Orange Bird purse was originally $65 now $29.99. Penguin was $70, now $34.99. Horse was originally $65,now $41.99. Snow White's apple was originally $29.95, now $14.99.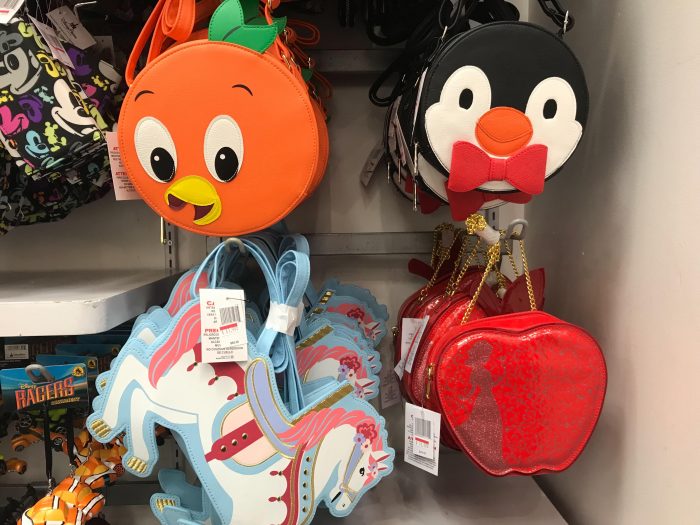 Okay, back to FLORIDA!
The Vineland Disney Outlets have a lot more space than the International Drive location (at least twice as big, if not three times bigger) and they even set up a dedicated desk just selling Disney park tickets.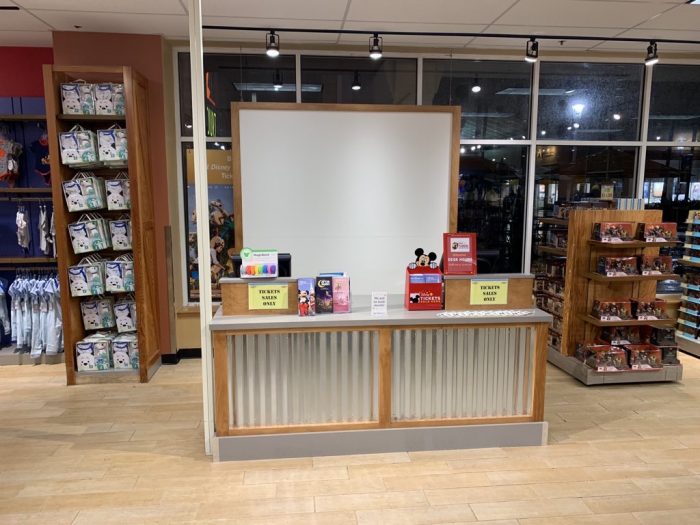 You know its going to rain outside when Disney starts bringing out the ponchos and umbrellas at every kiosk. Here's some of the umbrellas reduced to $5.99.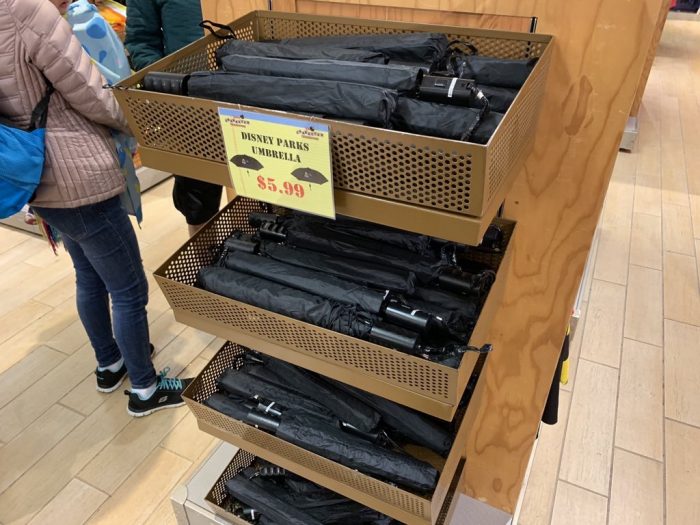 Yep. That's seriously what they call them. (original price was $9.99)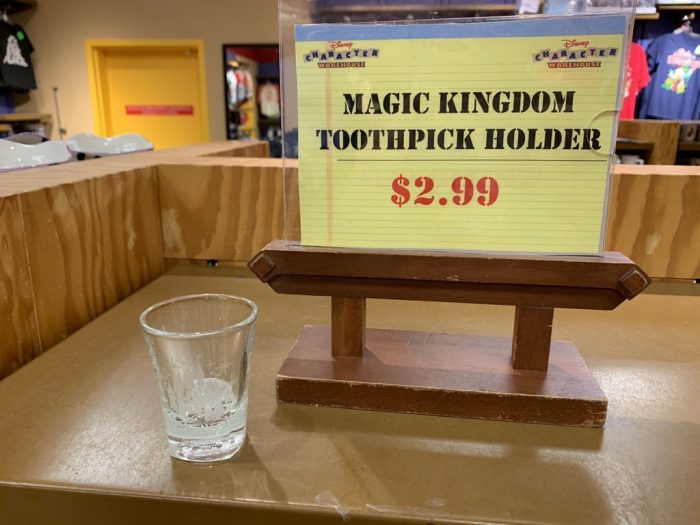 Plenty of toothpick holders available.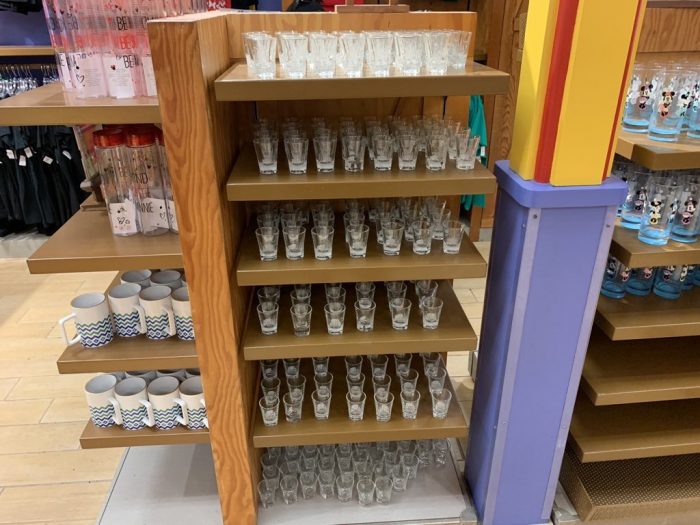 I'm not 100% sure what this thing even was. The box with Mickey on it seemed to be made out of wood. The three glasses in the middle were very similar to candle holders, but they were empty. I guess you could use them to store a box of Costco toothpicks. Originally $29.99, now $12.99.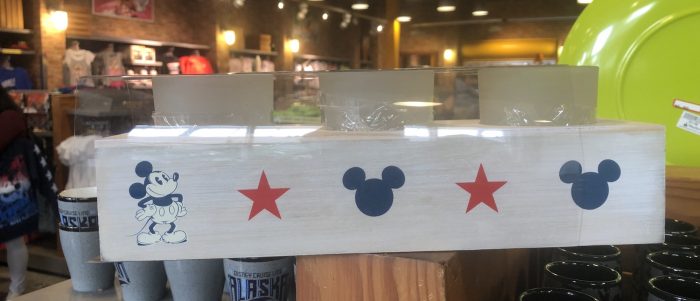 This Minnie Mouse "mugs" were originally a crazy $22.99. They've been reduced to just $2.99.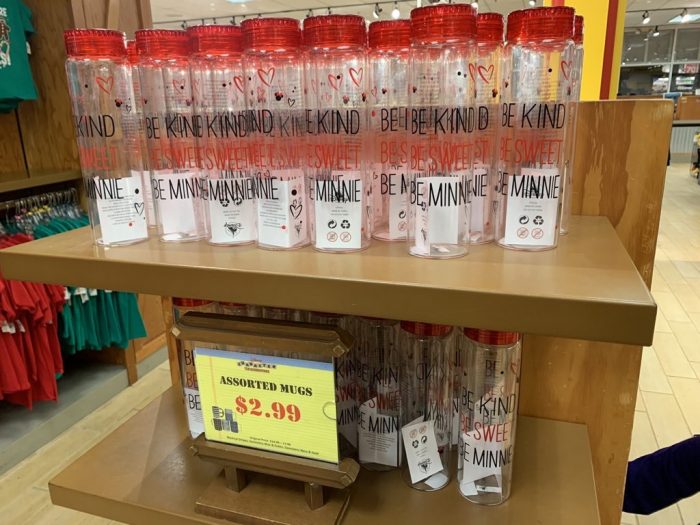 Captain Hook and Smee coffee cup. Originally $15.99, now $5.99.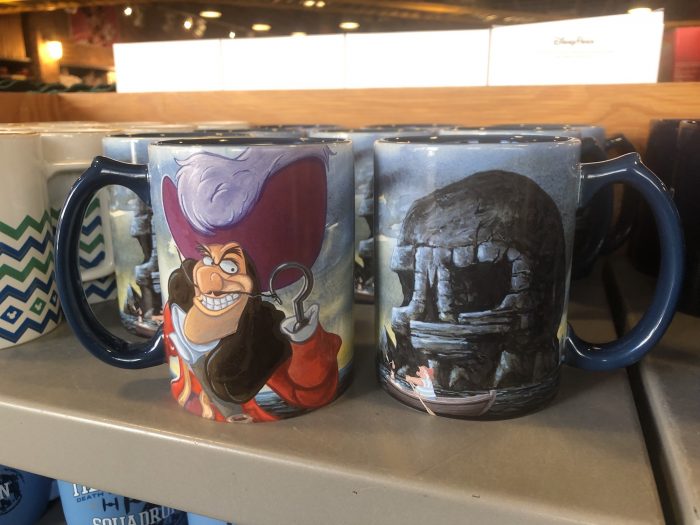 The vast majority of all Disney coffee cups get reduced to $5.99 no matter what they originally cost.
So this one being reduced even further to $2.99 shows you how many of them they are selling. (this one was originally $15.99)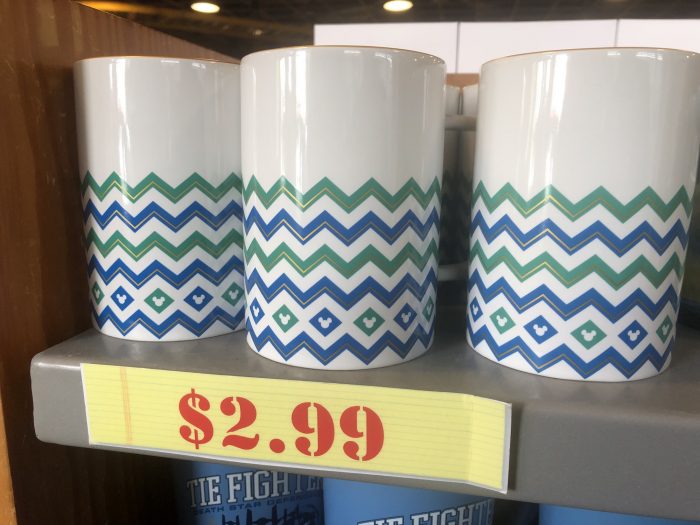 Mickey's Very Merry Christmas Party mug. Originally $22.99, now $4.99.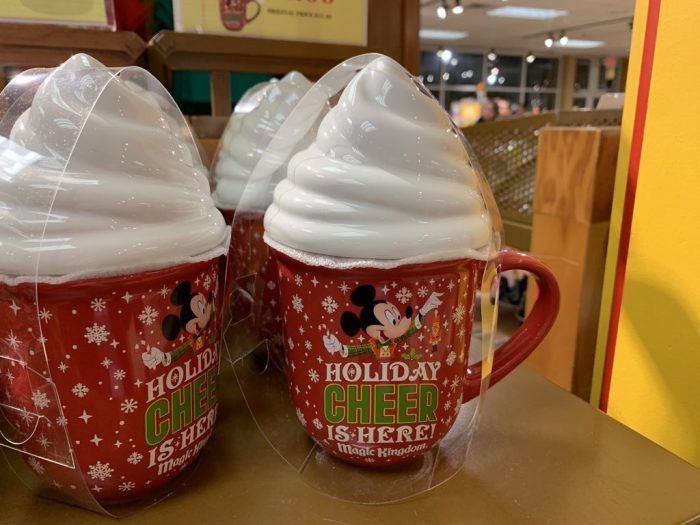 Mickey's Very Merry Christmas Party ornaments. Originally $24.99, now $5.99.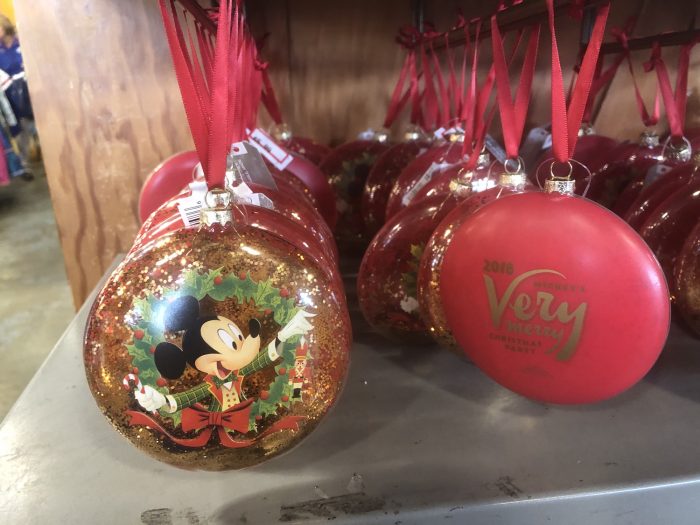 Lots of the ornament were available.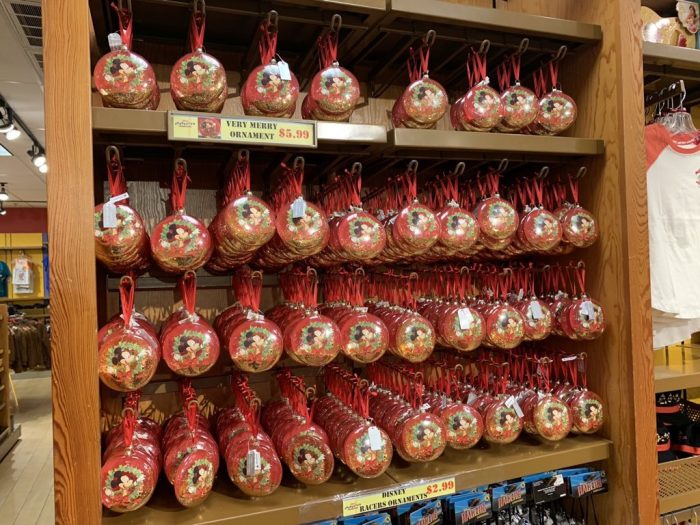 Mickey's Very Merry Christmas pins. These were originally $16.99. First up is a pin featuring Peter Pan.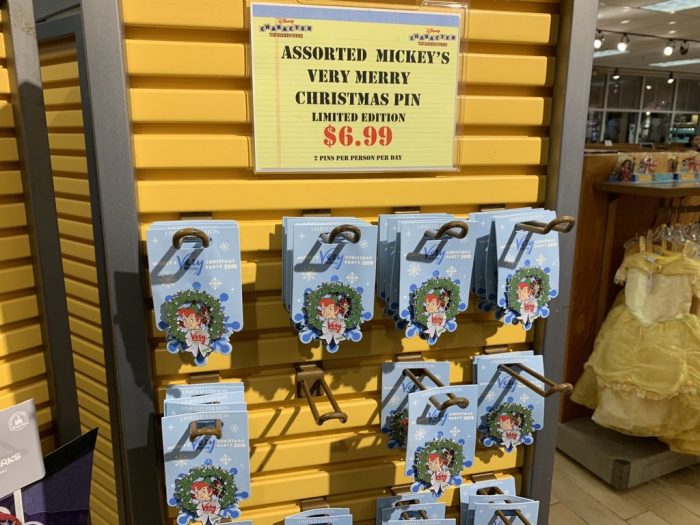 And here's a similar one featuring Alice in Wonderland.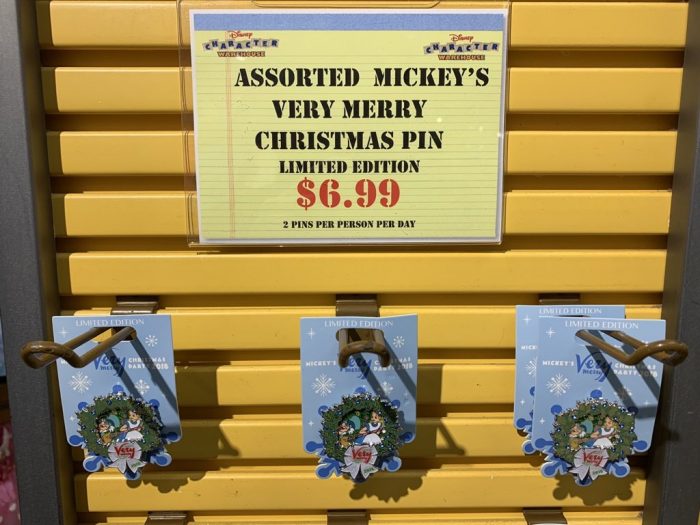 Here's both those pins along with four others in a set that ORIGINALLY COST $280. This has been reduced to "just" $139.99. Amazing. Simply amazing.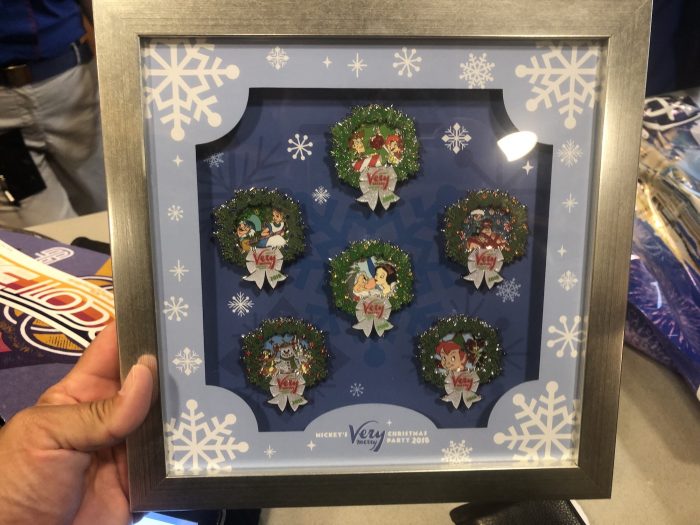 If I'm lyin, I'm dyin.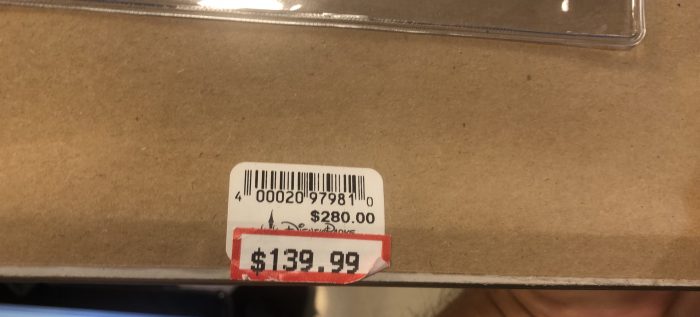 Ornament themed purse. Originally $65, now $24.99.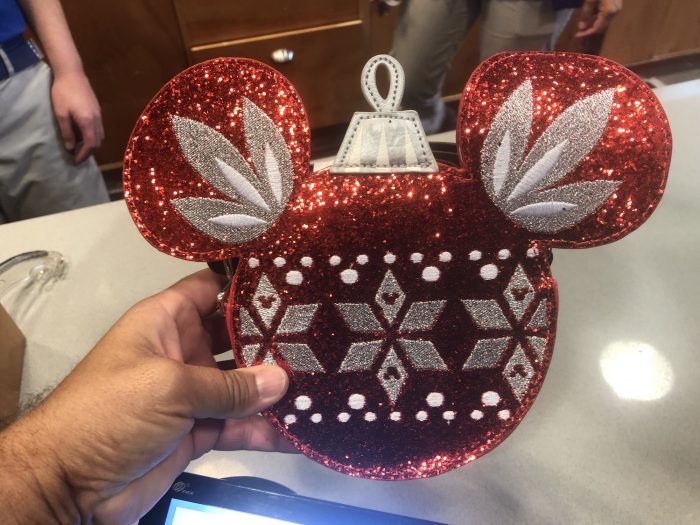 Tons of these Flurry of Fun tumblers. Originally $22.99, now $4.99.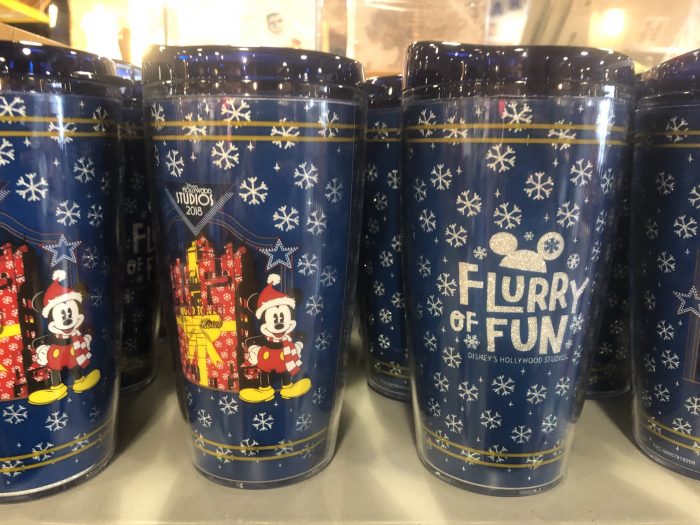 Kids Christmas themed shirts. Onesie on left was originally $19.99, now $4.99 while t-shirt on the right was originally $17.99, now $7.99,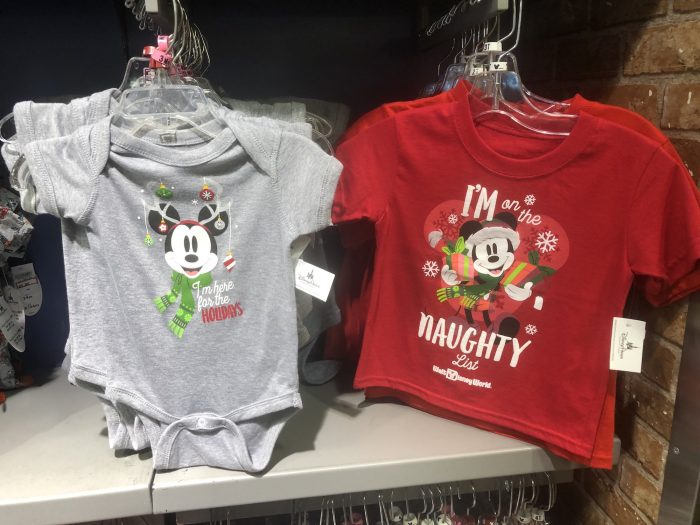 I like this one. Although I wish the legendary Santa Macaron would have been included. Originally $19.99, now $7.99.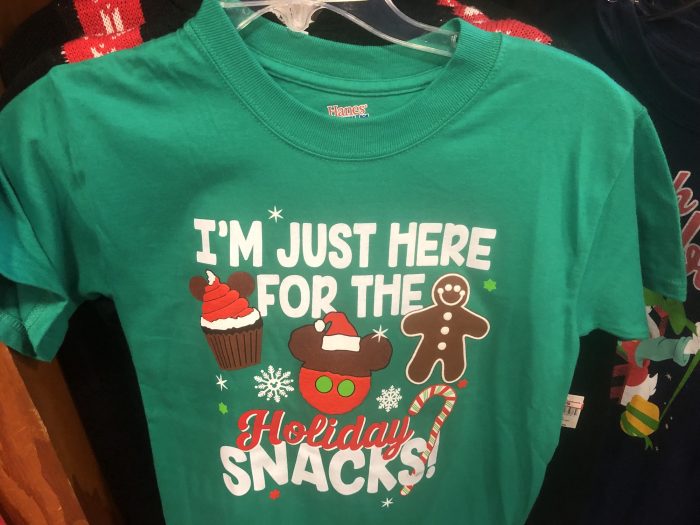 Mickey's Very Merry Christmas Party shirts. Long sleeve shirt on the left was originally $32.86, now $6.99 while the shirt on the right was originally $32.99, now $9.99.
I'm guessing this bonkers price is because this shirt was being sold outside by someone in a cart and they could add the sales tax in to make a more normal price like $35.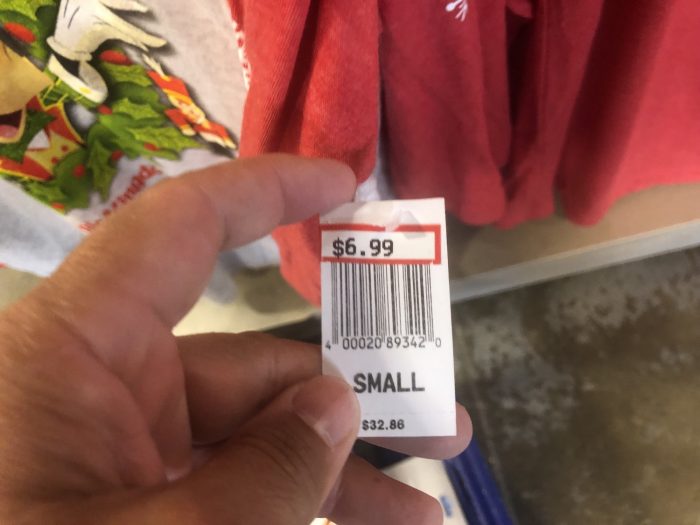 Here's a Chip & Dale shirt from the Mickey's Very Merry Christmas party that was originally $23.47, reduced to $6.99.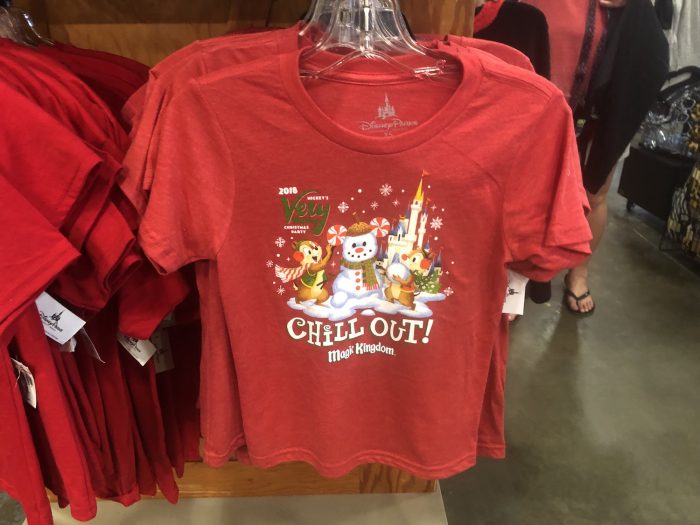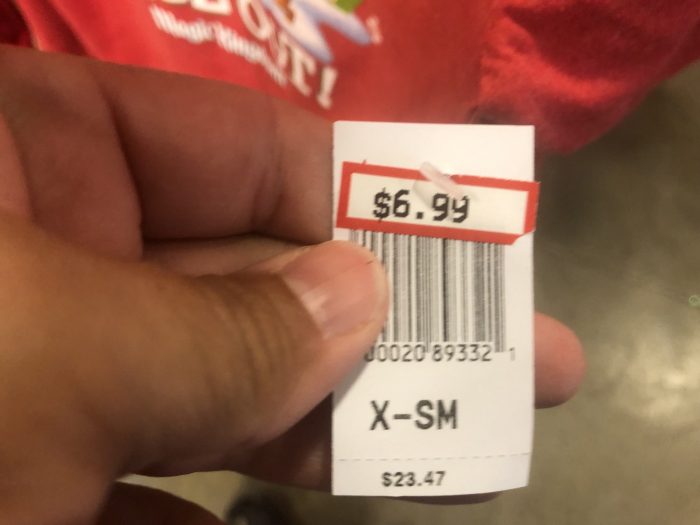 Kid's Christmas themed outfits. Dress was originally $59.99, reduced to $24.99 while the jacket was originally $46.99 reduced to $14.99.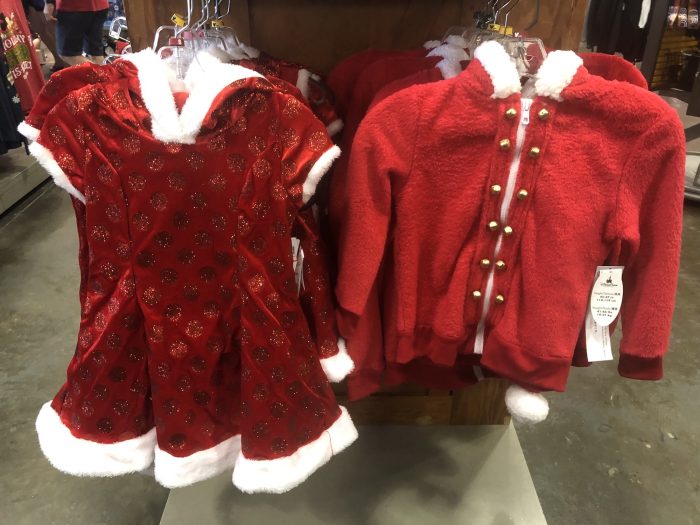 I kinda like this 8 bit Minnie-as-a-reindeer shirt. Originally $64.99, now $12.99. Hopefully whoever set that $65 price point got coal in their stocking.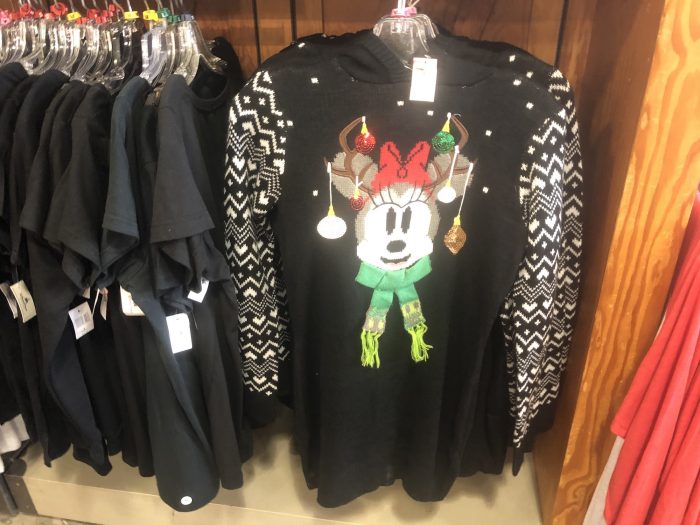 This next "shirt" is so weird I can only envision Captain Cruiseline himself wearing it. Originally $64.99, now $12.99.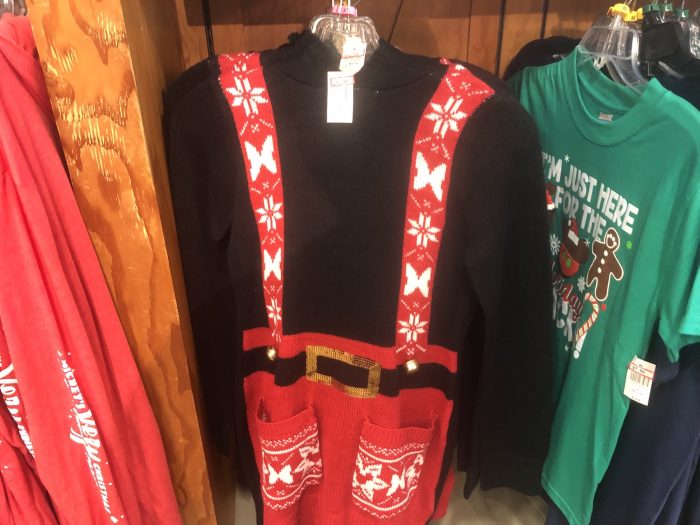 Two more shirts, including one for EPCOT's Festival of the Holidays. Left shirt was originally $36.99, now $10.99 while the red one was originally $39.99, now $11.99.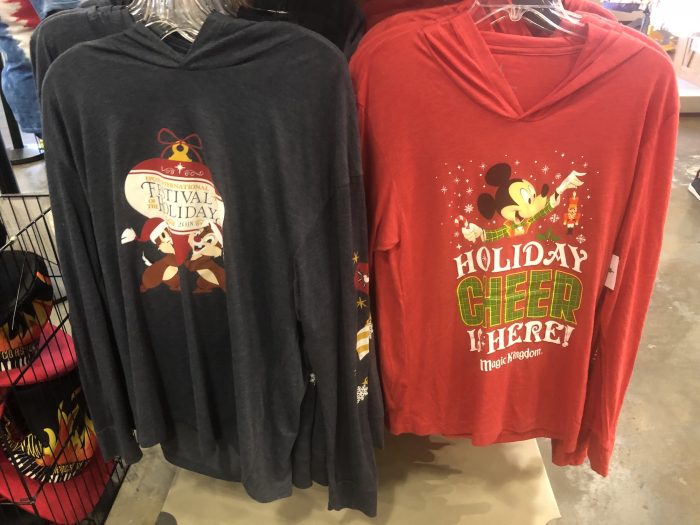 Speaking of Festival of the Holidays, how great is this. A serving tray to put snacks on. Originally $12.99, now $2.99. Only there's one problem…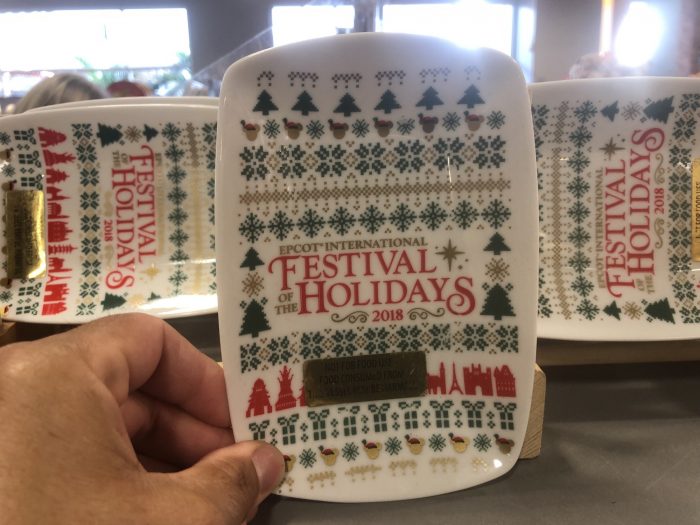 YOU CAN'T PUT FOOD ON IT.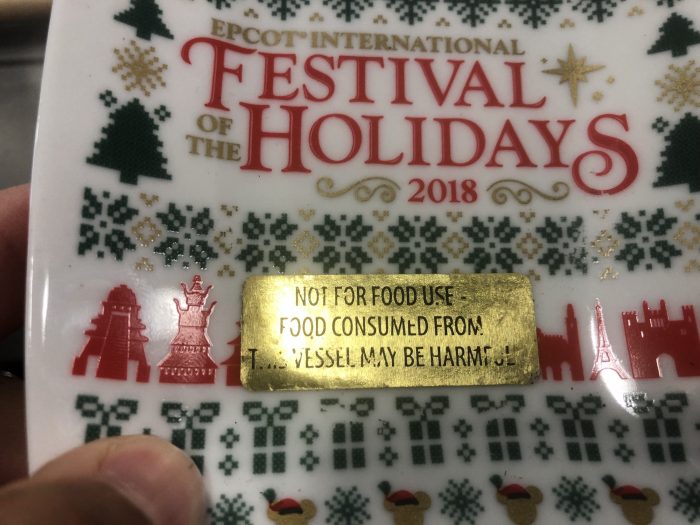 Some assorted photo frames. Tower of Terror was originally $19.99, now $7.99 while the Everest and Rock 'N Roller Coaster ones in back were originally $16.99, now $7.99.
I wonder what Disney has lost more sales on in the last decade plus. Snow globes because people can't fly with them home, or photo frames because photos go immediately to their My Disney Experience account and they don't need to go to a sales desk to see them. Is there another popular item that you just don't see sales of anymore (not counting things like the toy guns they removed from Adventureland or Frontierland)?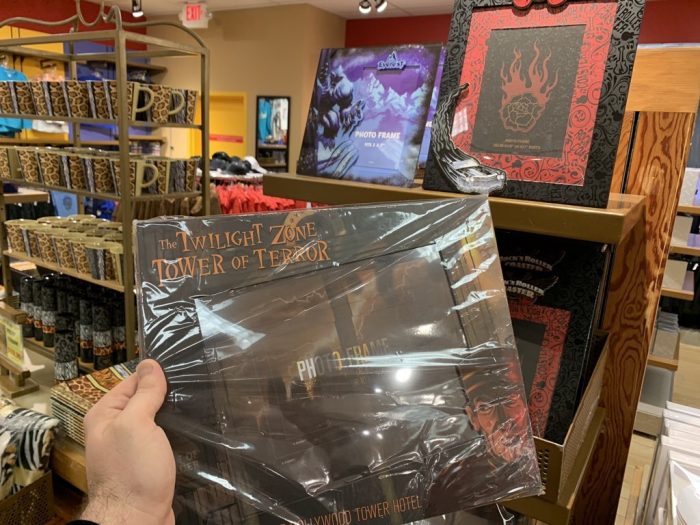 Minnie Mouse iPhone cases. One on left was originally $39.99, reduced to $7.99 while ugly one on the right was originally $44.99, reduced to $7.99.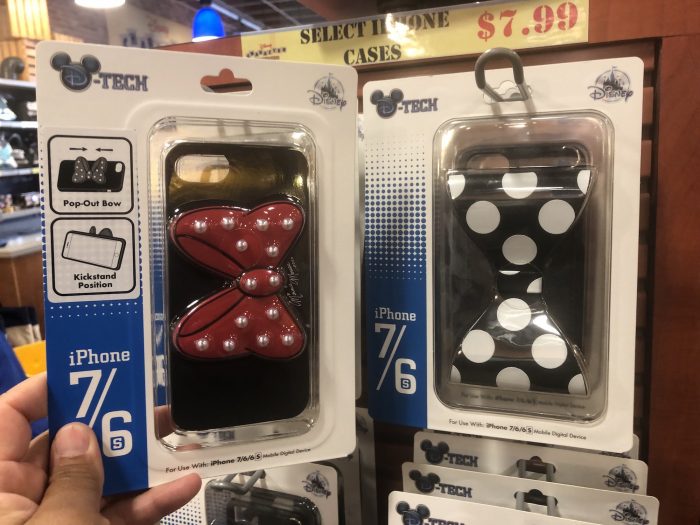 Pink drum sticks for Rock 'N Roller Coaster. Originally $17.95, now $7.99.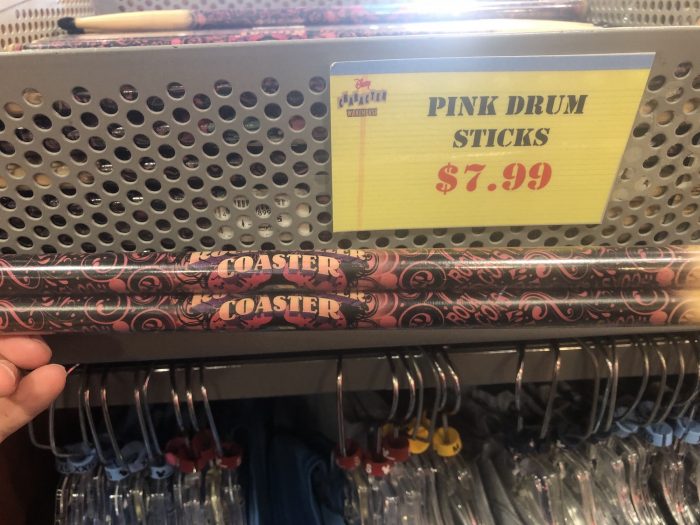 Zootopia toy set. Originally $24.99, now $12.99. The World of Disney store in Disney Springs is currently FILLED with a ton of toy sets like this featuring characters from various Disney/Pixar films. I expect to see a lot more of these later in the year.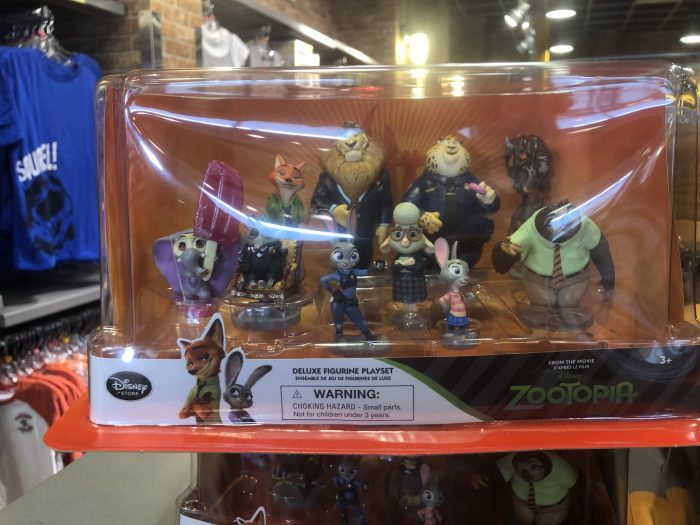 Hard to see but there is a Lightning McQueen and a whole bunch of confetti in this super ball. Reduced to $1.99.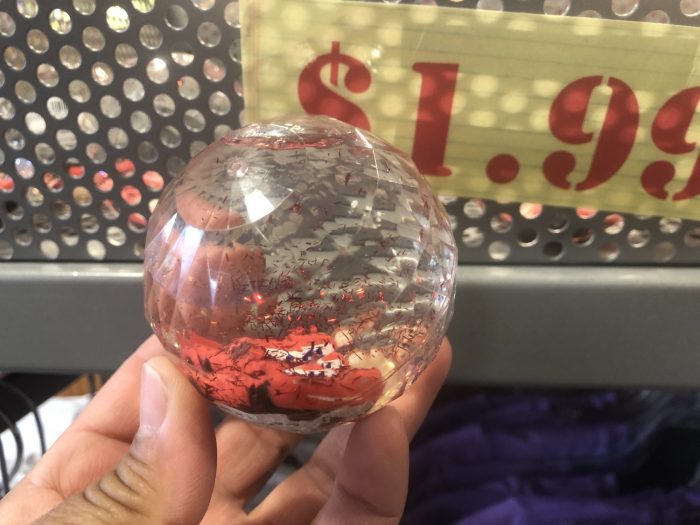 And lastly, WDW 2018 magnets are priced to go at 49 cents each!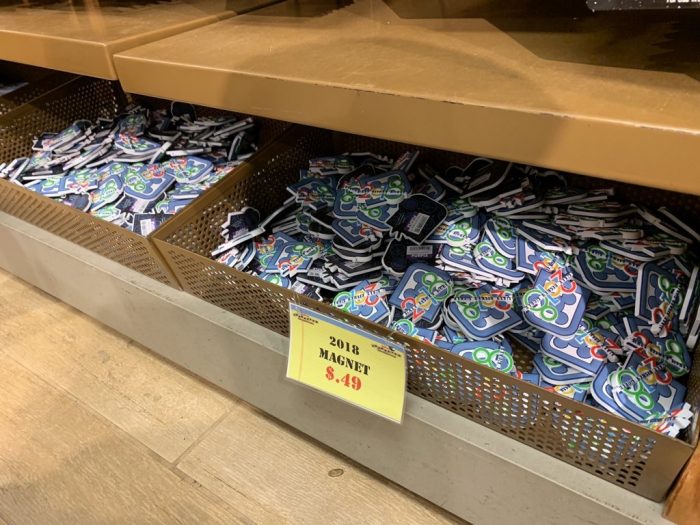 SEE YOU NEXT MONTH!
There are actually two Disney outlet stores in Orlando. Both are in Orlando Premium Outlet shopping complexes, and they are called Disney's Character Warehouse, presumably because The Land Of Misfit Toys was already trademarked. There is one Character Warehouse located on International Drive close to Universal Studios (4951 International Dr, Orlando, FL 32819), and the other is on Vineland Avenue, right across I-4 near the exits to Disney World (8200 Vineland Ave, Orlando, FL 32821). They do not ship. There are items at the Outlets that you can buy both in Disney stores along with the Shop Disney Parks app, but you will be paying full retail for the items. For our CALIFORNIA OUTLET trips, @ChristelaMcC goes to the Las Americas outlet in San Diego. It is located right off the last U.S. exit.
I often get asked "which store is better?" That depends. Vineland is close to Walt Disney World, while the I-Drive location is a hop, skip, and jump away from the Universal Orlando Resort. The Vineland Disney Outlet Store is much, MUCH bigger than the I-Drive location. However, the Vineland outlets in general are much, MUCH busier than I-Drive. Each have their pros and cons, and ultimately they carry much of the same items. For a Disney Outlet Store FAQ, check out this SATURDAY SIX Presents: Everything You Wanted To Know About The Disney Outlet Stores (But Were Afraid To Ask)
Previous editions of Magic, Memories, and Merch: July 2013, August 2013, September 2013, October 2013, November 2013, December 2013, January 2014, February 2014, March 2014, April 2014, May 2014, June 2014, July 2014, August 2014, September 2014, October 2014, November 2014, December 2015, January 2015, February 2015, March 2015, April 2015, May 2015. June 2015, July 2015, August 2015, September 2015, October 2015, November 2015. December 2015, January 2016, February 2016, March 2016, April 2016, May 2016, June 2016, July 2016, August 2016, September 2016, October 2016, November 2016, December 2016, January 2017, February 2017, March 2017, April 2017, May 2017, June 2017, July 2017: The FOUR YEAR ANNIVERSARY special, August 2017, September 2017, October 2017 (tribute to the O.O.G.), November 2017, December 2017, January 2018, February 2018, March 2018, April 2018, May 2018, June 2018, July 2018 (FIVE YEAR ANNIVERSARY special with the introduction of the OUTLET HALL OF FAME), August 2018, September 2018, October 2018, November 2018, and December 2018 and January 2019.
We also did an edition of Magic, Memories, and Junk for a non-Disney owned Outlet Store, and for you merch addicts like myself, you may also enjoy a look at the official Disney merchandise available on the Disney Cruise Line, Castaway Cay, and at the Orlando International Airport. Want to see our favorite WDW resort-specific merchandise? Well, CLICK HERE!
If you liked what you read here, you may enjoy THE SATURDAY SIX articles every week on the TouringPlans.com blog and you can follow your humble author on Twitter (@derekbugan).