The Magic, The Memories, and Merch! – Disney Outlet Store Update for November 2020
Welcome to the latest edition of The Magic, The Memories, and Merch!, the longest running monthly look at the Disney Outlet Stores in Orlando. With secret shoppers @Nitro230 and @UBetJurassic, we're here on the ground in Florida at the Outlets (addresses for both stores are at the end of every report) along with Christela "Clearance" McC out in California. Ready to see what we found?
Our first stop will be at the Disney Character Warehouse located off Vineland Ave. These are the Outlets located closer to Walt Disney World and are just a hop, skip, and a jump away from Disney Springs off the nearby State Road 535.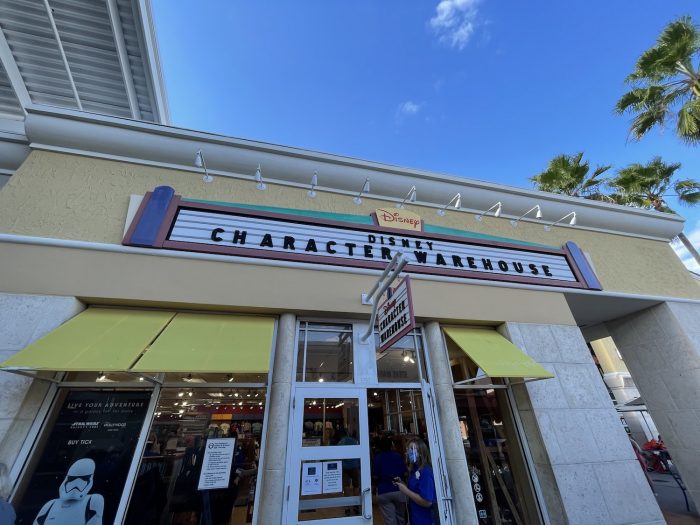 Reminder that the current social distancing procedures for the Disney Outlet Stores has guests checking in with Cast Members first, and then given a return time via text. There are certain times during the day, usually later at night, when the stores are empty enough that you can walk right in without getting a return time.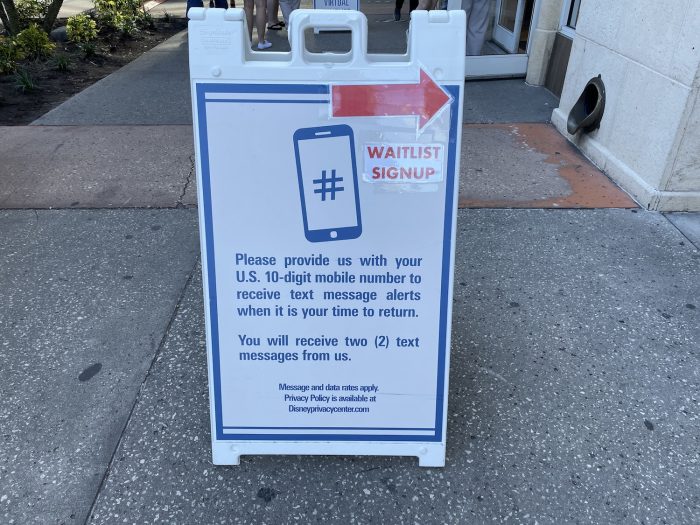 A staple of the Disney Outlet Stores is getting holiday merchandise right after the holiday ended, so as you can imagine a lot of Halloween-related items showed up this month including this spirit jersey.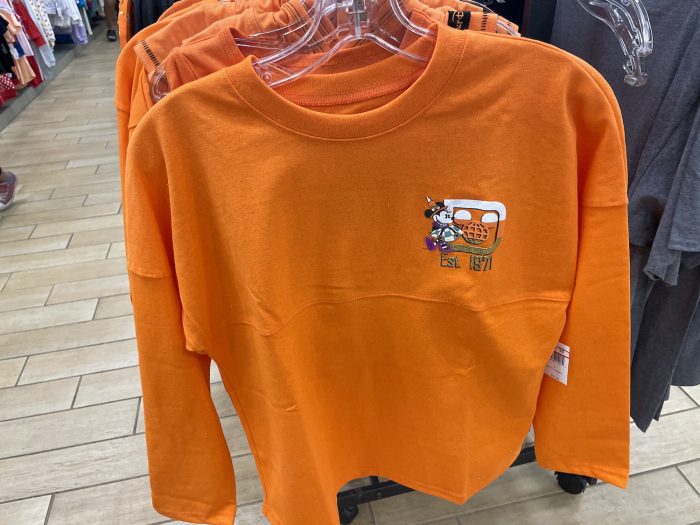 Originally $49.99, now $19.99.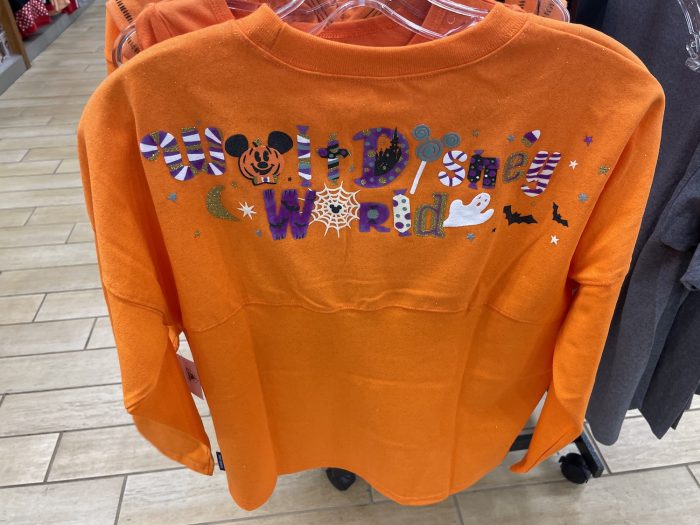 This year a lot of "sequin" shirts have shown up at the Outlets. These have the gimmick where you can rub your hands over an element of the shirt and the sequins will flip up and down. For the Minnie Mouse shirt below the word "BOO" is made out of the sequins. I wonder how well these shirts hold up in the wash? Knowing Disney's generally quality of shirts I'm imagining your washing machine and dryer will be coated with sequins pretty fast. Originally $29.99, now $9.99.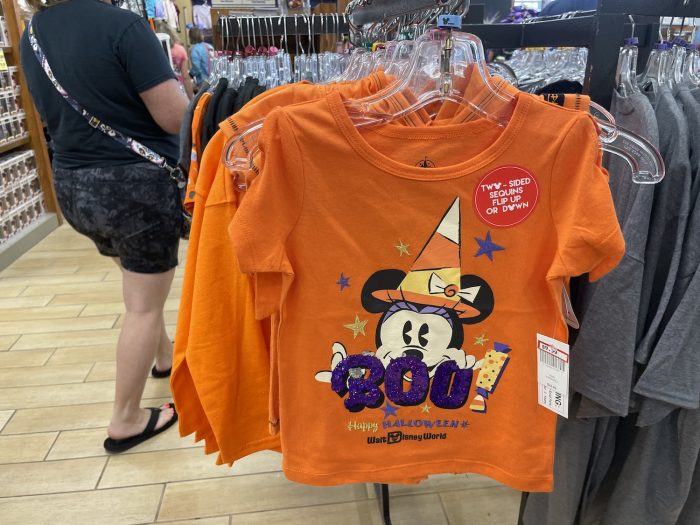 Women's Halloween candy shirt. Originally $36.99, now $7.99.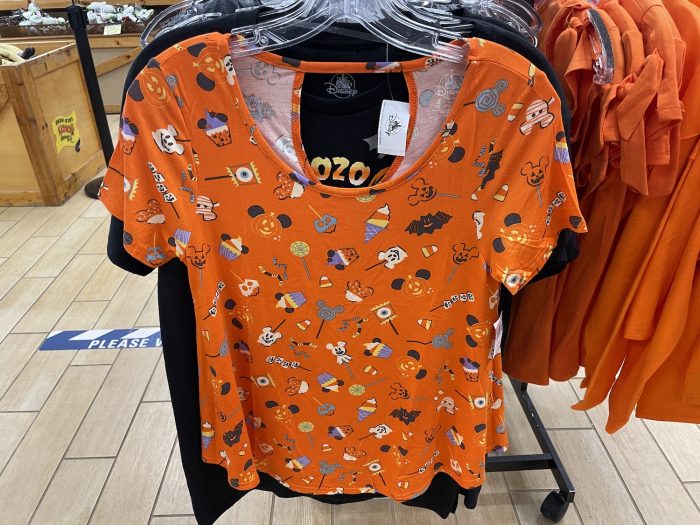 I like this shirt featuring the characters dressed up. The smiling candy cauldron in the middle reminds me of the cute style of artist @SonderQuest, who was just featured in this weekend's THEME PARK TURKEY OF THE YEAR AWARDS. The shirt itself was originally $24.99, now $7.99.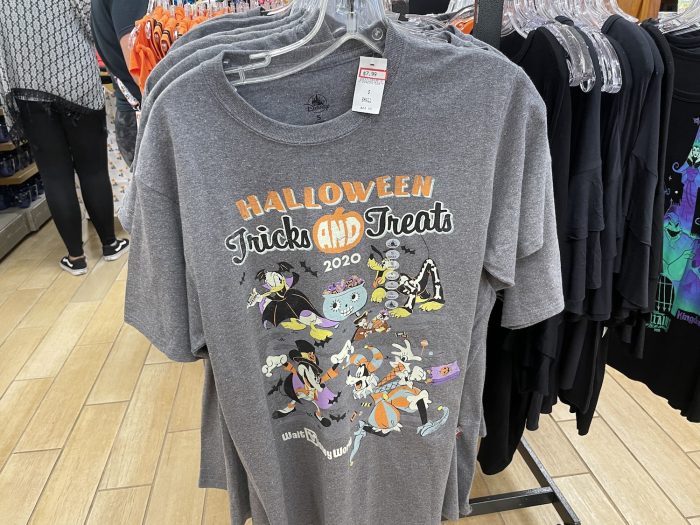 Halloween treats Crocs. Originally $54.99, now $24.99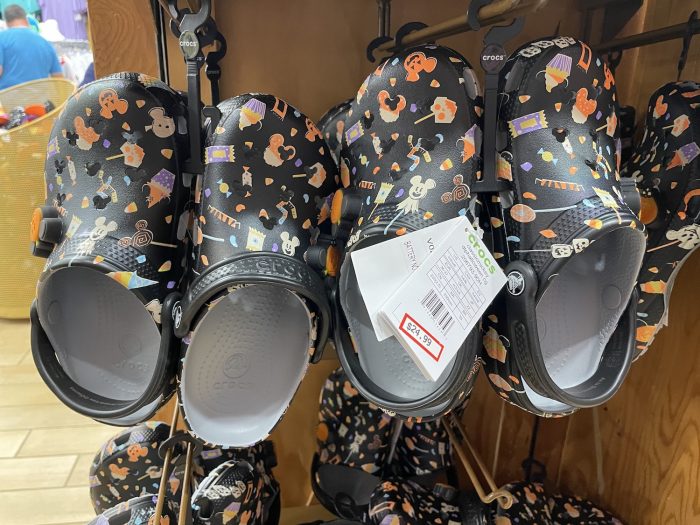 You don't see too many candles come to the Outlets, but these Halloween-themed ones are interesting. Originally $19.99, now $13.99.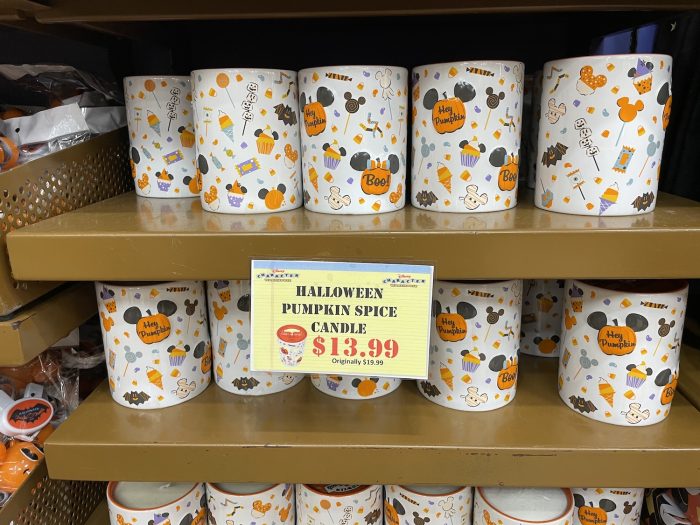 A rather large light-up halloween sign. Originally $39.99, now $23.99.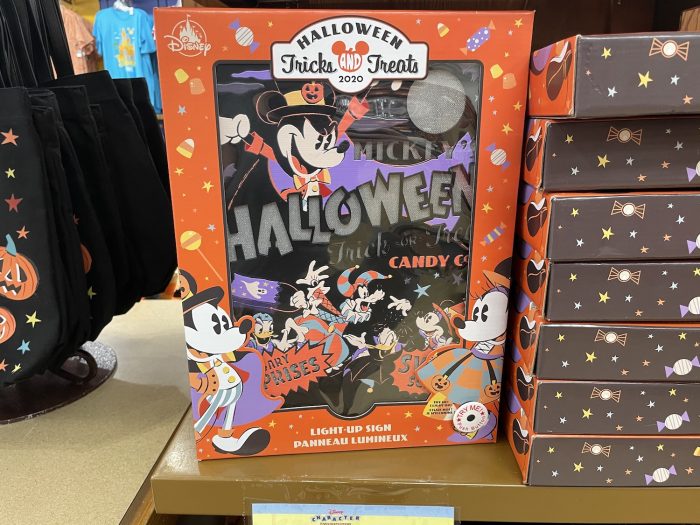 Mickey Mouse Halloween treat bag that lights up. Originally $19.99, now $10.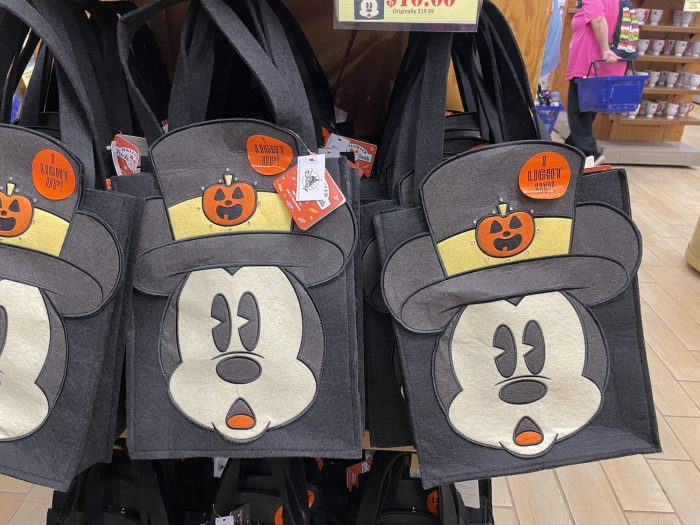 Speaking of bags, we know how many readers of this fine blog series love seeing the high-end bags, so here is a Dooney and Bourke crossbody filled with Pixar characters. Originally $198.00, now $99.99. I feel like these items are solely made for people to flip on secondary markets.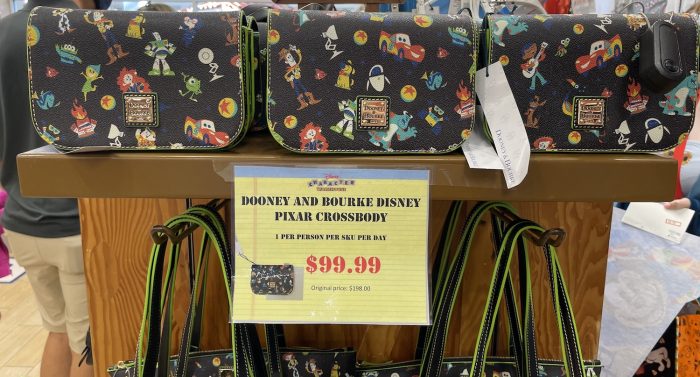 I can certainly see Disney fans in and around Orlando carrying bags like this, but I have a much harder time picturing an adult in say Wichita, Kansas walking around with a purse that looks like it was made for an 8 year old. No offense. I wear a backpack to the parks and out in everyday life at times, but it is not covered in G.I. Joe cartoon characters. Maybe I'm out to lunch on this one though, I'm willing to concede that. Anyway this bag below was originally $268, now $134.99.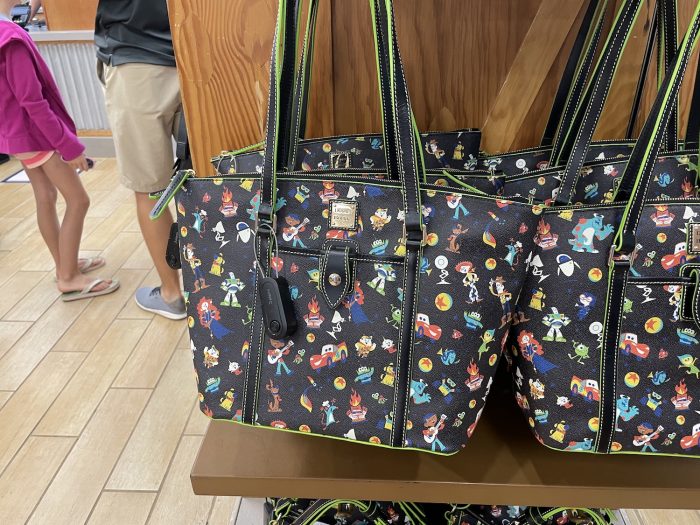 Let's be serious, can you imagine seeing someone in The Real World walking around with this bag featuring a banshee from Pandora: The World of Avatar? Originally $65, now $29.99.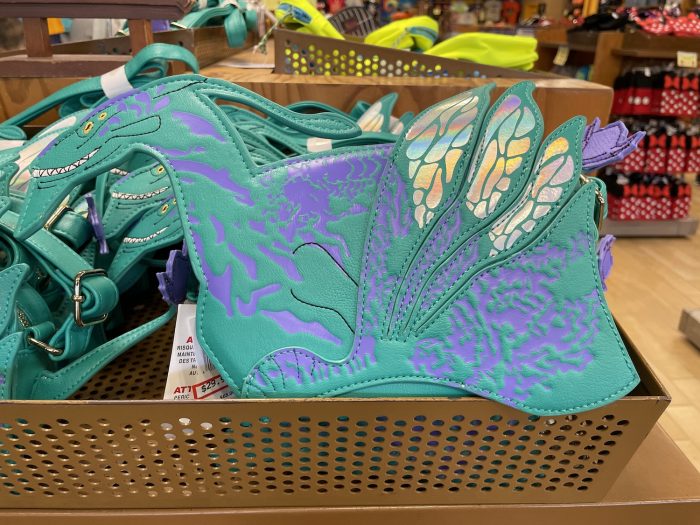 Mulan bag. Originally $84, now $42.99.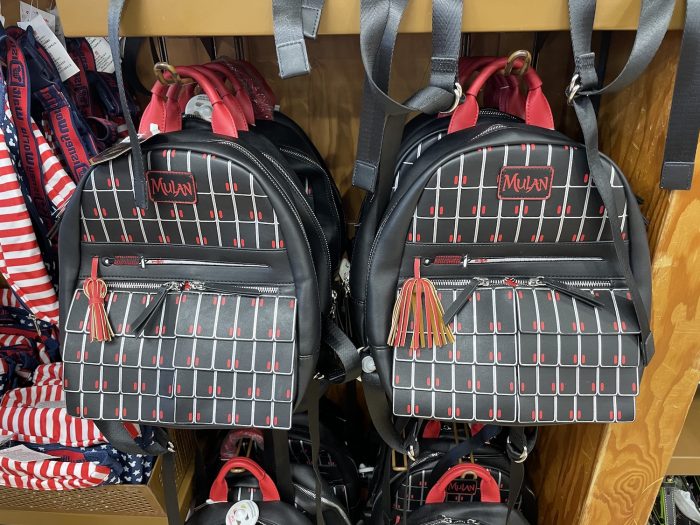 Love this mini-bag themed to the Toy Story VHS tape. Originally $24.99, now $12.99.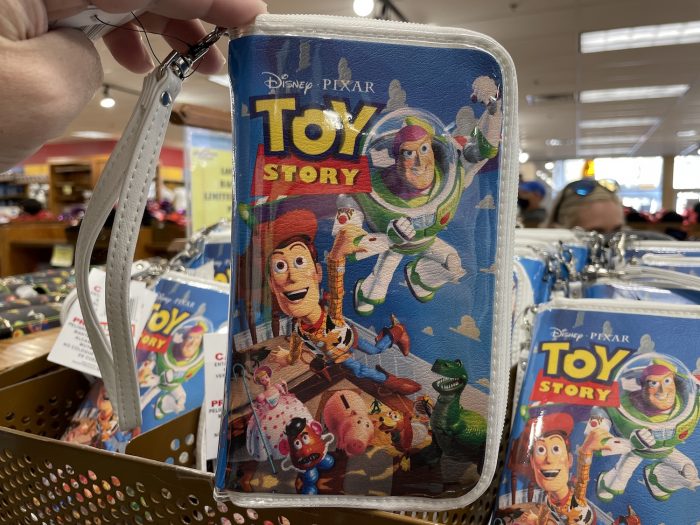 Like the similar themed notebooks, this has an attention to detail rarely seen in Disney merchandise when you open it up.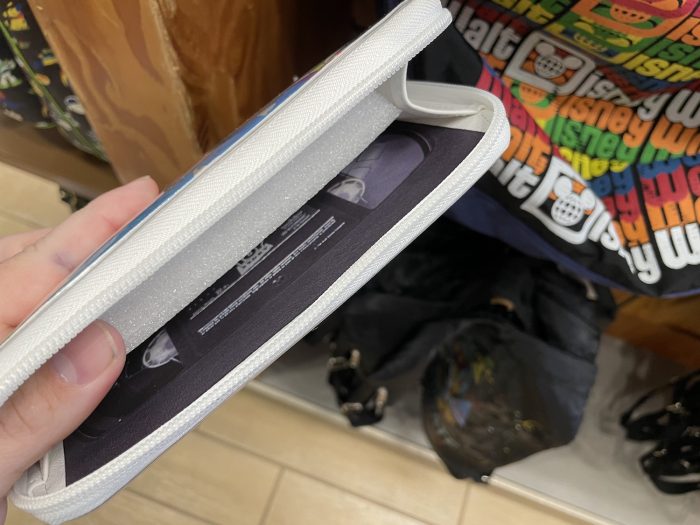 I love the times when Disney itself doesn't even know what to call it's own items because they are so bonkers. These "things" showed up last month at the Outlets and this month they have a name. Round With Sequins.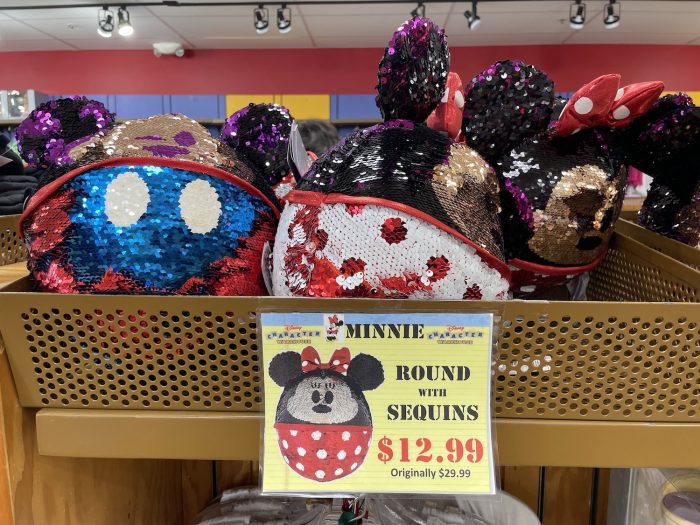 Now we're talking. An awesome Jiminy Cricket plush. Originally $19.99, now $7.99. This is one of those characters they need to make with a magnet gimmick to sit on your shoulder like Figment, Remy, and The Child from The Mandalorian.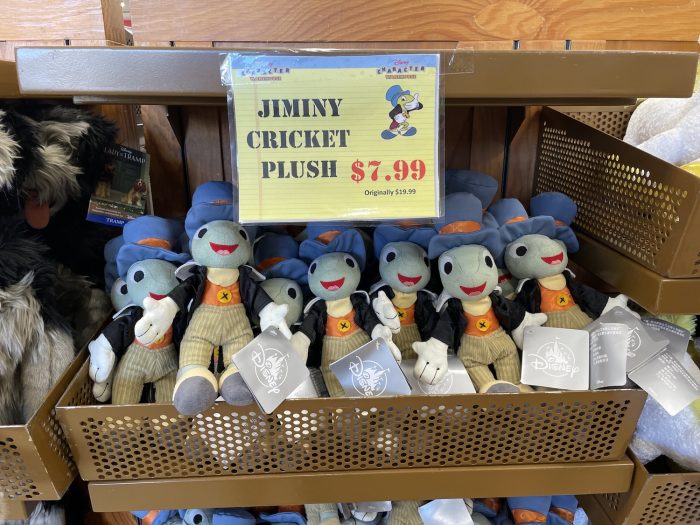 Ridiculous "stretch headbands."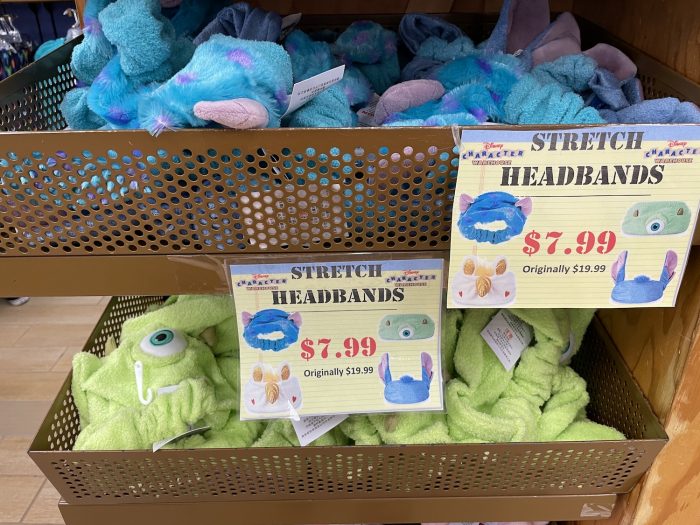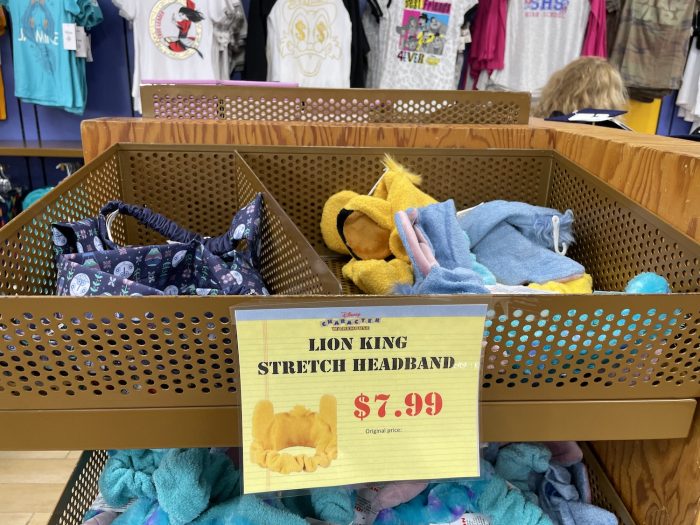 Mickey Graduation 2020 headbands. Feel bad for all the kids who graduated in 2020 during these "unprecedented times."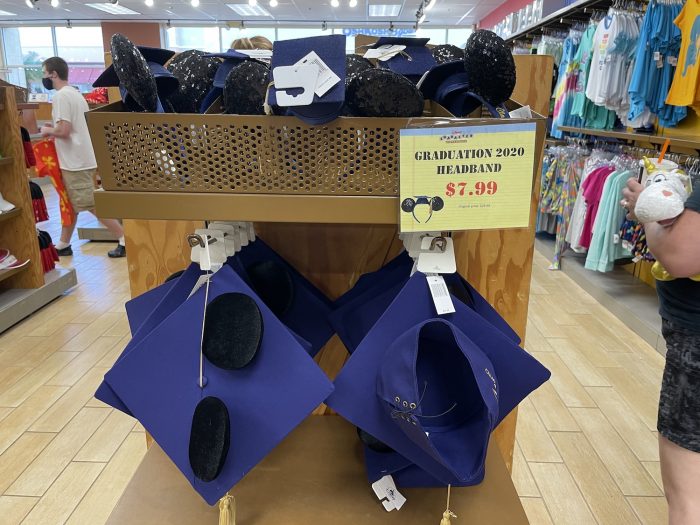 Although I don't feel bad for them anymore if they buy these socks. Reduced to $2.99.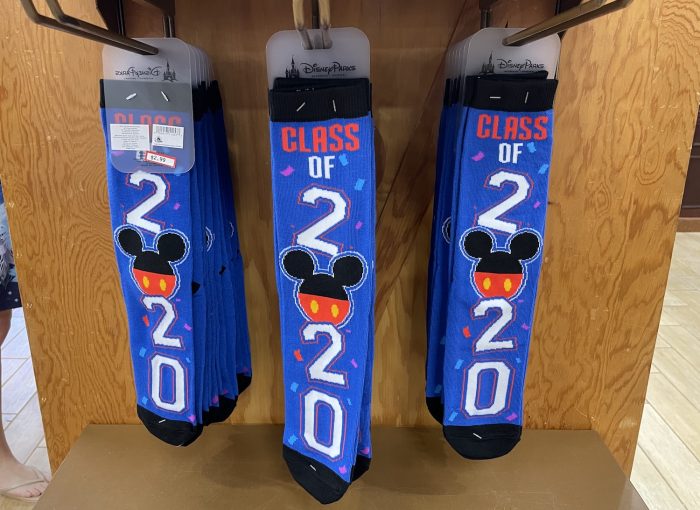 The next two items are based on designs from the artist Noah, who has done a lot of work over the years for Disney. The first features Big Thunder Mountain and is reduced to $37.99. (With that price we can safely assume the original price of this figurine was most likely $75.)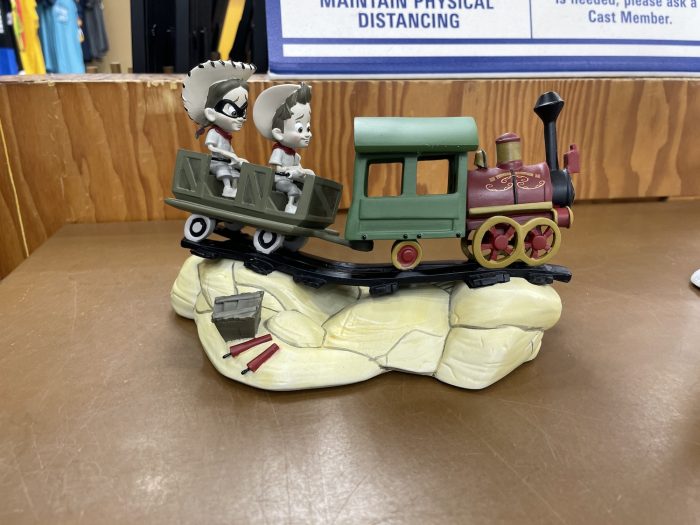 This figurine based on Peter Pan's Flight was also reduced to $37.99.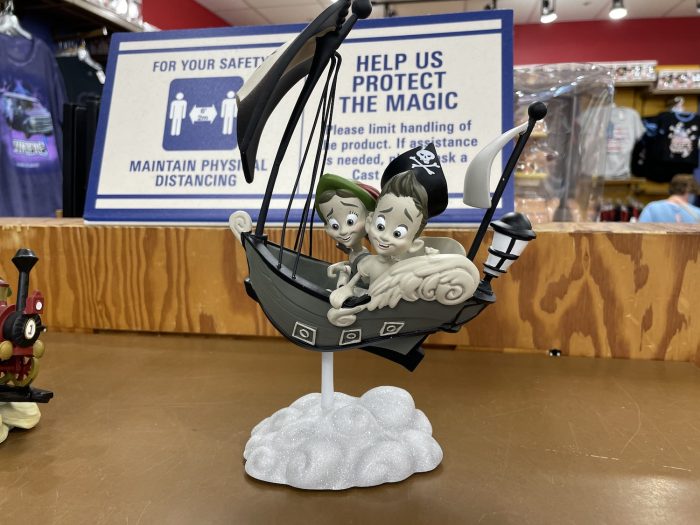 Would love to see which industry took a bigger bath over the years. Snowglobe sales after 9/11 (and people not being able to travel with them) or photo frame sales in theme park gift shops after everyone got a great camera on their phone. As attraction photo frames go, this one is pretty good. Originally $29.99, now $9.99.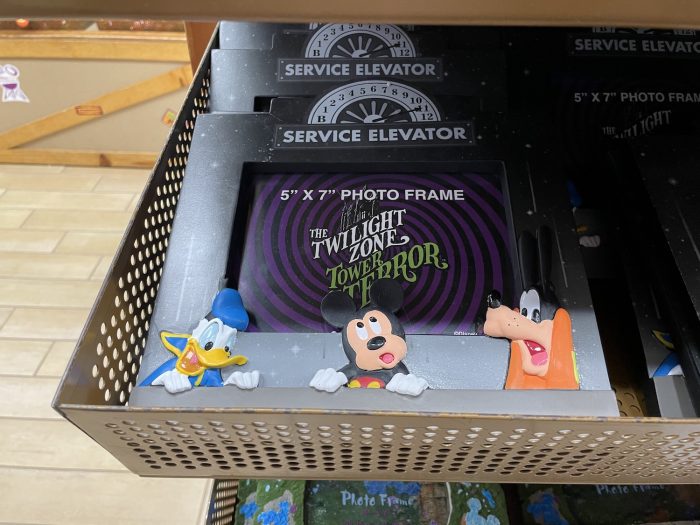 Haunted Mansion-themed notepads. Originally $9.99, now $4.99.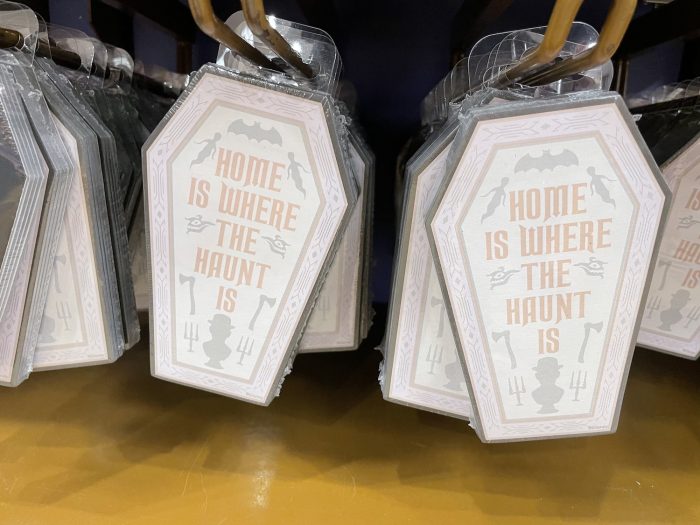 So many Redd Funko pops are still available. I'm beginning to wonder if they sold any other than to the eBay pirates on opening day.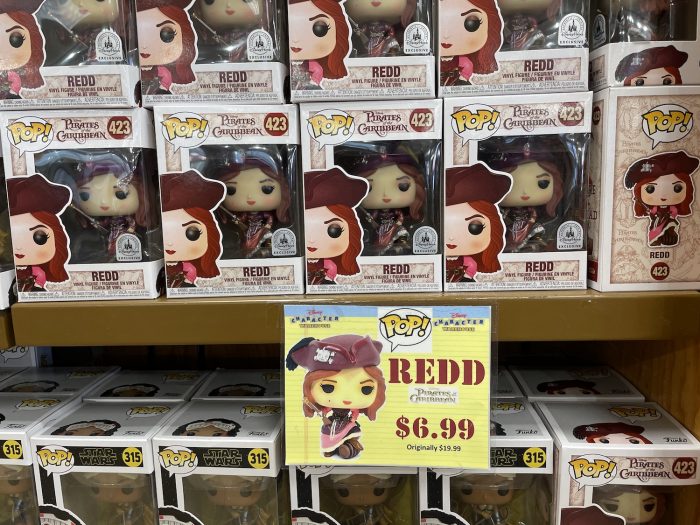 More Funkos arrived as well.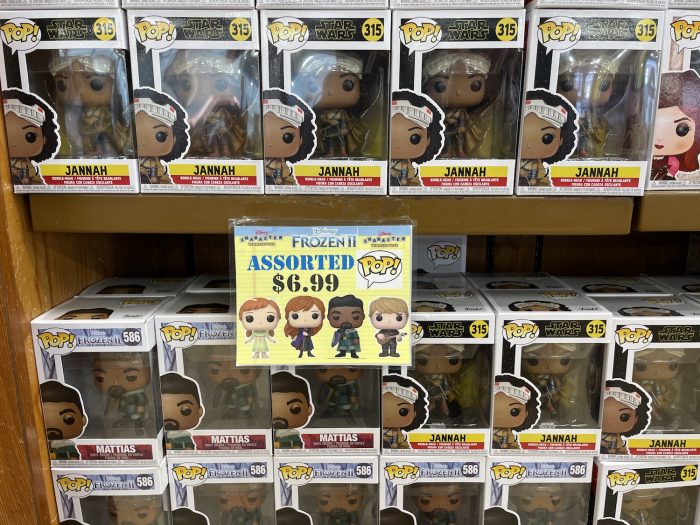 Disney Cruise Line bag from 2019. Originally $49.99, now $19.99.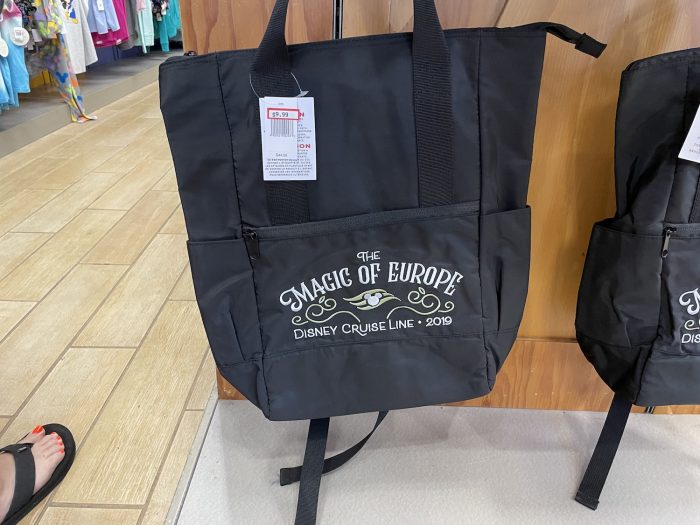 Perfect time to get into some clothing, and we'll start with this DCL hoodie. Originally $39.99, now $14.99.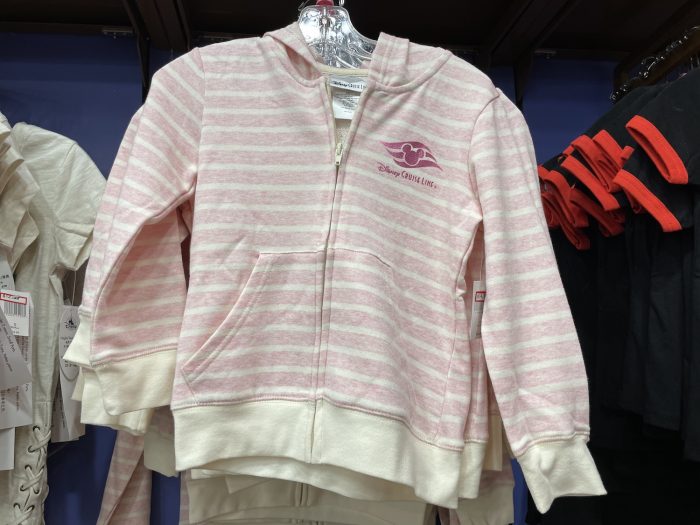 This shirt below is going into the Disney Outlet Merchandise Hall of Shame. I get it, you're comprising Mickey Mouse made out of versions of him from over the years. Interesting idea. I think it looks HORRIBLE in execution, but that's not the bonkers part…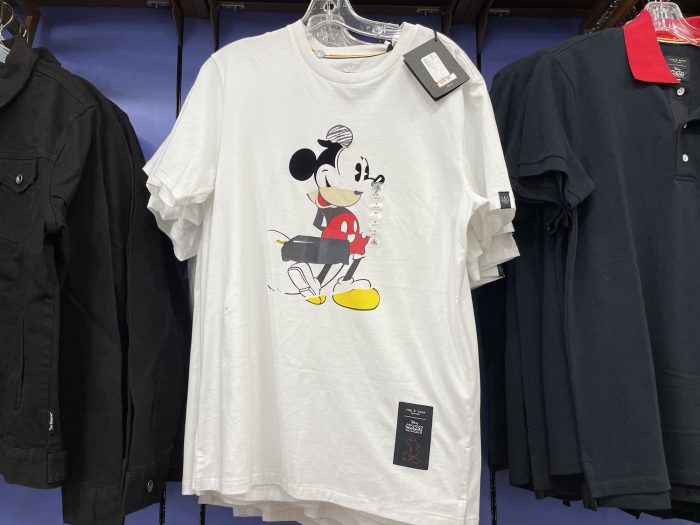 THIS T-SHIRT ORIGINALLY COST $150?!!!!!
It has been "reduced" to $59.99. Am I on crazy pills?!!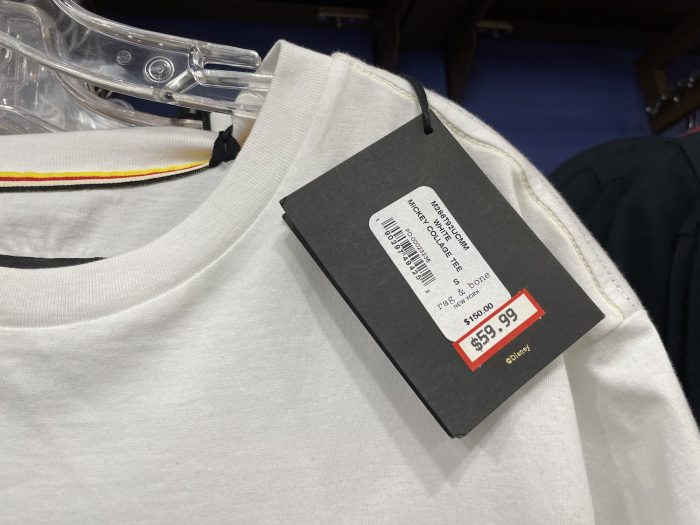 My thoughts when seeing the tag for the Mickey shirt.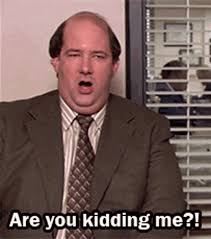 I bet less than a handful of these Pixar Onward shirts were sold at the original price of $36.99. Now $12.99.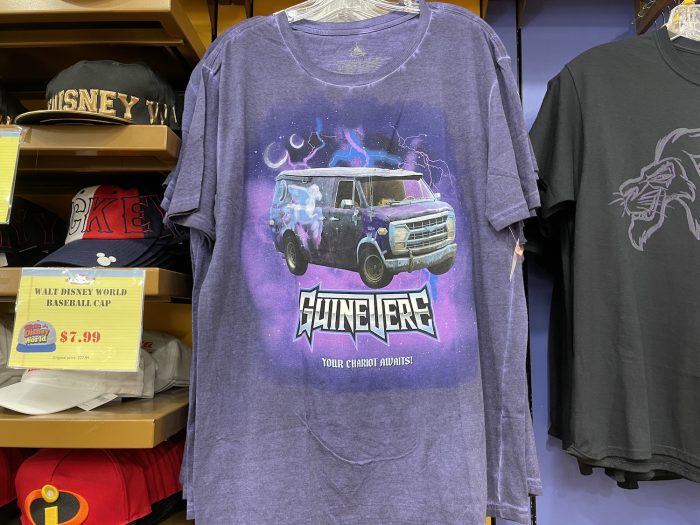 Ursula t-shirt. Originally $24.99, now $7.99.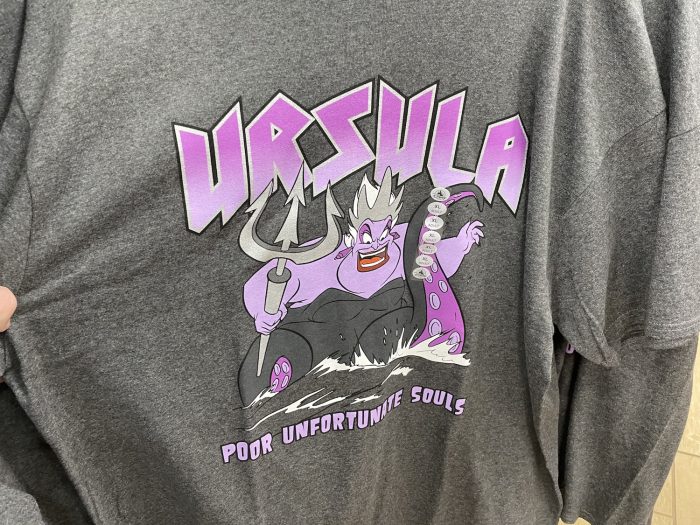 Nice Princess Jasmine shirt. Originally $28, now $9.99.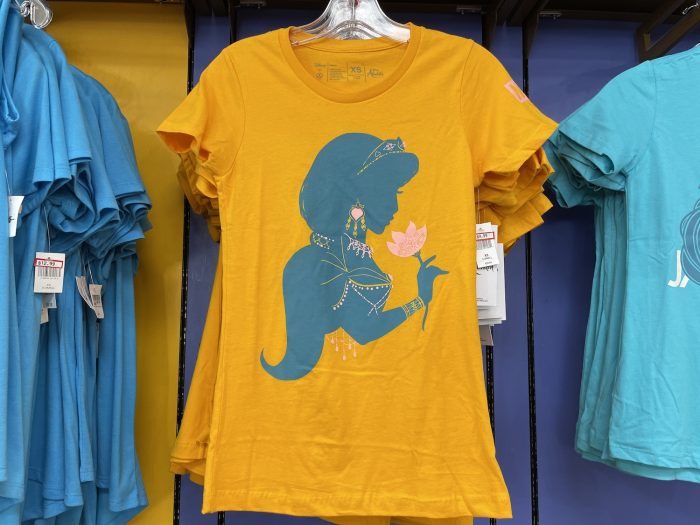 Another unbelievable weird Rock N' Roller Coaster shirt. Originally $36.99, now $14.99.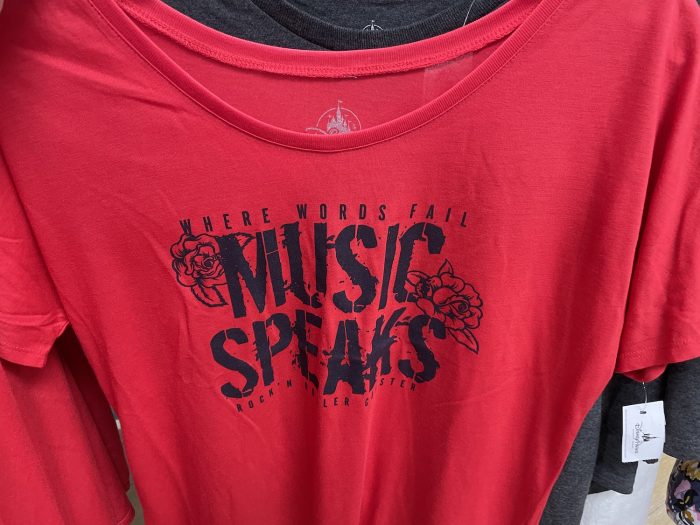 On the other hand, this Soarin' t-shirt looks like it should be a Rock N' Roller Coaster shirt. WHAT IS GOING ON HERE?!!! Originally $36.99, now $14.99.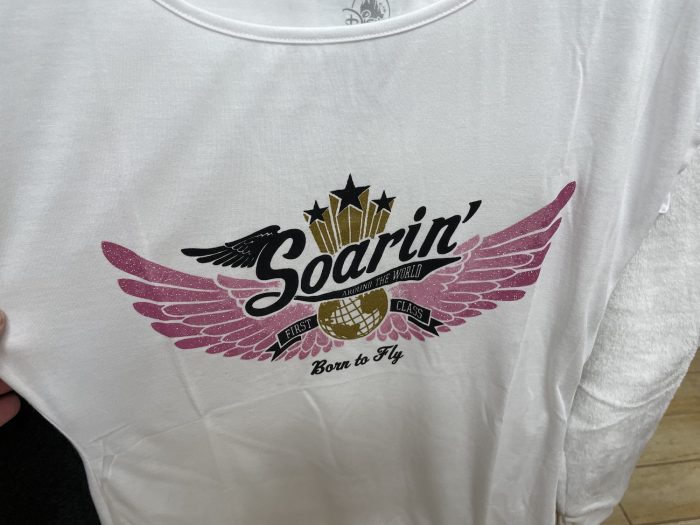 Can never get enough merchandise featuring The Muppets. The items are always very "Hi-Res." Originally $34.99, now $12.99.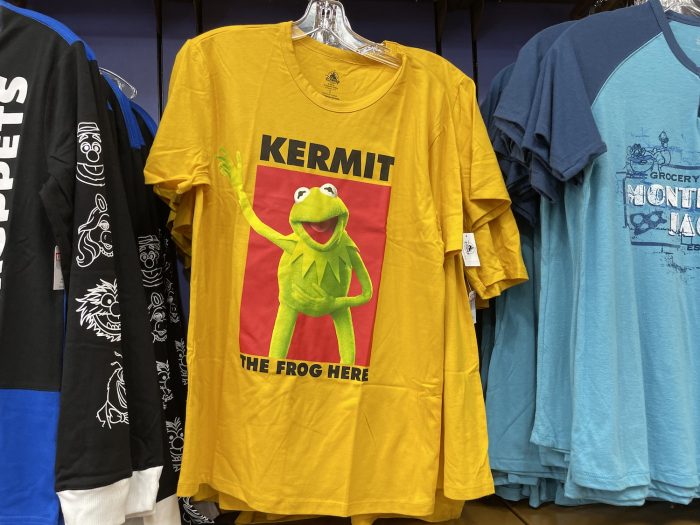 Mr. Incredible shirt for the guy in your life you're trying to shame passive aggressively. Originally $34.99, now $12.99.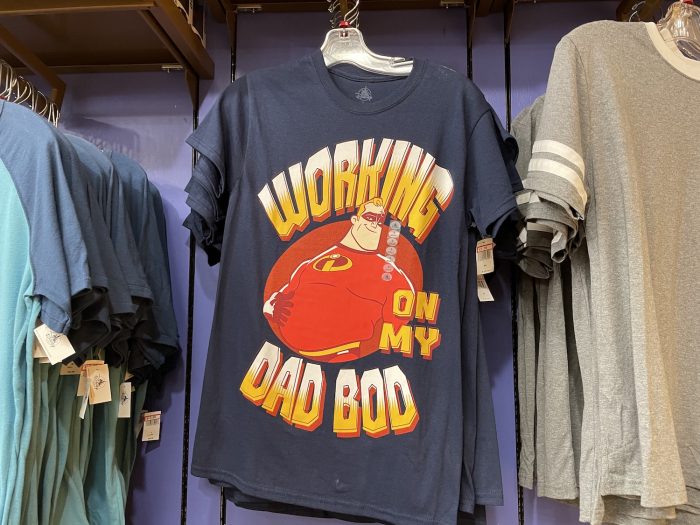 Fun Minnie Mouse shirt. Originally $19.99, now $7.99.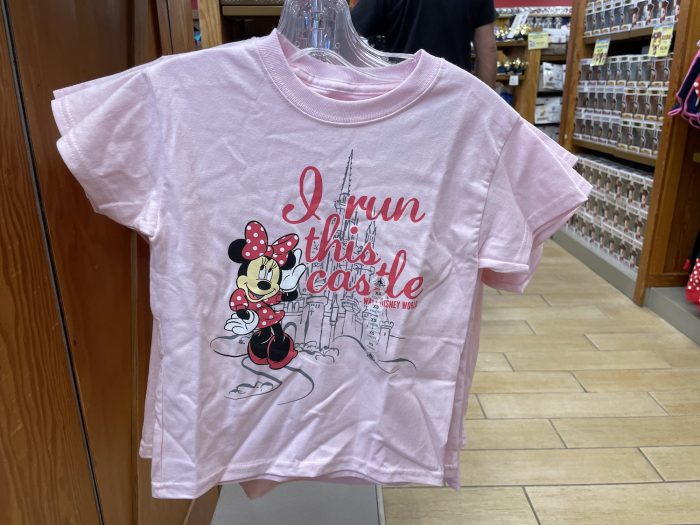 Odd Minnie Mouse cup. Reduced to $5.99.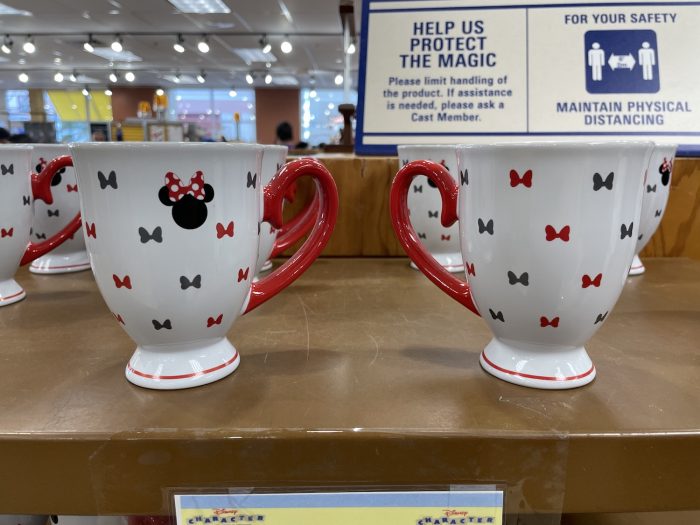 Dumbo coffee cup which uses a font straight out of NBC's The Office television show. Reduced to $5.99.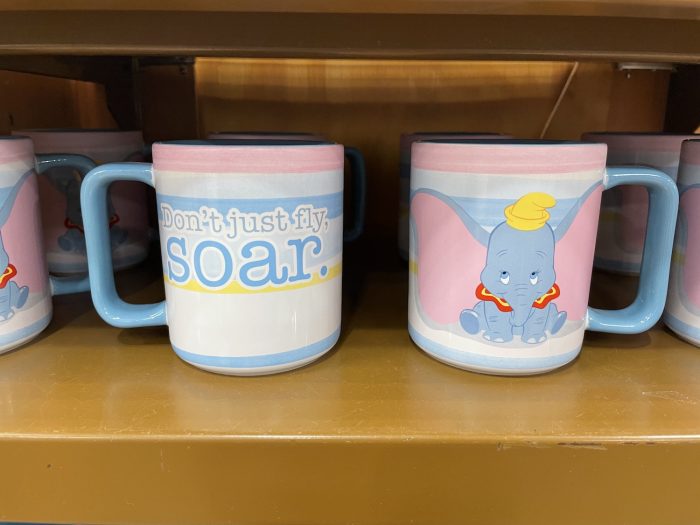 Na'vi River Journey cup.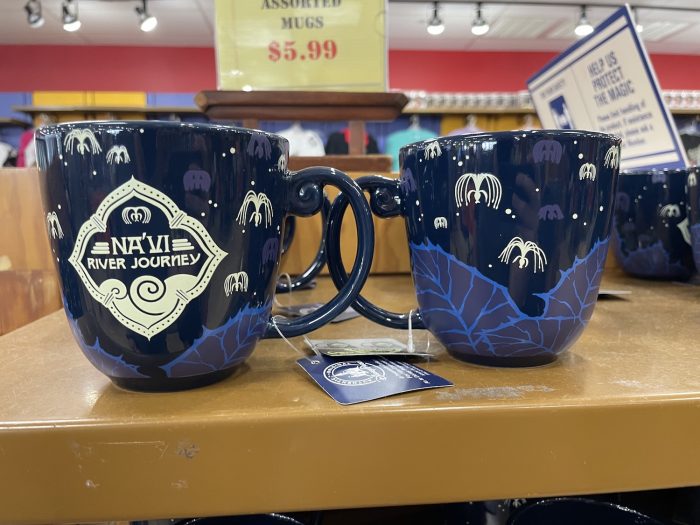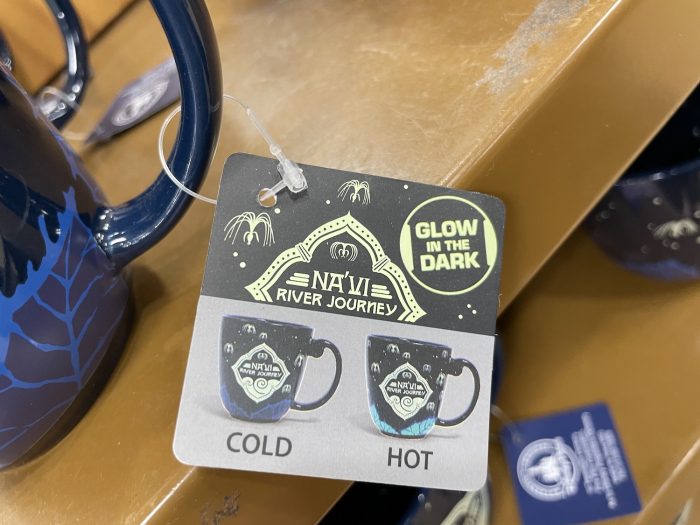 This Stitch ear hat is generally the type of item which is scooped up FAST by the eBay pirates. Originally $19.99, now $7.99.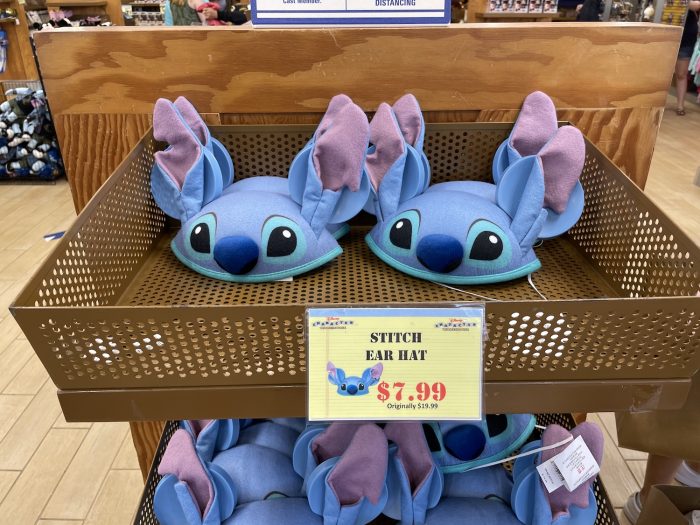 What's interesting about the next two pieces of Star Wars merchandise is that they are still at the store despite being prominently displayed SINCE MARCH. For the most part the Disney Outlet Stores flip all their inventory pretty fast, but when some items sit, they SIT. Shockingly the price for this set hasn't lowered under $80 yet (was originally $160).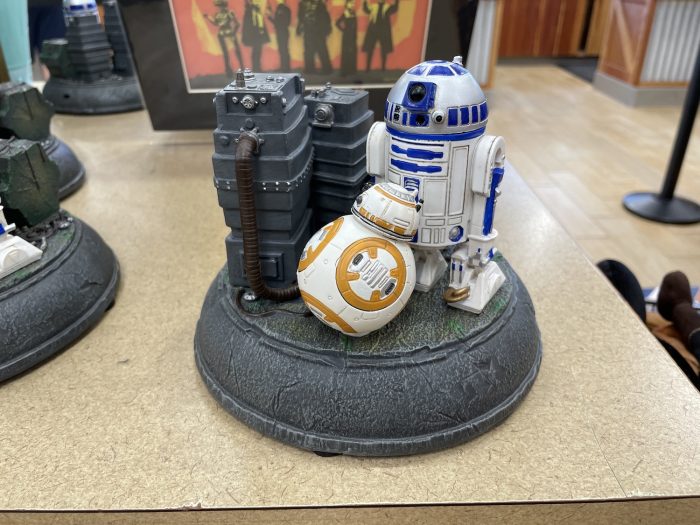 While this droid figure still collects dust at $12.99. I hate to beat a drum, but at this point just pull the unsold junk and give it away to guests staying at the Galactic Starcruiser when that "experience" opens. It's garbage for an average guest shopping at the Outlets, but for a Star Wars super fan paying thousands of dollars for a hotel with no pool? Having one of these droids laying on their bed "free" upon check-in could make a difference on the score they give for their overall review.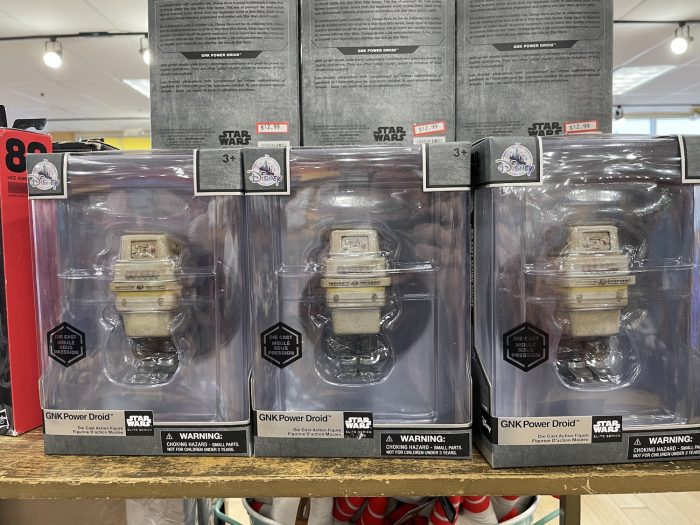 Okay, this is one of those items in Star Wars: Galaxy's Edge that appeal to the hardest of hardcore Star Wars fans and literally no one else. A "Tooka doll" in the Star Wars Universe is like a teddy bear here on Planet Earth. Unfortunately this one looks like a plush you'd see at a dentist office for them to use to show an 8 year old what a "tooth extraction" looks like. Originally $19.99, now $7.99.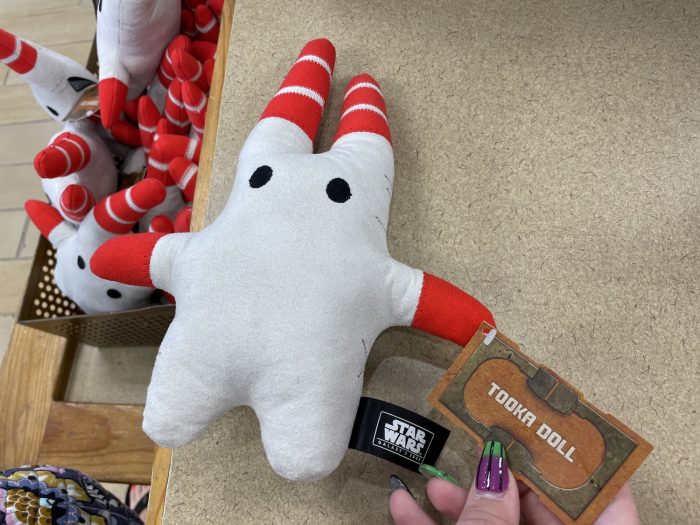 After that monstrosity we're gonna have to take a break and head on over to CALIFORNIA and see what Christela McC has found at a Disney Outlet Store that is located closer to Disneyland.
First up is some items from a place we never get merchandise in Florida, Disney's AULANI Resort. This coffee cup was originally priced at $20 – which seems incredibly high for what you're getting – and was reduced to $7.99.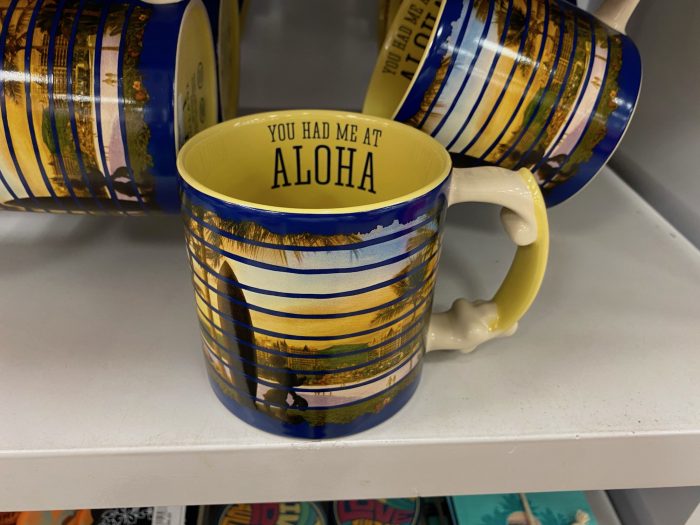 Aulani 2020 backpack? Nice. "2020" printed all over it. Not so nice. Originally $50, now $17.99.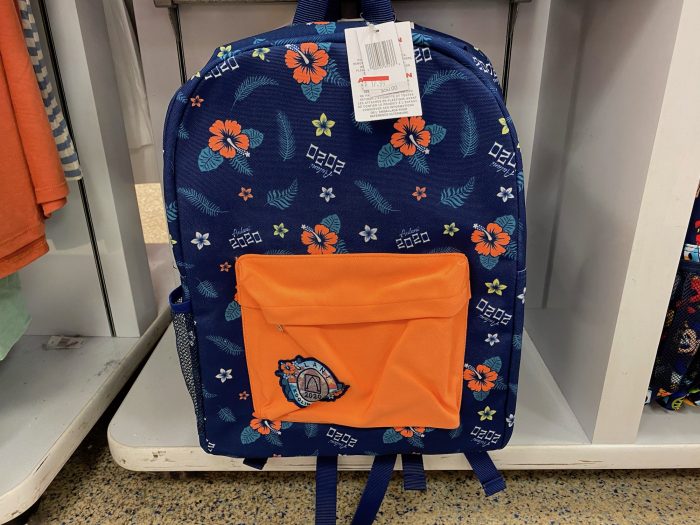 I'm imaging this clear beach tote was one of those gimmicks where if you spent $50 (or whatever) in the gift shop you had the opportunity to buy this Beach Tote for a reduced price. The Outlet price is $15.99.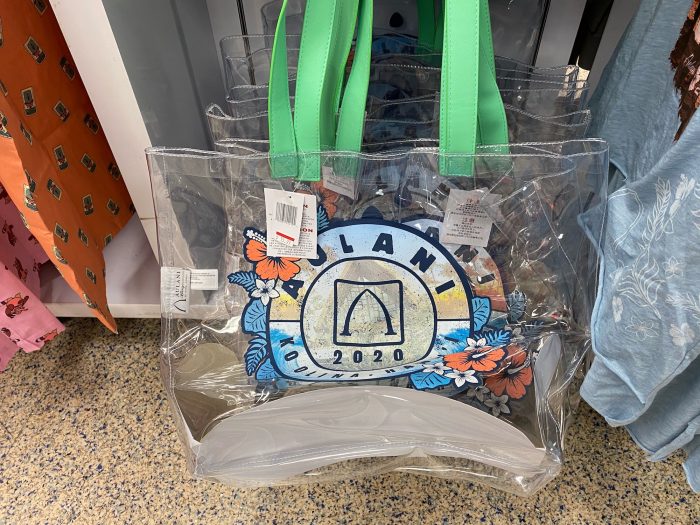 Aulani hat (with "2020" on it.) Originally $28.99, now $7.99.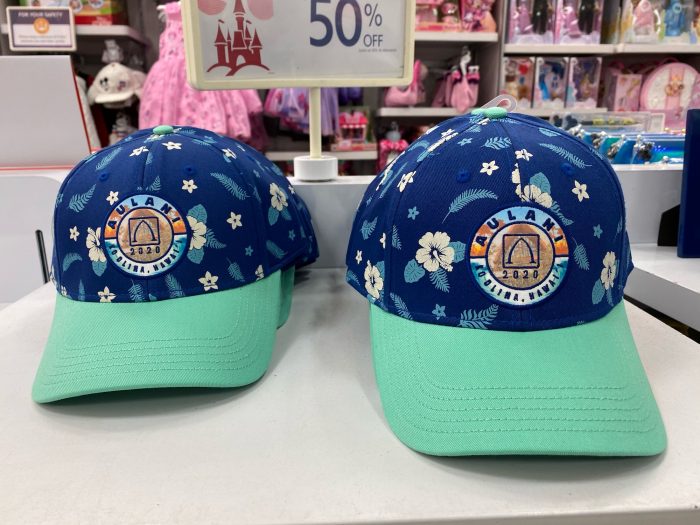 Aulani magnet. Originally $8, now $5.99.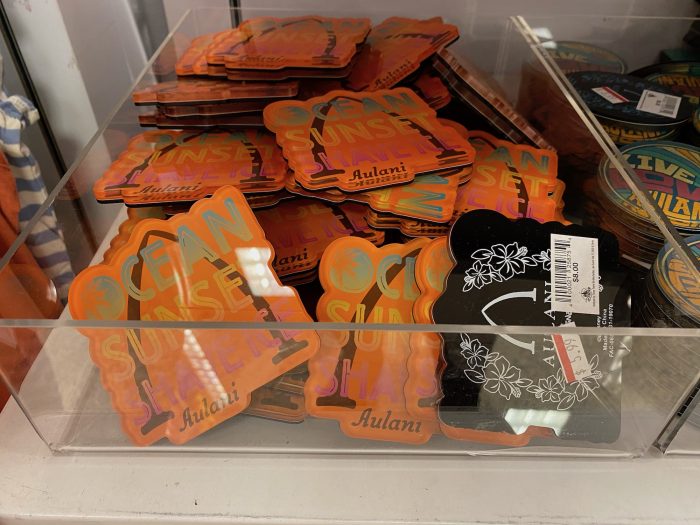 Aulani magnet on the left was originally $8, now $3.99 while the coaster set on the right was originally $20, now $8.98.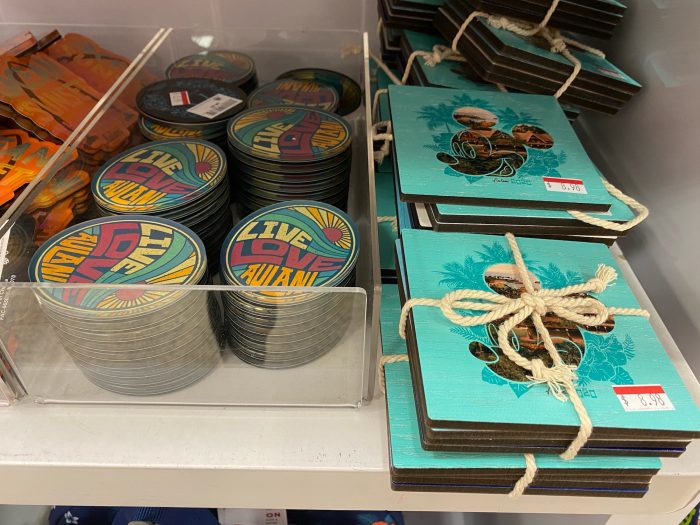 We showed it with the Pirates of the Caribbean Redd Funko pop above, but we've also talked many times about how all park "exclusive" Funko pops eventually make their way to the Outlets. The tradition continues with this Matterhorn pop from Disneyland. Reduced to $17.99.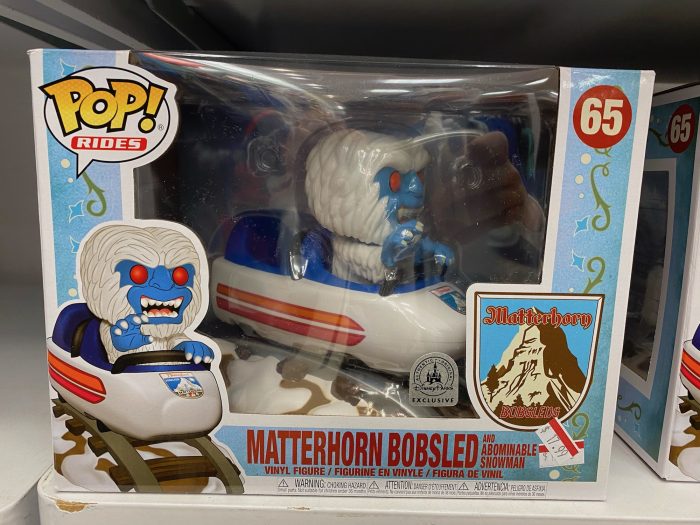 Below the Matterhorn on this shelf you'll super a LARGE Indiana Jones Funko Pop. Reduced to $23.99.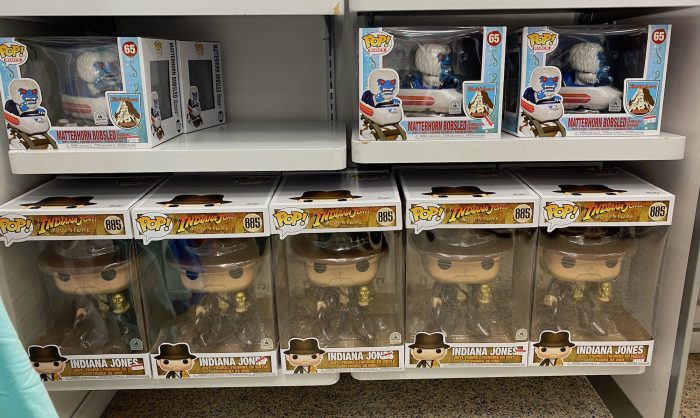 How can you not LOVE this set featuring the Dapper Dans?! Reduced to $26.99.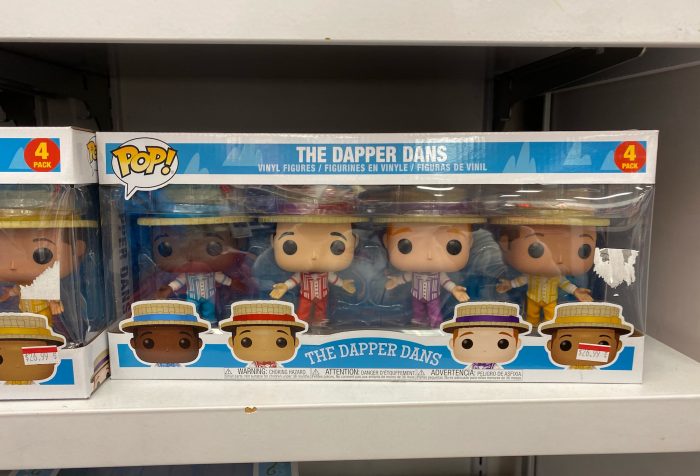 2020 toothpick holder. Originally $9.99, now $2.99.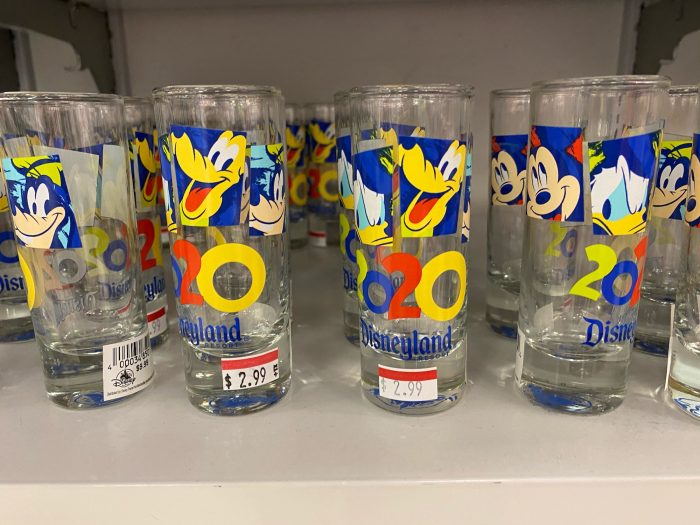 2020 Christmas ornaments. Varies in price from $3.99 to $8.99.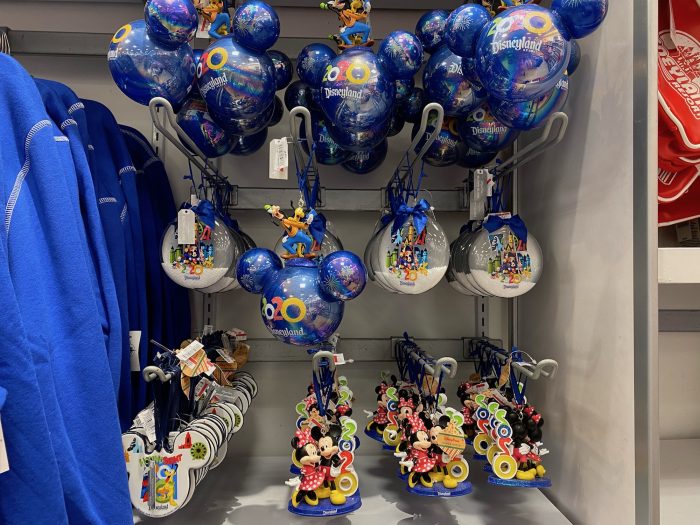 Love this Disneyland marquee shirt. Originally $24.99, now $9.99.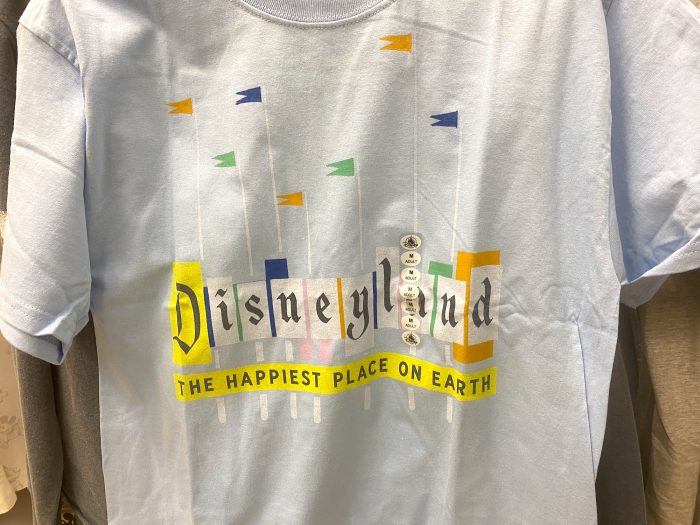 Long sleeve Skyway hoodie. Originally $44.99, now $15.99.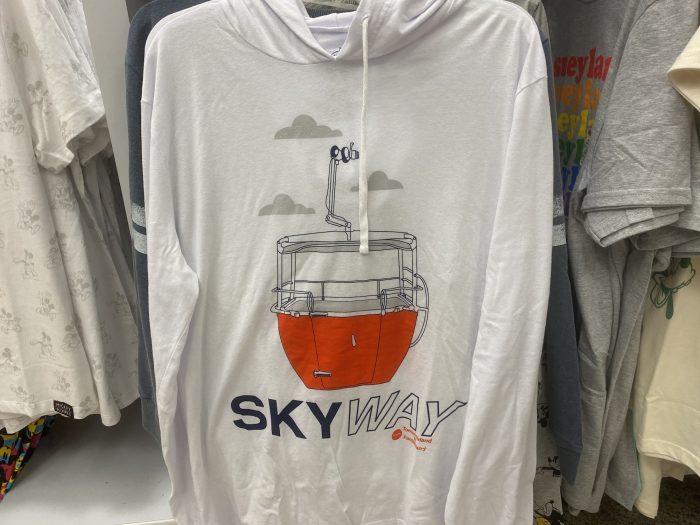 A button up shirt themed to… garbage cans?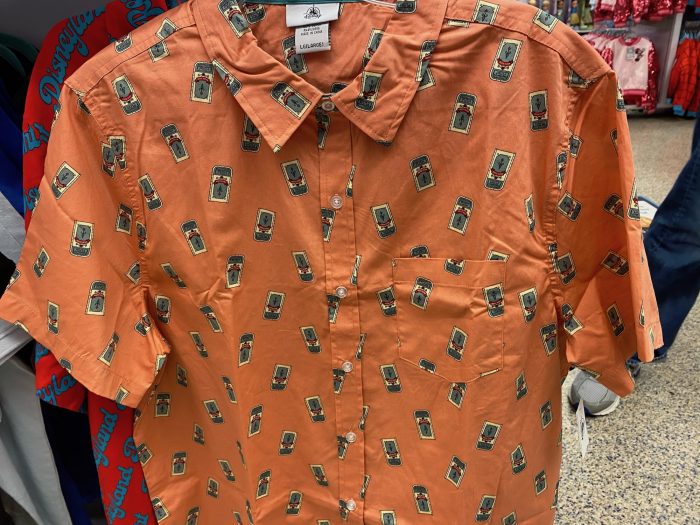 YEP. Originally $59.99, now $15.99.

Cotton candy tie dye spirit jersey. Originally $49.99, now $24.99.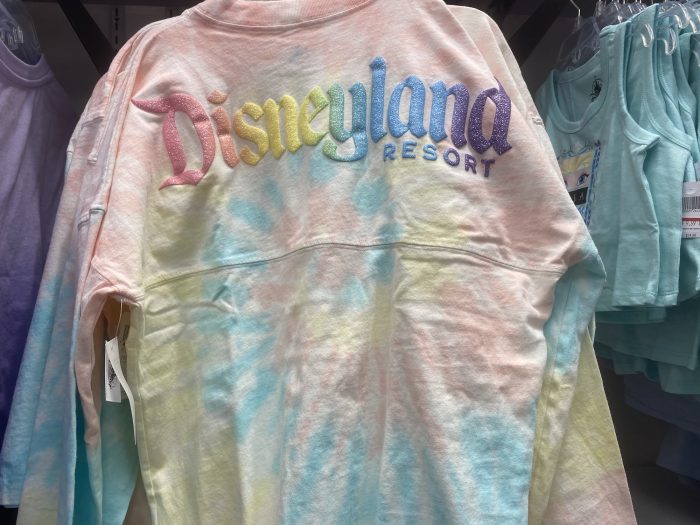 Toy Story dress. Originally $128, now $49.99.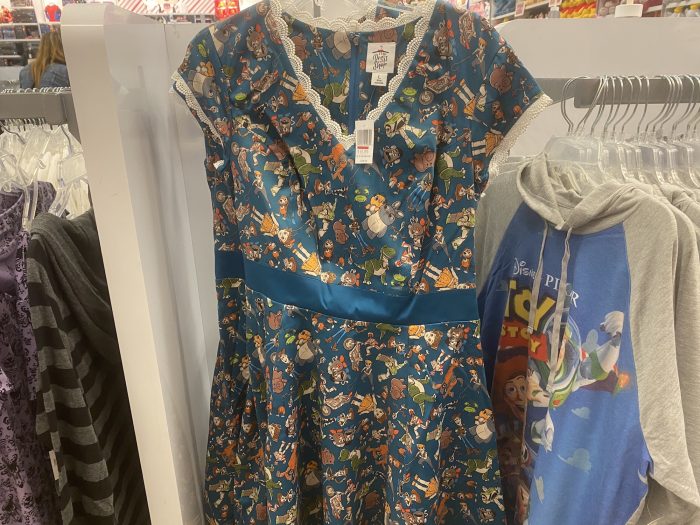 Disneyland Resort purse with a retro design. Originally $29.99, now $12.99.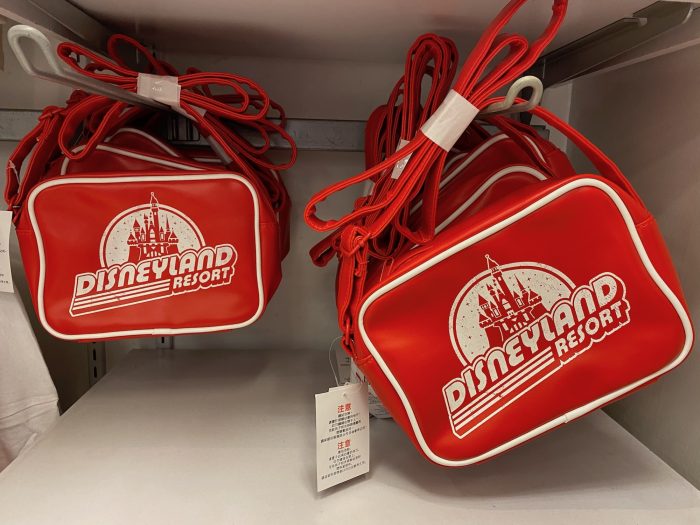 Disneyland cinch backpack. Originally $19.99, now $9.99.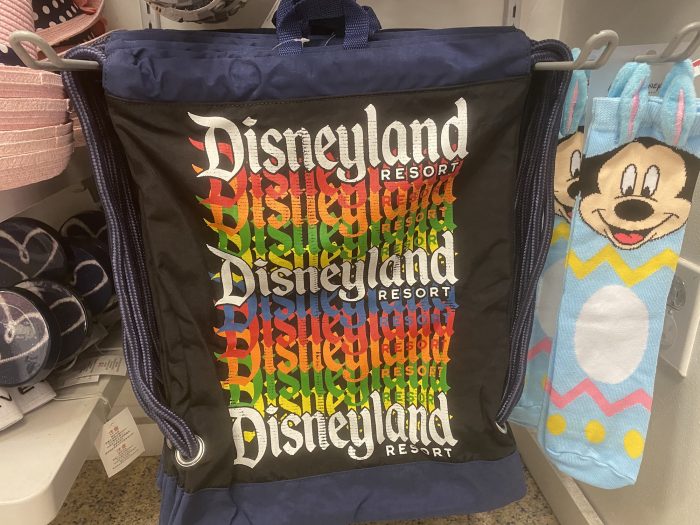 Thanks Christela! With that palate cleanser now we can head back to FLORIDA! This time we're going to head over to the Disney Character Warehouse located at the end of International Drive. This store is closer to the Universal Orlando Resort and right around the corner from Fun Spot. Like the Vineland location, the store will close for capacity and give guests a return time. Important to remember that the I-Drive location is much smaller than Vineland too.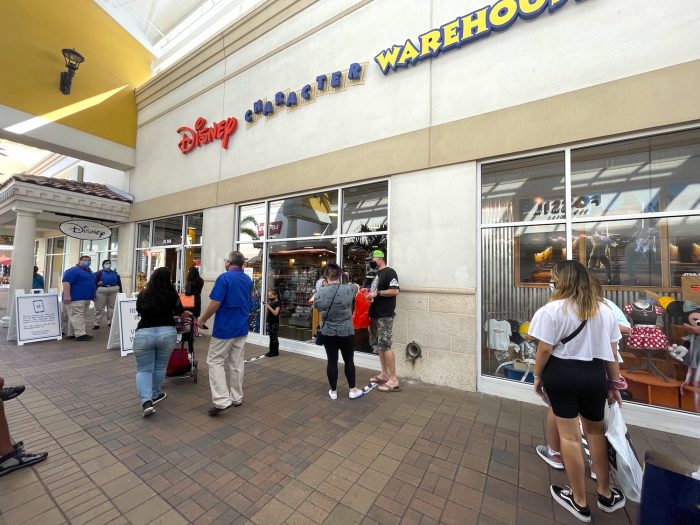 When you first walk in, you'll see the Halloween merch front and center, but that's not what caught my eye. Nay nay. I was drawn to what was in the corner…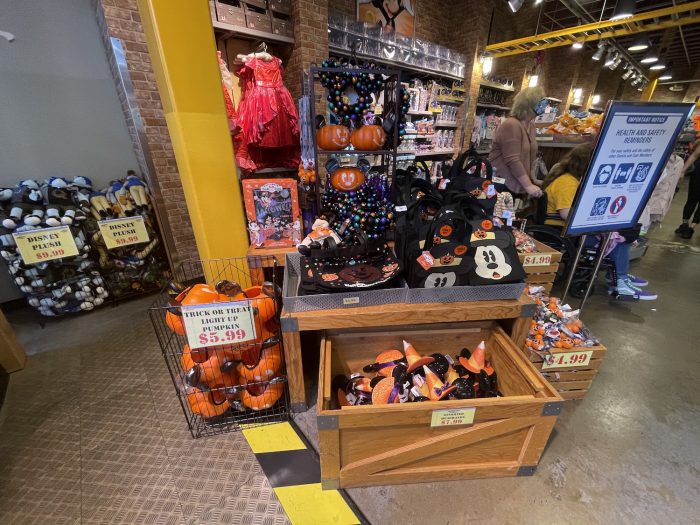 Last month we saw all of these plush from Pixar's Onward, and they are selling about as well as you'd think they would. Usually, Disney releases items with generic names and then – when they don't sell – will get more specific. You see this a lot for Disney Junior related items. Well, it appears Disney realized no one knows the names of these two characters so the signs were changed to a generic "Disney plush" to hopefully get people to buy more. Fascinating.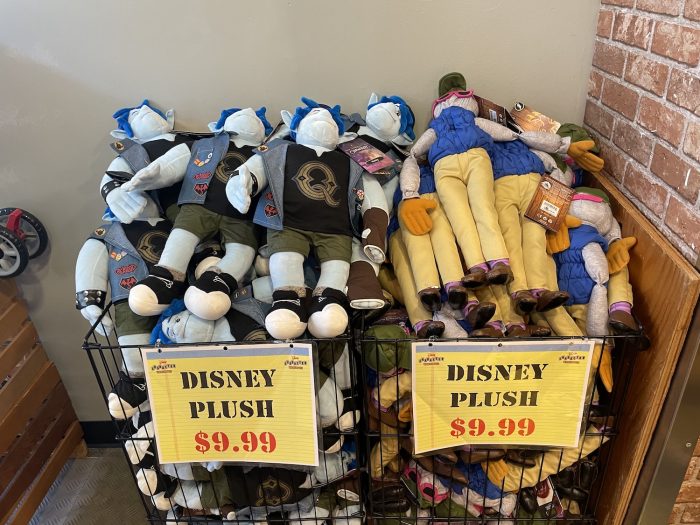 Okay, back to Halloween merch. Light up pumpkin was reduced to $5.99.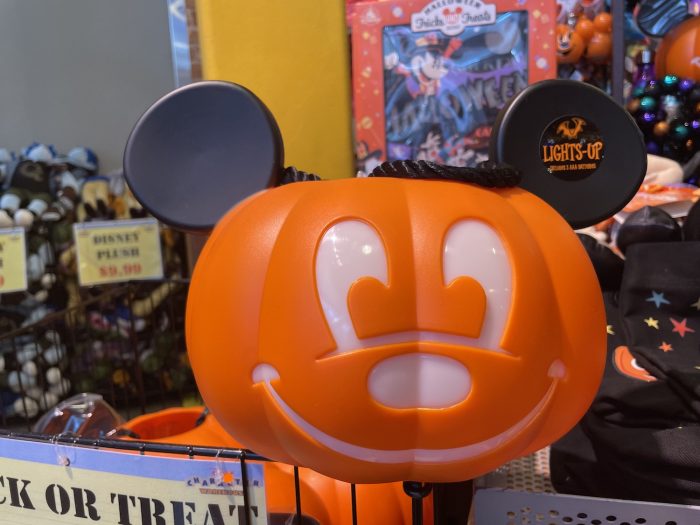 Light up Halloween-themed necklace. Reduced to $4.99.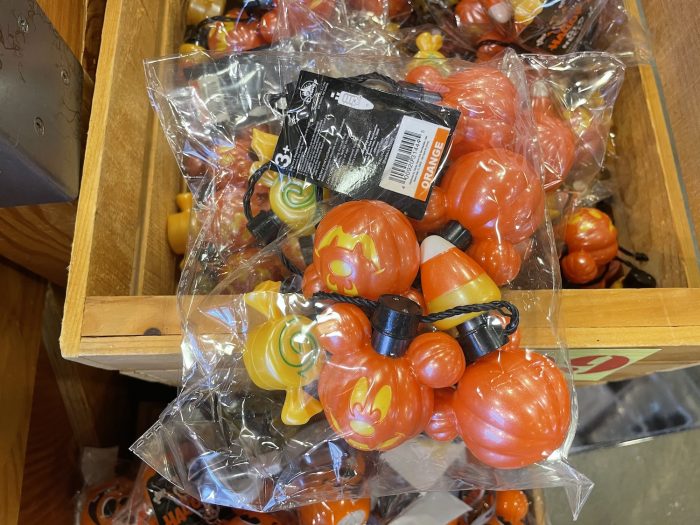 Halloween wreath. Originally $44.99, now $26.99. A couple months ago my friend saw this wreath for sale at Disney and couldn't believe the price. So he went back home and made his own. The results came out great. Maybe I'll have him make me some Tsum Tsums next.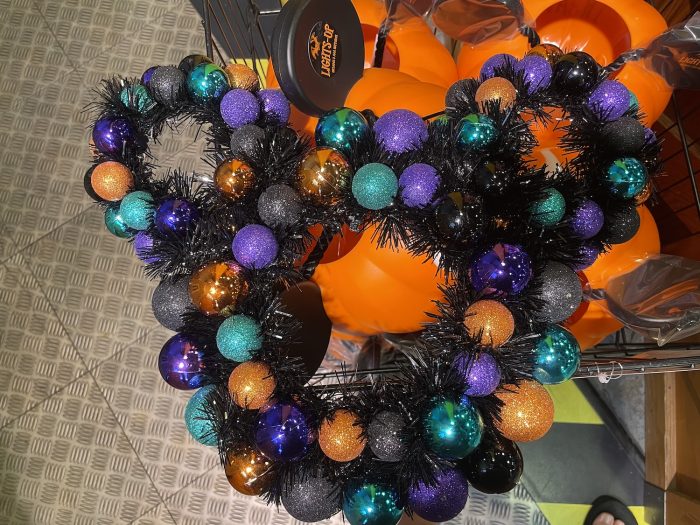 A cookbook for items featured at various festivals at EPCOT and Disney California Adventure. Cool just seeing those two logos on the same book. Originally $24.95, now $9.99.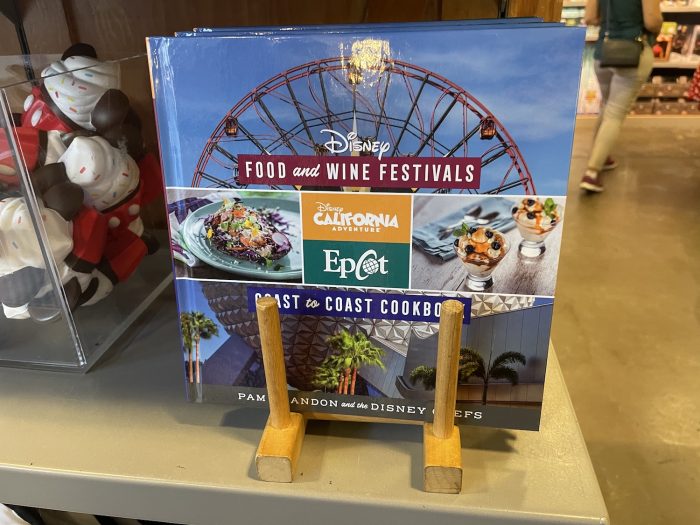 A few items from this year's Flower and Garden Festival showed up, including this jigsaw puzzle.
Spike the bee sits atop this cup.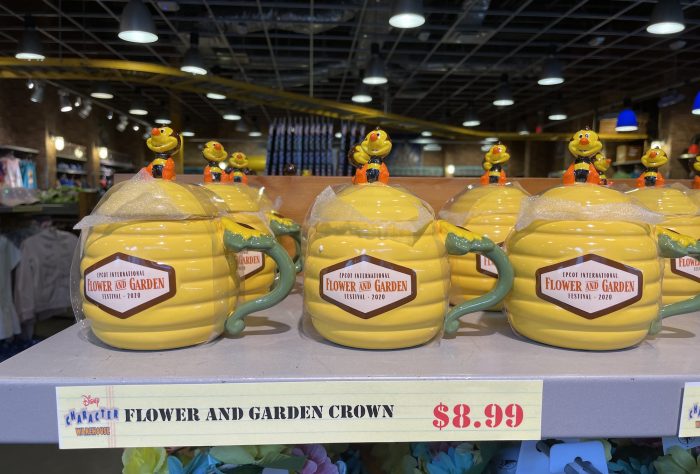 Like the Little Orange Bird, one of Disney's better secondary characters for merch.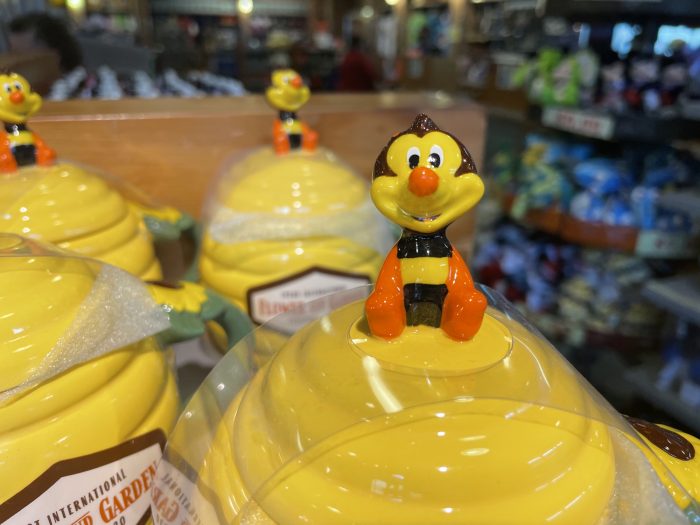 When we went to Flower and Garden back in March, we were THIS CLOSE on buying this hat, so definitely happy it came to the Outlets.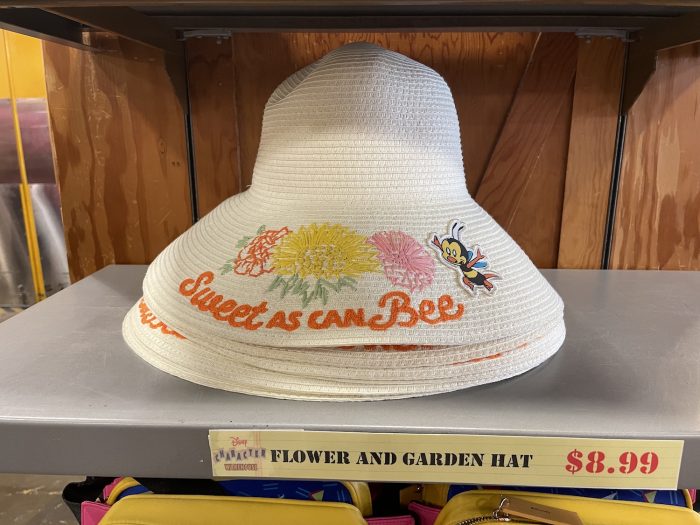 Super fun bag gimmick featuring Spike the bee and Donald Duck. This is actually a blanket that itself up into a carrying case. Originally a wacko $39.99 though, reduced to a more sane $11.99.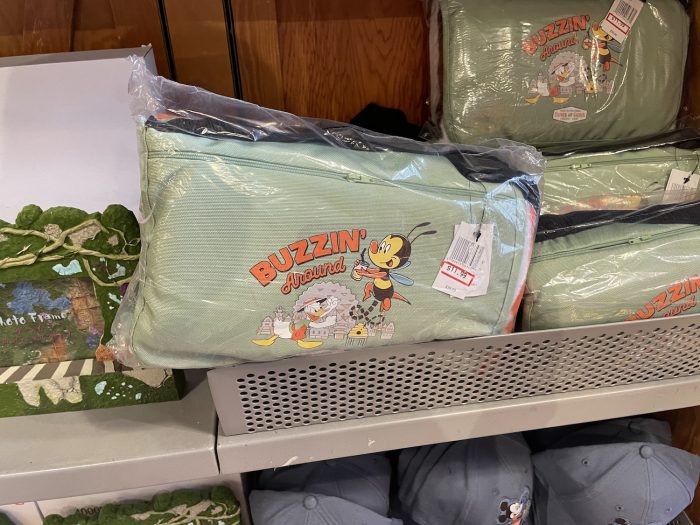 Okay this one is Out There. Below is a bag that is supposed to be themed to the Haunted Mansion Hat Box Ghost's hat box. As you can see though, it doesn't hold up that well and looks kinda, well, you know. Originally $75, now $37.99.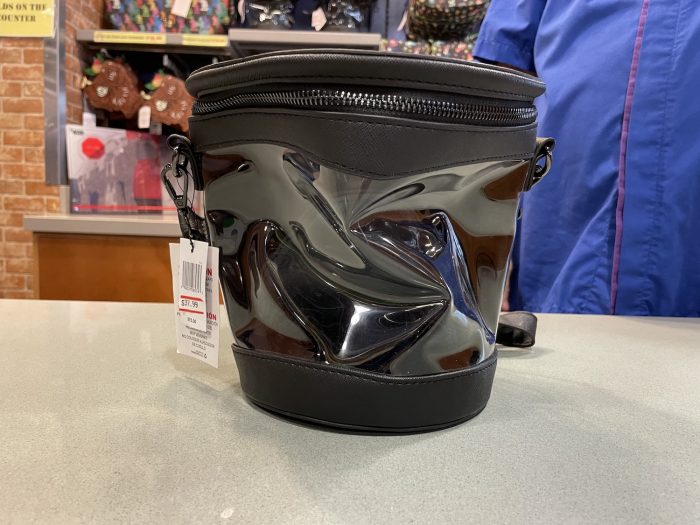 When you open up the top of the bag…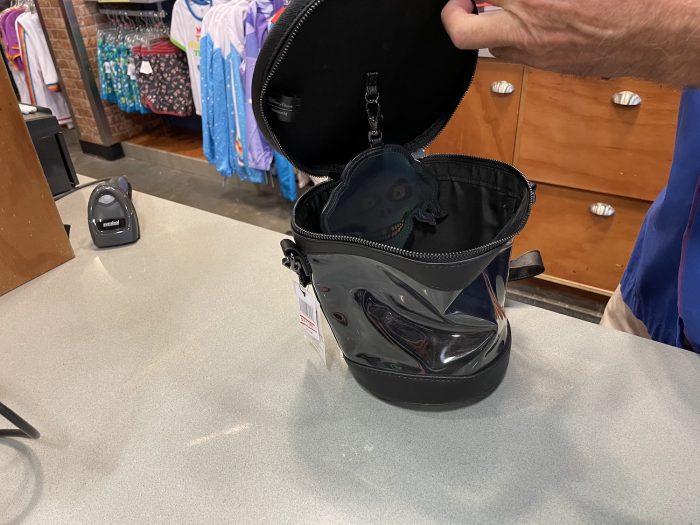 It reveals the face of the hat box. You can see how "warpred" the bag looks from this angle. I have no idea why Disney didn't make it something more sturdier, like an actual hat box.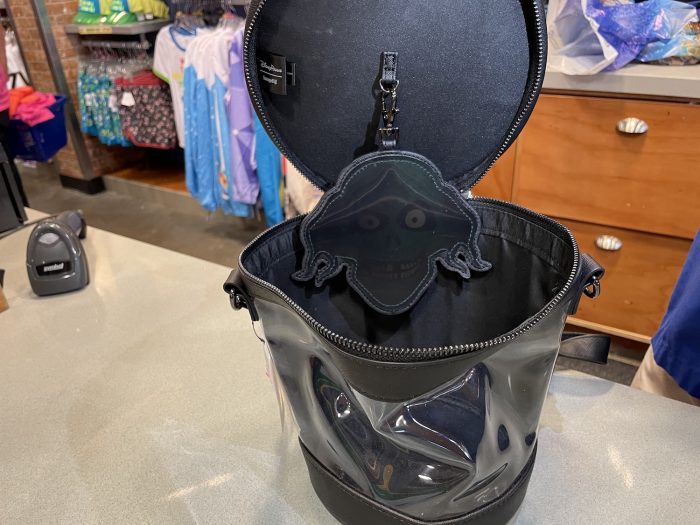 The Hat Box bag was behind the counter at I-Drive, and it's interesting to see how many items I-Drive makes inaccessible to guests that Vineland puts directly on the floor. Remember the Pandora banshee bags we saw at Vineland? Over at I-Drive you had to ask a Cast Member to pull one down for you from behind the counter.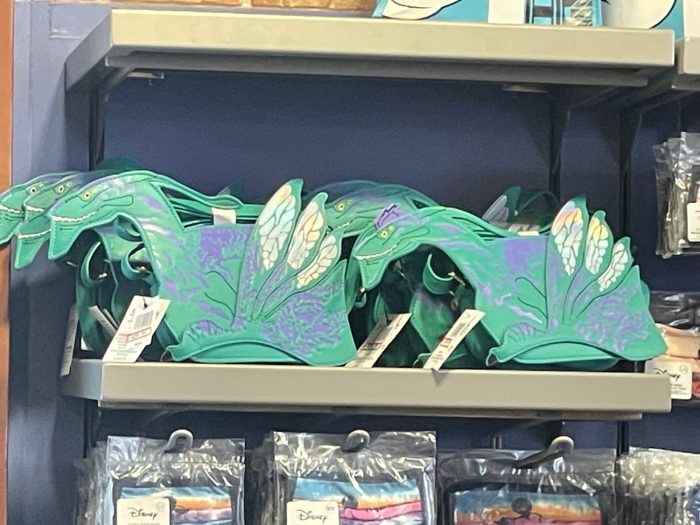 Absolutely shocked to see these Na'vi dolls at the Outlets, and by shocked I mean not shocked at all.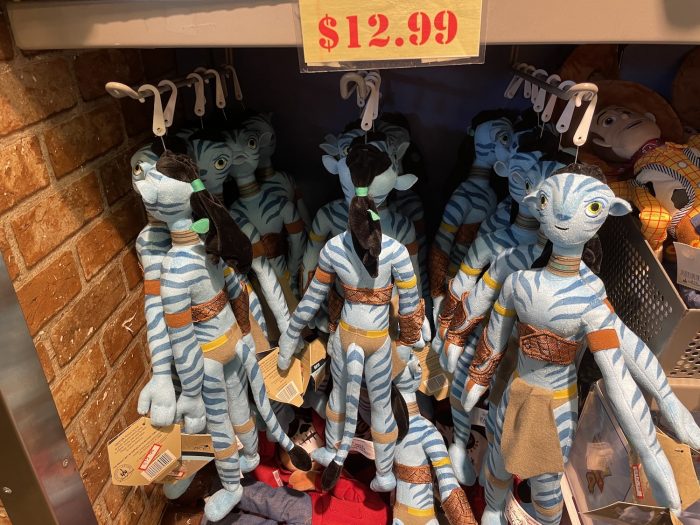 Christela saw these next level bonkers Minnie Mouse toothpick holders out in California last month, and this month we got them in Florida. Originally $9.99, now $4.99.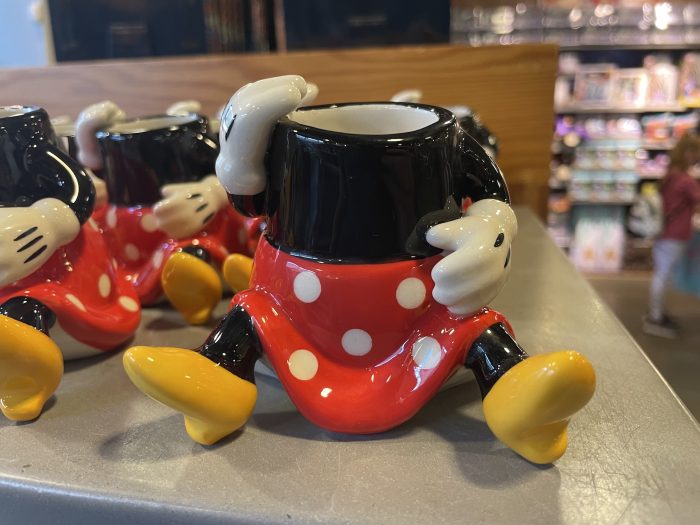 Frozen II snow globe-like wand. Originally $18.77, now $9.99.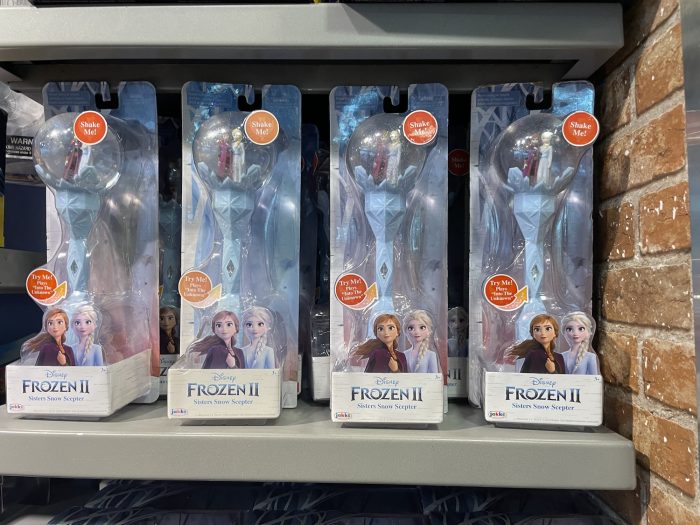 Pirates of the Caribbean-themed chest filled with stuff for kids to dress up like a pirate. Originally $32.99, now $19.99.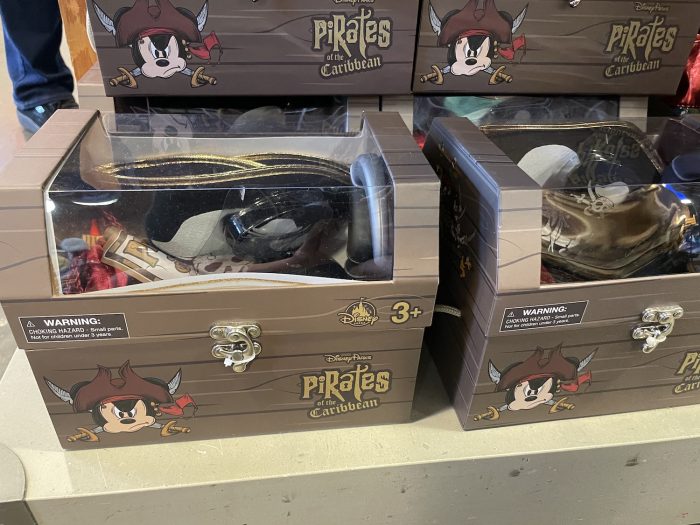 Fleece for the Marvel Day at Sea on the Disney Cruise Line. Reduced to $14.99.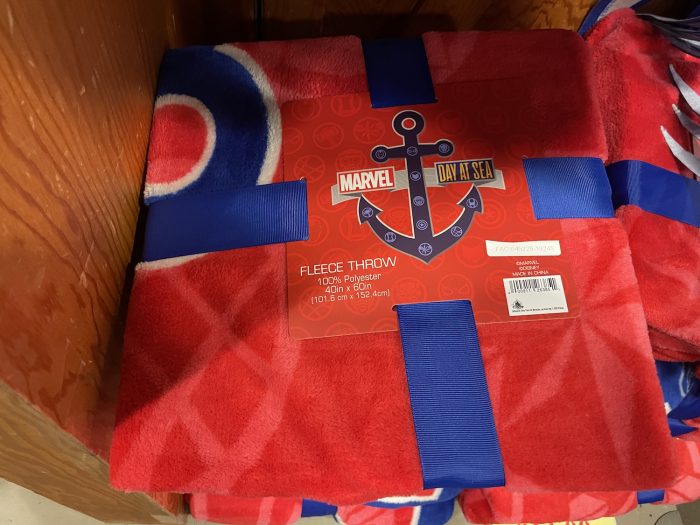 This was a light-up lanyard for the Marvel Day at Sea. Originally $17, now $7.99.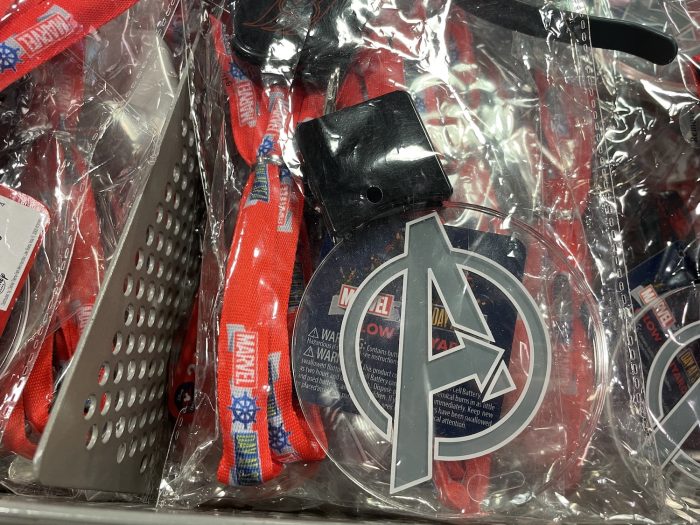 Turns out, we got the garbage can themed button up shirt just like California!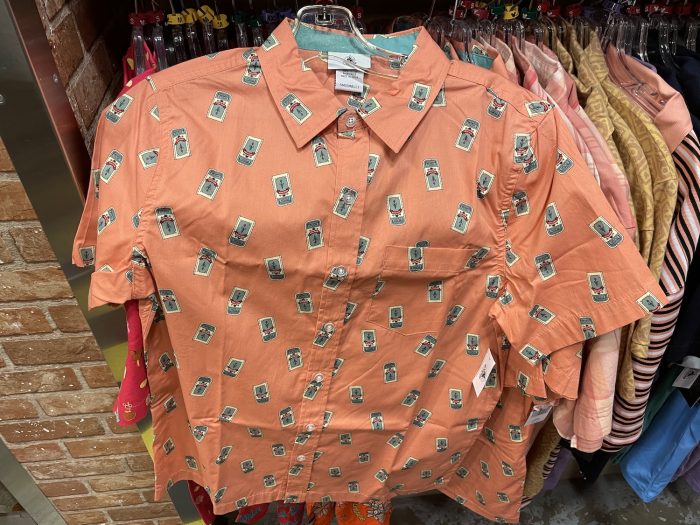 Even better, we got the whole collection!!! Almost all of these shirts were originally $59.99, reduced to $19.99. The first two shirts here are for Pixar's Up and Inside Out.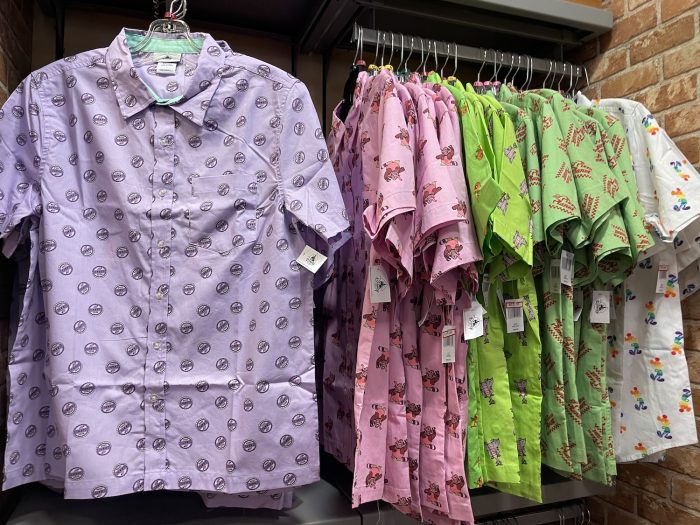 You can tell the quality of this Pizza Planet shirt just by looking at it. Originally $59.99?! GTFO.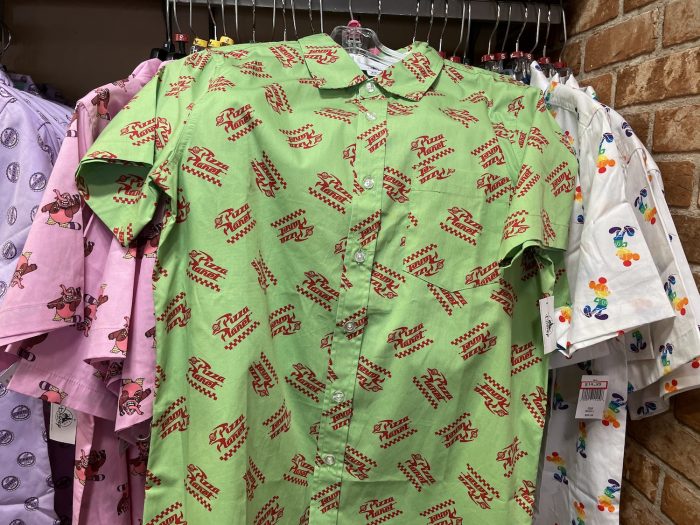 Much higher quality on this Orange Bird button up that was made for Flower and Garden.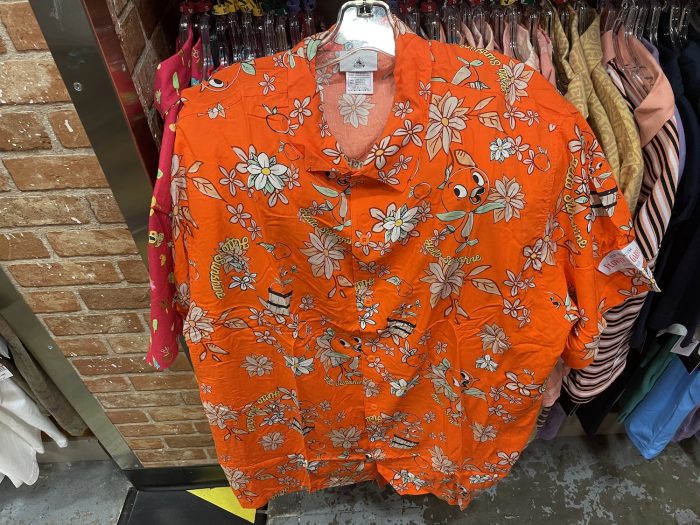 We all know there's only ONE DAY THAT MATTERS on this shirt. Believe it or not this shirt's original price was $36.99. Just CRAZY. Now $12.99.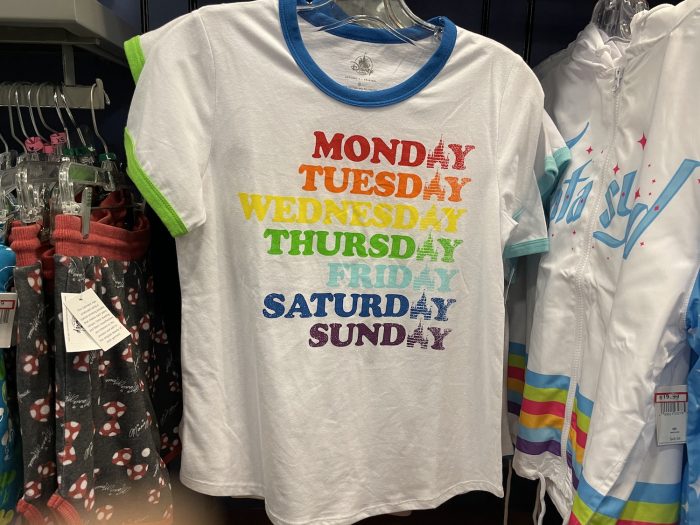 Nice deep dive shirt for fans of A Goofy Movie. Originally $34.99, now $12.99.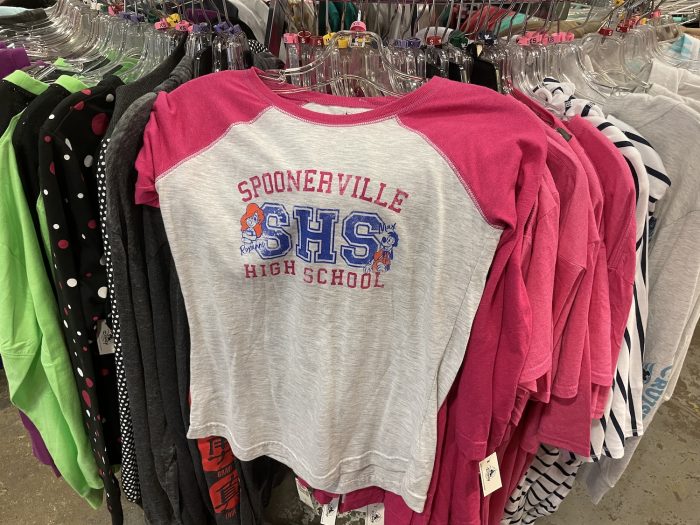 Mulan hoodie which looks like it it was based on an Japanese manga comic adaptation of the movie. Originally $44.99, now $14.99.
Rocket Raccoon jacket and tail. Originally $46.99, now $14.99.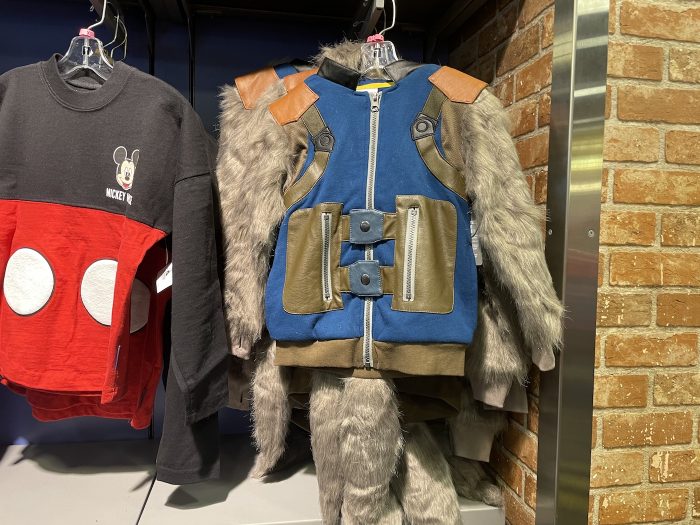 Mickey Mouse vest. Originally $46.99, now $14.99.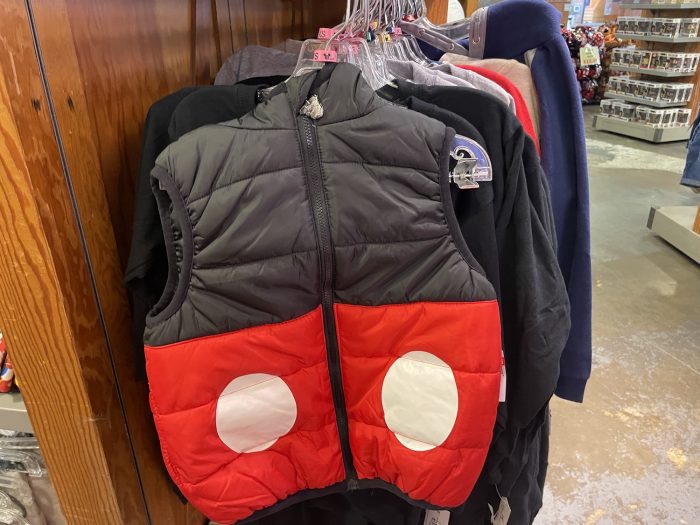 Star Wars coat for guests visiting the ice planet Hoth. Originally $99.99, now $29.99.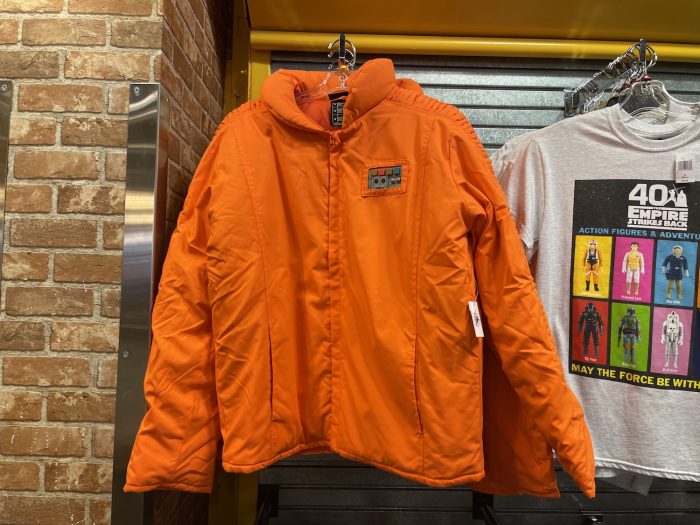 Speaking of Star Wars, thousands of pins arrived straight from the planet of Batuu in a "What Was Disney Thinking" release. First up a bunch featuring droids. All "limited edition" LOLOLOLOLOLOLOL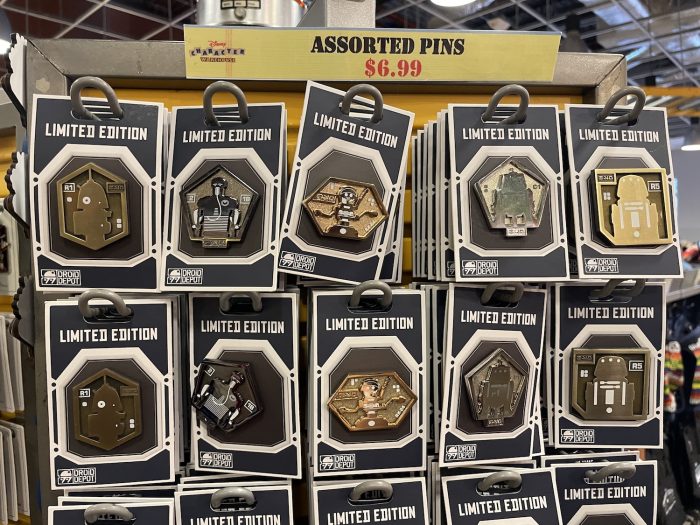 And Rise of the Resistance.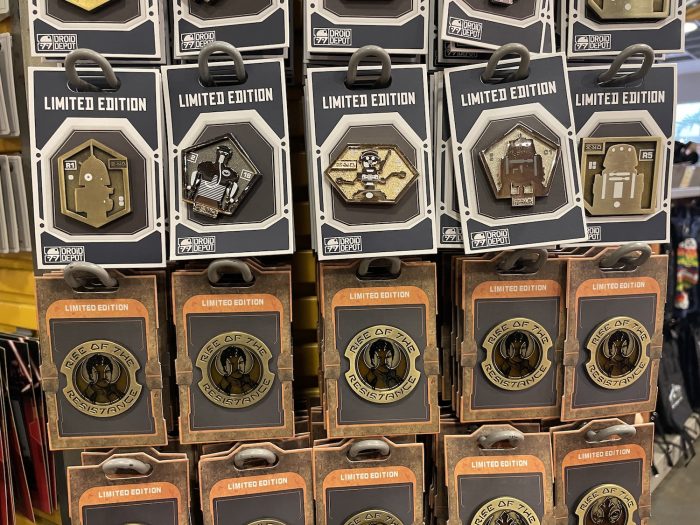 And Black Spire Outpost.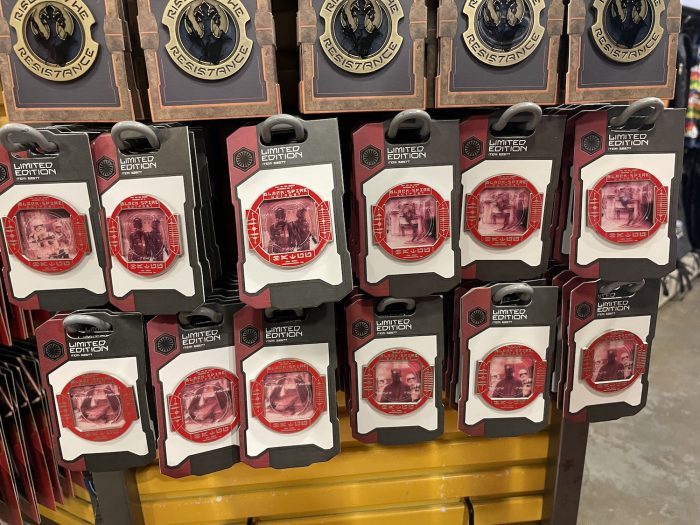 These porgs have been available almost all year long.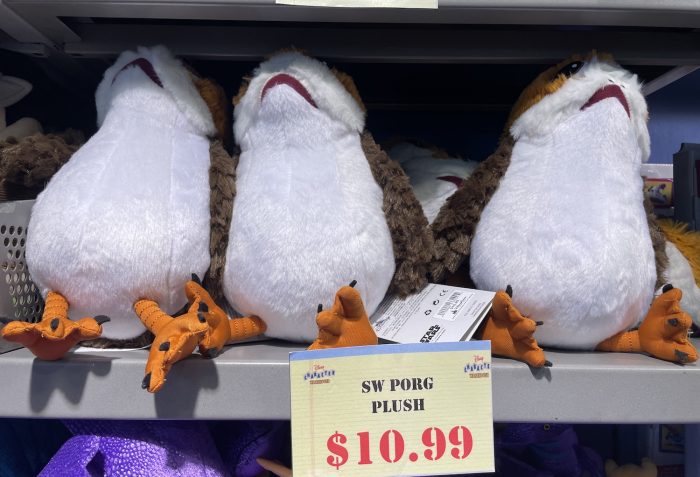 Neon cap.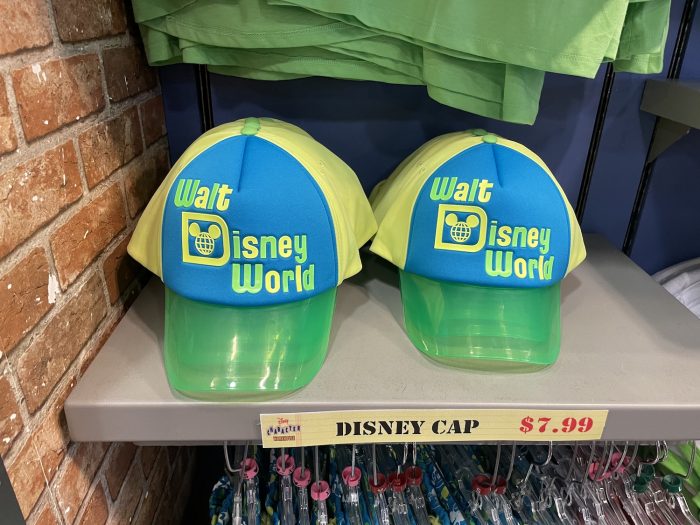 These are actual "pencil holders." Originally $14.99, now $7.99.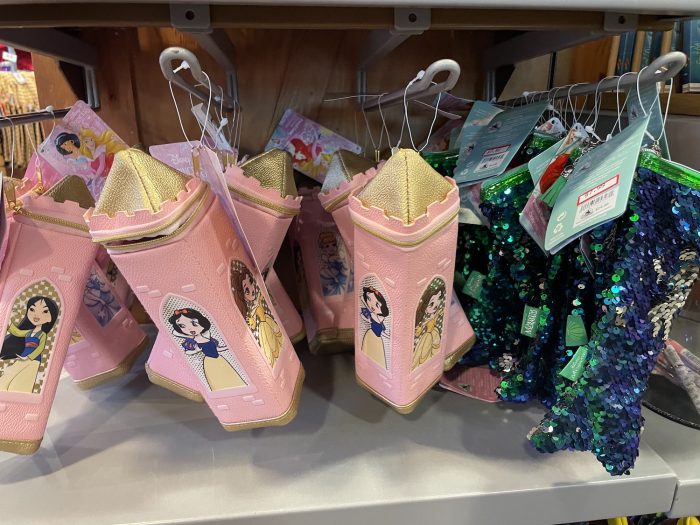 We'll close with this tumbler featuring a WTF image of Daisy Duck. We've seen a similar one for Mickey Mouse over the years and I just don't understand the decision making process by Disney at times. Originally $19.99, now $4.99.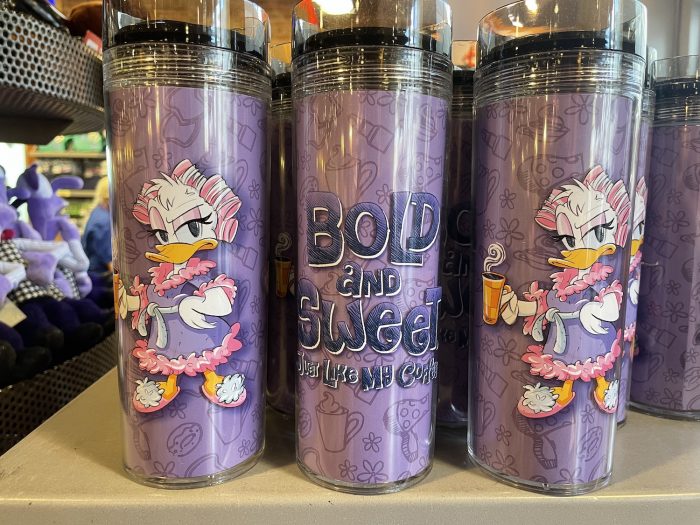 SEE YOU NEXT MONTH!
BEFORE YOU ASK: There are actually two Disney outlet stores in Orlando. Both are in Orlando Premium Outlet shopping complexes, and they are called Disney's Character Warehouse, presumably because The Land Of Misfit Toys was already trademarked. There is one Character Warehouse located on International Drive close to Universal Studios (4951 International Dr, Orlando, FL 32819), and the other is on Vineland Avenue, right across I-4 near the exits to Disney World (8200 Vineland Ave, Orlando, FL 32821). They do not ship. There are items at the Outlets that you can buy both in Disney stores along with the Shop Disney Parks app, but you will be paying full retail for the items. For our CALIFORNIA OUTLET trips, @ChristelaMcC goes to the Las Americas outlet in San Diego. It is located right off the last U.S. exit.
I often get asked "which store is better?" That depends. Vineland is close to Walt Disney World, while the I-Drive location is a hop, skip, and jump away from the Universal Orlando Resort. The Vineland Disney Outlet Store is much, MUCH bigger than the I-Drive location. However, the Vineland outlets in general are much, MUCH busier than I-Drive. Each have their pros and cons, and ultimately they carry much of the same items. For a Disney Outlet Store FAQ, check out this SATURDAY SIX Presents: Everything You Wanted To Know About The Disney Outlet Stores (But Were Afraid To Ask)

2013: July | Aug | Sept | Oct | Nov | Dec
2014: Jan | Feb | March | April | May | June | July | Aug | Sept | Oct | Nov | Dec
2015: Jan | Feb | March | April | May | June | July | Aug | Sept | Oct | Nov | Dec
2016: Jan | Feb | March | April | May | June | July | Aug | Sept | Oct | Nov | Dec
2017: Jan | Feb | March | April | May | June | July | Aug | Sept | Oct | Nov | Dec
2018: Jan | Feb | March | April | May | June | July | Aug | Sept | Oct | Nov | Dec
2019: Jan | Feb | March | April | May | June | July | Aug | Sept | Oct | Nov | Dec
2020: Jan | Feb | March | April | May | June | July | Aug | Sept | Oct
Very Special Editions & Milestones: Tribute to O.O.G.; Four Year Anniversary Special; First Pandora Items; Five Year Anniversary Special & Outlet Hall of Fame; Major Changes Come to the Outlets; Camera Hat; the Outlets Reopen after Coronavirus shut down
We also did an edition of Magic, Memories, and Junk for a non-Disney owned Outlet Store, and for you merch addicts like myself, you may also enjoy a look at the official Disney merchandise available on the Disney Cruise Line, Castaway Cay, and at the Orlando International Airport. Want to see our favorite WDW resort-specific merchandise? Well, CLICK HERE!
If you liked what you read here, you may enjoy THE SATURDAY SIX articles every week on the TouringPlans.com blog and you can follow your humble author on Twitter (@derekbugan).