Ordering Blaze Pizza Online at Disney Springs for Convenience and Value
Blaze Pizza at Disney Springs has often been known for its reasonable prices for a quick meal. With mobile ordering becoming commonplace around Walt Disney World, I've become a fan of the convenience, especially when I want to take a meal to go. On a recent trip to Disney Springs, my family decided to grab some lunch from Blaze Pizza, and found that not only was their mobile order convenient, it also was a great way to save money.
On the Blaze Pizza web site, there's a few online options that don't appear on the main menu board. First, select the Order Pickup location.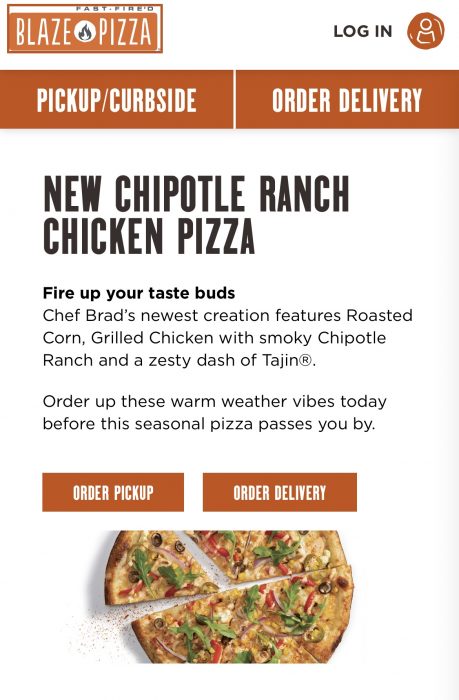 Next, select the Lake Buena Vista (inside Disney Springs) location and schedule a pick-up time. You can select ASAP or schedule a time in the future.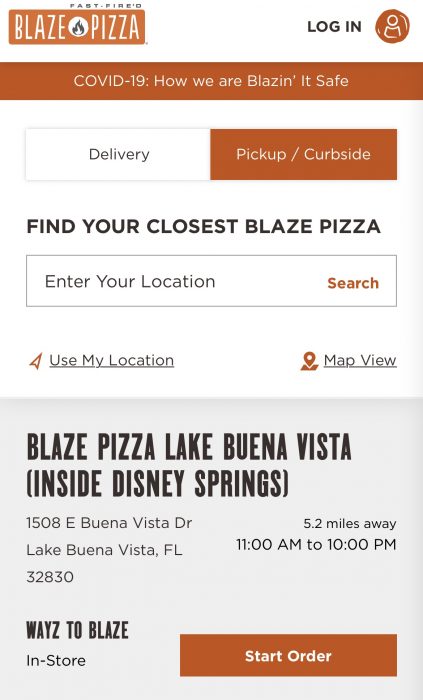 Next, select the category "Pickup & Curbside Specials".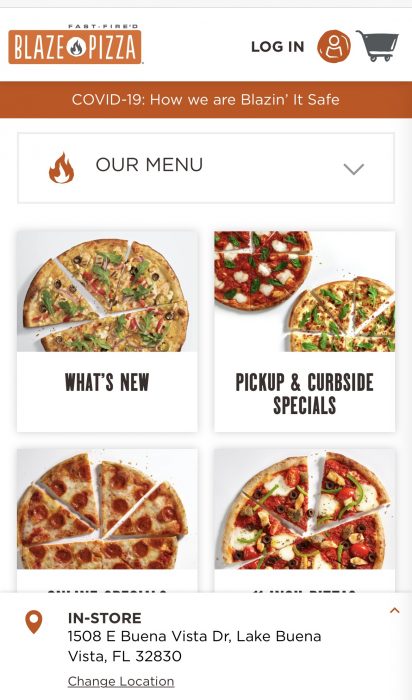 In there, you'll find two exceptionally good deals. The "Party of One" is an 11″ pizza with one topping and a fountain drink. The price: $7.95.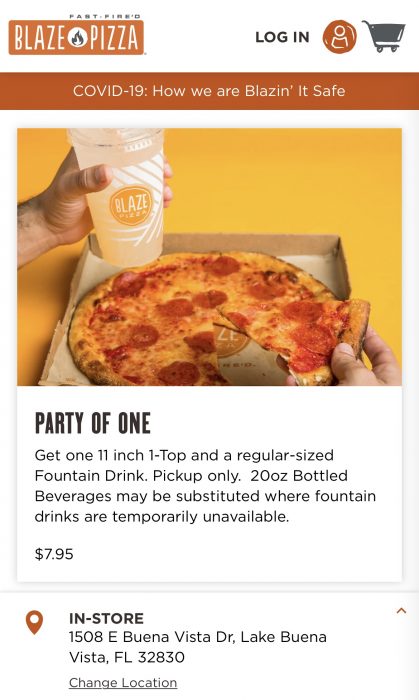 Looking at Disney's menu for Blaze, that's the same price as a "simple pie" with no toppings.

A fountain drink, included in the online deal, would cost an additional $3.50. Desserts aren't included on this deal, but we'll include the prices here for later on.


The other deal is the Patio Bundle for Two, with 2 build-your-own 11″ pizzas, 2 fountain drinks, and 2 desserts for $26.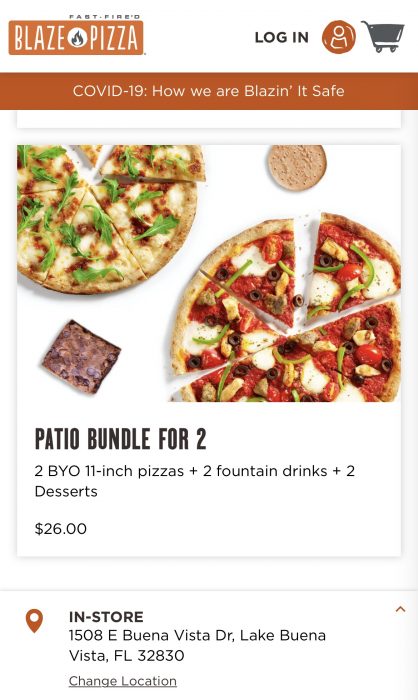 Doing the math, each build-your-own pizza is $10.45, each drink is $3.50, and each dessert is $3.00. To buy the items in person would be $33.90. Ordering online saves you $7.90 on each bundle. Depending on how much food you care to eat, a patio bundle for 2 would be sufficient to split between two adults and two kids, with just the addition of drinks, if desired. Here's what the Patio Bundle for 2 looks like. (Full disclosure, I prefer Blaze's upgraded high rise crust, and opted for that upgrade at $2.50/pizza.)
Looking to add a bit more to your meal? Under the "Take Two" section, you can get a half pizza with choice of salad or four dough knots. For my daughter who isn't a fan of sauce on pizza, we ordered the cheesy bread with choice of side for $10.45.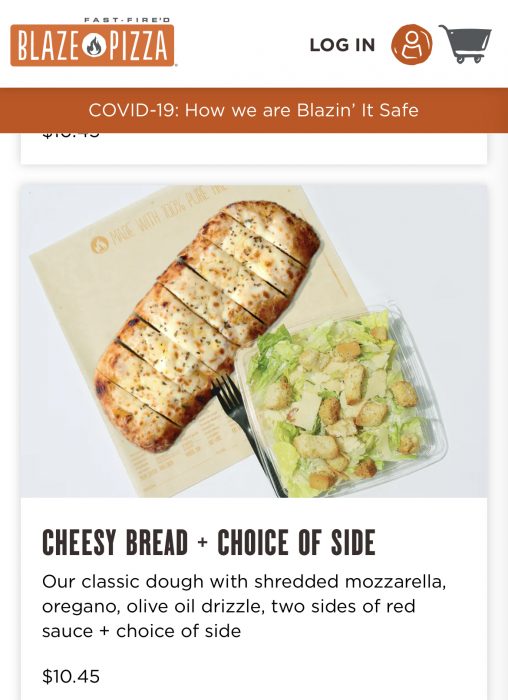 But when you scroll down to the list of sides you can see that a side of cheesy bread is an option with your cheesy bread.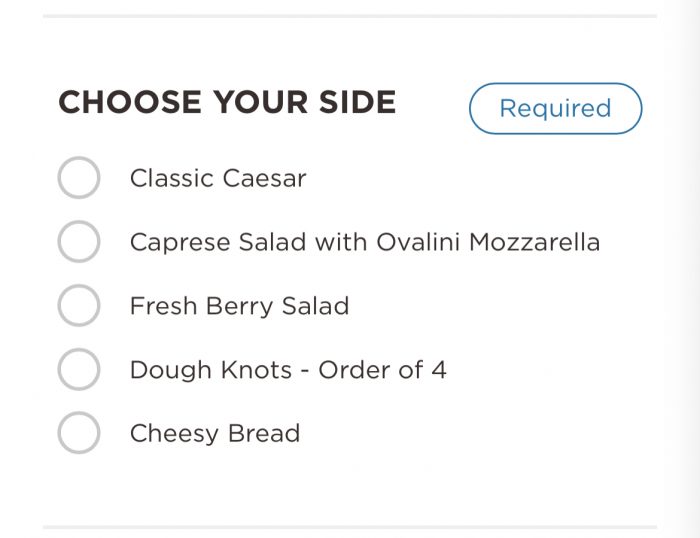 End result, two orders of cheesy bread for $10.45 instead of ordering two sides for $6.95 each. Savings, $3.45.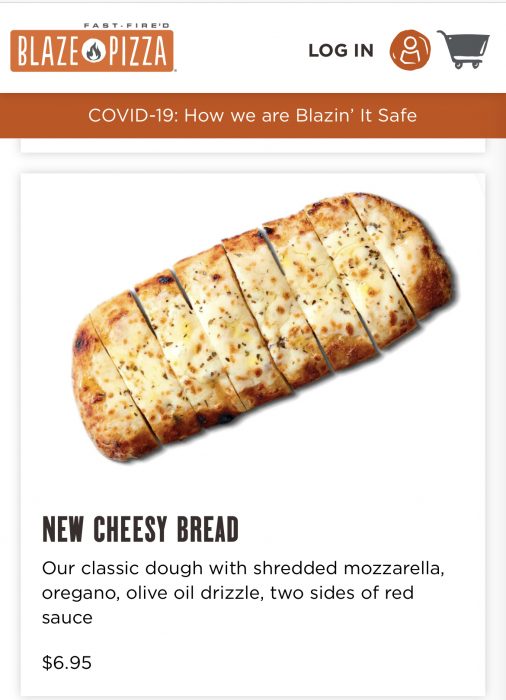 In all, here's our meal with tax and tip for $52.14 — enough food for two adults and a tween for lunch on two different days.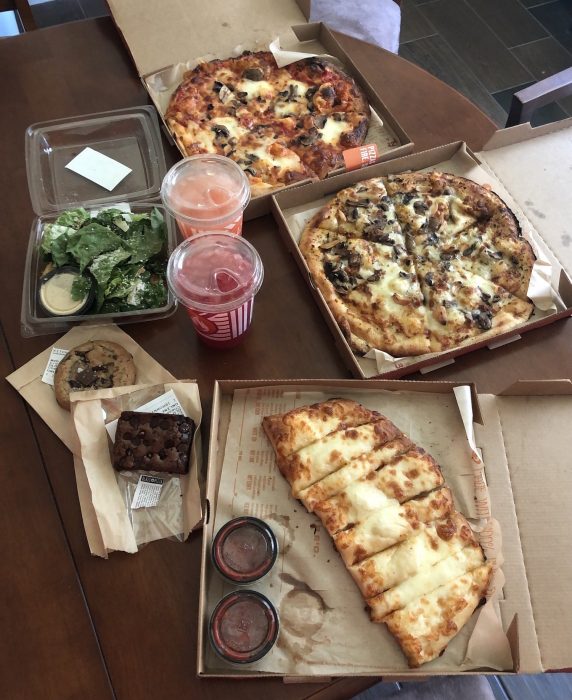 Overall, the quality of the food is good and by doing the high rise crust, the pizza is very filling. The only quibble we had was that the Caesar salad seemed to be a combination of romaine and some other dark, leafy green that was more bitter (possibly spinach?) instead of just romaine, which was pictured on the site. Taking the food home also meant that we couldn't get refills on their amazing aqua fresca drinks, which may be the thing I enjoy the most at Blaze.
The online ordering process was very smooth. When we decided to do a later time, we simply cancelled the original order (before the original order pickup time) and placed a new order.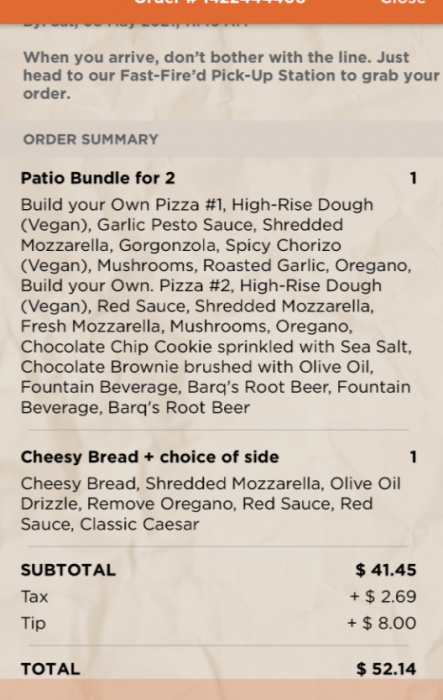 When your order time comes, simply go in the side door from the patio and to the pickup area. Your order will be labeled and waiting for you on the shelf.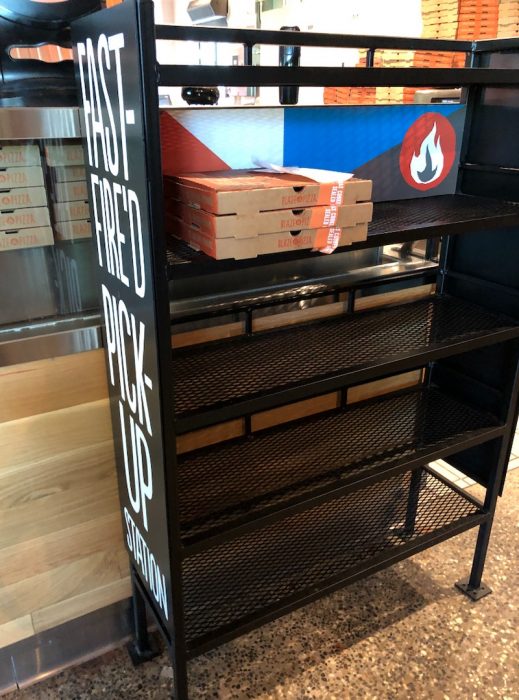 Should you desire, you could then take your order and find a place indoors or on their patio, or take it back to your resort. Because it is pizza, it transports well. No waiting in line, reasonable price, and convenient take-out to take to your resort. It's a win all around!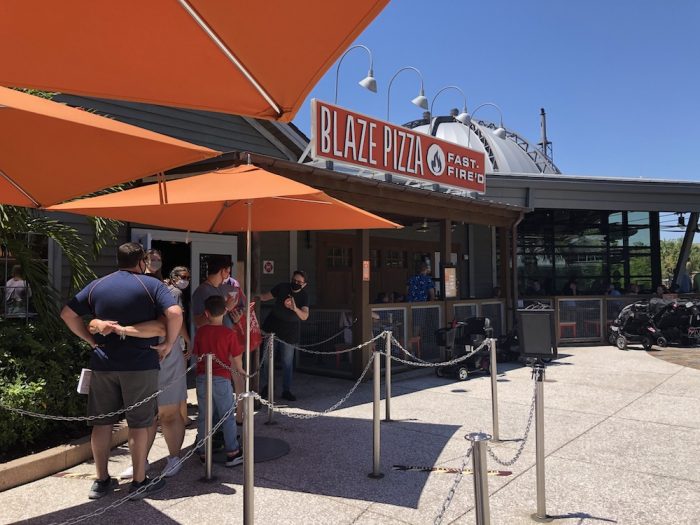 Are you a fan of Blaze Pizza? Let us know in the comments if this online deal is something you'd take advantage of.