Planning Basics: What NOT to Bring into the WDW Theme Parks
We recently posted a review of items that you may want to bring with you into the Walt Disney World theme parks. The flip side of that topic is understanding what items you can't bring into the parks. Not all the prohibited items are intuitive, and this list does change from time to time, so a review of current policies is prudent before any Disney World visit.
As I mentioned in the "what to bring to the parks" article, all guests entering the WDW theme parks are subject to a security screening. Bags will be searched and you may be asked to walk through a metal detector like at the airport. If the security search uncovers any of the items below, you will (depending on the item) be asked to return the item to your car or hotel room, have the item confiscated, or, in the case of weapons and illegal substances, be detained and referred to an appropriate law enforcement agency.
Prohibited Items
Let's start by with a the basic list of prohibited items and then I'll discuss specific issues with some of them.
Alcoholic Beverages
Marijuana
Illegal Substances
Drones (including photography drones)
Remote Control Toys
Skateboards
Scooters (this does not include medical scooters such as ECVs or knee walkers)
In-line skates, roller skates, Heelies, or any shoes with built-in wheels
Strollers larger than 36" x 52"
Suitcases, coolers, or backpacks larger than 24" long x 15" wide x 18" high
Any item (such as a wagon) pulled behind a person, stroller, wheelchair, or ECV
Segways or other large mobility devices with fewer than three wheels
Weapons of any kind
Objects that appear to be weapons, such as toy guns
Folding chairs
Selfie sticks
Large tripods
Glass containers (small baby food jars are acceptable)
Balloons (prohibited only at Animal Kingdom, for animal safety)
Plastic straws (prohibited only at Animal Kingdom, for animal safety)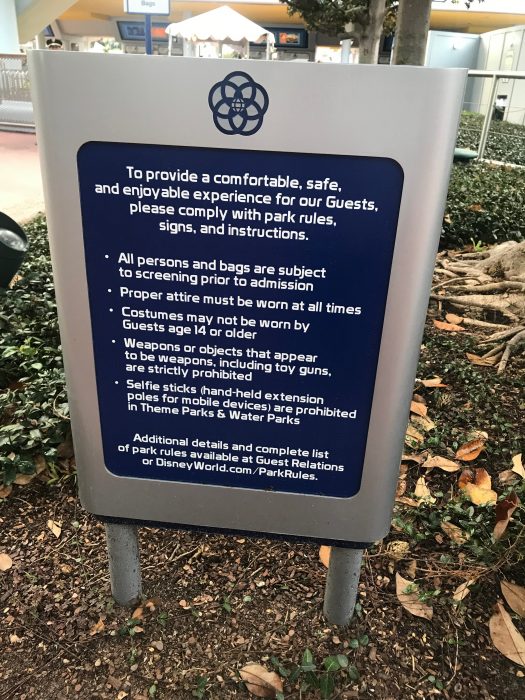 Some of these items make sense at face value. Don't bring illegal substances into a theme park. Just don't. Marijuana may be legal in your home state or country, but even lawfully prescribed medical marijuana is not allowed at Disney World.
Understandably, you are not allowed to bring weapons into the theme parks. Disney stopped selling replica and toy guns in late 2015, including items such as water pistols. However, there are a number of places in the theme parks that sell items that could be actual weapons. I'm specifically thinking of the very real looking swords sold in the China, Japan, and UK pavilions at Epcot. You can buy those items at Epcot, but you could not then take your purchase with you into another theme park.
Other areas of possible confusion involve alcohol, glass bottles, and alcohol in glass bottles. You can now buy adult beverages at restaurants at all four WDW theme parks. So, while you can consume alcohol in the parks, are not allowed to bring it into the park yourself.
Additionally, wine, moonshine, saki, beer, and a number of other forms of hooch are sold in the theme park gift shops, most notably in the World Showcase area of Epcot and at the Epcot Food & Wine Festival. You can buy a glass bottle of wine in the theme park, but if you then wanted to Park Hop to the Magic Kingdom with your purchase, you would be stopped at the entrance. Similarly, there are other food items such as olives, pasta sauce, and soft drinks that are sometimes sold in the Epcot shops in glass jars that you would be prohibited to bring to another park.
Disney does have a free service that allows guests to send merchandise purchased in the theme parks directly to their WDW hotels. However, be aware that they will not transport food with this method, so you will have keep your food/wine purchase with you.
If you arrive at a WDW theme park with glass or alcohol purchased in another theme park, they may store it for you at guest relations or the park package pick-up area IF you have a same-day purchase receipt and the item is in Disney parks packaging. (Thanks to Amy H of the Disney Parks Moms Panel for doing a deep dive into researching this for me.) But this will take you extra time both when you're entering and leaving the park. To simplify your travels, if you're buying alcohol, or any other product sold in glass, you should plan do to this at a time when you have a car you can leave it in or when you're heading back to your hotel rather than when you're hopping to another park.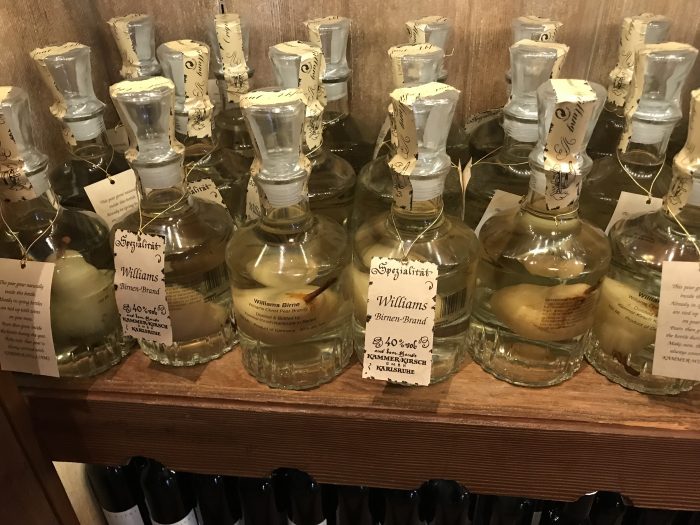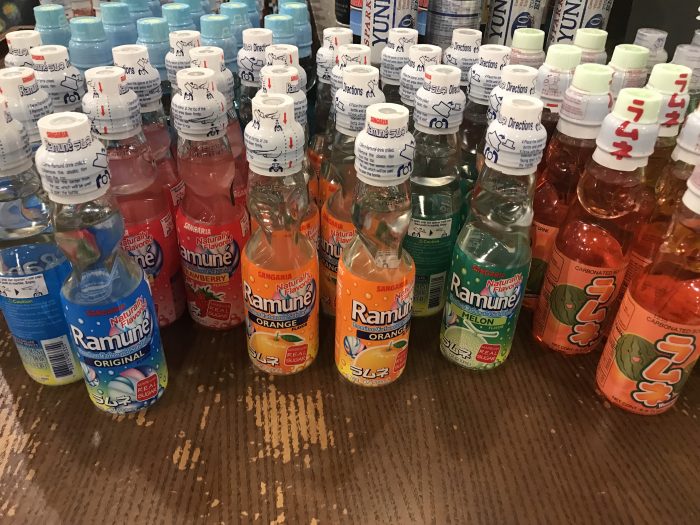 Many of the other items on the prohibited list involve safety issues. Skateboards, skates, scooters, and similar have the potential to induce falls or crashes. Selfie sticks, tripods, folding chairs, oversized strollers, and large suitcases may all impact the movement of other guests. Remote control toys also fall into this area, and are another category of items that is sold in the parks (remote controlled Star Wars droids and Cars cars have been sold throughout WDW), but cannot be transported into another park. However, unlike the issue with food and wine, Disney will send toys your hotel for you via their free package pickup service. If you're park hopping, this a great way to avoid issues at your second theme park.
Also be aware of the Animal Kingdom's prohibition against balloons, a measure designed to protect the animals from errant plastic debris in their habitats. Don't buy a balloon at the Magic Kingdom if you're planning to immediately hop to the Animal Kingdom.
Prohibited Activities
In addition to Disney's list of items prohibited in the theme parks, there is also a list of activities prohibited in the parks.
Selling items
Distributing printed or recorded materials of any kind
Portraying a costumed character
Creating events, demonstrations, speeches, or other activities for commercial purposes
Creating events, demonstrations, speeches, or other activities to incite a crowd
Using a banner or sign for commercial purposes
Using a banner or sign to incite a crowd
Feeding any animals in the parks including birds, squirrels, rabbits, or other small species
Engaging in unsafe activities or impeding park operation
Photography, audio recording, or video recording for commercial purposes
Running (except for registered participants of Run Disney races)
Using profanity
Illegal or disruptive behavior
I include this list here because several of the prohibited activities have oblique mentions of items that should not be brought into the parks such as: quantities of sales materials, political banners, and professional-level adult costumes.
What's Not On These Lists
You'll note that, other than alcohol, food items are not on the prohibition lists. You are welcome to bring food and beverage items of all sorts into the parks with you, assuming they're in appropriate (non-glass) containers of appropriate size (no oversized coolers). Many guests do bring refillable water bottles, snacks, fruit, sandwiches, and the like into the parks as a means of saving time and money, or to accommodate family members with food allergies, religious requirements, or personal preference.
Are you surprised by anything on Disney's list of prohibited items? Have you ever had anything confiscated at the parks? Have park entry prohibitions influenced your WDW purchases? Let us know in the comments below.
EDIT: A few days after this was published, Disney amended some of its policies on park prohibitions. Notable items include a ban on all smoking within the parks and a rededication to enforcing stroller size/shape restrictions.