Resort Rundown: Disney's Old Key West Resort Overview
Truly an original, Disney's Old Key Resort was the very first Disney Vacation Club resort. It's the one that started it all, and it is unlike any other resort at Walt Disney World. The deluxe villas are the largest of any DVC resort. It is also fairly spread out and a relaxing retreat from the busy theme parks. As the name implies, Disney's Old Key West models the Key West of decades ago, before Jimmy Buffett and other writers put the island on everyone's travel bucket list.
Location
Old Key West is located on the Eastern part of Walt Disney World. There are no theme parks right next door, but Disney Springs is easily accessed via water taxi. There aren't any attractions within walking distance, but this large resort offers lots of recreation options. It can feel a little isolated at times, but just pretend you're on an island in the keys.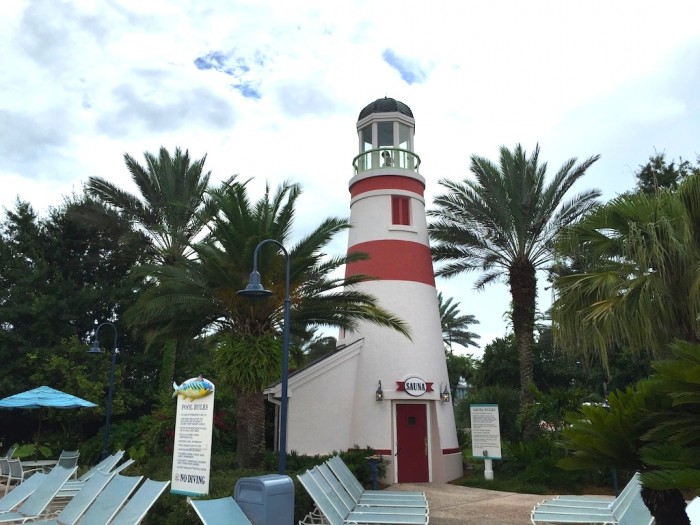 Rooms / Deluxe Villas
As this is the original Disney Vacation Club resort, the entire resort is comprised of deluxe villa accommodations ranging from Studios to Three-Bedroom Grand Villas. Also as the first DVC resort, it has the largest floor plans for each villa type. The Studios are unique here in that they have two queen beds rather than one bed and one sleeper sofa–some guests prefer having the sofa to sit on, while others prefer having the second bed. The standard kitchenette is in each Studio as well as all the other standard features including a DVD player and a nice size balcony.
The one-bedroom and larger villas feel massive with high ceilings and airy, tropical decor. Fully equipped kitchens, dining table, and a sleeper sofa, as well as a sleeper chair, provide plenty of space and the comforts of home. One down side of the one-bedroom and larger villas is the TV is inside a cabinet that also serves as an island for the kitchen, placing the TV rather low to the ground. The balconies include a dining table and chairs making for a great spot for eating breakfast in the morning.
Practically all of the villas have a view of the grounds, golf course, or pool. Old Key West is a rather spread out resort and room location can be very important to some guests. To find the room that best suits your needs use our free TouringPlans Room Finder.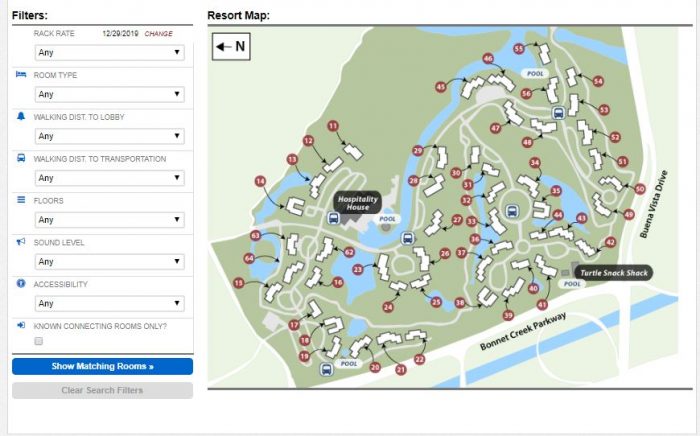 Come walk through a one-bedroom villa with us:
Dining
Although it is nice to make use of the kitchenette in the Studios or the full kitchens in the larger villas, you're on vacation so eat out! Disney's Old Key West offers one signature table service location plus two quick service options. Olivia's is the table service restaurant and it is beloved by many fans. The entrance is donned with family photos of Disney Vacation Club members and the interior is reminiscent of a roadside family restaurant you'd find on the road down to Key West. Breakfast here is a must, but lunch or dinner are delicious here too. Olivia's may not be a top tier location with difficult to acquire reservations, but our TouringPlans Dining Reservation Finder comes in handy for those hard to get dining reservations. It is free to use, you just need to create a TouringPlans log-in.
Around the corner from Olivia's is Good's Food To Go. This is a walk-up counter near the feature pool, without any interior seating, which can be rough when you visit during Florida's hot spring or summer seasons. Near one of the resort's quiet pools is Turtle Shack Poolside Snacks with sandwiches, salads, and pizzas. This location is only open from 11:00 AM – 5:00 PM so plan accordingly. Another unsung hero of Old Key West is the Gurgling Suitcase Libations and Spirits – a name that honors the bootleggers of Key West during prohibition. This beloved little bar is open from 11:00 AM – midnight and you can order food from Olivia's here too. Finally, if you're on island time in your villa and don't want to leave, there is on-site pizza delivery.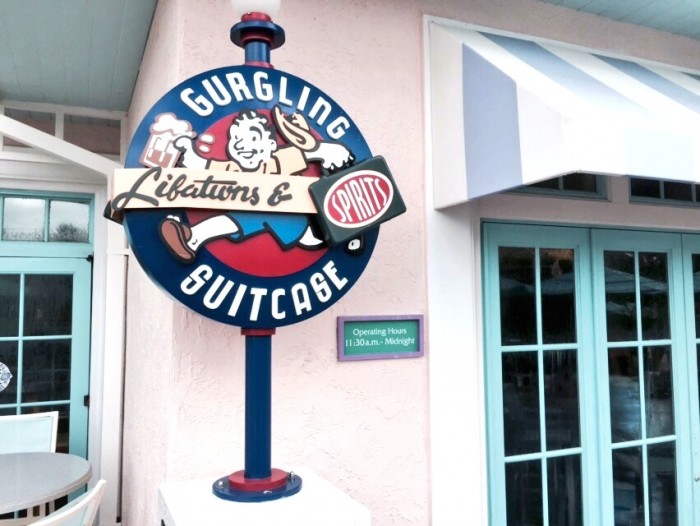 Pools
What's a stay in a tropical themed resort without some fantastic pool time? There are four pools to enjoy here. The feature pool is very popular with its sandcastle themed water slide, sauna inside a lighthouse, and kiddie pool. There are also three quiet pools sprinkled throughout this large resort include the Old Turtle Pond which has a quick service location open for lunch.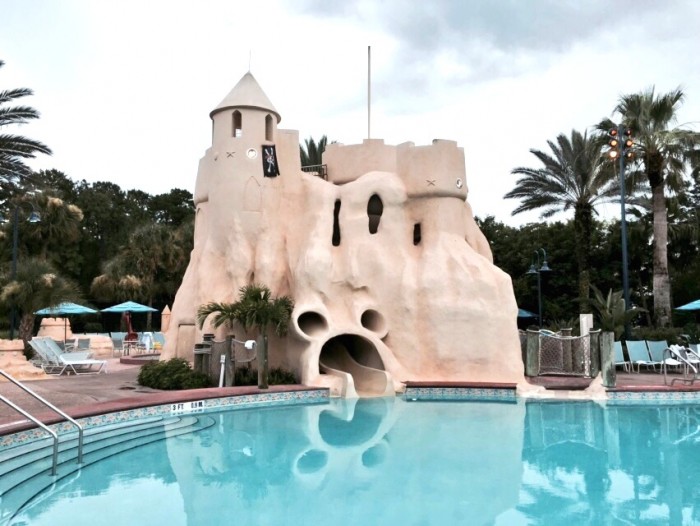 Recreation
Disney Vacation Club resorts often have a long list of recreational activities and the original DVC resort is no exception to this. Enjoy a campfire, movies under the stars, or rent a bicycle to tour around the resort the way many visitors tour actual Key West. There is a substantial sports area with volleyball, basketball, or tennis. Go fishing! Keep up with your exercise regimen at the fitness center or jogging trail. There are three playgrounds around the resort – a great feature for little ones. And to top it all off there are two video game arcades and Conch Flats Community Hall with complimentary foosball, pool, shuffleboard, ping pong, and video game consoles.
Transportation
One of the most loved features of this resort is the boat transportation to Disney Springs. Old Key West guests are dropped off at Disney Springs The Landing, and are picked up there when they're ready to return. Disney buses are available for all theme parks and the water parks, and Disney Springs as an alternative to the boat transportation. There is one main bus stop at the front of the resort and smaller stations throughout the resort. It does take a few extra minutes to get to and from the parks as the buses loop through the entire resort and stop at each station.
Want to know more about Disney's Old Key West? Check out our video overview:
We sure ran through a lot of information about Disney's Old Key West Resort, so here's a handy-dandy infographic that sums it all up: