Resort Rundown: Disney's Pop Century Resort
The Pop Century Resort at WDW has a lot going for it: value, quality, and perhaps most significantly, Skyliner transportation. From our surveys over the past year, our respondents have rated it 4 stars (out of 5). And our survey data shows that  it's popular with return visitors – they must have had a good experience or they wouldn't come back, right?
If you're considering staying at a Value Resort, you might want to take a gander at Which Disney Value Resort is Right For You? for a high-level comparison. But if Pop Century has made it to your shortlist, here's a closer look at what makes it a favorite for many folks!
Pop Century Overview
Nostalgia is one of the keys to fully enjoying all this resort has to offer. The theming here highlights POP culture icons and catchphrases from the last half of the 20th century. The five resort areas turn the spotlight on the 1950s, 1960s, 1970s, 1980s, and the 1990s. You'll find giant 8-track tapes, Big Wheels, Play-Doh, and Pac-Man, plus huge likenesses of Disney characters throughout the resort. Since most families will be visiting with children born in the 21st century, it may take a while for parents to explain why they're stopping in the lobby to look at the memorabilia on display!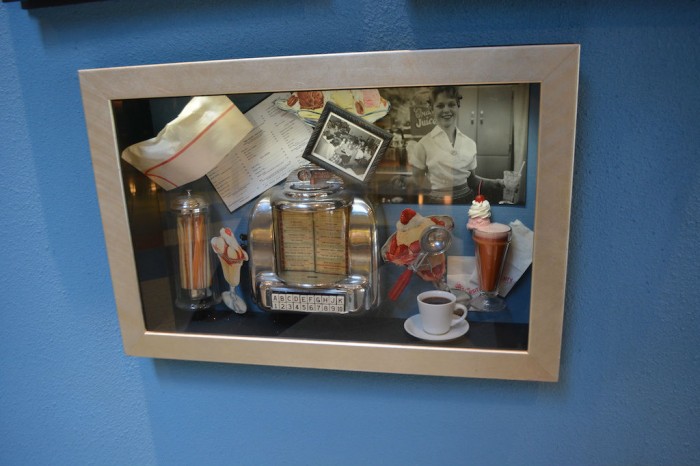 Disney's Pop Century is located across Hourglass Lake from the Art of Animation resort. The two are connected by the Generation Gap Bridge (originally intended to link to the Legendary Years Resort which was never completed). This makes it easy and convenient to enjoy the amenities of both resorts. 
In all, 10 buildings comprise the resort, rooms in the 80s and 90s being farthest from Classic Hall which is where you'll find the food court, shop, and lobby. No matter which building you're in, you'll never be far from Classic Hall. And despite having more rooms than other resorts with internal bus systems, Pop Century is more compactly organized and only needs one bus stop.
Pop Century Rooms
The rooms at Pop reflect the value and quality the resort offers. All have motel-style entry, meaning you enter from outdoors, not an internal hallway. Pop has 2880 rooms, which is more than Animal Kingdom Lodge, Saratoga Springs, and Old Key West combined!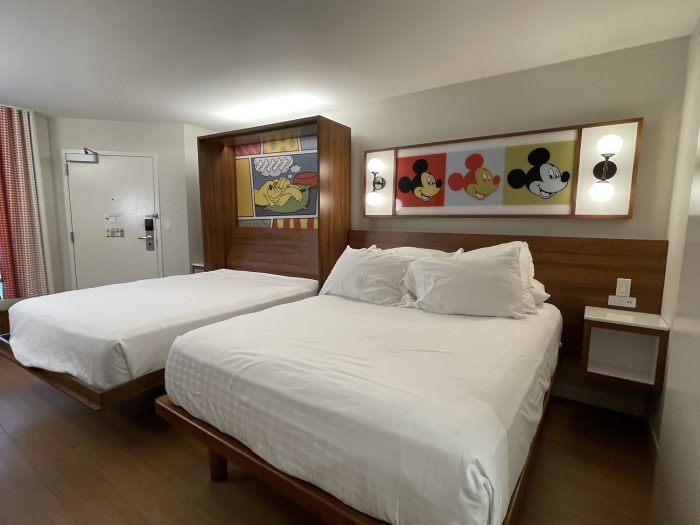 Rooms aren't huge at 260 square feet. But much like the tiny houses you see on HGTV, these rooms maximize what space they have to be as functional as possible. The queen-sized bed in the room is on an elevated platform, great for tucking stuff under. And thanks to the queen-size Murphy-style bed, there's more floor space and a table when the bed is folded up. 
The bathroom is adequate and functional, but grandiose it isn't. You'll find a hair dryer and a reasonable amount of vanity storage space.
Every room has a pod coffee pot, mini beverage chiller, and a safe, but no microwave. An iron and ironing board are also provided. The outlets are plentiful; several include USB ports.
Pop Century has around 200 accessible rooms. Some feature roll-in showers, while others include assistive hearing devices.
There are three laundry rooms for guests, conveniently located by each pool. Speaking of which…
Pop Century Pools and Recreation
Pop Century has three differently-themed pools. The largest is the Hippy Dippy Pool, shaped like a giant flower and closest to Classic Hall. It offers a zero-entry area, and a kiddie pool/splash area is nearby. The 1950s-themed Bowling Pool and 1990s-themed Computer Pool round out the offerings. Note that none of the pools have waterslides or hot tubs/whirlpools – you need to step up to a Moderate or Deluxe resort for those pool amenities.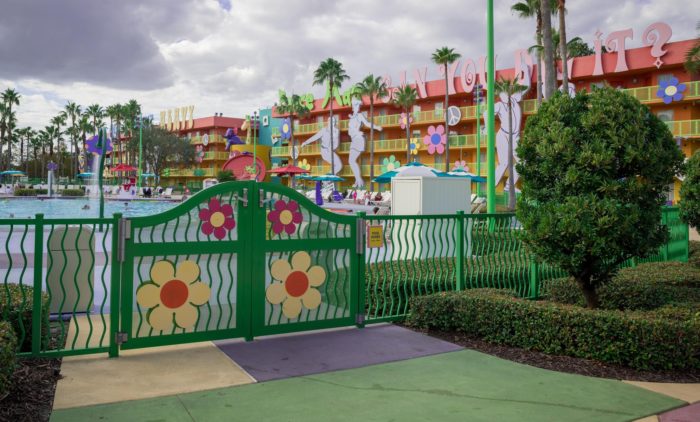 There is a walking/jogging path around Hourglass Lake. It's 1.3 miles long. If you'd like a shorter path, go around half the lake then cross over on the Generation Gap Bridge making about three-quarters of a mile. Like other Value Resorts, Pop doesn't have a fitness center. There is a children's playground area located between the 1970s building and Classic Hall. 
Evenings offer Movies Under the Stars near the 1960's building, showing a different Disney film every night. A sign near the Hippy Dippy Pool displays the schedule for the next two days. And the Fast Forward Arcade in Classic Hall has a nice selection of video and arcade games, plus a few pinball machines.
Transportation
Here's where Pop Century really shines among Value resorts. Hopping on the Skyliner to the Caribbean Beach station makes an easy connection for traveling to Disney's Hollywood Studios and EPCOT. And access to other Skyliner resorts and those around Crescent Lake gives easy access to a variety of resort dining.
The station is located in the middle of the Generation Gap Bridge and is shared with Disney's Art of Animation Resort.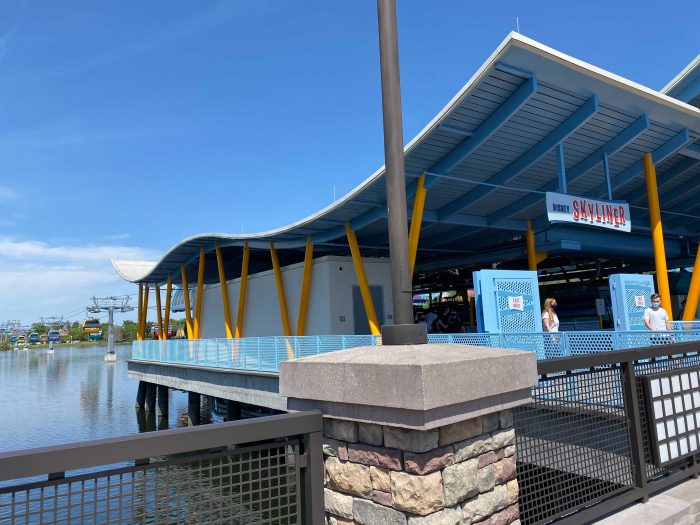 But, that's mostly as long as the weather is good. Be aware that during storms, the Skyliner shuts down and you'll need to take a bus to the parks. Usually not a big deal, but you may be frustrated if you have a Genie+ or ILL reservation that you need to get to and didn't figure in the additional time spent waiting for a bus. 
Pop Century is connected by bus to the other two theme parks, Typhoon Lagoon, and Animal Kingdom. At less crowded times of the year, guests visiting Blizzard Beach may need to take a bus to Animal Kingdom and transfer. 
Dining at Pop Century
Classic Hall is where you'll find Everything POP Shopping and Dining, the resort's food court and shopping area (you guessed from the name, right?). The dining at POP is Quick Service; there are no Table Service options.
Previously, we've lauded the amount of seating and spaciousness at the food court, so you shouldn't have an issue finding a clear table. Pro tip: You can use mobile ordering to select your meal ahead of time as you're walking over, making it easy to collect your food and sit.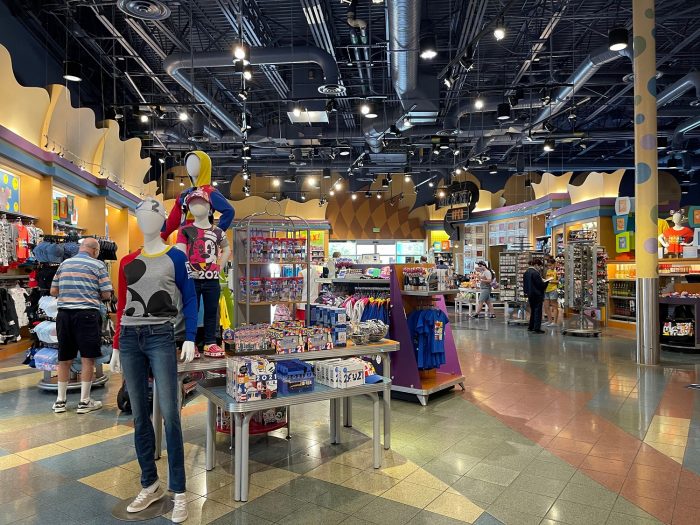 You could also walk over the Generation Gap Bridge to eat at Landscape of Flavors, the Art of Animation food court, but both resorts now have pretty much the same menu. The good news is you still can get the fan-favorite tie-dye cheesecake at Pop!
Poolside, there's the Petals Pool Bar, which offers salad, sandwiches, frozen confections, and, of course, refreshing beverages.
But remember the Skyliner! It gives you the opportunity to quickly hop over to the Caribbean Beach Resort to dine at Sebastian's Bistro, which we think is an underrated Table Service option. And with the Riviera just one stop after transferring at the Caribbean Beach station (or an easy 10-minute walk), you have access to Topolino's Terrace and the other first-class dining experiences at this Deluxe resort.
Summing Up
As Value Resorts go, Pop Century has a lot going for it. Guests can enjoy Early Entry each day in all four parks (but sadly, not Extended Evening Theme Park Hours). Staying onsite also allows you to make Individual Lightning Lane purchases at 7:00 a.m. 
Though the resort is spread out, the layout puts food and pools within a short distance regardless of the "decade" you're staying in. It can be a bit noisy in the common areas and during peak morning and evening periods as people come and go. But easy access to the Skyliner makes travel to DHS and EPCOT a breeze, with frequent buses to the other parks.
So, value, quality, and (say it with me) the Skyliner! All add up to making POP Century a great choice for your stay at a Value Resort.
Have you stayed at Pop Century recently? How did you like it? Let us know in the comments.