Which Disney Value Resort is Right For You?
Disney's Deluxe resorts get a lot of the fanfare, but more guests stay at Value properties than any other tier. Maybe you're looking to save money. Maybe you plan to focus your time on the parks and just need a place to sleep. Regardless, you've made the decision to stay at one of the value resorts, but which one? They all provide similar amenities, but there are good reasons to choose one over the other, and we're here to help you decide – read on!
There are five Value resorts at Walt Disney World: All-Star Sports, All-Star Movies, All-Star Music, Pop Century, and Art of Animation. Remarkably, all five of Disney's Value Resorts are in the top seven largest properties at Disney World. Pop Century leads all resorts with 2880 rooms, which is more than Animal Kingdom Lodge, Saratoga Springs, and Old Key West combined. The Values are very popular, and for good reason – they provide most of the perks of Disney's other on-property resorts without paying extra for amenities some guests don't care about.
Similarities
While the point of this article is to highlight the differences between the value resorts, they do have a lot of things in common. All have at least two pools, though none of the value resorts have waterslides or whirlpools in their pool areas. All have a food court and pizza, and none have table service dining. Rooms will include a mini-fridge, a single-serve coffee machine, and basic toiletries.  All have access to Early Theme Park Entry, and none have access to Extended Evening Theme Park Hours. Finally, the standard rooms all have motel-style entry, where you'll enter your room from outdoors instead of a central, internal corridor. Family suites at Art of Animation do have hotel-style, internal entry.
The All Star Resorts – The True Budget Option
At the outset, we're going to treat the All-Star properties – All-Star Sports, All-Star Movies, and All-Star Music – as a single resort complex for the purposes of this article. Yes, there are differences between them, but the baseline experience for most is going to be very similar at all three resorts. With that in mind, the decision between the three is likely going to be a matter of which theme you like best, and available pricing at the time of booking. For a complete overview of what to expect at the All-Star resorts, check out Bob's recent article on the topic.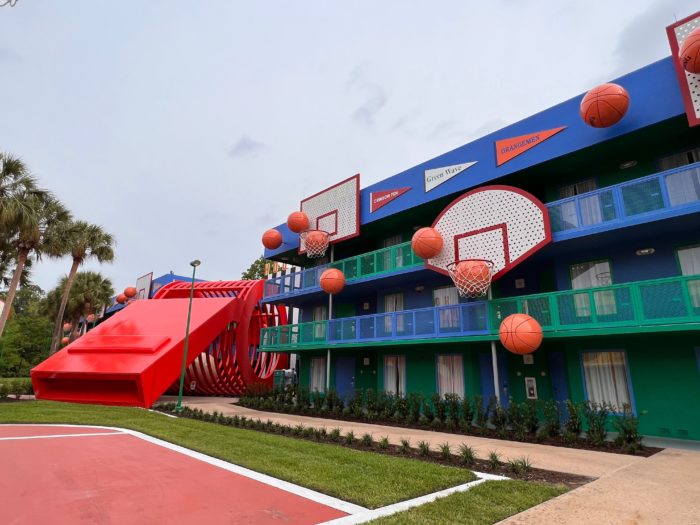 The All-Star Resorts are the oldest of the value resorts, and therefore lack the improvements to the amenities, like the pools and transportation, found at the newer value resorts. Perhaps for that reason, they are also the cheapest of the resorts in the value tier:
All-Star: $164-$238/night
Pop Century: $215-$296/night
Art of Animation: $246-$330/night
For travelers on a budget, the difference in price can add up, particularly for longer trips. For example, during low season, you could stay at an All-Star resort for seven days for less than the cost of five days at Art of Animation. So, while most travelers would agree (and our ratings reflect) that Art of Animation is the "nicer" resort, having to pay for two days less at your hotel can really move the needle.
While the three properties are substantially the same apart from the theming, I do want to highlight All-Star Music for larger families, as it is the only one of the three All-Star resorts to have Family Suites. These rooms are about twice the size of a regular room, have two bathrooms, a kitchenette with a full fridge, and sleep six. Like the standard rooms, these suites are likewise less expensive than the other resort that offers them, Art of Animation. All-Star Music's family suites cost $150-$160 less, which is a significant savings even on a short trip.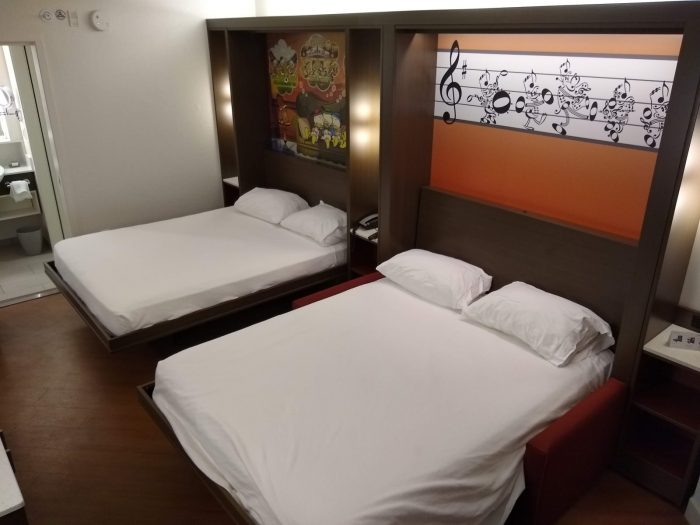 While the All-Star resorts can save you money, there are two important caveats to be aware of. First, they are the only resorts in the Value Tier that do not have Skyliner access. The addition of the Skyliner has been a true game changer for the resorts on the route, and if you're planning on spending a lot of time at Epcot and/or Hollywood Studios, it might be something that is worth paying a premium for you.
Additionally, they are very popular for large groups, like teams that come in for cheerleading and dance competitions. These competitions tend to occur between December and May, so keep this in mind if you'll be traveling during this time frame.
More on the All-Star Resorts:
Art of Animation – No Compromises
Art of Animation is the newest of the value resorts, and is objectively speaking, also the nicest. It is the one resort in this tier that "has it all," and does not require any trade-offs:
Largest value rooms on property? Check.
Skyliner access? Check.
Family suites available? Check.
Largest pool of any Disney resort? Check.
Further, Art of Animation has the most overt Disney theming of the value resorts. In fact, the immersive theming is going to be one of the highlights of the resort for most – rooms are themed to various Disney properties, like the Little Mermaid and the Lion King, and the common areas include tons of Disney icons throughout. The other value resorts incorporate Disney touches into their theming, but Art of Animation leans into it hard.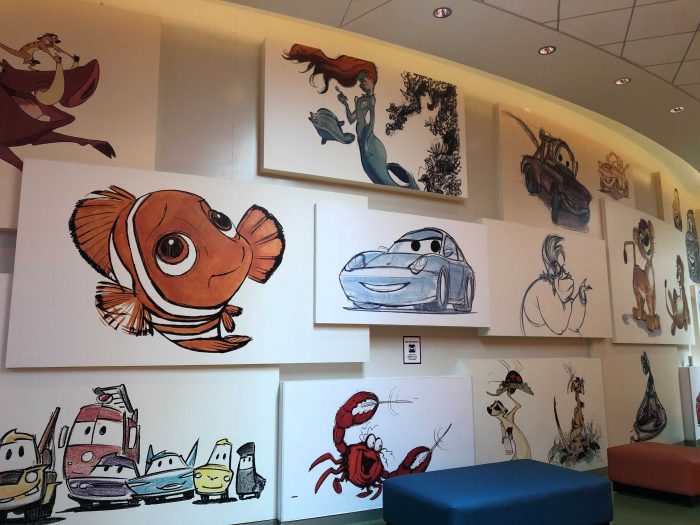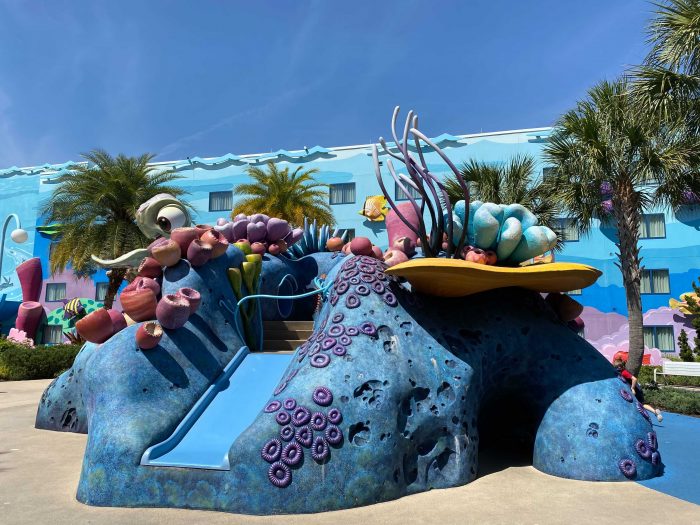 Like All-Star Music, Art of Animation has family suites, but the Art of Animation suites are slightly larger. Its suites are 565 square feet versus 520 square feet at All-Star Music.
There are caveats, of course, the biggest of which is price. Art of Animation is reliably the most expensive of the value resorts. Additionally, while it has the largest family suites, the family suites at All-Star Music are perfectly adequate for far less, and have a full-sized refrigerator and more functional kitchenette space.
More on Art of Animation:
Pop Century – Balance
Pop Century is the middle ground between the other two resorts, and guests staying there may decide to do so based upon the process of elimination. That's not to say that it doesn't have redeeming qualities of its own. It's more that the ideal Pop Century guest is one who wants the great things Pop offers without paying extra for things they may not care about.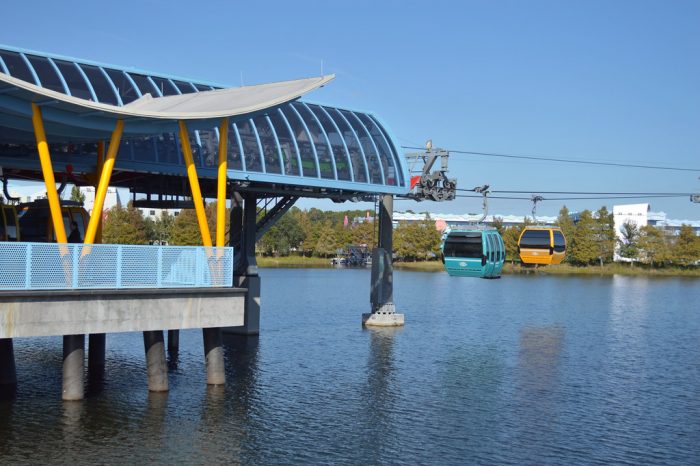 Pop's primary benefit over the All-Star resorts is Skyliner access – an enormous benefit – and just easier transportation in general. Art of Animation also has Skyliner service, of course (the two resorts share a station), but you can expect to spend about $30 less per night at Pop Century for amenities that are very similar to those found at Art of Animation. The experience of staying in a standard room at the two resorts is otherwise going to be pretty similar, apart from superior theming at Art of Animation.
Pop Century isn't just the "middle ground" option, however — it also has the highest rated rooms in the value category, and it's the value resort with the most return visitors, so it's clearly doing some things right. The difference between it and the other value resort rooms is not significant, but the point is, the extra that you might spend at Art of Animation is primarily going to result in more immersive theming, not a vastly better room. So, if your primary goal is to stay at a value resort with Skyliner access and you have no need for a family suite, there's really no reason not to stay at Pop. It's cheaper, and you're close enough to Art of Animation that you can walk over and enjoy those amenities (other than the pools) if you'd like to.
More on Pop Century:
So, what's your favorite Value Resort? What's the amenity that makes the biggest difference for you? Let us know in the comments!