REVIEW: Marriott's TownePlace Suites at Flamingo Crossings
A few years ago Disney announced the development known as Flamingo Crossings. Many hoped it would be a second, but smaller Disney Springs. Although the development is shaping up to be a little different than originally thought, and taking longer to come to life, there are two Marriott hotels already open. Are these hotels worth considering for your next Walt Disney World vacation? It depends. Short answer: if you're a Marriott BonVoy member, and able to find a good deal, then absolutely. If you're looking for pure Disney Magic, then no. Check out my review of TownePlace Suites at Flamingo Crossings to find out if you should check-in to this hotel yourself.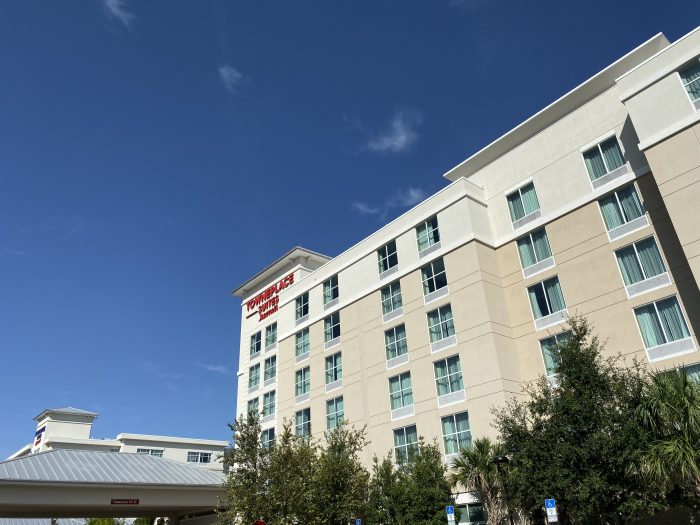 Location
Flamingo Crossings is an outpost of Disney property of sorts. Although it is outside the gates of Walt Disney World, the property itself is Disney owned. The plans are for this property to be developed into a shopping, dining, housing, and hotel destination with the majority of the sites being leased to various third-party companies. There is much of this area still under development.
There is nothing but land that stands between you at Flamingo Crossings and Walt Disney World. To access Disney World property you will enter via Western Way which will take you past the back side of Disney's Animal Kingdom and Disney's Coronado Springs Resort. Western Way dead ends into Buena Vista Drive at which point you can go right to head to Disney's Blizzard Beach water park and Disney's Animal Kingdom or you can turn left to access the rest of Disney property, with Epcot and Disney's Hollywood Studios being your closest theme parks.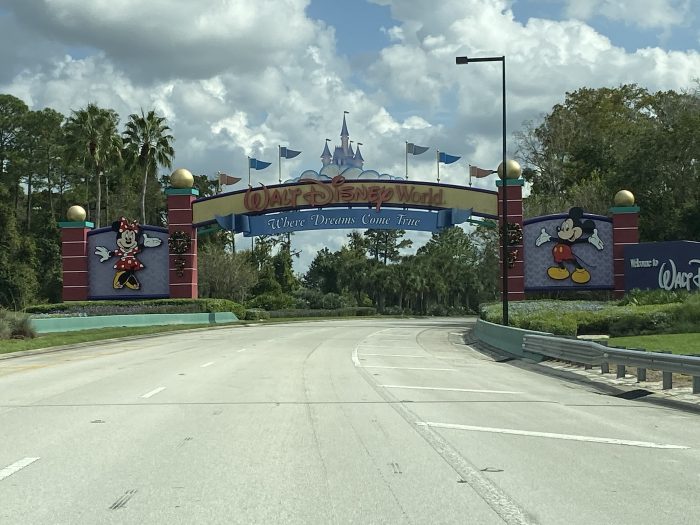 I stayed here when we attended the last night of Mickey's Not So Scary Halloween Party. It took us just about 10 minutes to get to the Magic Kingdom parking lot from the parking lot of TownePlace Suites at Flamingo Crossings. It took us just about the same amount of time to return that evening. Access to Disney property is very smooth. You can also hop on toll road 429 to access Highway 192, which has lots of places to eat and tacky tourist gift shops. Keep going on 429 and you'll hit Interstate 4 and in just about an hour you'll arrive at Tampa and Clearwater Beach if you're looking for a fun day trip.
Rooms
Both the TownePlace Suites and the Springhill Suites next door are all-suite hotels, as the name implies. This is brand standard for these Marriott properties. Springhill Suites has a slightly more contemporary feel, while TownePlace is meant to be more homelike. Room types include studios, one bedrooms, and two bedroom suites. The vast majority of rooms are standard views of the parking lots and roadway, but a select number have "Disney fireworks views". I cannot attest to the quality of said fireworks views.
Our two bedroom was a corner room with a view of Toll Road 429 in the living area and a view of the parking lot from the bedrooms. Surprisingly we could not hear any road noise in our room, which was appreciated. Our two bedroom had a full kitchen–the only thing missing was a toaster, but all the other basic appliances are there. A small dining table abuts the kitchen. The living area has a sleeper sofa, chair, and TV. We had plenty of room in the living room for our son's Pack 'n' Play. The bedrooms are smaller than I expected, with just enough room to walk around the queen-size bed. A nice closet (which acted as an advertisement for The Container Store) and flat screen TV round out the furnishings in both bedrooms.
The bathroom is not connected to either bedroom making it easy for anyone to access without disturbing anyone in a bedroom. It has a double sink separated by a door from the bathtub with shower and toilet, for privacy.
Overall the room was adequate, comfortable, and had enough room for our party of four adults and one toddler. It is ridiculously small however when compared to Disney Deluxe VIllas, though the room rate is generally ridiculously less as well. We would have been comfortable here for two or three nights at most, and it was perfect for our one-night stay.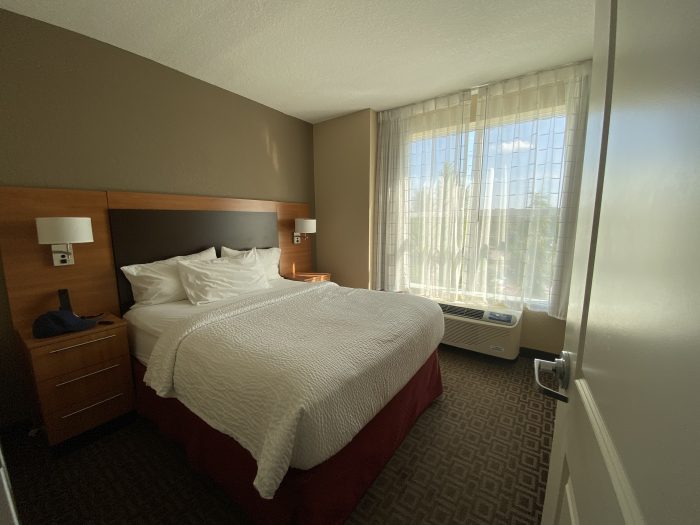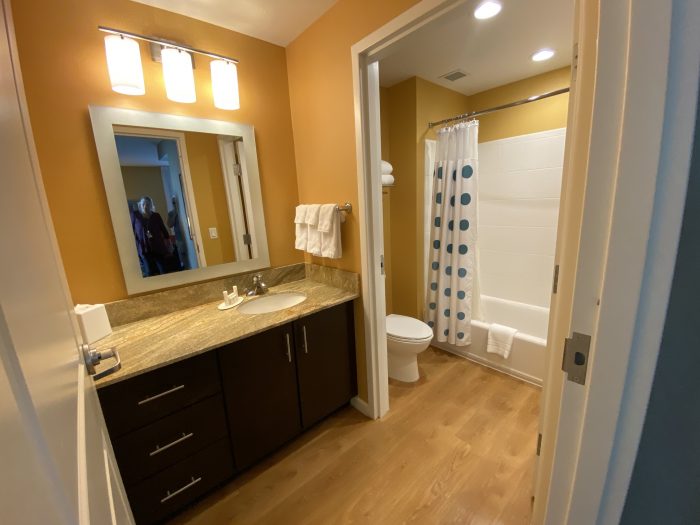 Dining
Both TownePlace Suites and Springhill Suites include complementary breakfast. The breakfast offerings do not vary between the two. Breakfast includes cold options like yogurt, fruit, and baked goods, plus warm options like waffles, pre-made Mickey waffles, and pre-made eggs. It is nothing fancy, but a nice way to save a little money if needed.
There is a shared restaurant between the two buildings called, cutely enough, Flamingo's Bar & Grille. You can enjoy sitting at the outdoor bar and patio sitting area by the pool, or enjoy the indoor dining room. The menu consists of American classics with a few tropical and Florida options. The pricing is about $12 – $15 per entree and drinks are $9 – $11. Certainly a lot less than a table service restaurant on Disney property, but about on par with counter service locations. We opted to head to Disney's Polynesian for lunch on our checkout day because the two of us could eat for about $20 at Captain Cook's.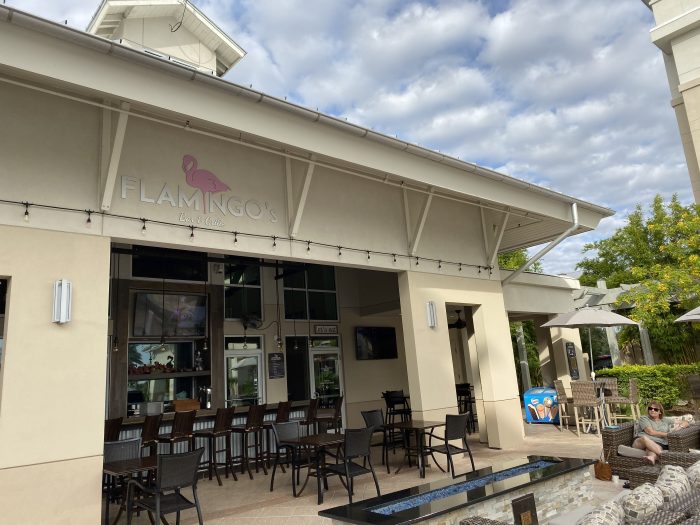 Pool and Recreation
The pool is shared by both buildings, with zero-entry that was perfect for our toddler. We went for a morning swim and practically had the pool to ourselves on a Saturday morning. The pool is heated and felt comfortable to us. A fitness center and event space sit at the back of the pool area as well as a set of grills that looked to be in great condition and a nice option. A ping pong table was also available poolside too.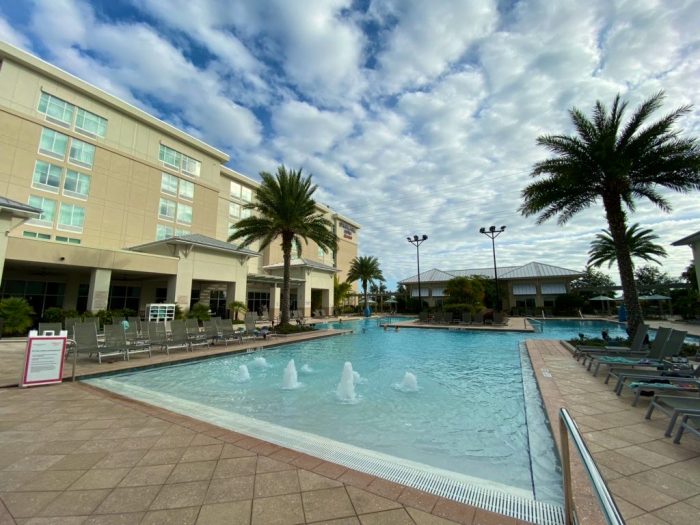 Final Thoughts
TownePlace Suites at Flamingo Crossings would not be my absolute first choice in Disney area accommodations, however it was perfect for a place to crash for the night, especially with a toddler and my parents.
Look for Florida resident, AAA, Marriott BonVoy Member, or other discounts.
The full kitchen and living room is helpful for families.
TownePlace Suites is pet friendly, its neighbor Springhill Suites is not.
Shuttle transportation is not included and not continuous, but is available for a nominal fee.