REVIEW – The NEW Brunch at The BOATHOUSE Is Smooth Sailing (Mostly)
Another brunch contender has entered the ring at Disney Springs. There's so many brunch options at Disney Springs it's hard to keep track. The BOATHOUSE is now offering a "Captain's Sing Along Brunch." This brunch features dueling pianos, a new brunch menu, and the ability to order off the regular BOATHOUSE menu too. Overall the experience was nice, but not outstanding.
General Info about The BOATHOUSE Brunch
The BOATHOUSE has not made any official announcement other than on their Instagram, which seems adequate enough. According to said Instagram page, brunch runs on Sundays from 10 a.m. to 3 p.m. with dueling pianos from 11 a.m. until 2 p.m., and guests who wear a captain's hat or Boathouse shirt receive a free mimosa.
Indoor and outdoor seating available
Reservations strongly encouraged
Dueling pianos are in the main dining room
Security and temperature check at parking garages are very busy on Sundays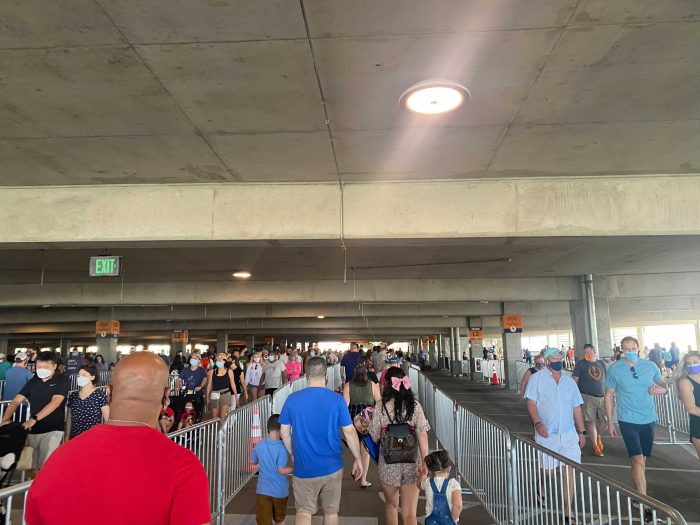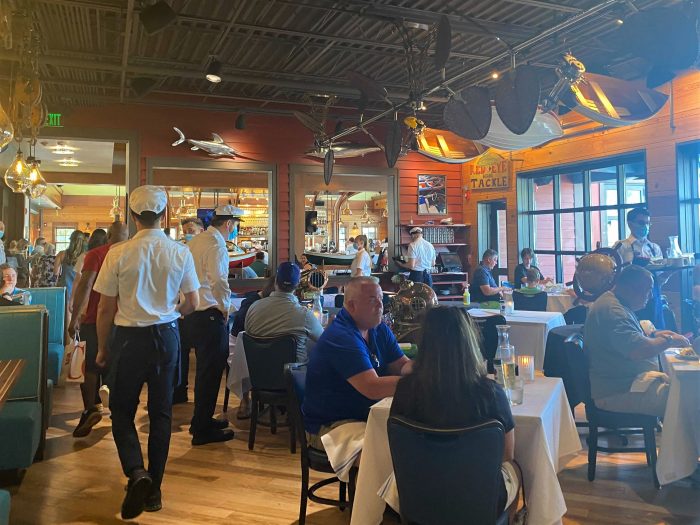 Chrissy and her family dined this past Sunday, just a few days after Disney's mask policy at dining locations was updated on their website. She witnessed no change in mask compliance. Guests were not wearing their masks while seated even when not eating or drinking, and it did not appear that the servers told them they needed to have the masks on.
Chrissy and her party were seated at the very back table of the second room. It was quiet and very laid back. The dueling pianos could not be heard in this second dining room. The main room where all of the boats and the main bar are located, and the dining room right next to it had a different experience. It was lively and loud and fun. The second dining room where Chrissy was located was quiet and relatively boring by comparison. If you want the full "Sing-along" experience then be sure the make your preference known when checking in.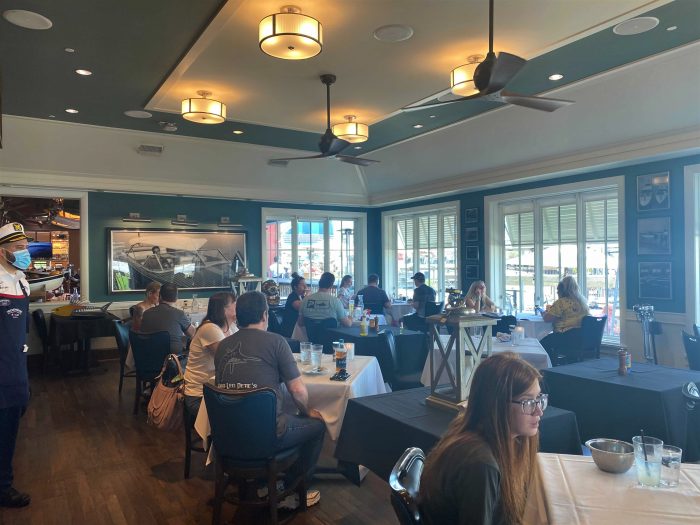 The BOATHOUSE Brunch Food and Drink
There are two menus available at the Sunday brunch at The BOATHOUSE. The regular BOATHOUSE menu is available, and a separate brunch menu as well. This brunch menu is not posted online.
Here's what Chrissy and her party ordered:
Avocado Toast (brunch) – Multigrain Toast, Avocado, Tomato, Pickled Red Onion, Feta Cheese, and Two Eggs Any Style – $14.00
Fried Chicken Biscuit and Gravy (brunch) – Buttermilk Biscuit, Creole-Onion Gravy, Panko Chicken Tenders, and Two Eggs Any Style – $15.00
Lakeside Breakfast – Two Eggs Any Style, Choice of Bacon or Smoked Sausage, Home Fries (Potatoes), Ciabatta Toast – $14.00
Belgian Waffle – Choice of Bacon or Smoked Sausage – $15.00
Espresso Martini – Stoli Vanilla, Kahlúa, Licor 43, Espresso – $14.00
BOATHOUSE Bloody Mary – Stoli Hot, Ancho Reyes, Charleston Bloody Mary Mix, Blue Cheese Olive, Pepperoncini, Jumbo Shrimp – $16.00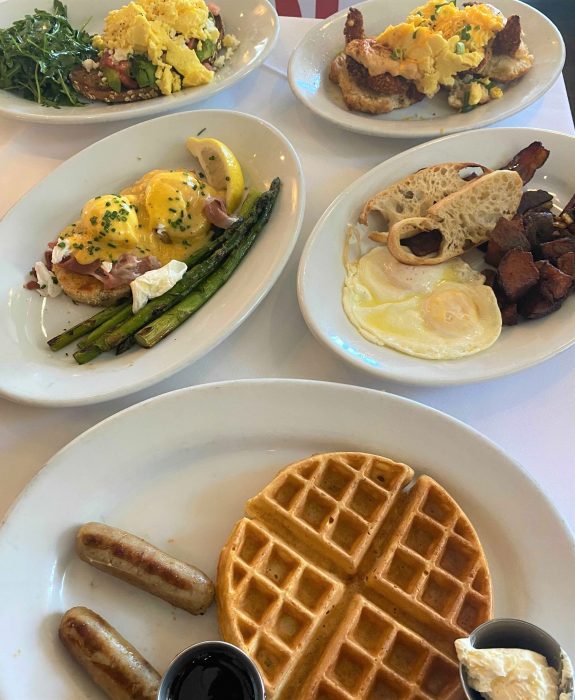 The meal started with Parker House rolls that were included with each meal. They were soft and warm with cinnamon sugar and a side of butter. They will keep bringing them as long as you want more.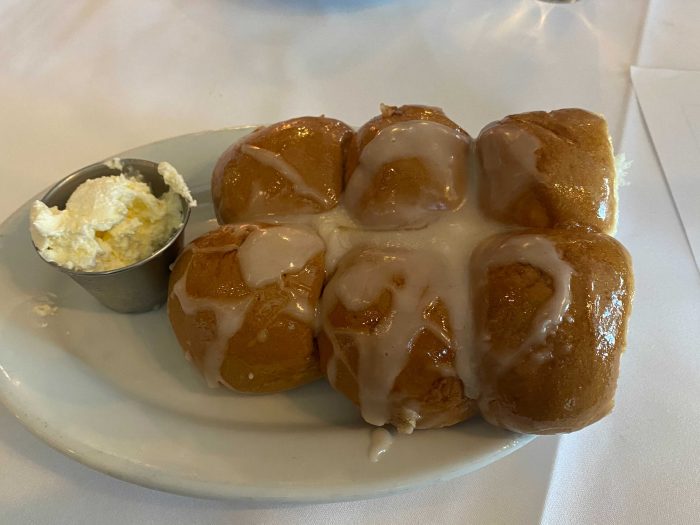 The BOATHOUSE Bloody Mary did not go over well. The combination of the Stoli Hot and the Ancho Reyes plus the Bloody Mary Mix too much heat, and three different kinds of heat at that. The heat from Tabasco was appreciated. When it was made known that the drink was not being enjoyed, they quickly took it away and removed it from the check. Great service!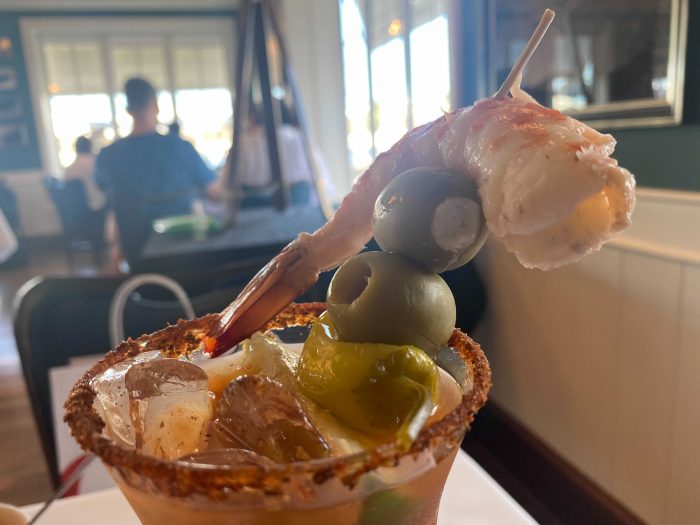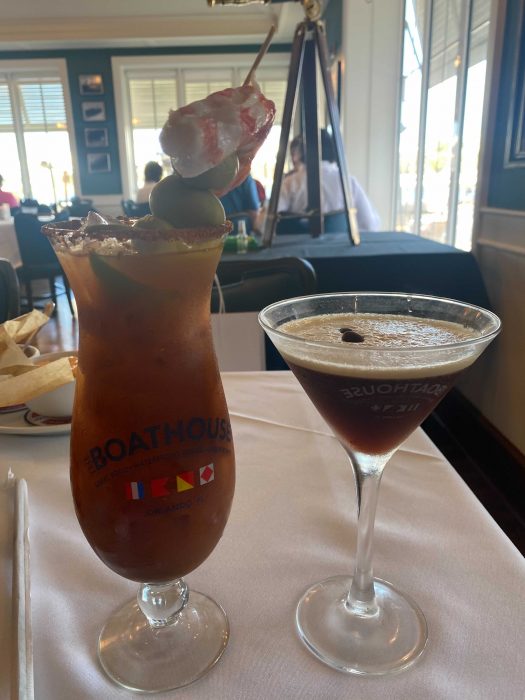 The Espresso Martini was a perfect brunch drink! Strong espresso flavor and delicious! This is one the list to order again. Chrissy has had the Lucky Dux Oysters before and knew they'd be a hit. They're exclusive to the BOATHOUSE!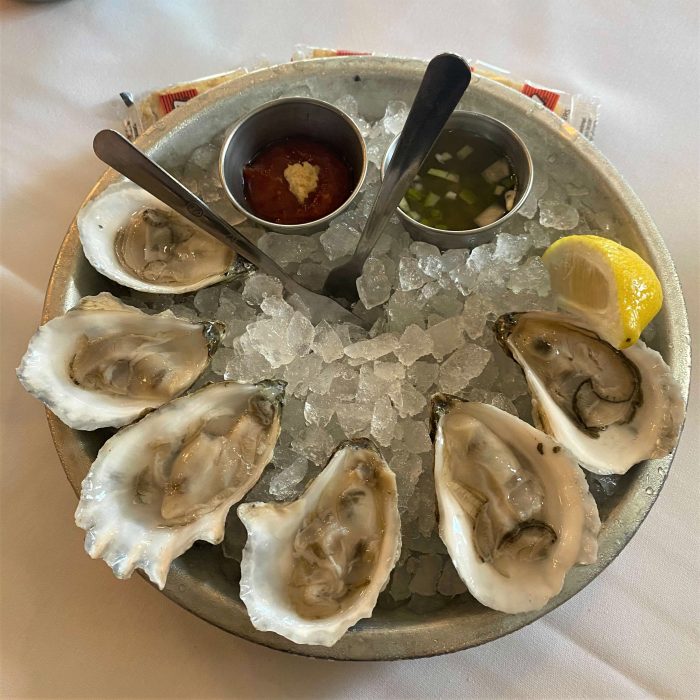 Duo Dips and Chips was the only thing ordered that wasn't on the brunch menu. Chrissy fancies herself a pimento cheese expert, and this was quality! Tangy and perfect! The salsa was also lovely, mild and flavorful. This is one of their standards and it's obvious why. Chrissy suggests ordering the Espresso  Martini, this Duo, and oysters, and call it a day!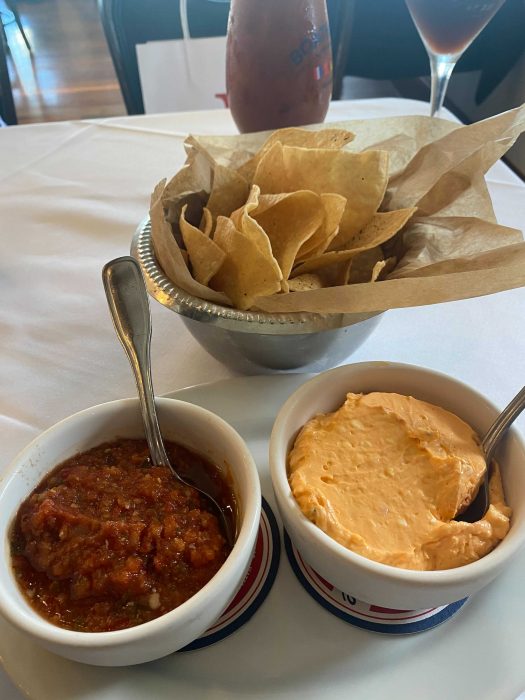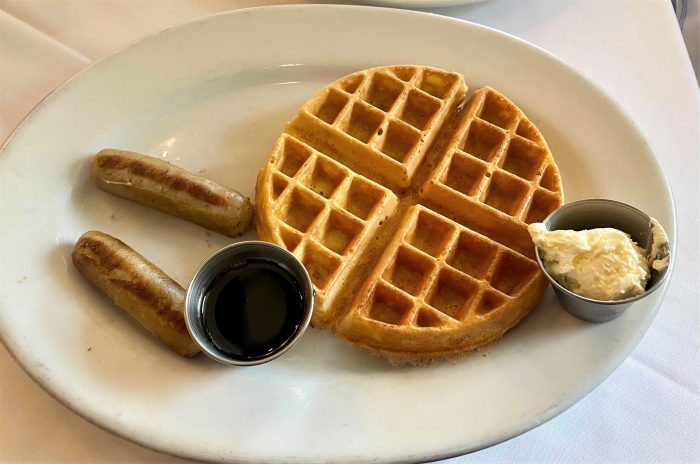 The Belgian Waffle was enormous, with a crispy outside, fluffy inside, and just way too much for one person! The smoked sausage was fantastic. This is enough food for two people. A good value.
The Lakeside Breakfast is perfect for people who don't want anything fancy or don't want to branch out! It's a basic breakfast executed well. The Fried Chicken Biscuit and Gravy caused a heated discussion at the table. Chrissy thought the biscuits were some of the best ever – they were obviously hand made. Her spouse decided they were too sweet. He was wrong. They  agreed that the chicken and gravy were fantastic, and that it was way too much for one person (assuming you eat a roll and split an appetizer).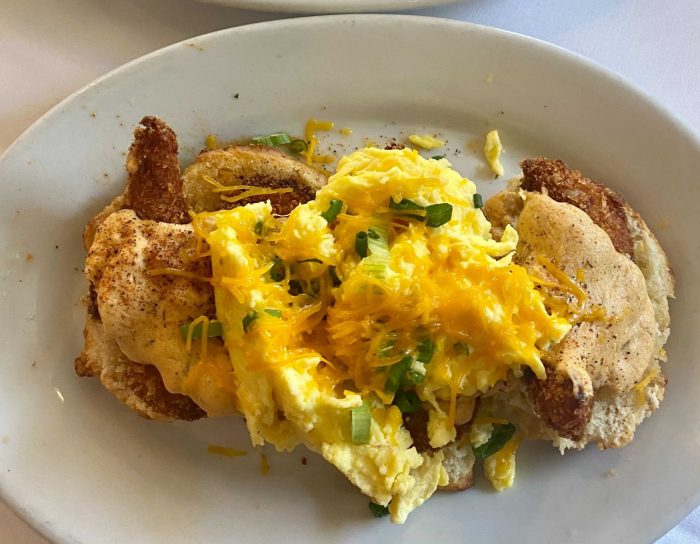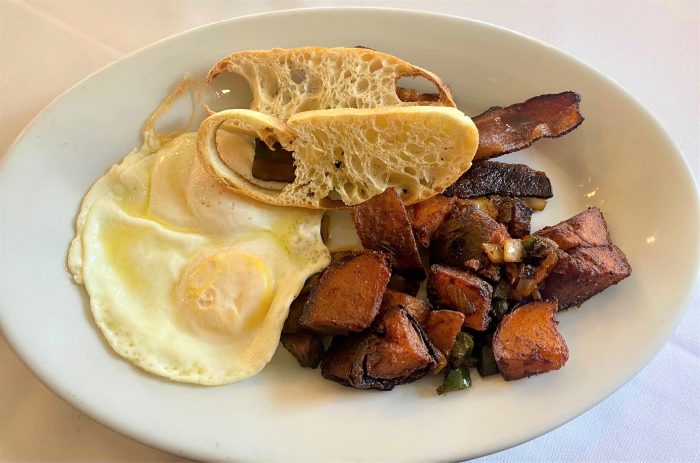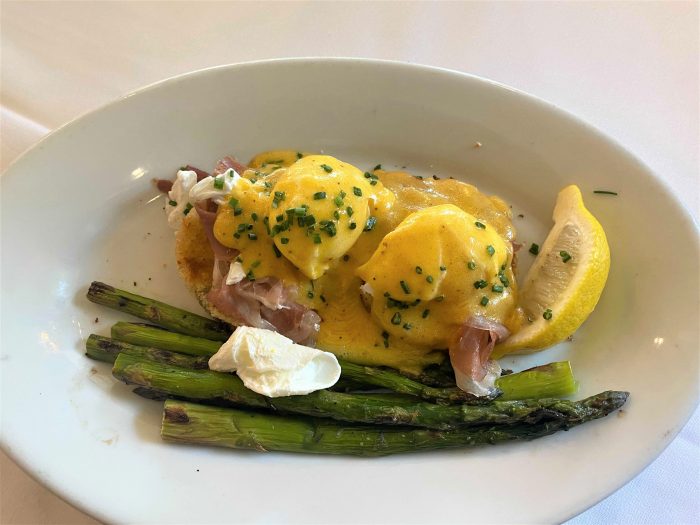 Who could resist Crab Cakes Benedict at The BOATHOUSE? It's the one dish you would expect to be on the menu above all the others. The crab cakes were as good, as expected, but the prosciutto didn't fit. This is a hearty, heavy dish. The server suggested to order it all on the side next time, so everything could be stacked as desired, and that doesn't seem like a bad idea. The eggs were perfectly cooked, as well the case on all the dishes.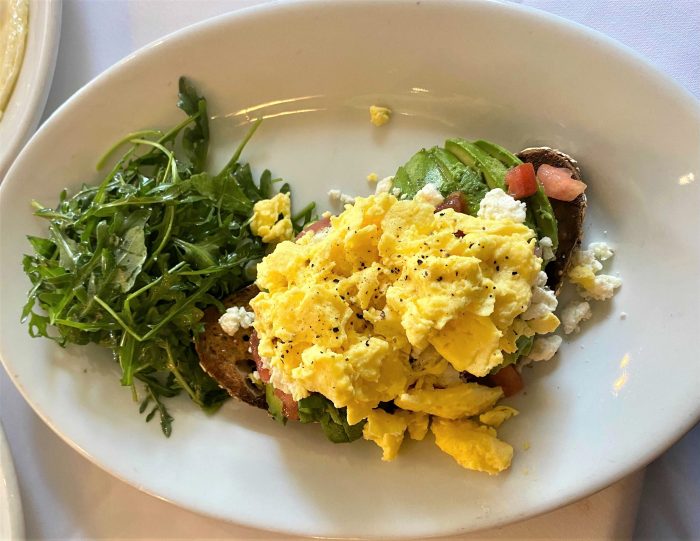 You might expect the Avocado Toast to be one of the lighter options, but there aren't any light options. Everything was hearty and generous, including this dish. The arugula lightly dressed on the side was a nice touch.
Important note –  They don't advertise it but you can have your eggs scrambled with cheese.
The BOATHOUSE Brunch versus other Disney Springs Brunch Options
Not too long ago Chrissy and her family had brunch at Raglan Road. This brunch is a close comparison to The BOATHOUSE because of the live music and Irish dancers. There is no outdoor dining at Raglan Road, so that may be a factor for some folks. Overall, Chrissy said she would choose Raglan Road brunch over The BOATHOUSE. The quality of food and the lively experience throughout Raglan Road is a notch above. Perhaps after a few more weeks brunch at The BOATHOUSE will be smooth sailing all the way.
What do you think of this brunch? Would you give it a try?