Takumi-Tei: A Double Take
I recently dined at Takumi-Tei, the newest signature restaurant at Epcot's Japan pavilion. My companions for the meal included Chef Todd Santanello and his family, as well as TouringPlans fearless leader Len Testa.
Takumi-Tei opened last summer with much excitement, quickly followed by wide eyes over the high menu prices. I had looked at menu, and while it looked great, I wondered if it was even possible to dine there, given that most of my Disney parks meals include my six-year-old daughter. Fortunately, I was able to sit down with Len, Chef Todd, and his family to find out.
Reservations Takumi-Tei are relatively easy to come by. The elevated menu prices and relatively lengthy meal time translated to a mostly empty dining room on the evening of our visit. My immediate impression as we walked through the main doors was that there was a whole bunch of gorgeous art I'd have to preemptively yell at my child not to touch.
The next and most obvious thing I noticed was the eager kindness of the Cast Member (CM) staff. The CM that greeted us projected none of the brisk efficiency I have become accustomed to at other Disney dining locations. She was willing to explain the artwork in the entranceway in as much detail as we were willing to hear. As someone who is in the parks many times a week and is conditioned to the cattle herding process Disney lives by, this was shocking and welcome for me.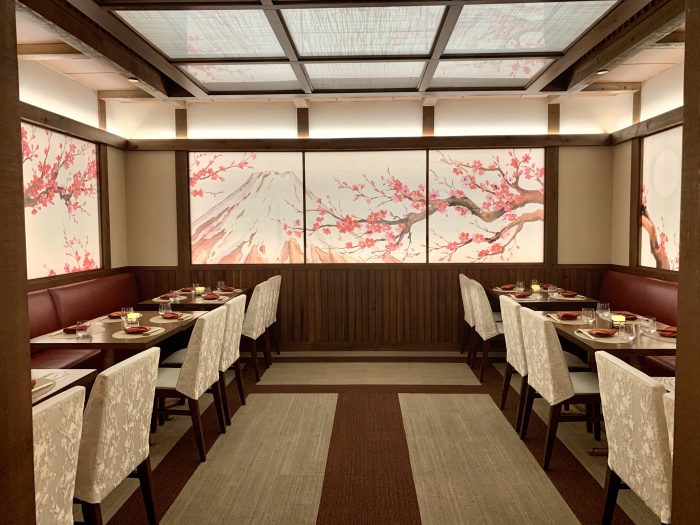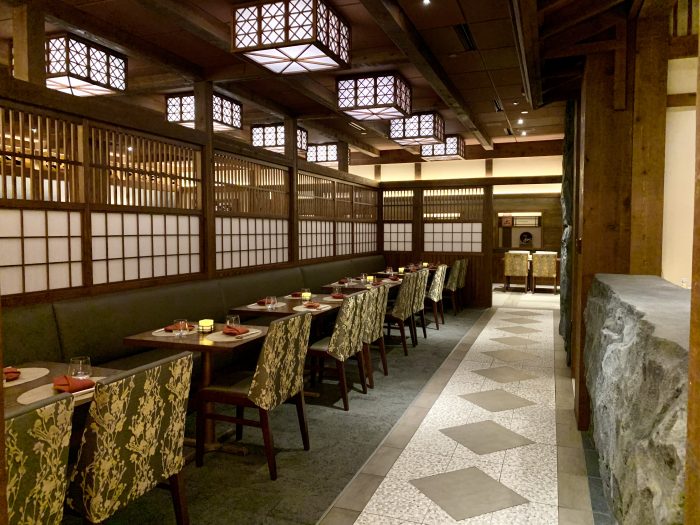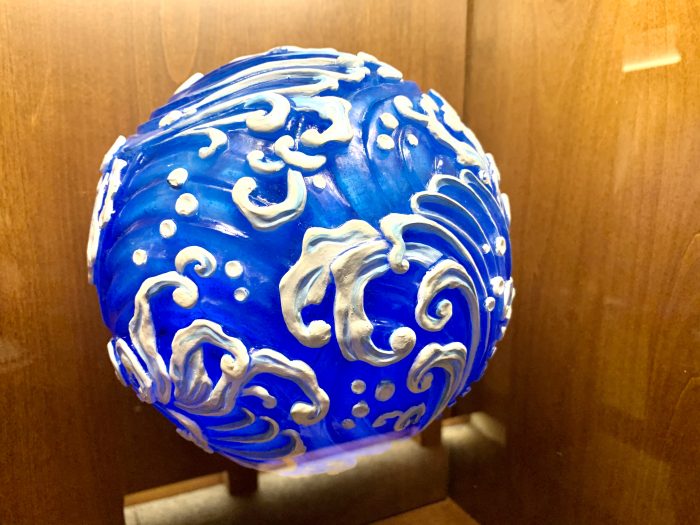 The CM who was assisting us at our table was just as solicitous. While she was willing to explain every menu item in great detail, I was fortunate enough to be dining with fancy bone marrow experts who knew exactly what they wanted to eat. Spoiler – it was everything.
Below are impressions of the dishes, mine and Chef Todd's. Through the Disney community, I met and struck up a friendship with Chef Todd, an actual trained chef, Disney geek, bone marrow expert, TouringPlans subscriber, and contributing author. The "trained chef" part of this description is especially important because he has provided a professional opinion on the dishes at Takumi-Tei. My opinions are completely untrained and have elicited snorts and eye rolls from chef Todd on more than one occasion. You have been warned.
Appetizers
Teien – Garden $20.00, Compressed Watermelon, Tuna Sashimi, Frisée, Grapefruit, Daikon and Watermelon Rind Tsukemono, Yuzu Dust, Watermelon Vinaigrette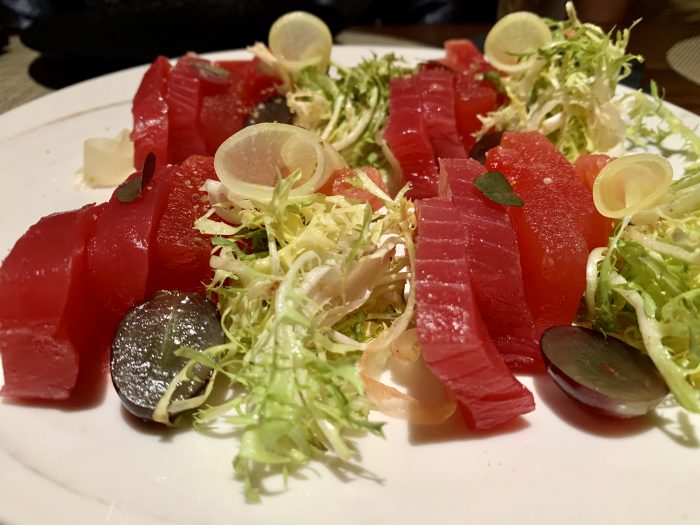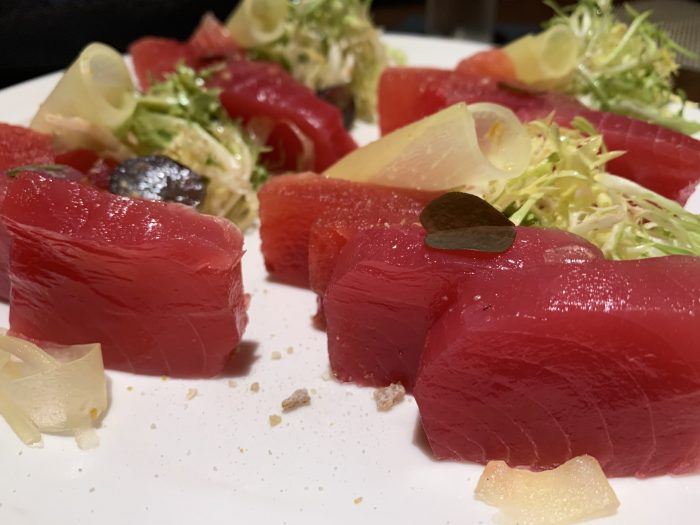 Chef Todd's Take – Compressing and marinating the watermelon in a lightly acidic bath solves both problems I have with watermelon….its gag-worthy texture and its lack of any real flavor. This version is layered with identically sized slices of blood red fresh Ahi sashimi. Try them together, as the acid in the melon cuts the fat nicely.  Pickled watermelon rind nailed it as a garnish.
My View – I love watermelon and I love frisée but I'm not a fan of any raw fish (see why he does the eye rolls?) so I stuck with the two parts of the dish I enjoyed but would never consider paying $20 for a few bites of great fruit and veg.
Hama no Kani – Crab on the Beach, $26.00, Ponzu Crab, Toasted Crab, Frisée, Heirloom Tomato, Watermelon Radish Tsukemono, Leek Gel, Sesame Pollen, Plum Wine Reduction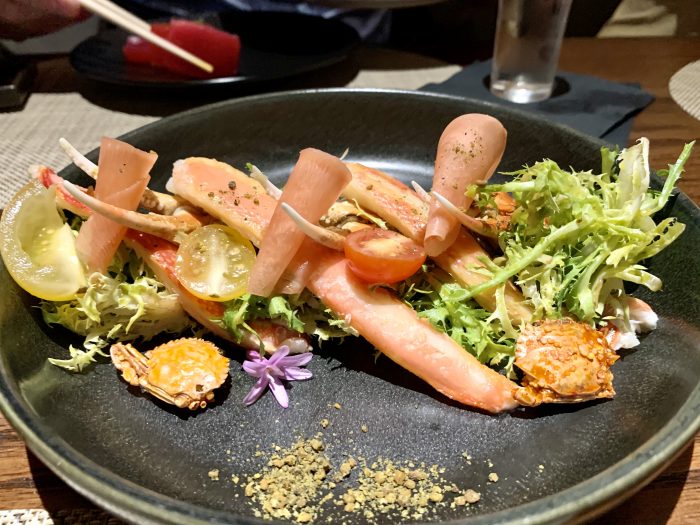 Chef Todd's Take -Perfectly extracted leg portions are tossed in a citrusy ponzu sauce. Crispy fried shell-on baby crab are an intriguing, if not creepy garnish. Try one. I really like the sesame pollen garnish. Very pretty dish, but also very boring. Okay for the non-adventurous.
My View – Call me the Queen of Non-Adventurous, because I loved this! Even the creepy little crab! Perfectly done crab is always a treat for me and even I consider the $26.00 price on this one a good value. It's arranged beautifully and tasted even better. Side note – you can buy a whole bag of the creepy crabs inside Mitsukoshi  store where the sake and snacks are sold. I think they would make a lovely snack with a cold melon flavored Ramune' soda. Delicious with the added benefit of having your child freak out as you pop whole baby crabs into your mouth. Win!
Nikomi Wagyu – Braised Wagyu $27.00,  Roasted Bone Marrow, Braised Jackman Farms Wagyu Shortrib, Yuzu Kosho, Wasabi Shiso Bavaroise Warishita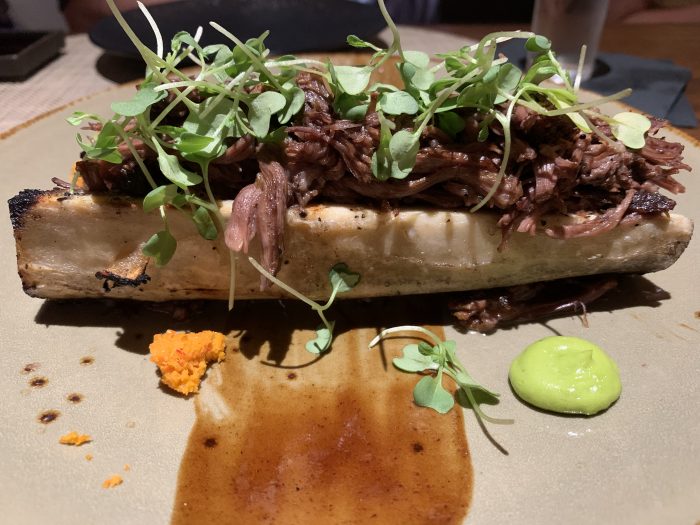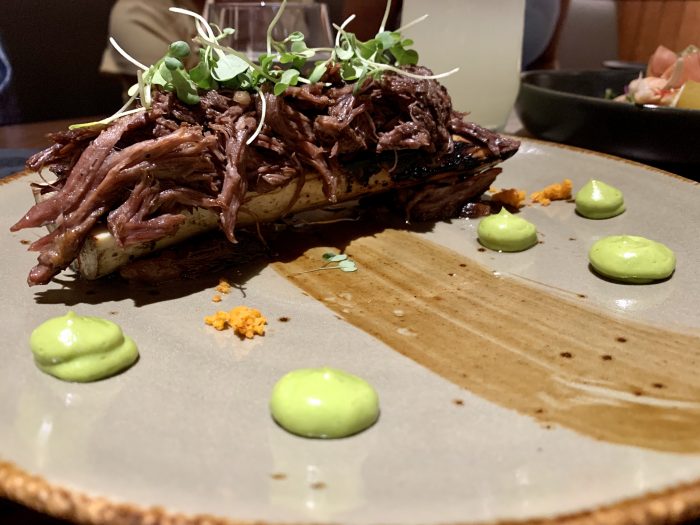 Chef Todd's Take -Entrée sized portion of braised local Wagyu short rib perched atop an oven roasted split marrow bone. The rib was rich and fatty, with a deep umami punch. The underlying roasted marrow was even richer and even fattier. I seriously cannot get enough of this forbidden artery-clogger. Huge flavors and a huge value at 27 bucks. Big Winner.
My View – First of all, see what I mean about the marrow? I once sat through a really, really long, super detailed conversation that Chef and Len were having about the "the last time I had really good bone marrow" and no other sentence is further from my reality. That said, I was so impressed with the presentation of this dish! It's simply art! The big bone makes it look like something Fred Flintsone would order if he was out to dinner with his boss and Mr. Slate was paying. I thought it was all yummy but I totally missed out on the subtle details Chef describes. That said, I could see spending $27.00 of my own money on this dish. Fantastic!
Agedashi Tofu $19.00, Fried Silken Tofu, Tentsuyu Brown Butter Black Rice, Shimeji Mushroom, Daikon Tsukemono, Carrot Ginger Purée, Lotus Root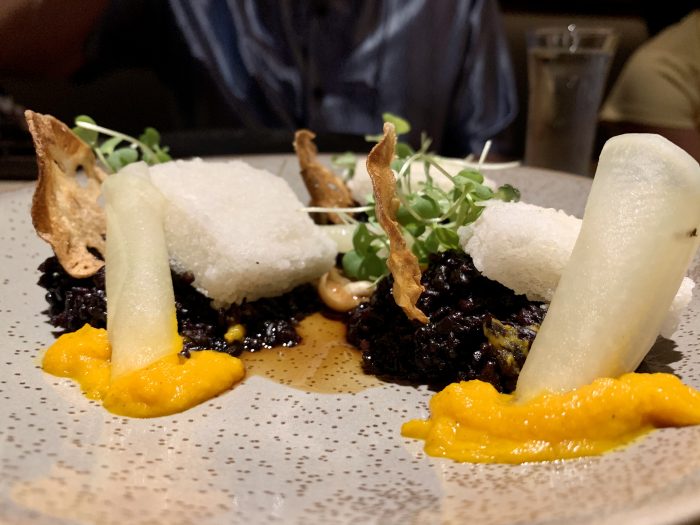 Chef Todd's Take -Super silky tofu was fried to a delicate crisp. Creamy inside and crunchy out. The brown butter black rice base was the star here. The dish lacks any memorable flavors, and feels like it was an afterthought to the menu.  For die-hard vegans only. Hard pass for me.
My View -I like tofu in any firm form and this was no exception, but the real joy for me came from the carrot ginger purée and the rice. They were unusual flavors (for me) and I enjoyed them both. That said, anyone willing or able to order from the carnivore section of the menu has far better options for the money.
Main Dishes
Misoyaki Ochazuke $42.00, Misoyaki Sea Bass, Karikari Sushi, Shirasu, Tsukemono, Toasted Nori, Shimeji Mushroom, Ocha Dashi Broth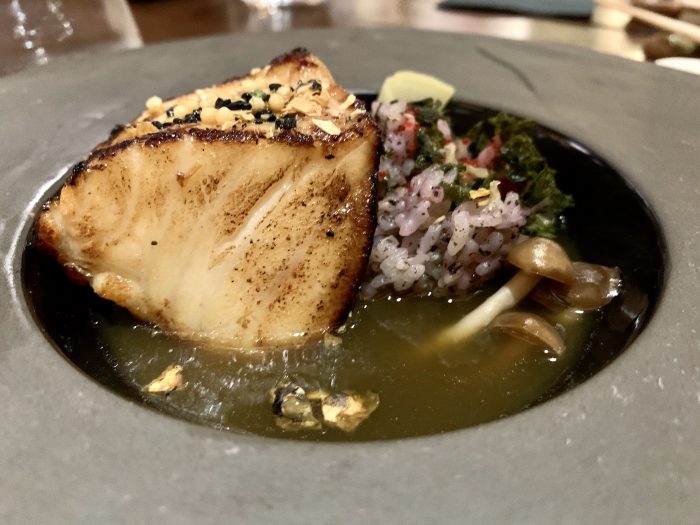 Chef Todd's Take – The most well composed dish of the night. Dashi broth is one of those components that require skill and ingredient knowledge to prepare correctly. This night it was spot-on. Salty and packed with dried seafood flavors. Perfectly seared Sea Bass lent its delicately oily flesh to the center of the bowl. It floated there on a small mound of sushi rice. Chewy little Shimeji mushrooms were an appropriate garnish. Very well thought out entrée. Highly recommended.
My View – I loved the broth – like I would be happy to have an enormous cauldron of it boiling on my stove at all times – but I am not a sea bass enthusiast and am therefore not qualified to offer an opinion on the star of the dish. It is worth noting that the portion size was substantial and seemed appropriate for the price given the presentation and the quality of the broth. Seriously. It was that good.
Tempura Ebi – Tempura Tiger Prawns $44.00, Tempura Tiger Prawns, Crisped Silken Tofu, Green Tea-smoked Black Rice, Caramelized Togarashi Cream, Sea Beans, Shimeji Mushroom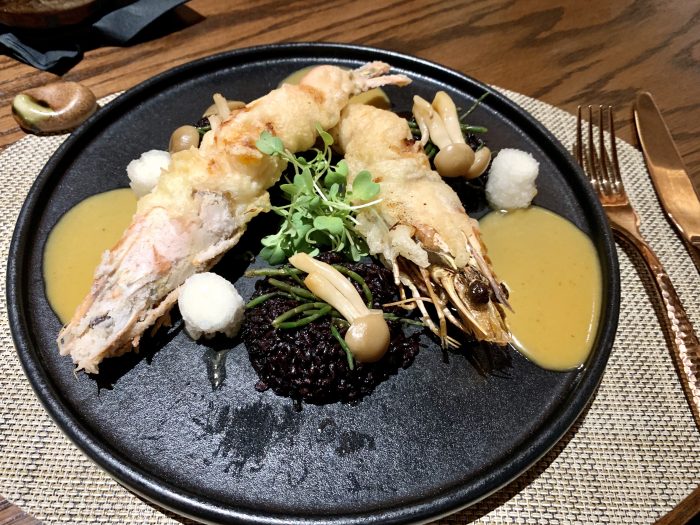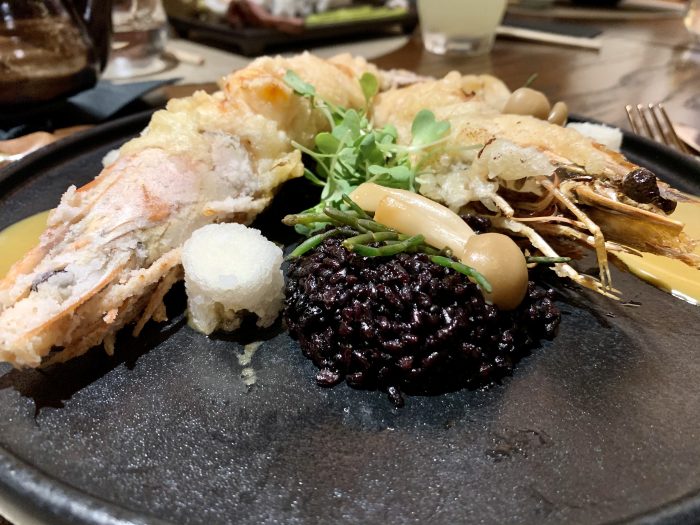 Chef Todd's Take – Two U-8 (under eight per pound) prawns are the focal point. Head and tail on, these beauties are tempura battered and skillfully fried. Togarashi cream was an excellent dipper, and the black rice shone again. Please eat the tail, and please suck the head. Trust. Pretty decent dish, but not much of a value at 44 bucks for two shrimp.
My View – I feel like this dish separates the true gourmand and the people who immediately think of the modern stone age family when they see roasted bones on a plate. We know where I am and you can probably guess my reaction to this dish. I love shrimp and will rejoice at anything in a tempura batter, but this wasn't something I was excited about. I am sure it's just because I am a middle-aged female with the sensibilities of an average nine-year-old, but the whole eyeball thing just wasn't my favorite.
Takumi Gyuniku – Artisan Beef $93.00, Japanese A-5 Wagyu Tenderloin, Leek Sauce, Warishita, Shortrib Gyoza, Roast Cippolini Onion, Curried Potato, Seasonal Mushroom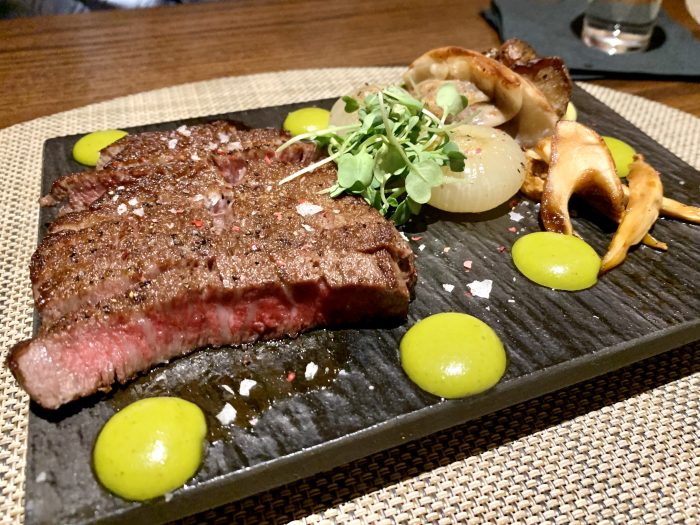 Chef Todd's Take – Sometimes, Chefs create dishes that require multiple elements, and hours (maybe even days) of preparation. Sometimes, Chefs just know when to get out of the way when they have a special ingredient.  A-5 Wagyu tenderloin is one of those superstar foods. The meat itself is so marbled with unctuous fat, that the protein strands struggle to hold it all together. Our piece of the tenderloin was simply seasoned, seared and sliced. The resulting product was so ridiculously tender that the only thing we needed to enjoy it were chopsticks and teeth (barely). I'm pretty sure that the plate was garnished, but it was all a blur after my first bite. Ethereal experience. Must do.
My View – Yep. What he said. With the exception of anything made by my late Grandmother, this was the single best thing I have ever eaten in my life. I am aware that I could buy a weeks worth of groceries for what this one dish costs, but I still have to say it's an excellent value. Cut back in other places during your vacation. Eat cereal in your room for breakfast, pack snacks in your backpack and skip the Mickey pretzel. Whatever you need to do to save the price of this dish is worth any pain you might endure.
Thank you to Chef Todd for dining with us and providing his honest, professional insights into these beautiful dishes. You can follow Chef on Twitter and Instagram at Cheftodd55 and on his Facebook page, Chef Todd Eats Disney. 
Note: Takumi-Tei does not participate in the Disney Dining plan.
Have you dined at Takumi-Tei? Have you had any of the dishes in this post? Please share your thoughts in the comments – I'd love to know what you liked, what wasn't your favorite, and what dishes you think are a good value. Thank you for reading!