The Enchanted Rose is an Elegant Oasis, but is That a Good Thing?
Everything about the new Enchanted Rose Lounge at Disney's Grand Floridian resort is lovely and refined. The decor is elegant, the service is impeccable, the drinks are tasty and sophisticated, and theming is understated. In short, it's perfect, which is probably why I will rarely visit.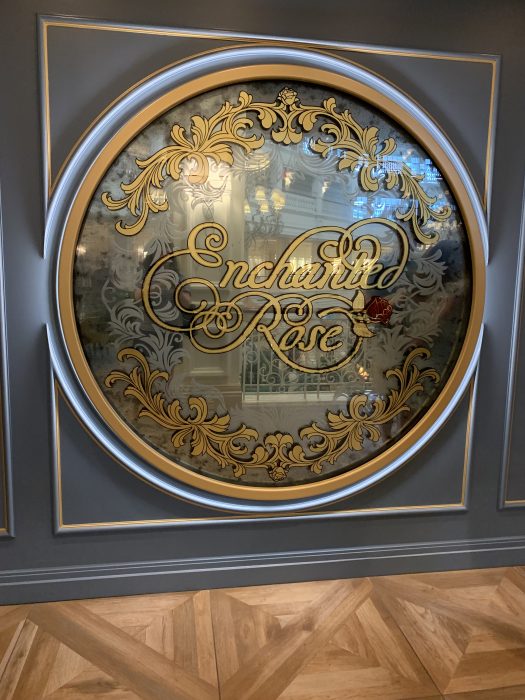 Let's start with the setting. Enchanted Rose is located on the second floor of the Grand Floridian, where Mizner's Lounge used to be. Mizner's was as humble as a Cincinnati Radisson. This rebranding is certainly an upgrade. The fabrics are refined and coordinated, but not matching. There are seating areas for larger groups, as well as spots for solo travelers. You can be chatty at the bar, or quiet at an out-of-the-way table. There's even an outdoor patio if you want a view of the pool.
The Enchanted Rose name is a nod to the flower that is part of the Disney Beauty & The Beast story. Elements of the decor reflect that tale: the fixture over the bar is evocative of Belle's ballgown skirt, there are roses tastefully scattered around the room, and the shelves hold doppelgangers for Mrs. Potts and Cogsworth. The housewares are like those in the 2017 live action film, not the 1991 animated version; that's how you know it's a classy place.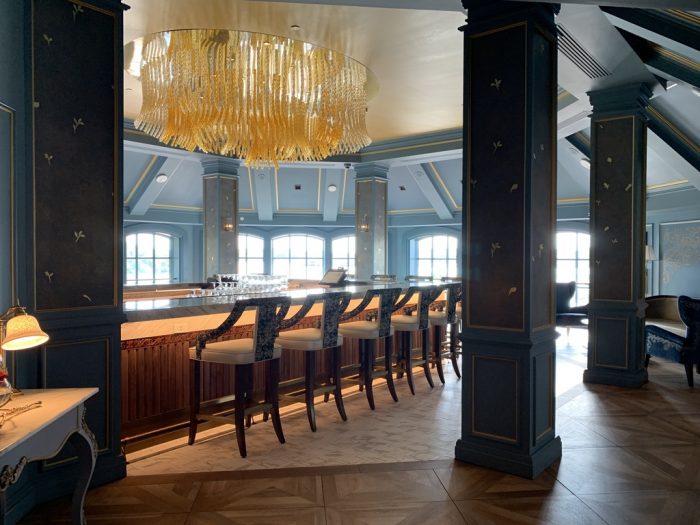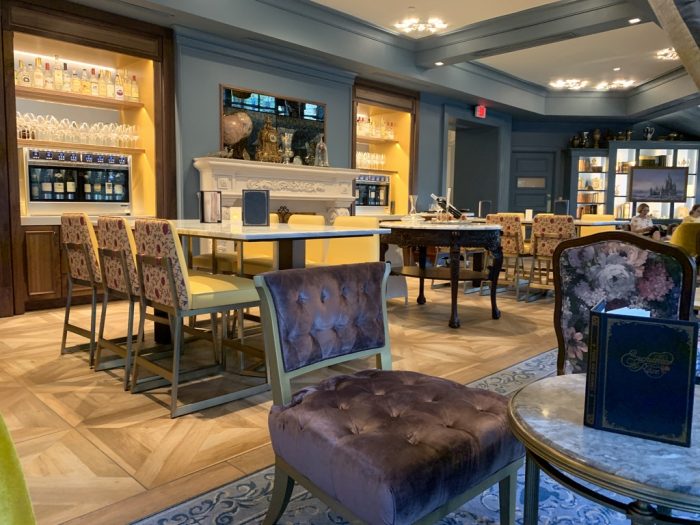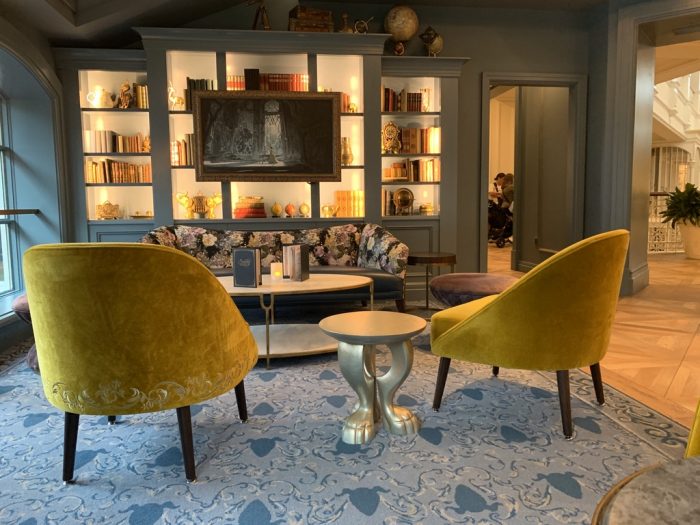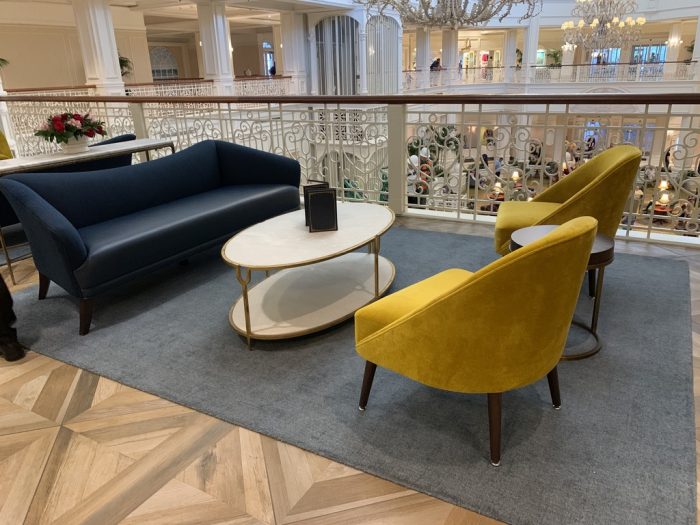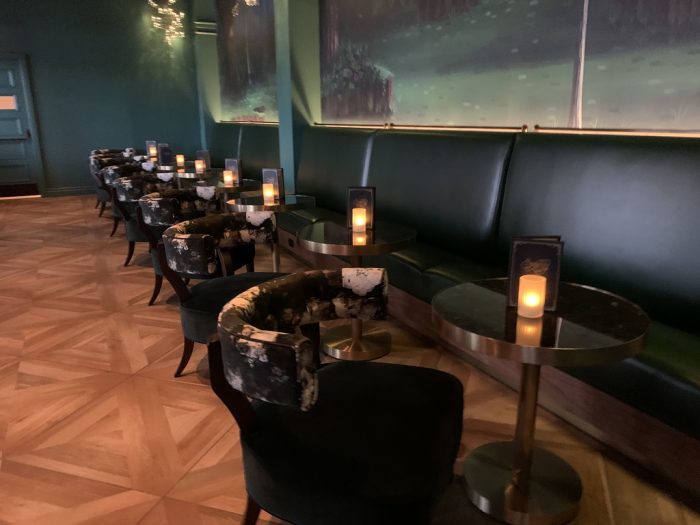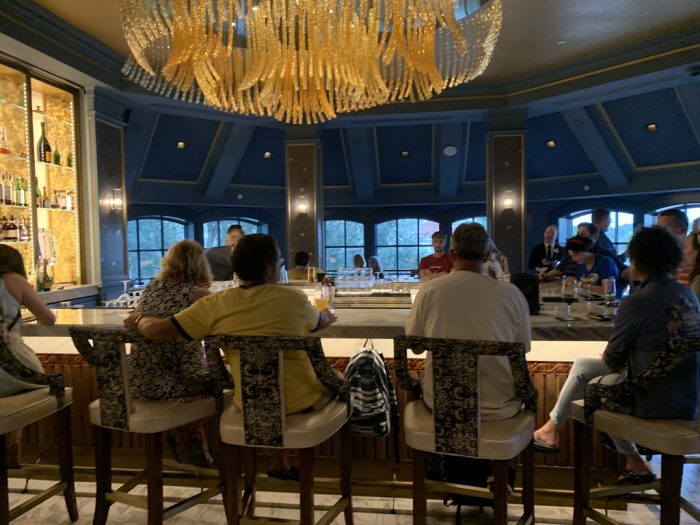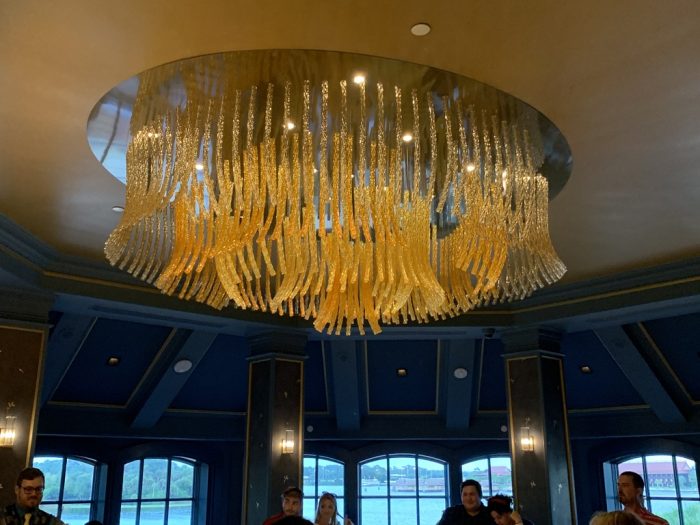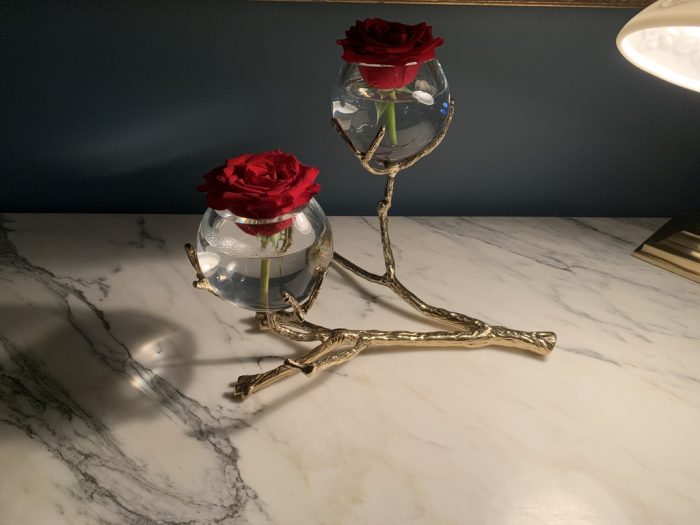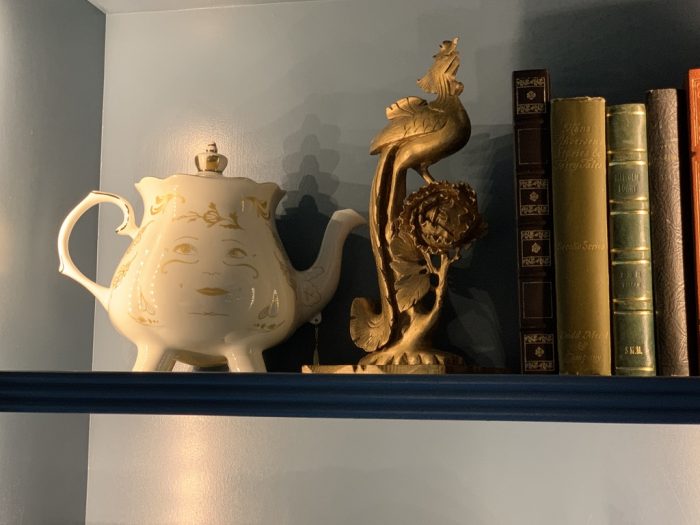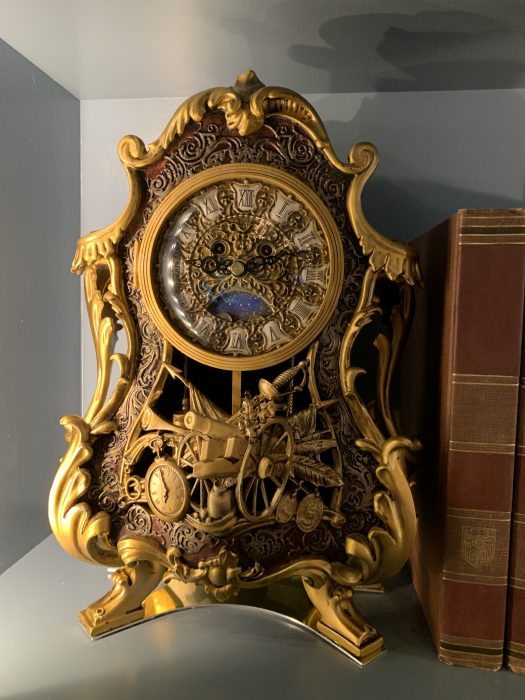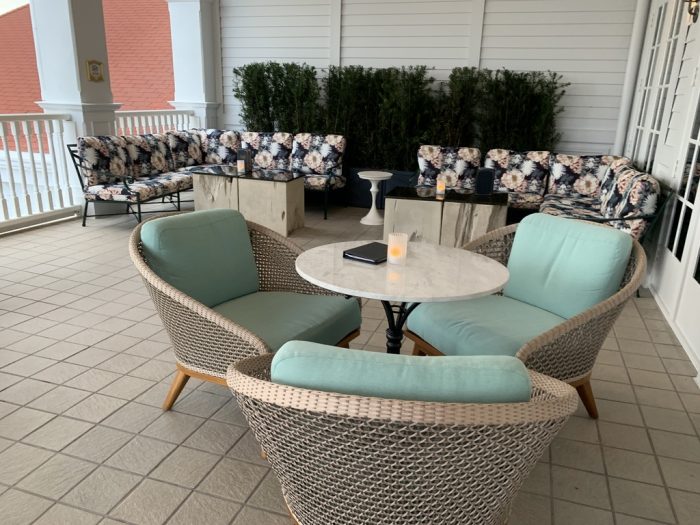 Food is served at Enchanted Rose after 5:00 p.m. I arrived there at 4:00, so no noshes for me, but I did take a long look at the menu. The offerings sound delish, but I'm a woman of a certain age with tastebuds of matching vintage. There is nothing on the menu that would appeal to your average nine-year-old, which I'm sure is the point. Even the basic items like flatbread and fries are embellished with things like mushrooms and truffles, basically umami code for "take your children elsewhere."
I get it. This is a bar and bars are for those with adult predilections. But still, sometimes after third spin on the teacups mommy needs a little fortification, and some plain mac n' cheese to distract junior. Yes, you can get a drink by the pool. No, that's not always what you want.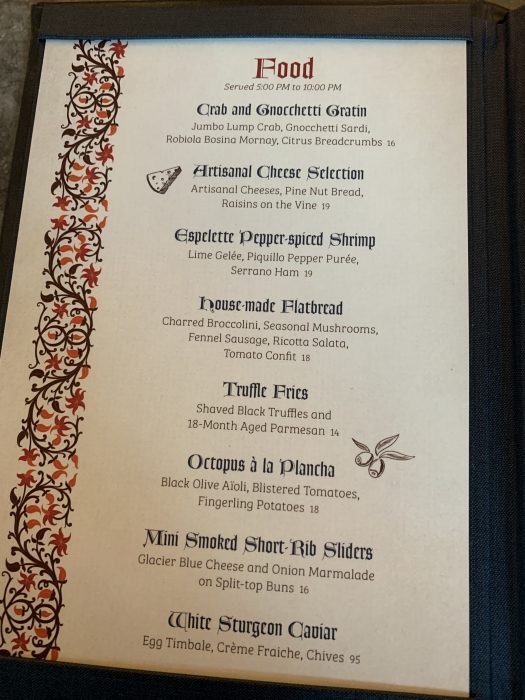 The beverage menu features a modest selection of beers and ciders, as well as a larger selection of wines and champagnes, many available both by the bottle and the glass. The least expensive beer is a $7.50 Bud Light, which they call "Bud Light Lager, St. Louis, MO" because fancy. The bottle of Billecart-Salmon Clos Saint-Hilaire Brut, Mareuil-sur-Ay 1998 champagne will set you back $725.
Between those extremes are some very nice non-alcoholic cocktails, such as the B&B (Twinings iced tea, lemon, blueberry, and basil) and the Rosemary Cooler (lemonade, vanilla, and rosemary), as well as regular cocktails ranging from the $15 Island Rose (Ketel One Botantical Grapefruit and Rose, lime, orgeat, pineapple, bitters, and rose water) to the $25 Seasonal Old Fashioned (Widow Jane 10 year straight bourbon whiskey, seasonal syrup, and bitters).
The signature beverage experiences are the Amour and the Envie, which are prepared tableside, from a rolling cart.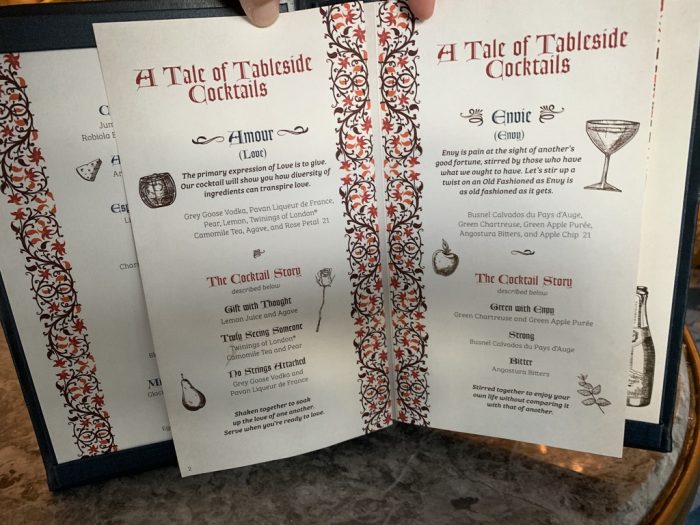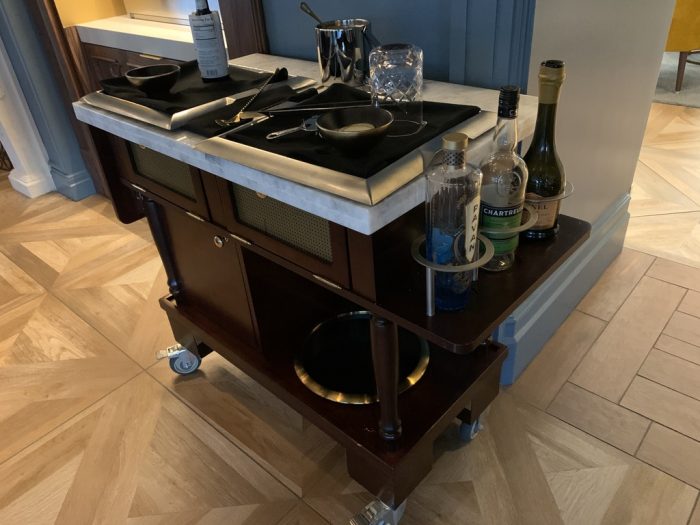 I ordered the $21 Envie, which came with an apple chip, a synopsis of the Beauty & the Beast film, and a therapy session. My server, Sarah, was charming and professional as she described the envy Gaston had for The Beast, how each ingredient of the cocktail related to the concept of envy, and then recited the mantra from the menu, "Stirred together to enjoy your own life without comparing with that of another."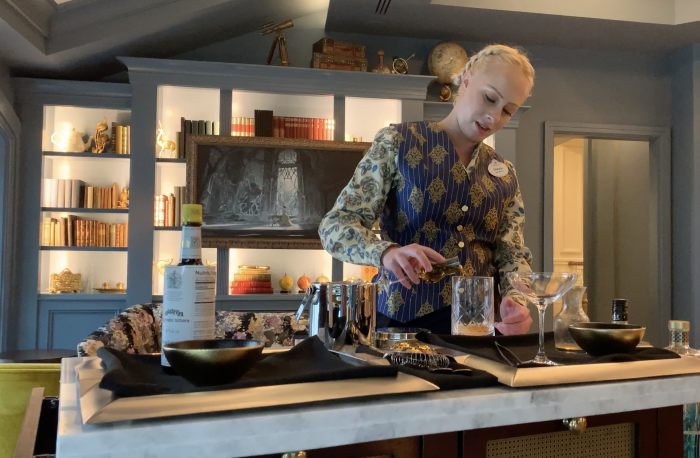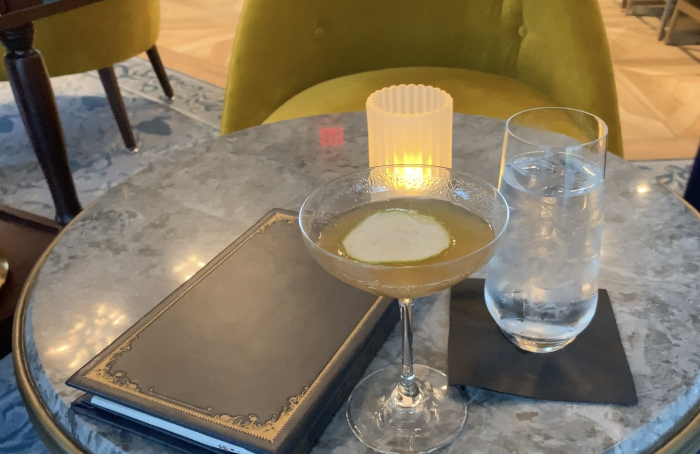 With tax and tip, my one drink was about $27. I nursed it for a while, but there's only so long that you can make a single coupe last.
Other than the price, which was admittedly my fault (I could have opted for the Bud), there was not a thing wrong with the experience. The perfectly curated environment was indeed a respite from my day traipsing through the Magic Kingdom. I left relaxed and just the right amount of inebriated. So why did I feel so unsatisfied?
Some of that was surely related to my disappointment that Grand Floridian band had been moved, relegated to a high-traffic spot by the main entrance and now playing amidst the hum of guests checking their luggage with Bell Services. You can't have any pesky merriment nearby when adults are trying to be sophisticated.
Another part of my discomfit was again my own doing. I was dressed in shorts and a tee, quite sticky from my day in the park. The Enchanted Rose is so chic, that I felt out of place in theme park garb. To be sure, no one commented on my clothing and I was treated with the utmost respect, but the atmosphere nearly screams, "Go back to your room and take a shower before you come here." Which is fine, but not necessarily a reality when you're on a theme park vacation.
Rather than "mom needs a cocktail before she heads down to 1900 Park Fare to tangle with Lady Tremaine," the atmosphere is "I'm in a bar at a conference in a large to mid-sized city trying to drink off my frustration that my boss presented my idea as his." More to the point, it feels like an adult after-work bar, not an I'm on vacation bar. And while they don't forbid children, it's certainly not a child-friendly venue.
If you want a refined atmosphere to have quiet conversation with adults, look no further than the Enchanted Rose. Celebrating an anniversary – head to Enchanted Rose. Want to plop down, have a drink, and scroll through Twitter while you shake the Carousel of Progress song out of your noggin, try another venue.