The Villas at Disney's Grand Californian Hotel: Deluxe Studio Review
Disney's Grand Californian Hotel & Spa is a deluxe hotel at Disneyland Resort in Anaheim, California. In this post we'll review a Deluxe Studio in the Villas at Disney's Grand Californian Hotel wing of the resort.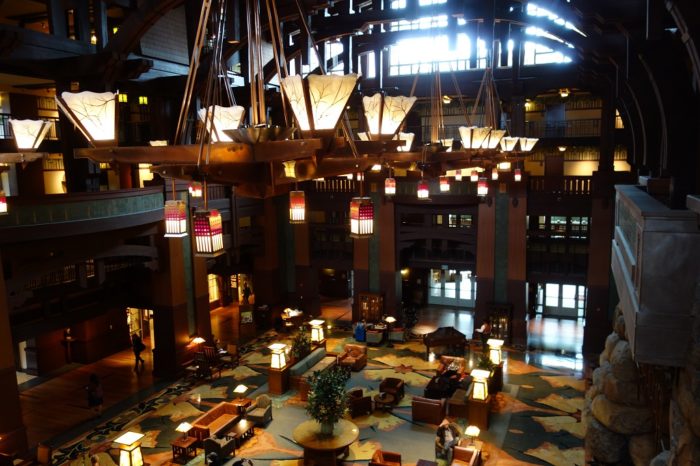 In 2018, Disney completed a hotel-wide refurbishment of Disney's Grand Californian Hotel & Spa. The hotel's lobby and pool areas were freshened up, but the most dramatic change came to the Grand's rooms themselves. Unfortunately, the Villas wing of the hotel didn't receive as dramatic of an upgrade. If you're wondering why we are reviewing a room that hasn't been upgraded, it's because we frequently reevaluate rooms in the Anaheim area even if they have not been updated.
Before moving on, here's a description of Disney's Grand Californian Hotel from our overview page:
The Grand Californian, built in the rustic stone-and-timber style of the grand national-park lodges, is the flagship property. Newer, more elaborately themed, and closer to the theme parks and Downtown Disney than the other two on-property hotels, the Grand Californian is without a doubt the best place to stay…if you can afford it.

The Grand Californian hotel is the crown jewel of Disneyland Resort's three hotels. With its shingle siding, rock foundations, cavernous hewnbeam lobby, polished hardwood floors, and cozy hearths, the hotel is a stately combination of elements from Western national park lodges. Designed by architect Peter Dominick (who also designed the Wilderness Lodge at Walt Disney World), the Grand Californian is rendered in the Arts and Crafts style of the early 20th century, with such classic features as "flying" roofs, projecting beams, massive buttresses, and an earth-tone color palette. We strongly encourage visitors with an interest in architecture to take the fascinating (and free) hour-long Art of the Craft walking tour of the resort, offered several times each week through the Guest Services desk. Most reminiscent of the Ahwahnee hotel at Yosemite National Park, the Grand Californian combines rugged craftsmanship and grand scale with functional design and intimate spaces. Pull up a vintage rocker in front of a blazing fire, and the bustling lobby instantly becomes a snug cabin.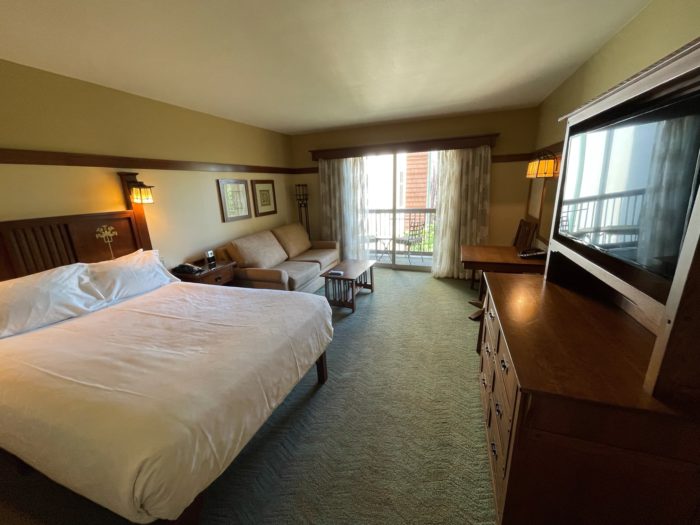 The Deluxe Studio is large and spacious. At 379 square feet, the studio can comfortably fit 4 people. The room includes 1 queen bed and 1 queen-size sleeper sofa. Storage space is plentiful thanks to a decent-sized closest and space under the queen bed with enough room to store luggage when not in use.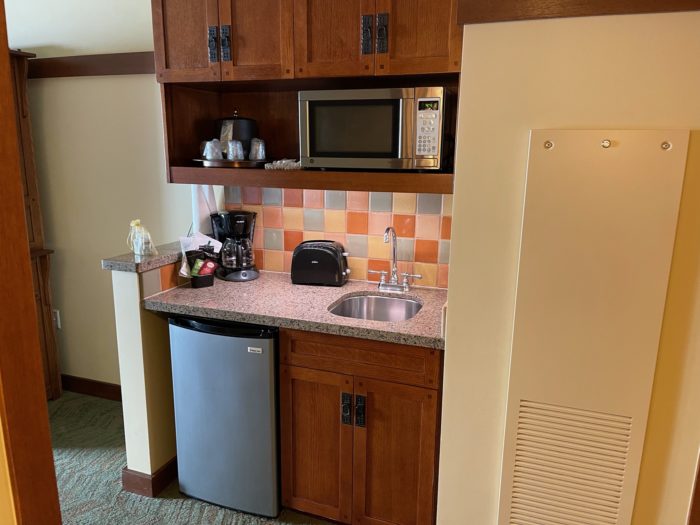 Each studio contains a kitchenette with mini fridge, coffee maker, toaster, microwave, sink, silverware, plates, and cups. There's also a few cabinets with shelves to store any groceries you bring.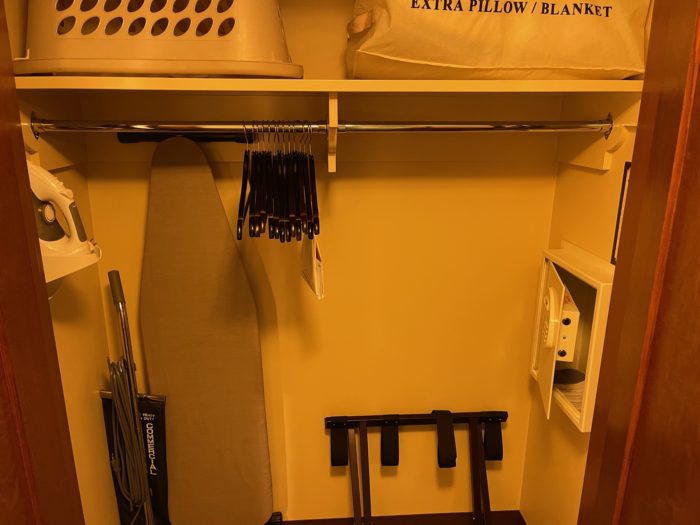 Here's the previously mentioned closet. You'll find two full-length mirrors on the outside of the closet door. On the inside there's a safe that is large enough to fit 2 or 3 laptops, a rack (about 3 feet long) with hangers, iron, ironing board, laundry basket, and an extra blanket and pillow. Usually there's a couple of Grand Californian-branded bathrobes included with each room. These were missing from my room due to you-know-what procedures, but you can request them by calling Guest Services/Housekeeping.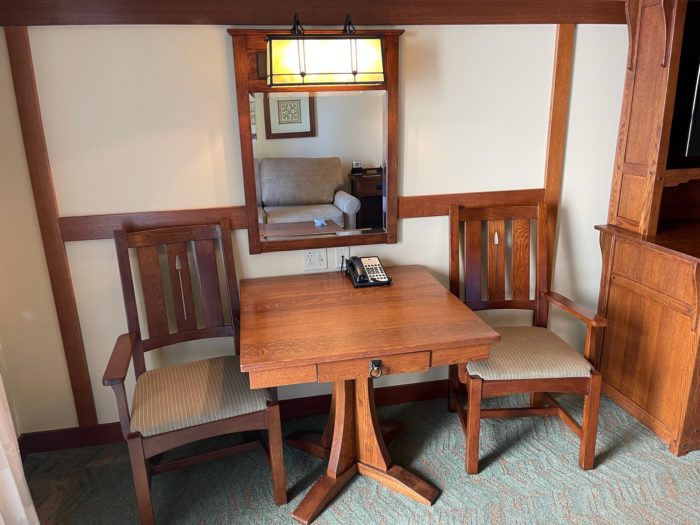 A table that is about 3 feet long and 3 feet wide is included along with two chairs. There's no desk like the standard rooms have, but there was more than enough room for me to work on my laptop at this table. Next to the table, and directly in front of the queen bed is a 55-inch TV and dresser with 6 drawers.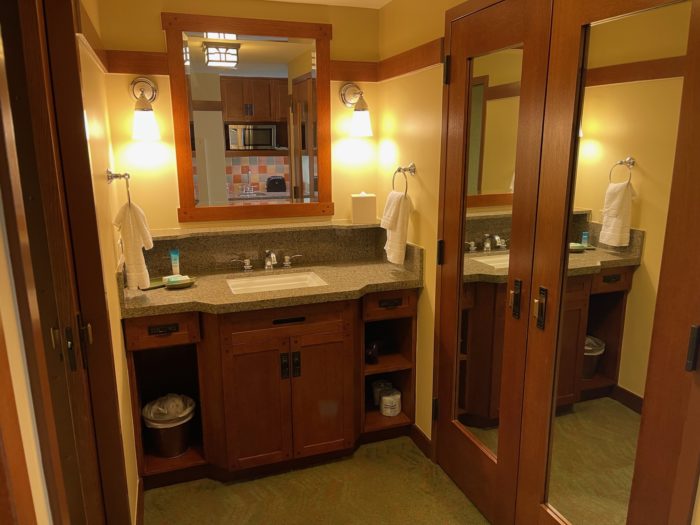 The sink area contains plenty of storage and counter space.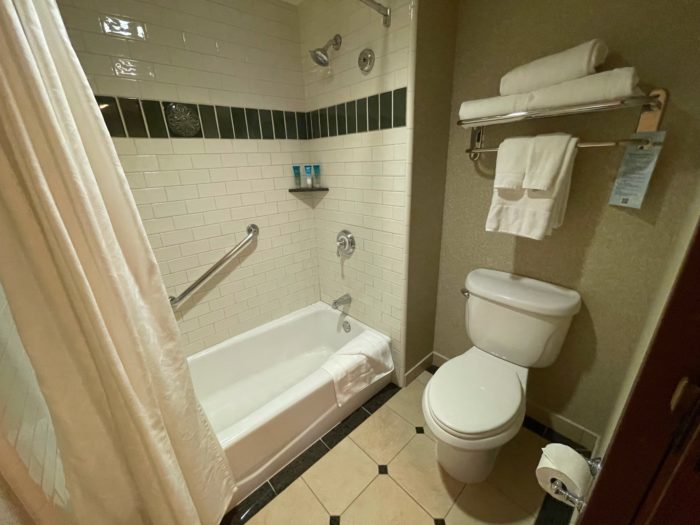 Here's a look at the bathroom. I've stayed at Grand Californian a handful of times over the years and found the water pressure to be inconsistent each time I stay there. This time it wasn't great, but not bad enough to the point of where I'd ask for a different room. Water temperature was fantastic and warmed up quickly.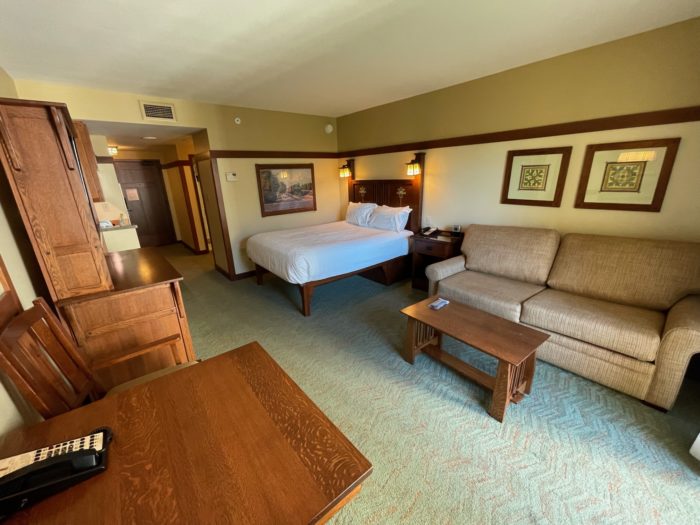 One last look at the room from the opposite side of the room.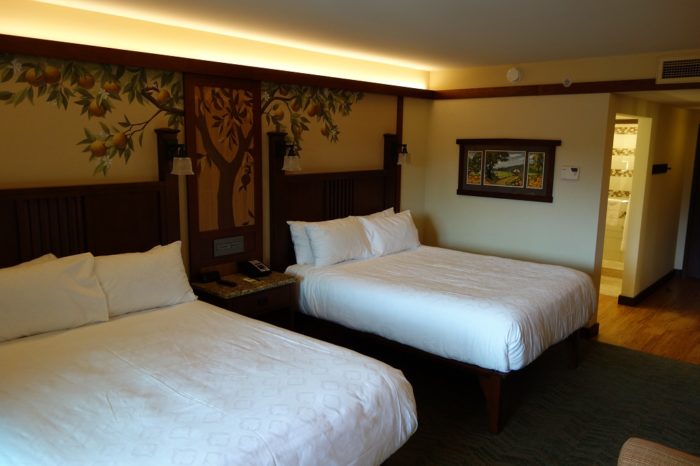 I didn't want to bog this review down with comparisons to the standard rooms in the non-DVC wing of the hotel, but I feel it's worth mentioning. While the DVC studio is nice and functional, the standard rooms are much fresher and contain a number of improvements. For example, a number of longtime complaints were addressed during the aforementioned 2018 refurbishment. One being lighting, as you can see in the picture above, a strip of lighting was added at the top of the room above the beds. Also, a number of USB charging ports were added around the room (last time I stayed in a standard room I counted 10).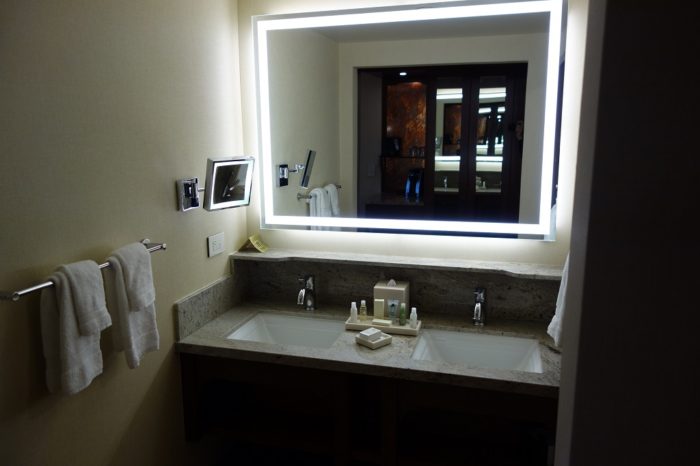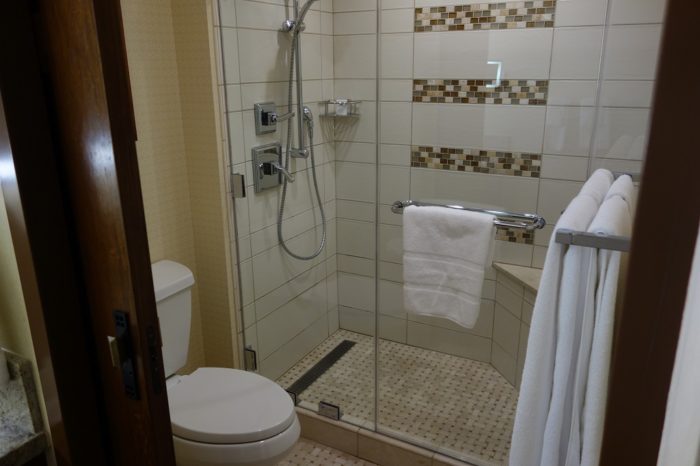 As you can see, the bathrooms in the non-DVC rooms were completely redone with improved lighting and modern fixtures.
Click here if you want to check out our full review of a standard room at Disney's Grand Californian Hotel.
Overall, I don't have many complaints about the Villas at Disney's Grand Californian Hotel Deluxe Studio. GCH is a wonderful and luxurious hotel with an unbeatable location, fantastic dining options, and excellent service. While I find the standard rooms to be nicer, there's a lot to like about the Villas as well.
Have you stayed at The Villas at Disney's Grand Californian Hotel? What are your opinions about the rooms and the resort in general? Let me know in the comments below.