Tips for Traveling to Walt Disney World with a Toddler in 2020
Everyone is facing their own unique challenges this year. For those with toddlers, like me, 2020 presents challenges that at times are exhausting. But last month we stole ourselves away for a quick overnight weekend for our return to Walt Disney World. There were some high points and low points, and unique moments that come from traveling with a toddler. Here are some of my tips for traveling to Walt Disney World with a toddler in 2020.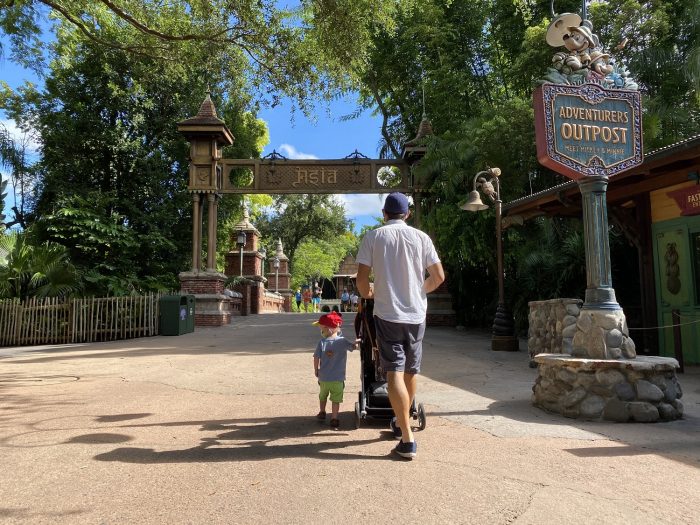 Tips for Getting a Toddler to Wear a Face Mask
When I posted a few photos of our trip that included our toddler wearing his face mask, I received quite a few inquiries as to how we "got our son to wear a face mask". So here are a couple of pointers. First, I talked with my son ahead of time. About a week or so before we headed to Walt Disney World I spoke with him a few times, setting the expectation. "When we are at Animal Kingdom and at EPCOT we will need to wear our masks," I would say to him multiple times at various moments leading up to our trip. Like with many things, if you set the expectation and explain things ahead of time you generally make things easier on yourself.
Second, we've talked about the virus and health and wellness. Our toddler does not like washing his hands at all. We've listened to songs about washing hands. We've read books with characters who wash their hands. We make a game of it. We sing songs about it. It's still not his favorite. But when I explain how germs and viruses work he tends to get it. And that helped with the mask.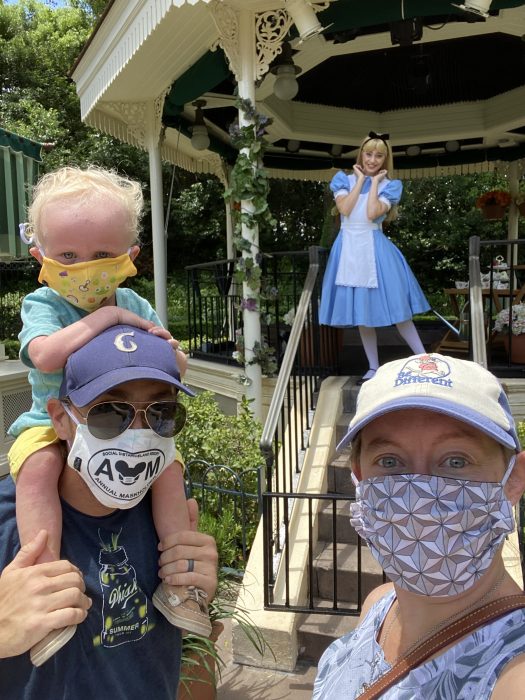 I also looked for fun designs with familiar characters for children's face masks. We practiced wearing them and he would even ask to wear them while at home. I will say, during our weekend at Disney, his patience and willingness to wear his mask waned towards the end. We only did 2-3 hours in the parks at a time. We committed to staying outside the entire time, as an extra precaution. And in the summer heat our energy was zapped pretty quickly. He fought wearing the mask at the end of our first evening at EPCOT, so we wrapped up our evening and headed back to our cabin at Fort Wilderness. The next day, after close to 3 hours at Animal Kingdom, he did not want to wear it any longer. We were all pretty hot and tired so we packed up the car and headed for home.
Tips for Physical Distancing with a Toddler
Similar to preparing my toddler to wear a face mask, I talk with him every so often about keeping his distance. This is not an easy concept for either of us. It's difficult, internally, to think about having to teach your little human to keep his distance from other humans. But I go back to explaining how germs and viruses work. I also frame it up as a courtesy to other people. The same way we teach him to ask for things politely, and to say thank you, we teach him the courtesy and safety of giving other people space. It also really helps when there are markings on the ground. And if all else fails we kept him in his stroller so we could control the distance.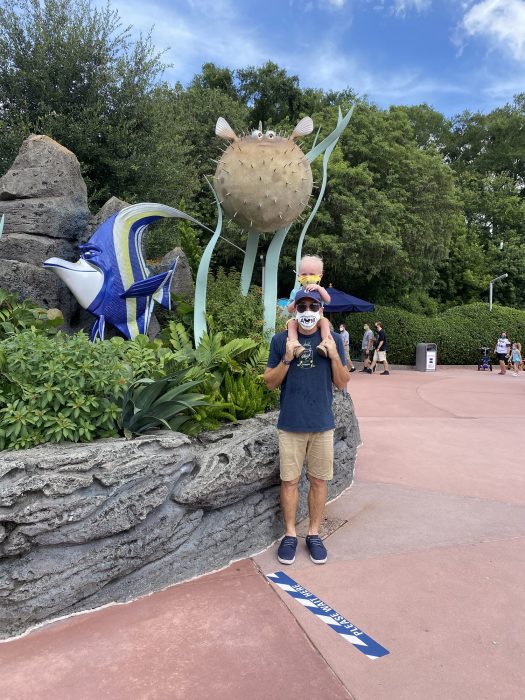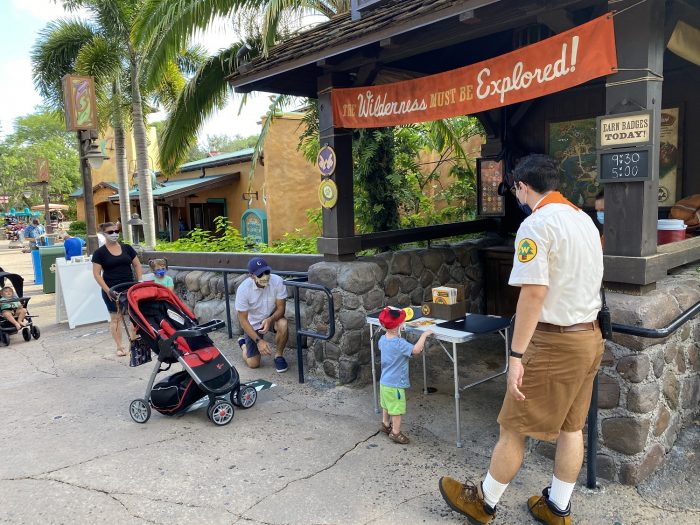 I highly recommend the Wilderness Explorers activities at Animal Kingdom if you are struggling for things to do at Disney that are outside and feel safe. We did a few of the stations and the Cast Members did an excellent job of physical distancing and being contactless. When our little Wilderness Explorer earned his badge for the activity the Cast Member would place the sticker on the table, asking him to wait, and then stepped back and invited him to step forward and take his sticker. We also stuck to pathways that had space and made it easier to distance.
Tips for Staying Overnight at Disney with a Toddler
It can be tough for kids to sleep in an unfamiliar place. This can be even more true for toddler who has just made the transition from crib to toddler bed. We stayed the night in a Fort Wilderness Cabin – we don't quite feel comfortable staying in a traditional hotel right now, and the home away from home amenities had strong appeal. At the cabins at Fort Wilderness, there is one bedroom and it has a queen size bed as well as a set of bunk beds. Our toddler slept in the bottom bunk – because he certainly is too small for the top bunk, and the safety sign on the bunk bed explained only children over age six should be allowed on the top bunk.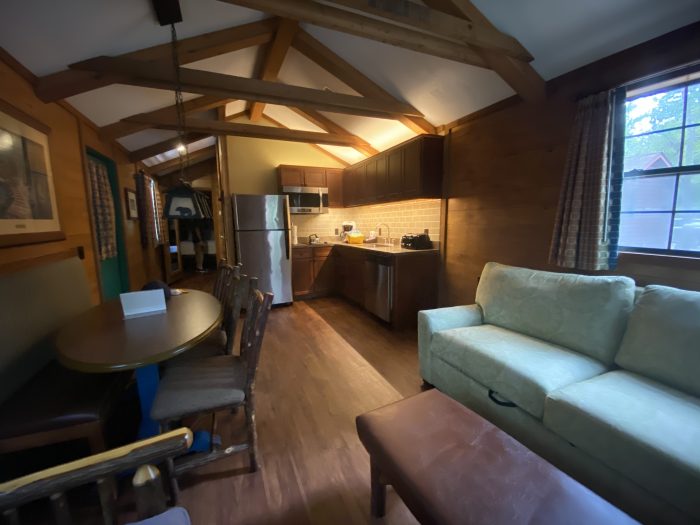 Prior to arrival I called the Disney Reservation Center and requested bedrails. The bedrails were not in our cabin when we arrived, which was no big deal and we were just thankful to have a cabin ready for us at 1:30 p.m. so we could take a break from the summer heat we experienced at EPCOT earlier in the day. Once inside the cabin I called the front desk and requested the bedrails. About 20 minutes later a Cast Member arrived, wearing gloves and a mask, with the bedrail in a plastic bag. He kindly offered to set it up for us, but I declined. We'd rather not take any chances. My husband was able to figure out how to set it up and voila – our toddler had a safe bed in which to sleep.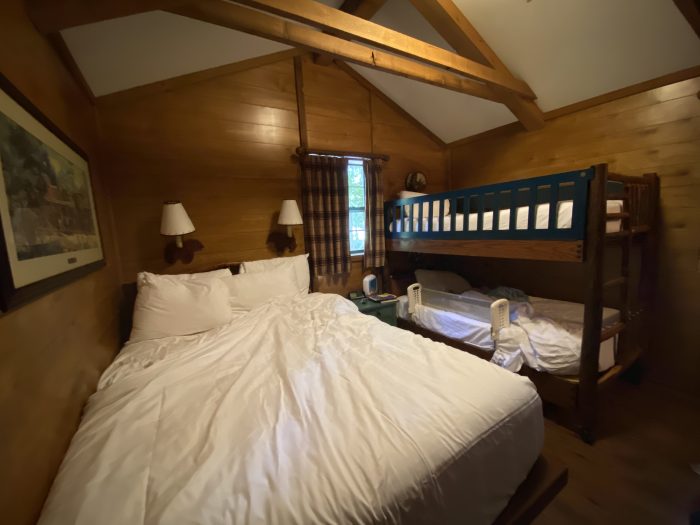 Our little toddler has multiple comfort items that help us at bedtime. Thankfully these items are portable and we brought them with us–we always do when we travel anywhere. We also bring along some favorite bedtime books. Anything that models the bedtime routine at home is a big help.
If you book somewhere that does not have a small bed, like bunk beds, be sure to check that they offer bedrails and check to see if they fit on whatever bed sizes are in your room. Another option is to see if they offer a rollaway bed and bedrails. Usually rollaway beds are smaller and lower to the ground than regular beds.
Other Tips and Information
Stroller rental is available at Disney theme parks, and extra cleaning precautions are being taken.
We made use of the Baby Care Center in the parks for restroom breaks with less people and a toddler-friendly environment.
Although there is hand sanitizer and hand washing stations readily available, we brought our own wipes and spray, which came in handy multiple times during our trip.
Have you been back to Walt Disney World since its reopening? Are you planning on going with a toddler? Got any tips and tricks? Let us know in the comments.