Menu Monday: 9 Differences Between Trader Sam's at Walt Disney World vs. Disneyland
The tiki drums are pounding, the tropical libations are now flowing, and there is cause for celebration. Trader Sam's Grog Grotto is now open at Disney's Polynesian Village Resort to the delight of Disney fans and tiki lifestylers. There is so much to love about this East Coast installment of a Disneyland Resort treasure. But as is always the case with siblings, there are some characteristics that set the two apart. These little touches give a difference that is just distinct enough between these two enchanted tiki destinations.
A Dream Come True
Before we begin our list of differences, let's take a moment to look back. About three years ago I sat at the Tambu Lounge on the second floor of the Great Ceremonial House at Disney's Polynesian Resort. I nursed a tall frosty mix of tropical juices and rum; like so many Disney fans, Tambu Lounge had earned its place on my regular rotation of Disney bars & lounges.
But after years of annual visits to Disneyland Resort, and plenty of visits to Trader Sam's Enchanted Tiki Bar at the Disneyland Hotel, I envisioned a Polynesian paradise on the East Coast (and I know I am not alone in having such a vision). It seemed like a natural fit to have an enchanted tiki bar at Walt Disney World's  Polynesian Resort. And so as I sat at Tambu Lounge gazing out the window upon the lush tropical foliage, out to the pool, and the Magic Kingdom in the distance, I dreamed of what could be.
After the closure of Downtown Disney's Pleasure Island clubs in 2008, including the fan favorite Adventurers Club, many of us hoped and dreamed of a themed, entertaining bar somehow being reborn at Walt Disney World. Now let's not muddy the tranquil, tropical waters. Trader Sam's and Adventurers Club are not the same thing. Adventurers Club was two stories tall with multiple rooms of completely Imagineered goodness with a cast of characters that brought the place to life. However, no one can deny that the theme, the details, the interactive elements of Adventurers Club was at the very least a source of inspiration for Trader Sam's Enchanted Tiki Bar at Disneyland Resort.
Now that the tiki Gods have answered our prayers, let's take a look at the differences between the original Trader Sam's Enchanted Tiki Bar at Disneyland Hotel and the brand new Trader Sam's Grog Grotto at Disney's Polynesian Village Resort.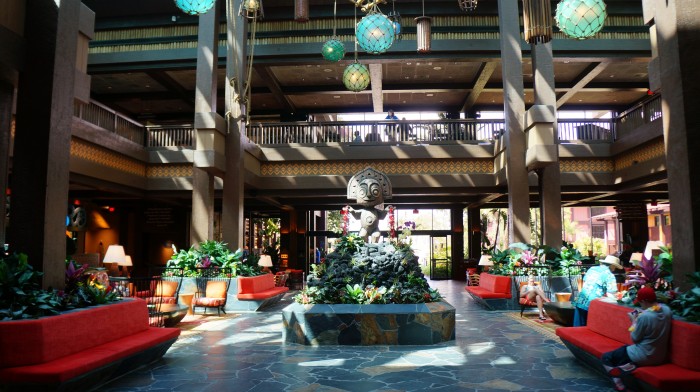 9 – Drinks
Oh, yes, a tiki bar just isn't a tiki bar without a full list of tropical libations that are sure to grant instant relaxation. Disneyland's Trader Sam's boasts a wonderful list of drinks (some not even on the menu) that have become fan favorites. Many of those fan favorites, such as the Hippopotamaitai (I LOVE saying this name), the Tiki Tiki Tiki Tiki Tiki Rum, and the Shrunken Zombie head, have made the cross country flight over to Walt Disney World. Other cocktails are new to the Trader Sam's family and are unique to Walt Disney World. These include the Polynesian Pearl (which I enjoy, but others have said is too sweet), the Castaway Crush (a Brazilian inspired frosty beverage), and the Spikey Pineapple (basically a pineapple Dole whip with rum).
Perhaps my favorite Walt Disney World exclusive drink is the Dark and Tropical Stormy. The Dark and Stormy is a classic tiki bar drink made of ginger beer and dark rum. Trader Sam's Dark and Tropical Stormy is just that plus lime juice and falernum.  But what makes this drink one of my favorites is the $8 price tag and the detail of the drink umbrella that has been impacted by the stormy weather.
8 – Hours of Operation
Here on the East Coast we definitely got the short end of the tiki totem pole. Disneyland's Trader Sam's is open from 11:30 AM – 1:30 AM, whereas Walt Disney World's version is open from 4:00 PM – midnight. Part of the reasoning for this big difference in operating hours is that at the Disneyland Hotel Trader Sam's is basically the pool bar and pool counter service location. Over at the Polynesian, Capt. Cook's and the Barefoot Pool Bar serve this purpose. Still, the Tiki Terrace is close enough to the Polynesian's pool that it might be worth opening earlier, at least during peak seasons.
On weekends and peak season you will usually encounter a line of people waiting to get into Trader Sam's Grog Grotto starting around 3:15 PM. However, the neat thing for adults is the venue becomes 21 and over after 8:00 PM and it seems to be less of a wait during those later hours. I haven't been after such time, but I look forward to doing so soon!
7 – Tiki Terrace
Speaking of the Tiki Terrace, let me introduce you to my new favorite place to chill in the Magic Kingdom area. Over at the Disneyland Hotel, the majority of Trader Sam's seating is outdoors, but it is spread out along a wrap around patio and a small sitting area near an outdoor fireplace. The furniture is more comfortable than Walt Disney World's terrace. There is live music in the evenings, usually on weekends.
Maybe because I do not live in California and a visit to Trader Sam's is quite special to me, but I've never been too impressed with the outdoor experience, always longing to be inside. However, with the Polynesian's Tiki Terrace I find myself relaxed and blissful, loving the atmosphere. So what's different?
Rather than a  wrap around porch like at Disneyland, the tiki terrace is a wide open…. terrace. There is supposedly seating for 80 and though I haven't counted all the chairs, I feel like it might be slightly less. I simply adore the atmosphere. A flowing lava rock waterfall. Live Hawaiian music. A view of the Seven Sea Lagoon. The soft sound of the Walt Disney World Railroad whistling through the Magic Kingdom. On a clear day you can easily see the tops of Big Thunder Mountain, Cinderella Castle, and Space Mountain. Boats dash along the water. At night tiki torches flicker and the terrace offers a decent view of Wishes Fireworks. It's my new favorite piece of paradise and now that I have gotten my fill of the experience of the inside of Trader Sam's, I'd be content simply spending time on the terrace.
6 – Food
As we have discussed, Disneyland Hotel's Trader Sam's serves as the pool's food and beverage location. Therefore, the food menu has a few actual entrees as opposed to just appetizers, as is the case at Walt Disney World's Trader Sam's. Here the food menu consists of 8 appetizers.
So far I have tried the Headhunter Roll (a cool looking sushi roll with red hued sushi rice – $14.99). It is the most expensive item on the menu and while I enjoyed it, I'd have plenty of better sushi and better prices elsewhere. But if you are a sushi fan it is certainly worth a try.
Next up I've tried the roasted chicken and pork pâté bánh mì sliders ($9.99). As one of the lower priced items it is a decent value since you get 3 sliders. However, the bread took me by surprise. It was hard, similar to a French baguette and there was a lot of it. I would have preferred a softy, thinner roll.
Finally, I've had the corn-battered Portuguese sausages with curry ketchup ($8.99). These are also a good value, you get three sausages, the curry ketchup makes this dish!
All in all, the food is a mild let down when compared to the food at Disneyland's Trader Sam's. I am looking forward to trying the pork tacos that seem to be quite popular.
5 – Special Effects
One of the main highlights of a visit to either Trader Sam's location are the enchanted effects that take place when certain signature drinks are ordered and delivered. There are six drinks that awaken the tiki spirits of the Grog Grotto. Of course, these six drinks are also the special ones that can be ordered with a souvenir glass.
Four of the six special effects drinks made the migration from Disneyland to Walt Disney World: the Oa-Ua, the Shrunken Zombie Head, the Hippopotamaitai and the Krakatoa. These effects are essentially perfectly duplicated between both locations (though it seems to me the effects for Hippopotamaitai have more of an impact at Walt Disney World). And the Oa-Ua has an added ending exclusive to Walt Disney World that pays homage to the now defunct 1990's version of the Enchanted Tiki Room. The Polynesian Pearl is a simple effect, but still enjoyable. Maybe I'm easy to please but it's kind of fun watching the pearl being removed by the clam shell (often called "Shelly") and hoping to see the elusive black pearl.
The most impressive effect is for the Nautilus. Being the most expensive, and most brag worthy drink on the menu the effects are fitting for such a beverage. The lights bathe the entire venue in aquatic blue, sounds effects from the actual 20,000 Leagues Under the Sea Attraction fill the air. The skippers often plus the effects too, sometimes way over the top. One little note, I do miss the tiki guys that top the beer draft handles and the tiki drums that would play when bartenders pulled on them to pour beer over at Disneyland.
4 – Host / Hostess Stand
A helpful feature that is exclusive to the East Coast branch of Trader Sam's is the host stand. Its benefits are twofold. Over at Disneyland seating is first come first serve. Granted the earlier operating hours help accommodate guests often in a timelier fashion, though on Friday and Saturday nights it can be madness. Over at Walt Disney World you check in with a host or hostess and given a pager. From there you can enjoy the Tiki Terrace (seating here is open and if all seats are taken you can walk up to the bar window to grab a drink).
What is a little challenging is that your pager will go off when a party that is approximately your same party size gets their check inside. This sometimes leads to an excited party entering the grotto and suddenly looking bewildered searching for a place to sit. You can still grab a drink at the bar if by chance you cannot find seats, but it is frustrating to finally have the pager go off and alas not have a place to sit and relax inside.
The second function of the host stand is to pick up your shiny new, boxed up souvenir tiki mugs should you purchase any during your visit. Your skipper will mark your receipt, simply show your receipt to the skipper at the stand and viola! your brand new tiki mugs are boxed and bagged for the journey home. There is one mug that is not provided this way: the Pearl, so you'll need to remember to grab it as your Trader Sam's adventure comes to an end. Oh and make sure you get a stamp from the hostess if you head out of the grotto to go to the restroom, you'll need it to be able to come back in.
3 – The Skippers
Disneyland Trader Sam's skippers are often more laid back putting shy guests more at ease. Walt Disney World's Trader Sam's Grog Grotto is still brand new, so perhaps the enthusiasm, and sometimes outlandish behavior, of the skippers will subside. In rare cases it can become difficult to enjoy the effects, the details, the sounds, and the incredible imagineering that went into creating this place. I've also seen encounters in which guests were made to feel bad and uncomfortable for not participating in the chants or audience participation. One could say that this happens often at live shows in the theme parks or took place at Adventurer's Club. That certainly is true, however, I am not sure everyone who visits Trader Sam's Grog Grotto expects such an encounter.
It truly is pleasing to see the enthusiasm of the skippers and I am glad they are enjoying their new roles at Walt Disney World. The majority of guests have enjoyed their interactions with the skippers thus far and as they say "everything ain't for everybody." It just may be helpful to keep this in mind for those that are used to a more laid back experience or may not be the biggest fan of getting loud and rowdy. It's been said by many who have visited both that Disneyland's version feels more like a bar and Walt Disney World's feels more like an attraction.
2 – Mugs
If you go to either Trader Sam's and don't walk out with a tiki mug, did you actually go? I'm kidding of course, a visit to Trader Sam's is very enjoyable even without a tiki mug going home with you. Many Disney fans, myself included, are very excited to see that all the mugs at Trader Sam's at Walt Disney World are different than the ones at Disneyland, and really from a revenue standpoint why wouldn't you want to gets fans excited to collect them all on both coasts.
There are two tiki mugs that are structurally the same but they coloring or glaze is different. The Krakatoa mug is tall and a little slim, with tiki marks and bubbling lava. Disneyland's version has coloring that is brighter with orange toned lava, while the Polynesian's version is darker with bright red lava. Meanwhile the Shrunken Zombie Head mug is exactly that, a creepy but fun zombie head that has gone through a few color variations at Disneyland. At the Polynesian's the zombie head has lime green tone.
The UO-OA tiki bowl resembles its older brother, but the tikis on the bowl from the Polynesian are expressing their shock and worry about the mighty UO-OA's blow. Meanwhile the Hippopotamaitai comes in a clear glass tiki face shaped mug in both locations. At Walt Disney World's the tiki face resembles the shrugging tiki statue that's featured in the Polynesian's lobby (and throughout the resort). This tiki is said to resemble Maui who is legended with having convinced the sun to shine longer making the days last longer.
Finally, there's the legendary Nautilus mug which is nearly big enough to require a boating license in order to carry it. The Polynesian Pearl is plastic, with the Trader Sam's logo etched on the front. It's sort of the equivalent of the Trader Sam's barrel that comes with Disneyland's Shipwreck drink. I rather enjoy the simplicity of the pearl and I hope to one day acquire the elusive and rare black pearl.
Another new tiki mug exclusive to the Polynesian location are the three mini tiki mugs that comes with the rum flight. The flight is $36 (if you keep the little mugs) and not something that most people would order on a regular basis, but cool to try. Finally there's the Polynesian Punch sipper. The Poly Punch is non-alcoholic and the sipper is plastic, resembling a tiki mask covered column found inside Walt Disney's Enchanted Tiki Room attraction.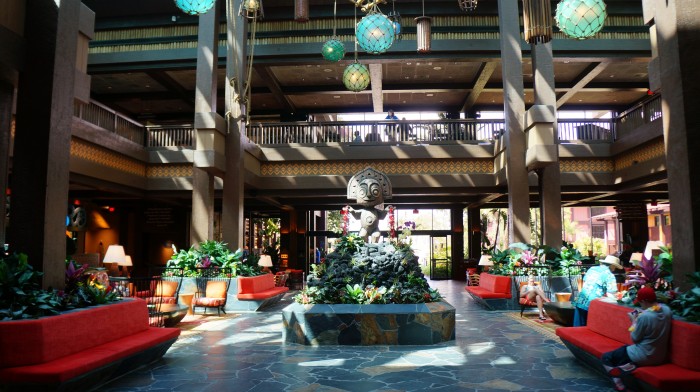 1 -Décor and details
At the surface, the interiors of both location a very similar, much like siblings. But if you take a moment and dive, dive, dive a little deeper you'll notice the difference in their DNA. The original location at Disneyland Hotel drew its inspiration from the 1950's which is quite appropriate considering Disneyland opened in 1955. Meanwhile, at Disney's Polynesian Village Resort, the Grog Grotto is much more nautical with boat flags, life preservers, and other boating gear with lots of inspiration from the 1970's, again appropriate since Walt Disney World opened in 1971.
On the bright side, pun intended, Trader Sam's Grog Grotto is inside a building, unlike Disneyland's version. This enables guests to enter the tiki bar without sunlight flooding in as is the case when inside Disneyland's Trader Sam's during the day. The interior of the Grog Grotto feels much more open than Disneyland's location, which has a u-shaped interior with the bar jutting out in the middle. There are also details from throughout the Disney universe and a few nods to legends of early Disneyland.
Some of my favorite details inside the Polynesian's Grog Grotto are the pictures of Florida landmarks like Weeki Wachee Springs and Mai Kai, plus the cephalopod arm that helps make the Nautilus drink, and the life preserver rescued from the post show area of the sorely missed Maelstrom attraction.
Now that I have had a few visit to the new Trader Sam's Grog Grotto, I appreciate the nuances and differences between the two locations. I have found that I am perfectly content on the Tiki Terrace and would be ok with enjoying myself there rather than feeling like I must be inside. Like many others, I am happy to see that there are differences between the two, offering a distinct flavor at each one. Most importantly though, I am very happy that the enchantment of Trader Sam's can now be experience at Walt Disney World and I look forward to many more adventures at both locations.
To learn more about Trader Sam's Grog Grotto check out photos and video from the soft opening. Kungaloosh! Aloha!