Ultimate Guide to Bringing An Electric Vehicle to Walt Disney World
TouringPlans is pleased to welcome back guest author Ted Wioncek III.
Do you have an environmentally friendly vehicle? Thinking about driving to Walt Disney World? Well, we've got you covered with the facts: from parking to pricing! So, rev your engines and away we go, because this is the Ultimate Guide to Bringing an Electric Vehicle to Walt Disney World!
An Environmentally Friendly Disney!
Despite the backlash over paper straws, Walt Disney World has received a healthy dose of praise for becoming more environmentally conscious. In fact, Disney and ChargePoint have recently joined together to bring convenient charging stations for Electric Vehicles to Magic Kingdom Park, EPCOT, Disney's Hollywood Studios, Disney's Animal Kingdom Theme Park, Disney Springs, and over 10 Walt Disney World Resorts and hotels!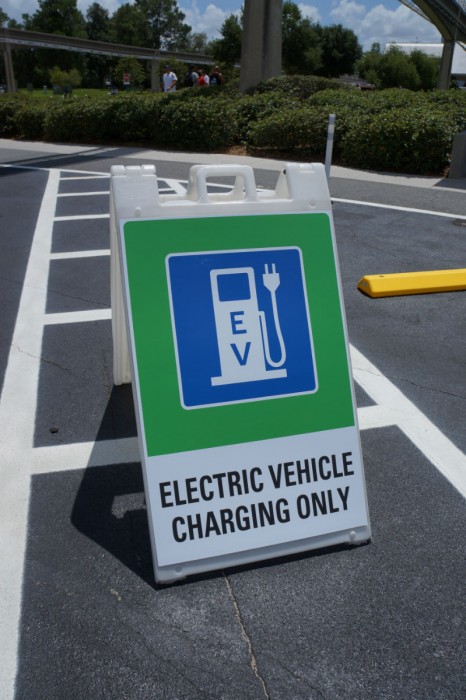 What Kind of Changing Stations Does Walt Disney World Have?
Throughout Walt Disney World you will find several Level 1 and Level 2 charging stations.
Where to Charge My Electric Vehicle at Walt Disney World?
Magic Kingdom
Magic Kingdom Park's primary parking lot is located at the Transportation and Ticket Center. Here, you will uncover 5 ChargePoint stations, 4 located within the Zurg Parking Lot (Row 400) and 1 by Jafar Parking Lot (Row 300)
Epcot
Epcot is home to 5 ChargePoint stations, all located within The Journey Parking Lot (Row 1).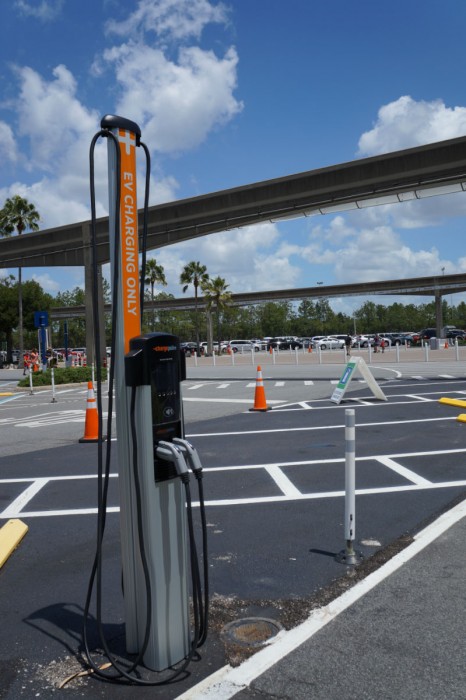 Disney's Hollywood Studios
Disney's Hollywood Studios boasts 4 ChargePoint stations, each located within the Mickey Lot (Row 300).
Disney's Animal Kingdom Theme Park
Disney's Animal Kingdom Theme Park is home to 4 ChargePoint stations, all housed within the Medical Parking Lot, directly in front of the Peacock Lot.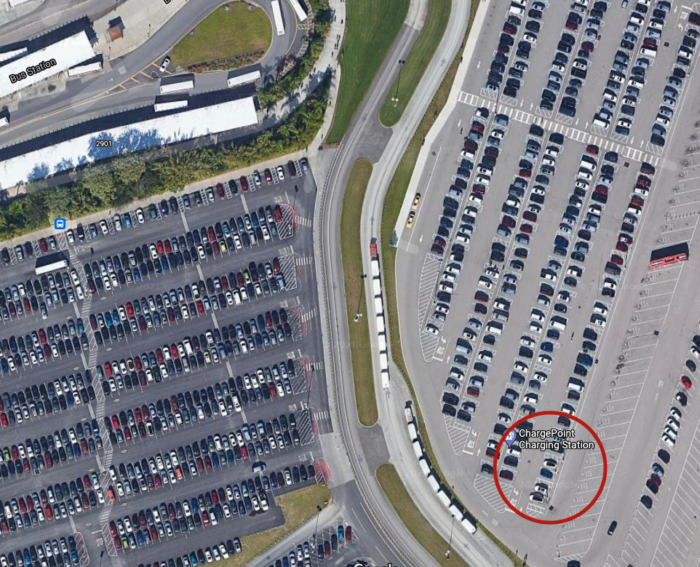 Disney Springs
Each Disney Springs garage hosts three ChargePoint stations! Here is where you can find them:
Lime Parking Garage
5th Level – Roof
Orange Parking Garage
5th Level – Roof
Grapefruit Parking Garage
3rd level – Close to the Walkway to Disney Springs
Note: Though you may prefer the Lime Parking Garage or Orange Parking Garage for one reason or another (us Disney fans can get passionate about anything, am I right?), the Grapefruit Parking Garage is your best bet due to frequent availability! Sure, this is probably due to its further proximity to/from Disney Springs. But it may be worth heading here first to avoid any frustration searching for a spot.
Walt Disney World Resort Hotels
If you are a Walt Disney World hotel guests, visiting a guest, or have a dining reservation, you are permitted to charge up your EV at the following locations:
Disney's Animal Kingdom Lodge – Kidani Village
Though not your typical charging station, The Kidani Village parking garage contains several Level 1 wall outlets located within the Timon Parking.
Disney's Coronado Springs Resort
Head on over to the El Centro Parking lot, where you'll find 6 ChargePoint stations, 1 of which is designated as a disability spot.
Disney's Fort Wilderness
Campsite: Every campsite offers a Level 1 standard wall outlet and a Level 2 NEMA 14-50 outlet, for those RV travelers out there!
Cabin: Cabins provide a Level 1 standard wall outlet located on the outside of the cabin.
Please note that while these locations are free, they are located directly outside each individual cabin and therefore you will need to be staying there or visiting someone. Also, be sure to bring your own cable!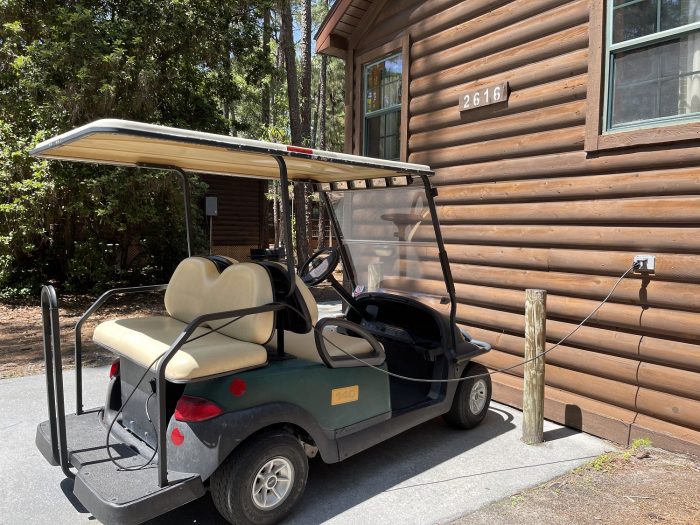 Disney's Old Key West Resort
You may need to hunt around to find these, but there are Level 1 standard wall outlets available outside each villa. Now, that is the easy part! The downside is that they are attached to the air conditioning units, and you may need to fight through some shrubs and foliage to get to it. In addition, you will need to bring your own cable.
 Disney's Riviera Resort
The new DVC resort features 2 ChargePoint stations, both located on the West Parking Lot, nearby the main building.
Disney's Wilderness Lodge
There are 2 ChargePoint stations here, both located in the very first row.
Note: This location may be tricky to find. Be sure to make a left after the security booth, followed by another left, and a right into the parking lot.
Walt Disney World Dolphin
If valet parking is your style, this option will work out well for you! Located on Level 1 sits a wall outlet. Simply bring your own cable and inform the valet that you intend to charge your car! Outside of standard valet costs, the charging is free!
Wyndham Bonnet Creek
You will find 2 ChargePoint stations located outside the parking garage between Tower 4 and Tower 5.
Both these stations are FREE!
Hilton Orlando Bonnet Creek
There are 2 ChargePoint stations located at this resort, both found on Level 2 of the Main Parking Garage, by the stairs.
Waldorf Astoria Orlando
There are 3 TESLA Destination Chargers available for valet parking.
Shades of Green
Just like Waldorf Astoria Orlando, there are 2 TESLA Destination Chargers available for valet parking.
Four Seasons Resort Orlando at Walt Disney World
Move over Waldorf Astoria Orlando and Shades of Green, Four Seasons Resort Orlando at Walt Disney World provides a whopping 8 TESLA Destination stations! All eight of these stations are designated to valet parking only.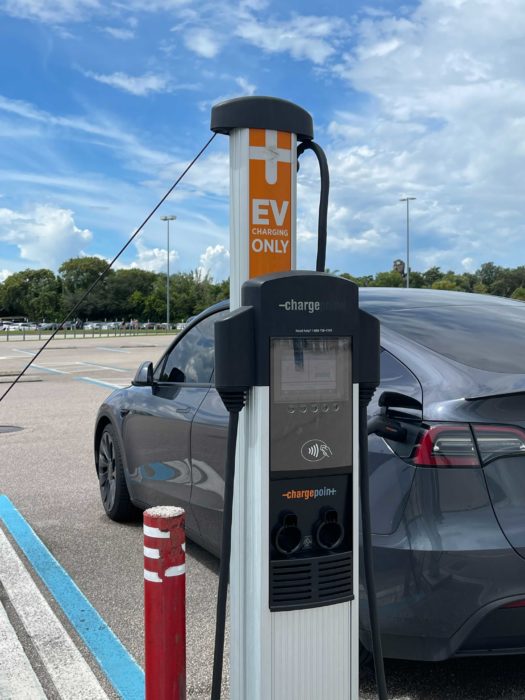 How Much Does It Cost to Charge My EV at Walt Disney World?
It cost $0.35 per kilowatt-hour.
Note: A minimum charge of $1.50 is required, unless noted otherwise.
How Do You Use a ChargePoint Station?
Be sure to download the ChargePoint app and enter your credit card information.
Once you've arrived at your station, simply tap your phone to the reader and the charging cable will automatically unlock.
Connect the cable to your electric vehicle and go off on your merry way!
It's really that simple. In fact, once your EV is fully changed, you will get a notification on your phone!
Note: If you are uncomfortable with entering your credit card info into the app, you can purchase a prepaid ChargePoint card. In this case, you tap the card to the reader to release the charging cable.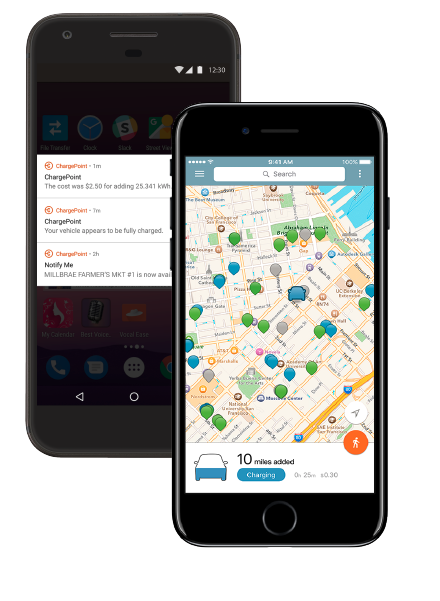 How Will I Know When My Battery Is Fully Charged?
Charging ceases when your battery is fully charged.
Will I Be Notified When My Battery Is Fully Charged?
Yes, if you have the ChargePoint App!
Additional Resources
Be sure to also check out PlugShare and ChargeHub for additional charging stations outside of Walt Disney World proper.
Accessories
When traveling with an EV, it is always best to carry your own cable, a spare cable, and a few extra adapters, if needed.
When In Doubt, Ask Away!
If you have trouble finding any of the above locations, don't be shy about asking a Cast Member for directions. In fact, the more you ask them the more Disney may realize there is a need for additional signage and stations!
And there you have it, the Ultimate Guide to Bringing an Electric Vehicle to Walt Disney World! Do you plan on bringing your EV to Walt Disney World? Any extra tips you think we should add to the list? Be sure to let us know in the comments below!
Ted Wioncek III is a Walt Disney World Annual Passholdin'-D23 lovin'-DVC card carryin'-Theme Park Journalist, whose work has garnered him a reputation as a "master in storytelling." He specializes in theatrical review, food critique, travel planning, and double-blind Dole Whip taste testing. Ted lives in sunny Florida with his beautiful wife, Kimberly, and their adorable rescue beagle, affectionately named, Professor Indiana Bones. You can contact him at TheRealTraderTed@gmail.com. You can also enjoy his tips for visiting the parks at his YouTube channel, The Disney Passport.