Universal Orlando Dining Walk-Up and Reservations Changes
In the not-so-distant past, walk-up tables and dining reservation times for Universal Orlando's table service restaurants were readily available. This has changed recently, with restaurants no longer accepting walk-ups and quoting the next available reservation time. Reservations are also booking earlier than ever before, with lunch and dinner reservations booking weeks ahead of time. Some long-time guests have found themselves out of luck attempting to eat at some of the resort's popular restaurants.
Let us help you avoid this pain. In this article, we will cover how to book a reservation online, how far ahead one should book one, and our thoughts on why this change was made.
How To Book a Dining Reservation at Universal Orlando
Universal Orlando restaurants reservations can be booked over the phone by calling 407-224-FOOD (3663). But we live in 2021, and who wants to CALL a HUMAN? Not I.
For those plugged into the information superhighway, head to Universal Orlando's dining reservations website portal. Each restaurant that accepts reservations is listed with a short description, phone number, and a Reserve Now button. Clicking the Reserve Now button will take you to Zomato, Universal's reservation service.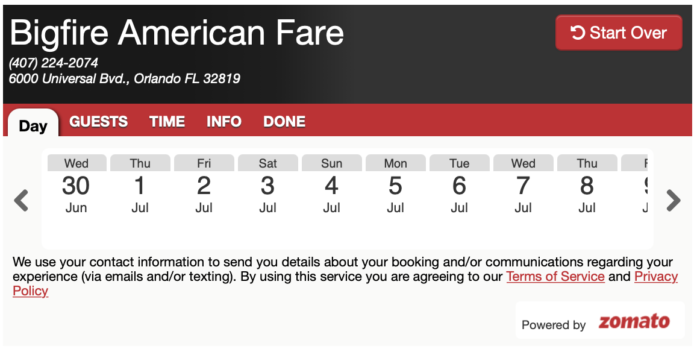 When booking on Zomato select the date of booking, the number of guests, and your reservation time. Finally, the service will ask for your contact information. Once booked, Zomato sends confirmation through email and/or text message. At this time Universal does not charge for no-shows.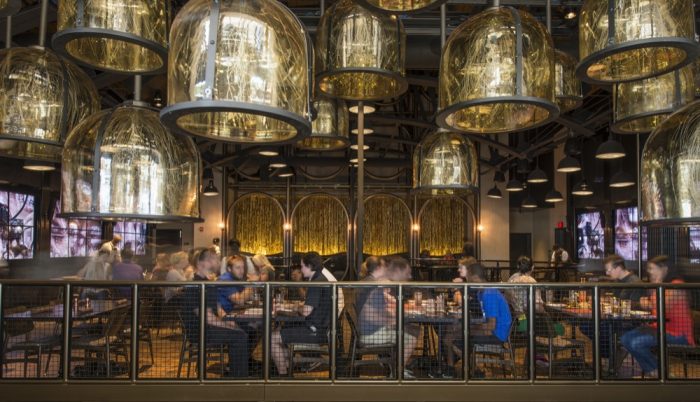 How Far Ahead Should I Book a Dining Reservation?
Good news: you will not have to book reservations 60 days out.
Bad news: when to book is all over the place.
To find when guests should book restaurant reservations, we did some research on reservation availability for the theme parks and CityWalk. We looked at Saturdays (crowd calendar level of 6 to 10) for a family of four during the popular dining hours of 11:00 a.m. to 1:00 p.m. and 6:00 p.m. to 8:00 p.m. We then found the first available day where reservations for those times had several options available to choose from.
For some restaurants day of or a day prior reservations are still available while some popular restaurants require reservations a month or more out:
24-Hours Out or Less
Lombards: Lunch & Dinner
Finnegan's: Lunch & Dinner
Confisco Grille: Lunch & Dinner
Antojitos: Dinner
NBC Grill & Brew: Lunch & Dinner
Jimmy Buffet's Margaritaville: Lunch
One Week Out
Mythos: Lunch & Dinner
Bigfire: Dinner
Cowfish: Lunch
Vivo: Dinner
Jimmy Buffet's Margaritaville: Dinner
Hard Rock Cafe Orlando: Lunch
Two Weeks Out
Three Weeks Out
Cowfish: Dinner
Hard Rock Cafe Orlando: Dinner
Over Four Weeks Out
These suggestions will vary depending on the time of year of your visit, party size, and flexibility of dining times. A party of 7 who wants to dine at Toothsome during Christmas week should book as far out as possible. At the current time Universal is accepting dining reservations throughout the end of the year.
Do not stress if you forgot reservations and cannot find any. Here are some tips for finding a table service meal:
If you are stuck without a reservation inquire about seating at a bar area. Most CityWalk restaurants have a bar and seating is first come first served.
Look at reservations for a meal at Hard Rock Hotel or Loews Royal Pacific. Both are within walking distance of the theme parks.
Check for reservations during off-hours, such as between 2:00 p.m. and 5:00 p.m.
Choose a less crowded day for dining, such as Tuesdays and Wednesdays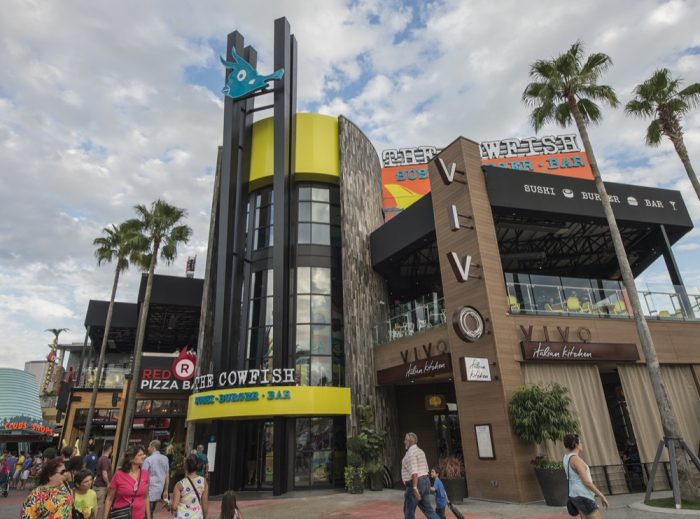 Why Are There No More Walk Ups? Why Are Reservations Running Out Earlier Now?
We have some guesses on why this change was made and reservations are harder to acquire.
The restaurant industry is facing a labor shortage due to many employees either retiring or finding other work during the pandemic. In the case of Orlando, many service workers moved out of the state. With fewer line cooks, bartenders, and waitstaff the restaurants are reducing capacity to offer a better experience. While Universal is hiring more food service employees, until they are fully staffed restaurants will focus on seating reservations and promising walk-up wait times.
There is also a chance more Disney fans, frustrated at Walt Disney World's park reservation system and reduced offerings, are heading to Universal more often. With Disney's focus on booking dining reservations early the already low amount of reservations are being snatched up earlier.
Do you have any tips for Universal Orlando table service dining? Leave them in the comments below!