Four Last Minute Table Service Reservations at Universal Orlando
Universal Orlando is home to our favorite restaurants in Orlando. But finding a reservation at Cowfish or Toothsome at the last minute tends to be very hard unless you want to wait hours for a table. This article will look at four highly rated restaurants where reservations are easy to find on short notice.
Our criteria: all restaurants need to be above average in guest rating and have the day of availability for dinner time reservations (5 pm to 7 pm seating times).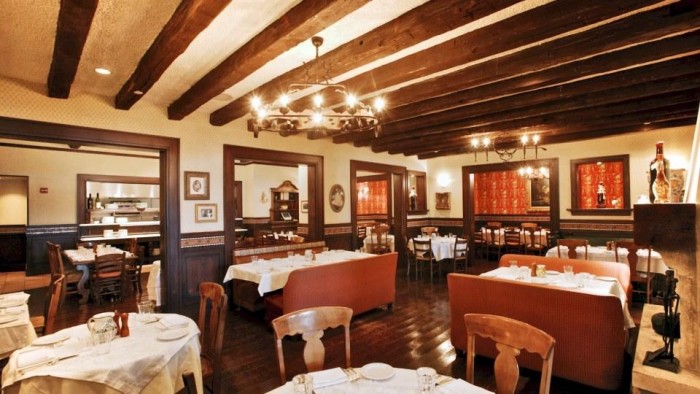 Touring Plans Rating: ★★★★
Guest Rating: 95% 👍
Location: Loew's Portofino Bay Resort
A short boat ride from the parks, Mama Della's is a family-friendly Italian restaurant at Portofino Bay. The menu features rustic Italian classics like veal piccata, spaghetti and meatballs, fettuccini alfredo, lasagna, and steaks. If, like me, you had an Italian grandmother who stuffed you full of ravioli every Sunday you should feel right at home in the cozy dining space. Guests give Mama Della's a high satisfaction score of 95%, the highest for any table service at Universal! For an upscale alternative check out Bice located at the same resort.
Reservations can be made online or call 407-503-3463.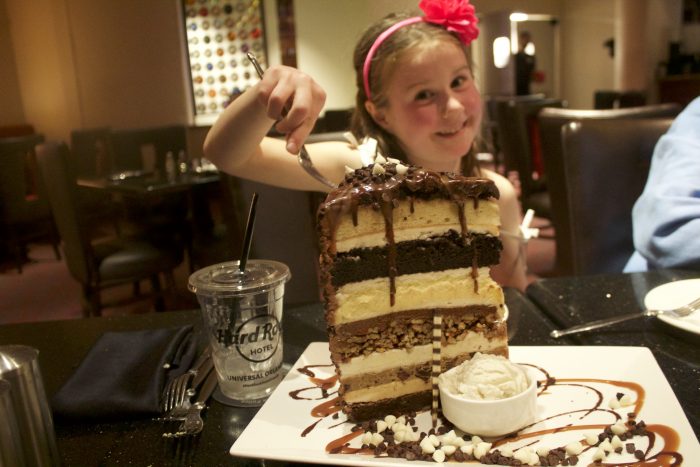 Touring Plans Rating: ★★★
Guest Rating: 93% 👍
Location: Hard Rock Hotel
The Kitchen comes in second place for highest-rated restaurants at Universal Orlando with a stellar 93% approval. This Hard Rock Hotel restaurant is open for breakfast, lunch, and dinner service within a five-minute walk to Universal Studios Florida. The menu spans the gamut of American comfort food, from pancakes and bacon to Angus beef burgers. Save room for dessert as the Kitchen Sink Cake (pictured above) combines your favorite cakes into one, large Franken-cake. Brave souls with a black hole for a stomach can participate in The Kitchen Challenge – eat a burger, a pound of fries, a fried pickle, and the Kitchen Sink Cake in 30 minutes. Steak fans should also check out The Palm steakhouse also at the Hard Rock Hotel.
Reservations can be made online or call 407-503-3463.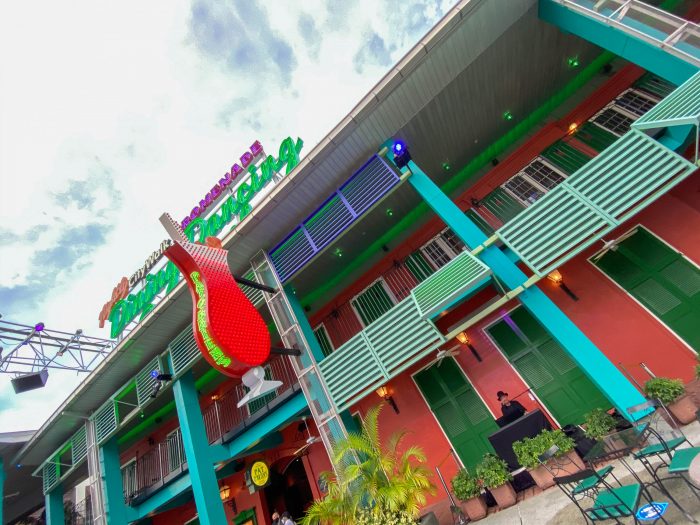 Touring Plans Rating: ★★★
Guest Rating: 88% 👍
Location: CityWalk
Straight from the big easy, carrying a Hurricane cocktail and a muffuletta to CityWalk is Pat O'Brien's. Located behind the Universal Legacy Store, this tucked out-of-the-way restaurant is best known as a nighttime bar spot. But do not let that reputation fool you, the restaurant features solid cajun food and a lively atmosphere. Food options range from shrimp and grits to steaks with a focus on cajun spices and seafood. Dueling piano players perform on select nights for added entertainment.
Reservations can be made online or call 407-224-2690.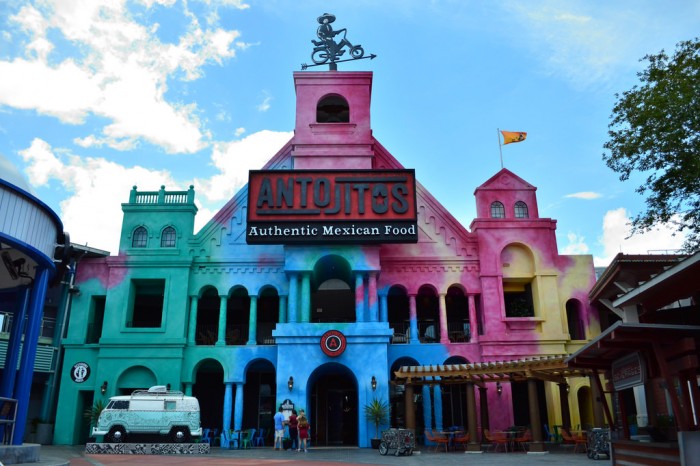 Touring Plans Rating: ★★★
Guest Rating: 86% 👍
Location: CityWalk
Just like Pat O'Brien's, Antojitos is located off the main CityWalk drag. Universal tried its best to attract clientele using bright, flashy colors and a huge remote-controlled tower bell. It worked, but Antojitos has one of the largest seating areas at Univeral Orlando and rarely runs out of tables. The interior is lively and loud with a local mariachi band stage center playing Mexican-inspired covers of pop songs. The food is very good, but expect traditional Mexican preparations than tex-mex. The margaritas are very good and to-go ones are available at a stand outside the restaurant.
Reservations can be made online or call 407-224-2690.

What is your go-to restaurant when everything is booked? Leave your comments below!