Universal Orlando Resort for Newbies – Universal In-Park Coke Freestyle Cup
If you're a person who drinks a lot of soda or other flavored beverages, the Universal Orlando Coke Freestyle Cup option could be a money-saving option for you. Here's what you need to know.
What is Coke Freestyle?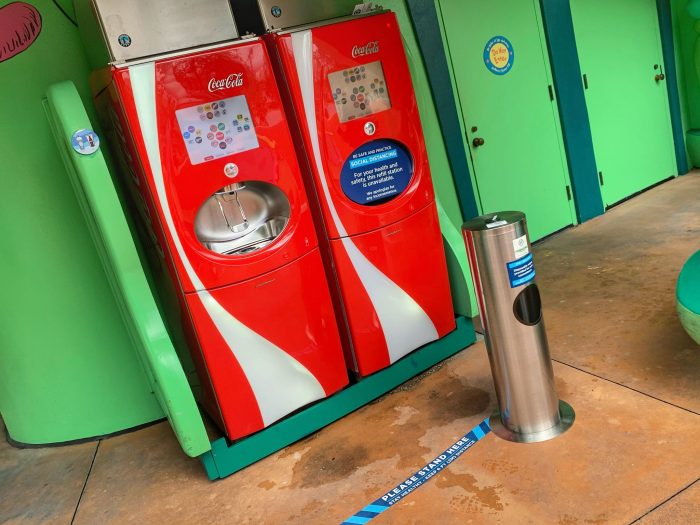 Coca-Cola Freestyle is a touchscreen fountain beverage system introduced in 2009 that is fairly common now. The machine dispenses about 150 different Coca-Cola drink products with custom flavors available. The machine allows users to select from mixtures of flavors of Coca-Cola branded products, which are then individually dispensed. Like many places, Universal Orlando uses the RFID chip in each Freestyle cup to determine if your cup is eligible for use.
What does it cost?
You may purchase a new Freestyle cup for $17.99, which entitles you to free refills for the entire day at any Universal Orlando Resort theme park. If you already have a Freestyle cup, then you can "recharge" it for $10.99 for a day of unlimited refills. These cups may also be purchased with a quick service dining plan as an add-on.
Are there any discounts?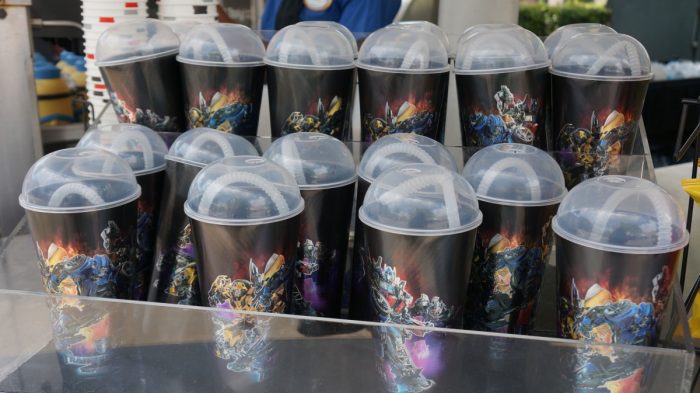 Good news is that there are few possible discounts. If you purchase multiple cups at the same time, you can get a discount on each one. If you purchase two, then the price drops two dollars for each cup. If you purchase 3-6 cups, then each one is $13.99, saving you $4 per cup. Also, if you are a Universal Orlando annual passholder with food and beverage discounts, the discount would be valid on this purchase.
What places will honor these cups?
These cups can be refilled at any food/beverage cart or restaurant that sells fountain beverages in the theme parks. Some of the carts only sell bottled beverages, so your cup will not work there, and it will not work in the restaurants at CityWalk. On the plus side, there has recently been a Coke Freestyle machine added in the middle of CityWalk. This is the only official place you can refill your Freestyle cup in the CityWalk area.
No Coke Freestyle machines are located in the Wizarding World area, Springfield USA, or at any table service restaurant. Besides these examples, Freestyle machines are scattered all over the parks with one recently added near Central Park Crepes.
These cups are not valid at your Universal Orlando Loews resort hotel. The resorts have their own Freestyle cup program, like Walt Disney World resorts.
What beverages can I get?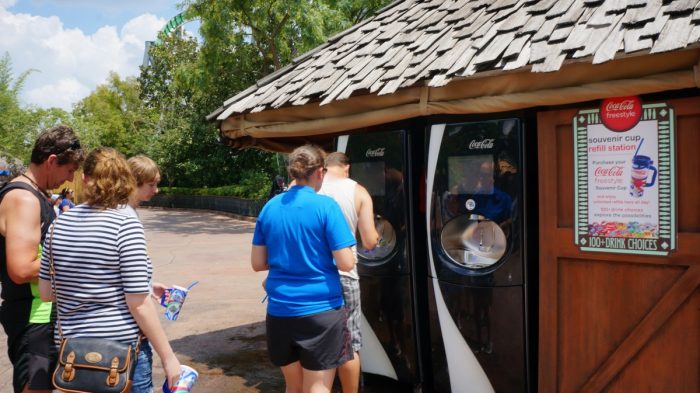 The good news is that you can get almost any Coke fountain beverage. There is even Powerade, VitaminWater, and various teas. At select locations, you can get Icees using your Freestyle cup. Since Icees are currently running $5.50 each, this could be a great deal for you if you enjoy Icees.
What about Wizarding World beverages?
Due to licensing agreements, the Wizarding World is not allowed to sell fountain products like Coke. You cannot use your Freestyle cup to get Wizarding-themed beverages or even to get a discount on them. There are Freestyle machines near the exits of Hogsmeade and Diagon Alley so you can fill your cup up before you enter or on your way out.
Can a group share a Freestyle cup?
The official answer to this is no. It is very unlikely that a team member is going to harass you about sharing a Freestyle cup, but the waiting period of 10 minutes between each refill may make it impractical to share anyway.
Are there other fountain beverage refill programs at Universal Orlando?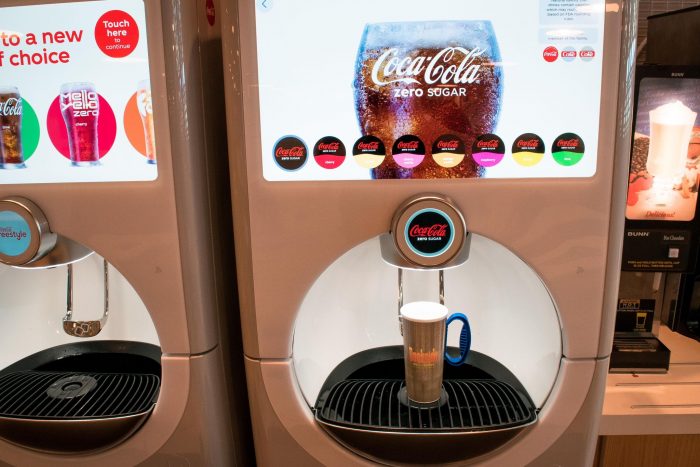 There used to be other refill options like the one-time refill in a souvenir cup for about $1.50 but that had started to be phased out starting in February 2021, according to food and beverage managers. You might find a team member who will honor that former program but you cannot depend on it. However, when we asked Universal Orlando about the current policy, we were told that single refills forCoca-Cola Freestyle Cups are still currently available $1.59 +tax. Subject to change. In addition, if you just want water, you can use your cup for free water at the Freestyle stations without needing to recharge your cup.
Also, as mentioned, most of the Loews resorts at Universal have a resort cup program. These resort cups cannot be used in the theme parks.
Should you buy one?
If you can survive on the free water dispensed at almost all carts and all restaurants, then this freestyle program may not work for you. If you are only going to be in the park for a short time, then this program may end up costing you money. However, if you are a person who drinks soda frequently throughout the day, this may provide a savings. With a fountain beverage costing $4,  you can see how the Freestyle program might save you money. If you bring your Freestyle cup with you on subsequent days, the $10 "recharge" price makes the break-even point even less. Ultimately, figure out how many sodas you plan to consume in a day and see if this would be a good value for you.
Are you a fan of thee Coke Freestyle program? Let us know if you think it is a value for you.