We Don't Have Any Clue When Disneyland Will Reopen, But Here's Some Information About It Anyway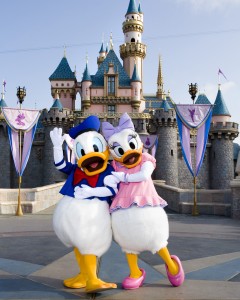 Hi, everyone, hope this week's post finds you and yours safe and healthy. Ordinarily, this would be the time of the month when I'd be posting a preview for the month of May at Disneyland Resort. Of course, Disneyland remains closed indefinitely on account of the COVID-19 outbreak, so such a post would be pretty short and not very interesting. With that in mind, let's begin by taking a look at what we know now — emphasis on know — and how it will impact those of you with plans to visit Disneyland in the future.
Per Disneyland's official site, Disneyland Resort is currently closed indefinitely, and no reopening date has been announced. Disneyland is currently accepting reservations beginning on June 1, 2020, but to be clear, Disneyland has not announced that it will in fact be open as of June 1. In fact, Disney is waiving change and cancellation fees for existing bookings through June 30, 2020, and if you already have a trip booked for June but simply don't feel comfortable visiting the parks in June even if they are open, you have the option of canceling or rescheduling without penalty. Under the circumstances, any booking made in June should be necessarily be considered tentative until Disney actually announces a date to reopen. You should call 714-520-5050 to make changes or cancel your booking.
For those of you that are Passholders at Disneyland, you have a couple of options. For those of you that have paid in full, the default option is that your pass will simply be extended for the number of days the park is closed. You do not need to do anything to take advantage of this option, it will happen automatically. In the alternative, you can choose to get a pro-rated refund for the period of time the parks were closed. The latter option is probably best for those who were not planning on renewing their passes beyond its natural expiration. Also, if your pass was set to expire during the park closure, taking the refund may be a better option because you can just buy a new pass when you know you'll be going again and will therefore have control over when the clock starts ticking again. If you'd like to receive a refund, call Annual Passholder Member Services at 714-781-4567.
If you're paying monthly for your Annual Passport, the options are essentially flipped. The default option is that you will not make payments during the period of closure so you're not paying for the time when you can't use your pass, but your expiration date remains unchanged. In the alternative, you can opt to postpone your payments during the period of closure, and those payments — and the days missed — will be added on to the end of your term once the parks reopen. The benefit here, I suppose, is that you'll be paying for that extra time at today's prices rather than whatever the prices are at the end of your term, so it's certainly worth considering if you know you'll be renewing you pass.  Again, call 714-781-4567 if you'd like to take advantage of this option.
For additional details on how other aspects of Disney travel are impacted, including the myriad different individual tickets, group tickets, special events and dining, please check Disney's COVID-19 impact site.
So, when will Disneyland reopen? We honestly don't know. I doubt Disney knows yet, and with that being the case, I'm expressly NOT going to try to read any tea leaves or offer any prognostications about when that will happen. I'm also not going to offer any opinions on when that SHOULD happen, I'll leave that to Disney, the scientists, and the policy makers. With all of that said, some analysts have thoughts on the matter and there is some publicly available information that is instructive, so I'm sharing them without further comment.
So, clear as mud, right? Feel free to review and digest all of this, and make your best guess. In the meantime, know that as soon as we have an actual reopening date, we'll be sure to let you know!