What I Love! A Series of Happy Memories From Liners and Touring Plans Staff, Part 2
Hopefully you've had a chance to read our first post in this series and are already hunting for your own picture to submit! If you're new to the series, we put out a call on our Lines app for subscribers (Liners) to send us a few words about their favorite Walt Disney World memory and a corresponding photo, and the submissions are wonderful! To help us all get through the next few weeks, we will be sharing one Liner or staff post each day on this blog.
Our second post comes from Lou Vicelli (Liner name TheWartHog) and his family. Lou said:
This is my darling Wife with a Winnie the Pooh plush.  Around 5 years ago, we bought one like this for our grandson.  He fell in love with it and named it BOP.  (No meaning to that–just what he named it.) A couple years later, he had a sister come along and we wanted a BOP for her but couldn't find this exact model.  On our last trip, lo and behold, they had the correct BOP.  Not only did we buy it for her, but we actually got to meet the real BOP.  When we showed our grandson the picture, he exclaimed, "BOP is alive!"  In our family, Winnie the Pooh will forever be BOP.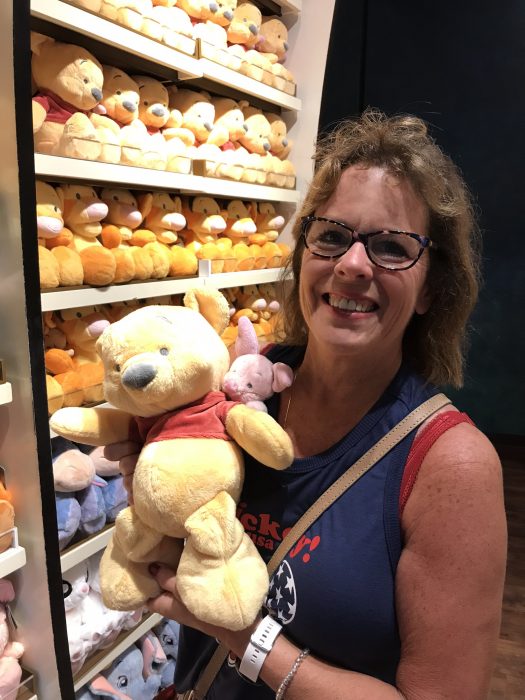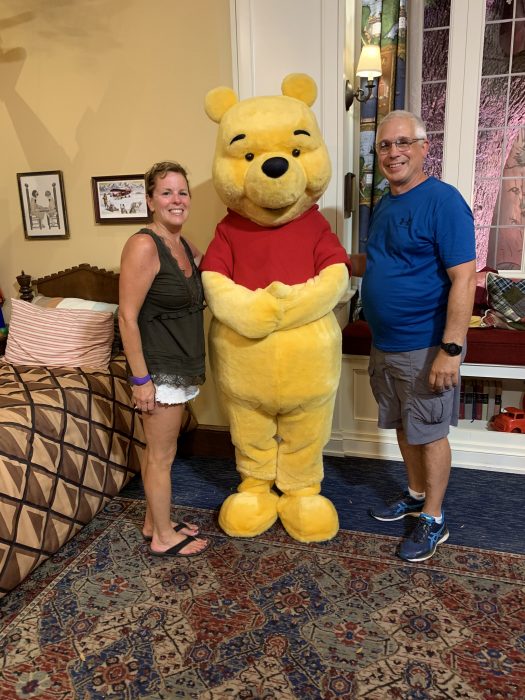 I think it's only reasonable that we all begin calling Pooh by this precious nickname! What a sweet memory! Thank you to the entire Vicelli Family for sharing such a sweet story with us. Long live BOP!
If you haven't had a chance to send in your memory and photo, please submit both to christina@touringplans.com and we will post it here.