What I Love Series: A Royally Evil Surprise at Disneyland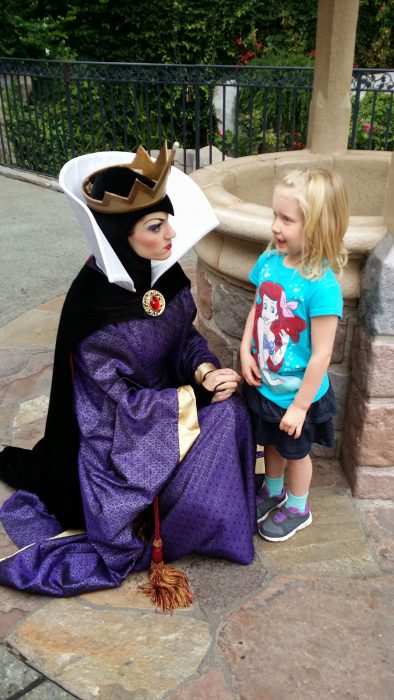 Here's an understatement: the last few days have been pretty brutal for those of us that are fans of Disney parks. I'm not going to rehash it here, but you all know what I'm talking about. The thing that makes it especially hard for Disneyland visitors is that for most, Disneyland isn't a vacation destination as much as it is a part of the fabric of the community and daily life, and a place where you can regularly go to take a quick breather from "real life" and experience a little bit of magic. And now, that opportunity is missing.
The thing that's keeping me going — and that will hopefully keep you going as well — is the knowledge that this is temporary, and eventually we'll all get to return to our happy place. Until then, we have memories, so I wanted to share my best Disneyland memory — the moment I realized, as someone that had gone to Walt Disney World for years, that Disneyland was different and really special.
To set the scene, we were on the last day of our first ever trip to Disneyland. At this point, we've basically done all of the things that we had wanted to do and repeated our favorites, and were really just wandering aimlessly, taking in the atmosphere that is so much a part of the Disneyland experience. We go strolling along the path adjacent to Sleeping Beauty Castle, and stopped briefly at Snow White's Wishing Well. And then, The Evil Queen just appears out of nowhere. No handler, no PhotoPass photographer, just the Queen, all by herself, ambling towards us. She greeted my daughter with this wonderfully charming disdain, and then proceeded to just chat with her (and us) for 10 minutes before anyone else realized she was there and came over to form a line to meet her.
We've always had great character experiences at Disney parks, but The Evil Queen on this day was just in her own league. My wife and I were rolling as she lovingly criticized our little girl, who was of course rapt but completely oblivious to the "barbs" that were being lobbed her way for our benefit. The ability to entertain both of us at the same time was extremely impressive, but what made it really special was that it was just completely organic. We didn't wait in line, we didn't plan for this, we just stumbled upon The Evil Queen and had this amazing interaction. Because those are the things that happen at Disneyland.
Since that trip, I've been to Disneyland more times than I can count, and I've had scores of other great character experiences. This one, however, will always stand out to me because it was both so unexpected and so wonderful.
So, since we can't visit Disneyland right now, let's share our favorite moments you've had at Disneyland Park or California Adventure. Think back to your most magical memory, the interaction or attraction that sticks with you the most, or the moment when it "clicked" for you and you knew you were hooked.
If you want to share it with the TouringPlans community, send your story and a picture or two to christina@touringplans.com.