What to Do in the Magic Kingdom When it Storms
June in Central Florida means intense heat and humidity and the near-constant threat of thunderstorms. TouringPlans readers are armed with their plan, the Lines app, and ponchos, but what happens when 11 of the attractions on your plan are closed at the first rumble of thunder?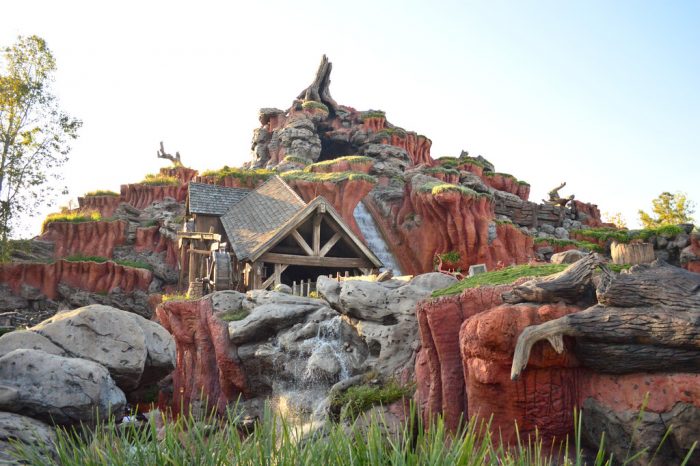 In an abundance of caution for guest safety, the following attractions close with any threat of lighting in the vicinity:
Seven Dwarfs Mine Train
The Barnstormer
Big Thunder Mountain Railroad
Dumbo
Jungle Cruise
Liberty Square Riverboat
The Magic Carpets of Aladdin
Splash Mountain
Swiss Family Treehouse
Tom Sawyer Island
Tomorrowland Speedway
These attractions along with ice cream, snack, popcorn, and beverage carts close when thunderstorms are on the horizon and will stay closed until the weather has cleared, even if no rain actually falls.
In the event of storm closures, you will notice that the TouringPlans Lines app shows "REPORTED CLOSED. Back at xx:xx am/pm?" This time is simply the best estimate based on historical data and average close times and does not take real-time weather reports into account. If the weather remains an issue, estimated online times will continue to update on the app. For example, if the weather turns at 3:22 pm and The Seven Dwarfs Mine Train goes offline, the app may say "REPORTED CLOSED. Back at 3:39 pm?" If the weather remains an issue at 3:39 pm, a new "Back at.." time will update. This will continue until either the attraction re-opens or is showing "REPORTED CLOSED" with no estimated reopen time on the app. The following is a screen shot from a recent day filled with dark clouds: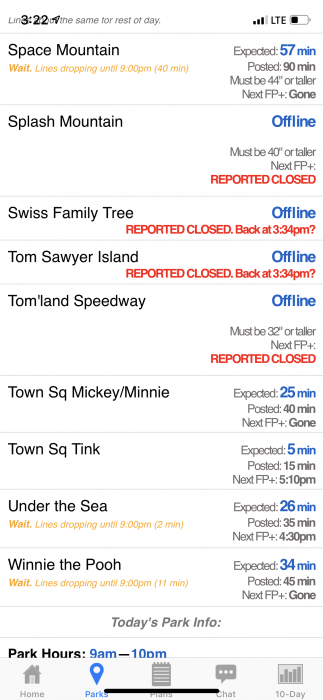 If the inclement weather seems to have settled in and you've completed all the inside attractions on your plan, you may want to consider going back to redo some of the unaffected attractions your party enjoyed, linger over a long lunch, or try one of the following non-ticketed amusements:
Exit the park and take the resort monorail to explore the Contemporary, the Grand Floridian, or the Polynesian. Each resort has quick service restaurants, treats, and cupcakes you won't find in the parks as well as arcades, unique shopping, and lovely views. You can easily spend an entire afternoon enjoying just these three resorts and their special themes.
Exit the park and take a bus to Disney Springs. This one may break the budget, but it will keep your entire party amused. Little ones (and many of us not-so-little-ones) enjoy playing at the LEGO store. Hundreds of LEGOs are spread out on tables that can be used for hours, free of charge. A trip to Amorette's Patisserie will take you just seconds (it's within eye line of the LEGO store) and I haven't met anyone who regretted walking in.
Take that good ol' afternoon nap at your resort. Odds are good that when the rain clears, so will some of the crowds. Even better, so might some of the heat and humidity. If sleeping isn't in your plans, enjoy some of the in-room TV that you won't see elsewhere, like Mickey Mouse cartoons or the Top 7 list of things to do.
Check the radar for another park. If you have the ability to park hop, going to another park may be a good solution, especially since Florida storms can be very localized. It is entirely possible for the weather to be horrible at Magic Kingdom, but blue skies and sunshine at Disney's Hollywood Studios. Keep in mind that because storms can move quickly, you may find that outdoor attractions at other parks are closed even if the weather is better there. Each park has its own indoor options that can help fill in your day, however.
What's your best choice for dealing with the afternoon thunderstorm? Let us know in the comments.