What's Causing Universal's Posted Wait Times To Be So High and Inaccurate?
Yes, it is true that wait times are at all-time lows at Orlando's theme parks right now, but sometimes the posted wait times are not accurate. And some days are busier than others. We've also found that overall wait times are longer at Universal Orlando theme parks, compared to Walt Disney World. But just when we were starting to see a pattern, Universal Orlando temporarily closed some of their attractions, which has had an impact on wait time data. On top of that, Universal offered Florida residents a deal so amazing that thousands took advantage of it: Unlimited admission between now and Christmas for the price of a single day!
More importantly, during our visit we experienced multiple instances in which the posted wait times were significantly higher than what our Lines app showed as Expected Wait Times, and what our team actually experienced. Would Universal inflate their posted wait times to sell more Express Passes? Is it a way to discourage people from getting in line to control for social distancing? Or is there another reason? The question is, how should you plan your day if Universal's Posted Wait Times aren't all that accurate?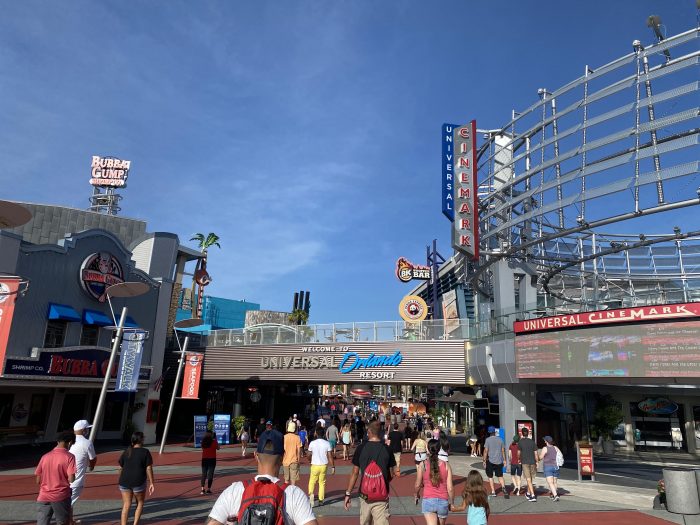 We will not just look at posted wait times, but rather dig into the expected wait times calculated in our Lines app, as well as the actual wait times experienced by members of our field research team. We have found after multiple visit that our Lines app is much more accurate than the posted wait times which allows the app to optimize which attractions to go to and when.
Actual Wait Times at Universal Studios Florida on August 15, 2020
Universal Orlando's theme parks do not require reservations, but there is limited capacity. It has been a rare occurrence that we've seen Universal's park reach whatever their limited capacity is. Like the Disney parks, hours have been reduced compared to previous seasons.
Universal Studios Florida is open 9:00 a.m. – 5:00 p.m. Recently posted wait times at Universal's theme parks have been higher than Walt Disney World's in most cases. One contributing factor to this is that Universal Orlando is continuing the use of Express Pass whereas Disney is not currently offering FastPass+.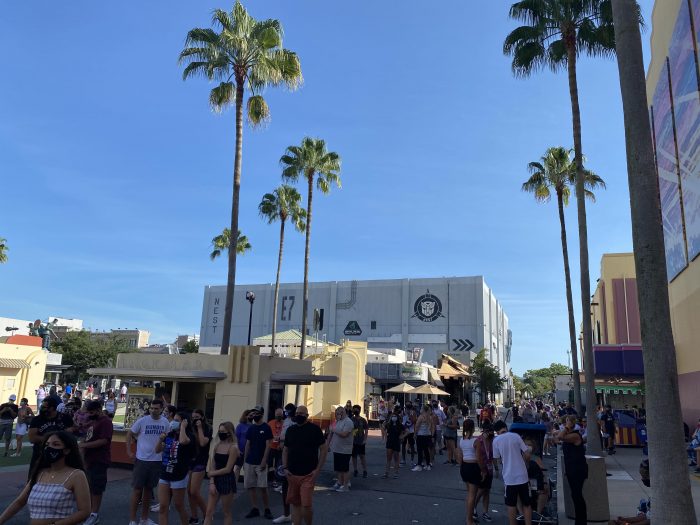 Our team visited Universal Studios Florida on Saturday, August 15, 2020. At 9:15 a.m., just after park opening, the posted wait times for most attractions averaged 20 minutes. However, about one hour later posted wait times jumped to about 65 minutes. And yet, our Lines app showed expected wait times that were about 20 minutes less than what was posted. And the cherry on top is that our team experienced actual wait times that were 40 – 50 minutes less than what Universal posted! That's right – as usual the Lines estimate was more accurate than the posted time.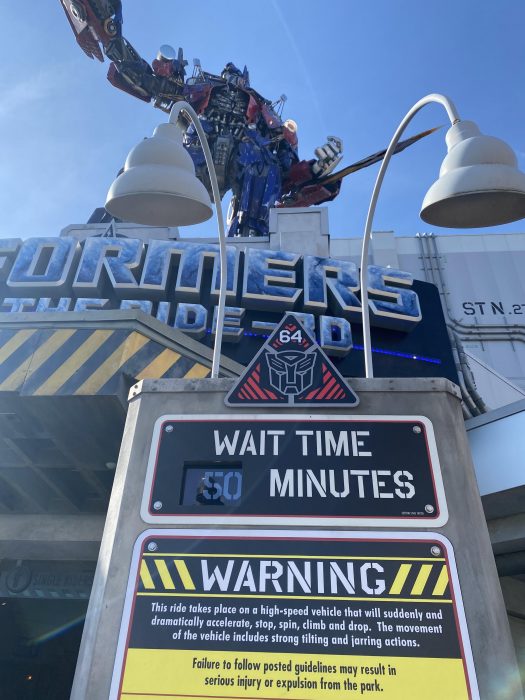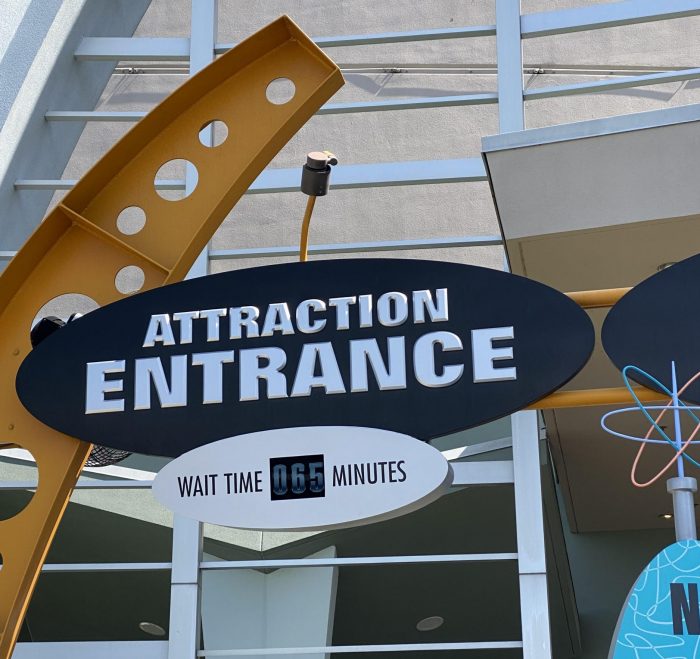 While it is a nice surprise to wait nearly one hour less than the posted wait time of any attraction, it can really mess up someone's planning if they don't have the right tools. Let's dig into the posted, expected, and actual wait times so you can see what we mean. Expected Wait Times below are the wait times expected based on data calculated in our Lines app. Any Actual Wait Times below are from people actually waiting in line and riding.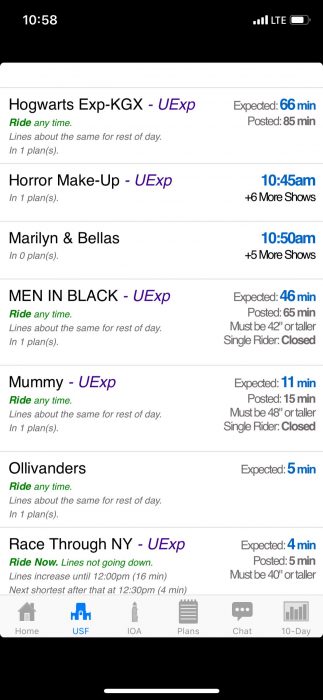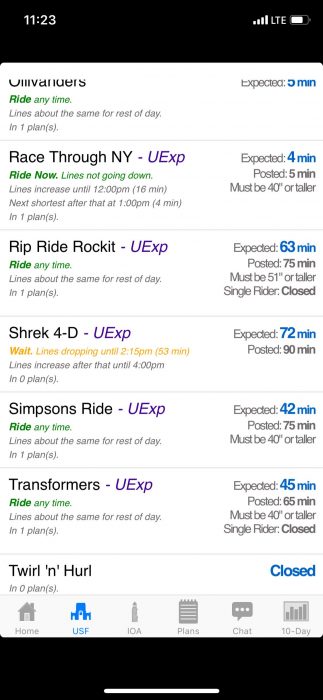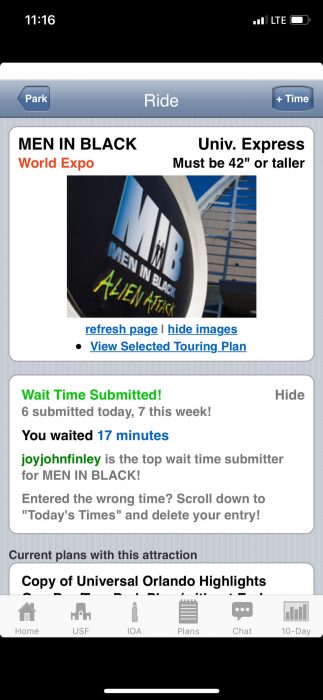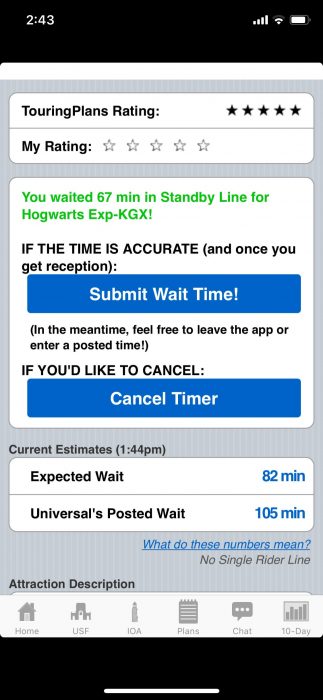 Transformers the Ride 

10:00 a.m.
Posted Wait Time 50 / Expected 45 / Actual 38

Men in Black: Alien Attack

10:45 a.m.
Posted Wait Time 65 / Expected 14 / Actual 17

The Simpsons Ride

11:45 am
Posted 65 / Expected 42/ Actual 8

E.T. The Ride

12:40 p.m.
Posted 55 / Expected 60 / Actual 29

Hogwarts Express

2:45 p.m.
Posted 105 /Expected 82 / Actual 67
Overall, our Lines app had expected wait times within 15 minutes of the posted wait times. However, there were two big anomalies with Men in Black and The Simpsons Ride. Universal's posted wait times were off by 50 minutes or more in those instances.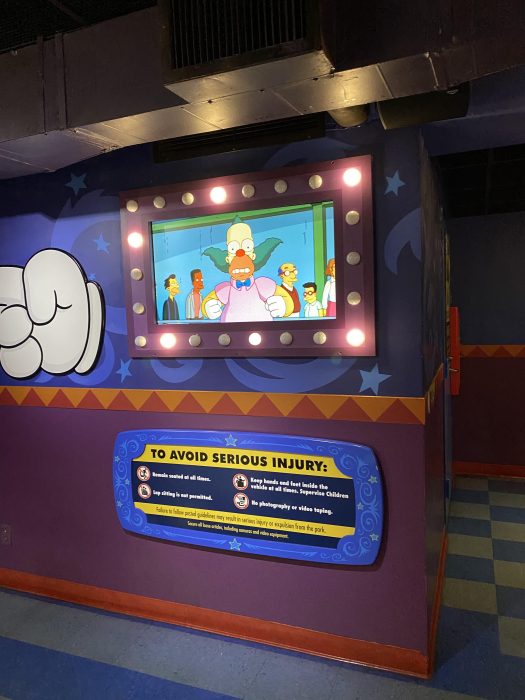 Someone not using our Lines app would have anticipated waiting 340 minutes for the five rides listed above. Using the Lines app and seeing the Expected Wait Times, you can see where wait times are reporting to be much less than the Posted wait times and adjust your day accordingly. In total our field team waited 159 minutes for the above five rides, compared to 340 minutes of posted wait times — in other words Universal's Posted Wait Times were double the Actual Wait Times our team experienced.
All in all, it appears that Saturday was a busier day than anticipated by Universal, because that afternoon Universal unexpectedly extended park operating hours by an extra hour. We have not seen this happen since the parks reopened in June.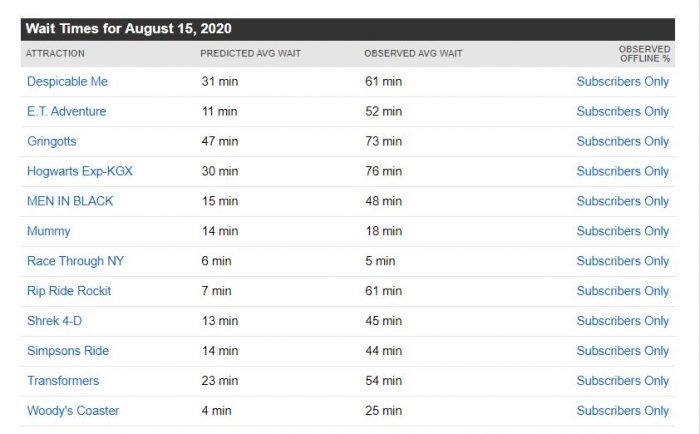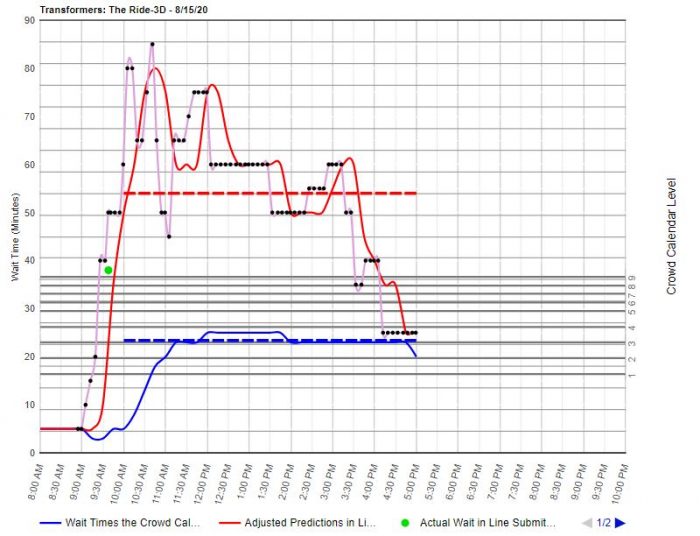 On our site you can view graphs with observed wait times compared to expected wait times for any past days. Anytime you see a green dot, that is an actual wait time submitted by a Lines app user, or a Liner as we affectionately call them.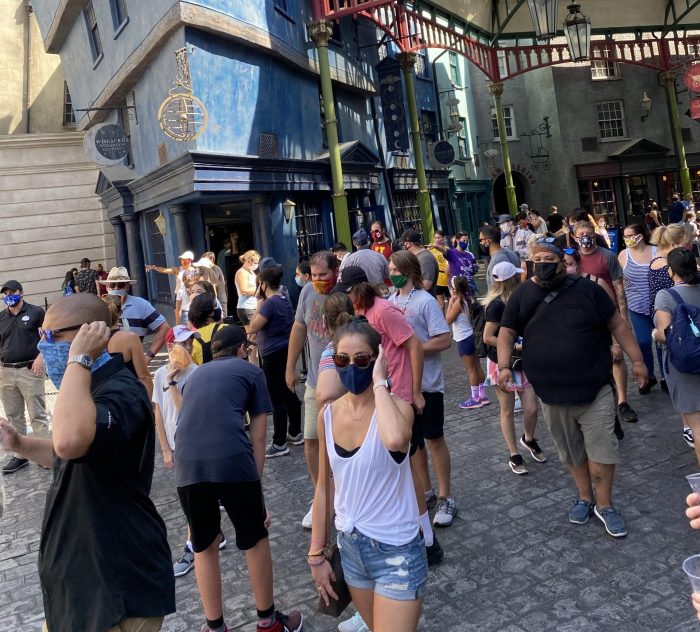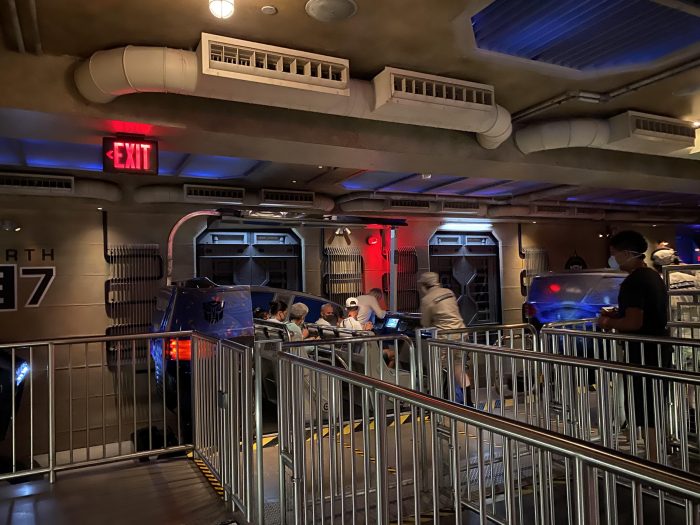 As I was pulling together this information I became curious about previous weekends at Universal Studios Florida. Something to consider when looking at recent Universal Studios Florida's wait times is that last week on August 9, 2020, four attractions became temporarily closed for the foreseeable future: A Day in the Park with Barney, Kang & Kodos' Twirl 'n' Hurl, Fast and Furious: Supercharged, and Fear Factor Live!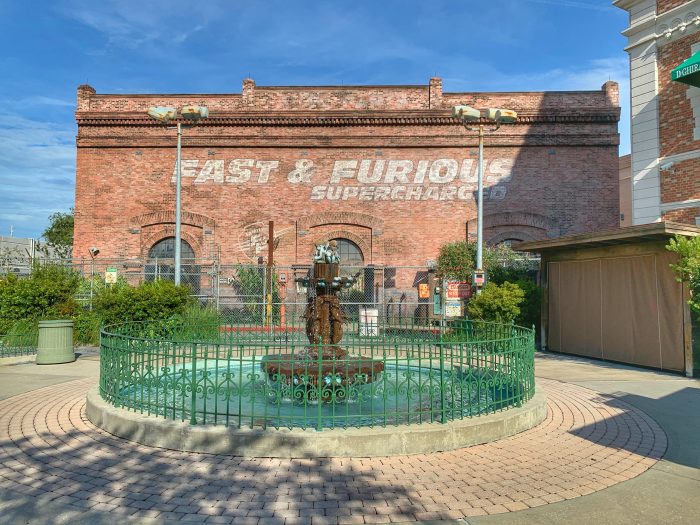 These attractions are not major attention grabbers, but losing these four attractions at once does impact overall capacity. Every little bit helps in giving people a place to go and spend some time. Without those extra four attractions it is reasonable to think wait times at the remaining attractions will be impacted. And when you look at the data of the three Saturdays prior to this change, versus the this past Saturday being the first one after the change, you can see an increase in observed wait times nearly across the board.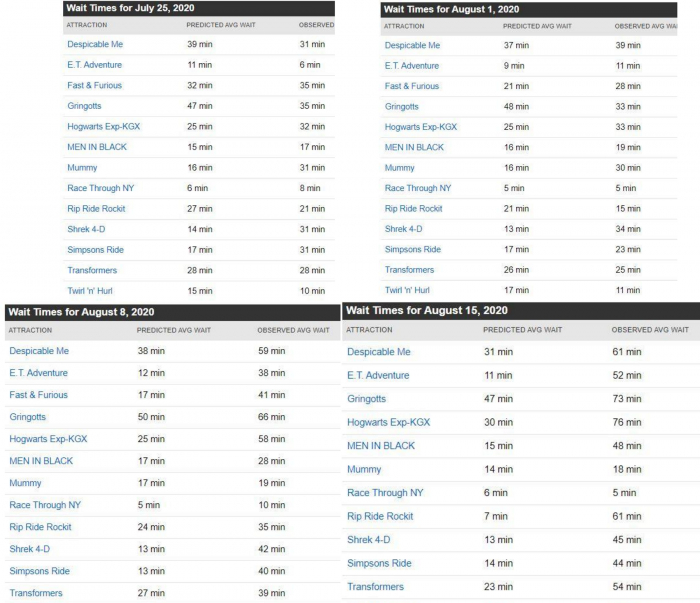 The closure of the four attractions may not be the main reason for the increased wait times at Universal Studios Florida this weekend, but it is easy to see a change in the wait times that followed the closure. To try and prove this theory one way or the other, I looked at August 8, 2020 – the final day the four attractions were still in operation, versus August 9, 2020 the first day the four attractions became temporarily closed. There is not a large scale difference in wait times across the board from one day to the next, but there is a fair amount.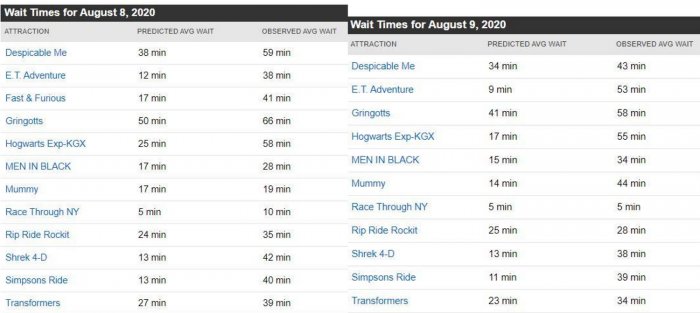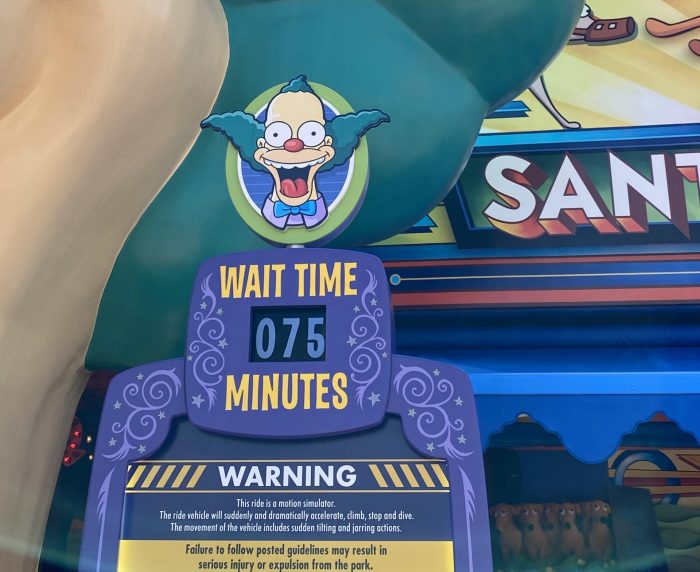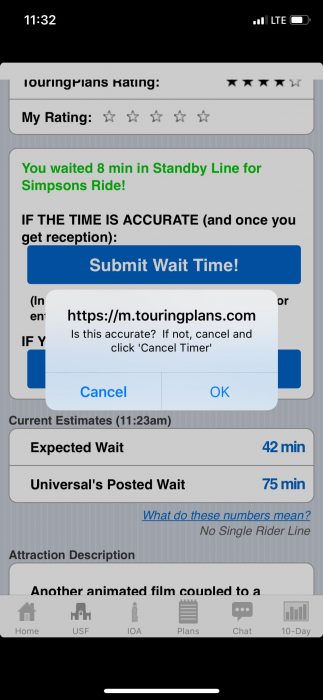 What impacts you the most here is that Universal's posted wait times are significantly higher than the Actual Wait Times and Expected Wait Times calculated in our Lines app. Using the Lines app can help you plan accordingly so you will know how to plan your time in the parks for less stress.
What do you think of this wait time data? Have you been to Universal Orlando? How was your experience?